Homemade ketchup is a need to know, you don't want to be caught with a great burger or fries and not have some delicious ketchup to go with them. This post will show you how easy it is to make ketchup.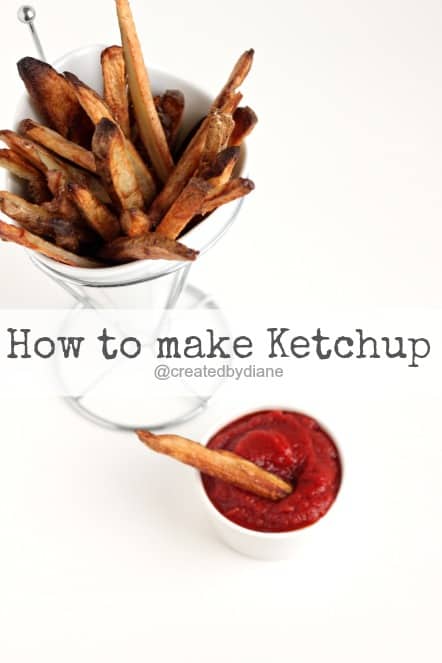 Yesterday I shared how to make Crispy French Fries,
and I just knew I had to share my recipe for homemade ketchup!
It's so worth making, especially if you have some delicious crispy fries or  a burger to put the ketchup on.
Have you ever run out of ketchup? I have, and now when that happens you have a plan B. No kitchen should be without ketchup, I've heard that many times.
So this may just save you from the ketchup lovers out there from being disappointed if you run out and need to make some.
The best part about making your own ketchup is you get to customize it how ever  you like.
If you like it spicy, add a little crushed red pepper to it!
If you like it sweeter, add a little more sugar.
I don't can, but now I wish I did. I would CAN my own ketchup!
I'll put that on my to do list.
I'm hoping to get to that to do list SOON,
some things get pushed to the bottom, but at least they are on the LIST!
I have a few items on my list to finish by the end of this year and now that the time is getting closer, I really need to jump on them!
I wouldn't want to not meet my goals. Do you do the same thing? Wait until the deadline is approaching to complete things. Yep, that's me!
How to make ketchup
Ingredients
I cup crushed tomatoes (be sure the only ingredients are ripe tomatoes) I use Cento Brand
1 tablespoon white wine vinegar
1teaspoon fresh lemon juice
1 1/2 tablespoon sugar (if you like sweet ketchup use 2 tablespoon)
1/8 teaspoon onion powder
1/8 teaspoon celery salt
1/4 teaspoon salt
Instructions
Add all ingredients to a medium saucepan and heat on medium for 5 minutes, stirring occasionally turn the temperature lower if it's starts to splatter out of the pan.
pour mixture through a strainer to remove any seeds or skin from tomatoes
Let it cool a few minutes
place a few paper towels in a strainer over a bowl and pour mixture into paper towels, the water will drop into the bowl
what is left in the paper towel is the ketchup, nice and thick and with less water
scoop out the ketchup and serve, or place in covered container and refrigerate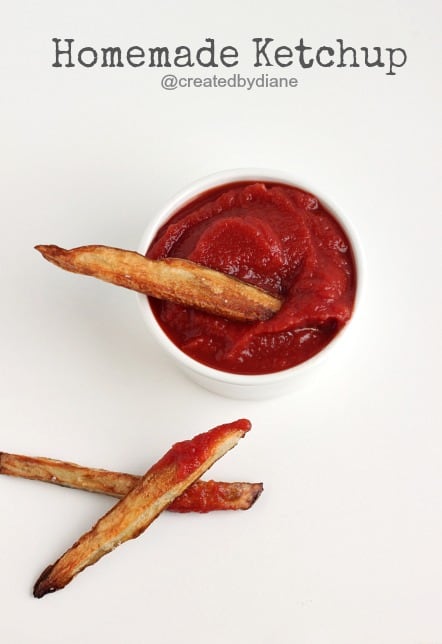 There is just nothing like HOMEMADE!
Now for the French Fries,
these crispy fries are BAKED,
you heard me right,they are baked.
I show you how to make them on my post How to Bake Crispy French Fries. Take a look!