Quickly pan grill chicken to make mealtime easy all week long.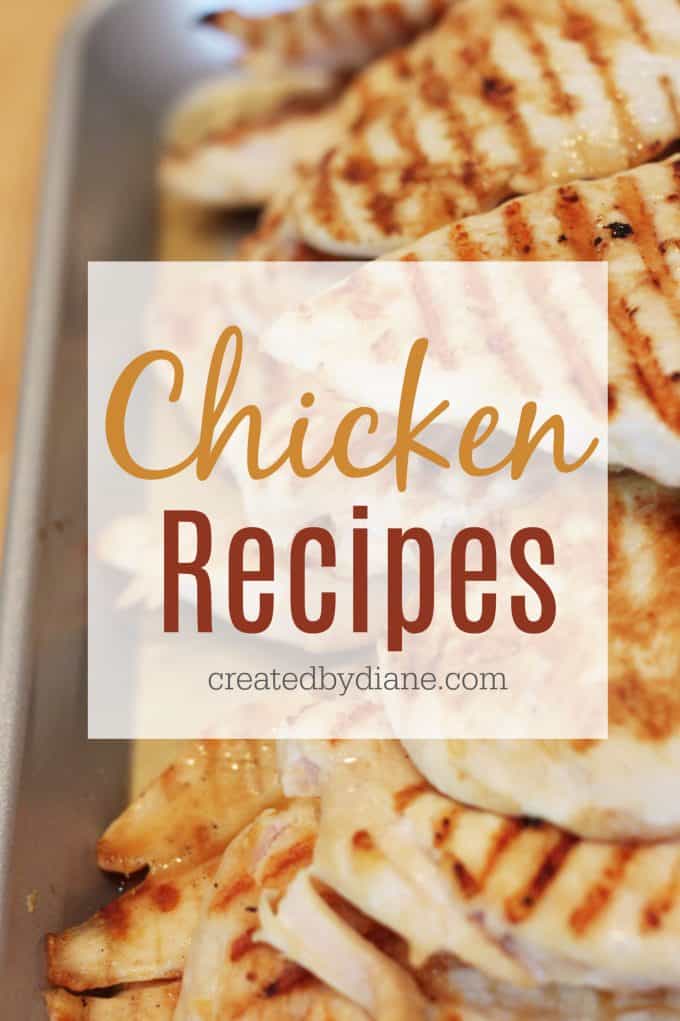 My instructions on How to Cook Chicken for A Week at Once is a must if you're ever short on time or struggle to eat healthy! With my easy and flavorful method, you'll have cooked chicken for lunches and quick dinners all week long!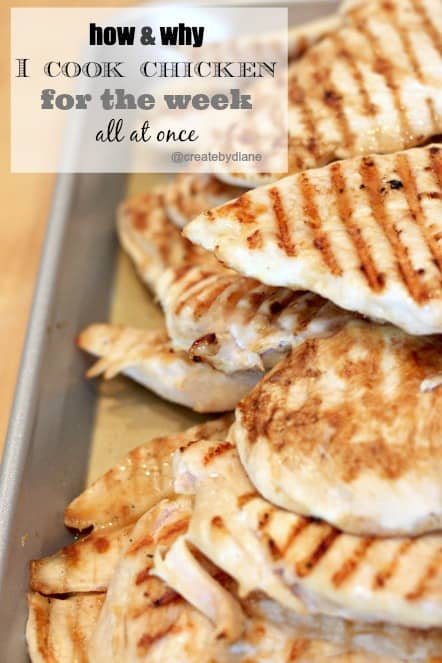 I've never been a big planner, especially when it comes to meals. But awhile back, I started cooking a week's worth of chicken at once and it was a game-changer! With my simple instructions on How to Cook Enough Chicken for a Week, you'll have flavorful cooked chicken ready at a moment's notice. Not only do I love this for quick and easy dinner recipes throughout the week, but it also gives me healthy lunch options when I'm pressed for time. It's totally worth a little bit of effort!
This easy method for grilled chicken allows me lots of time and great options for delicious meals all week long, that can be prepared in minutes!
If you are never in a hurry or have all the time in the world to get a great meal on the table for dinner each night, eat great lunches every day and make all your kids favorites each day…
don't bother reading this….you are free to go about living perfectly.
If you wish some of the above was happening…this post is for YOU!
I've been preparing chicken for the week this was for about a year now, before then I tried to plan meals and have a grasp on what I was making for dinners for the week, but I've never been a big planner. I like to eat what I'm in the mood for more than what I scheduled to make.
With the chicken cooked, I can now whip up many meals quickly.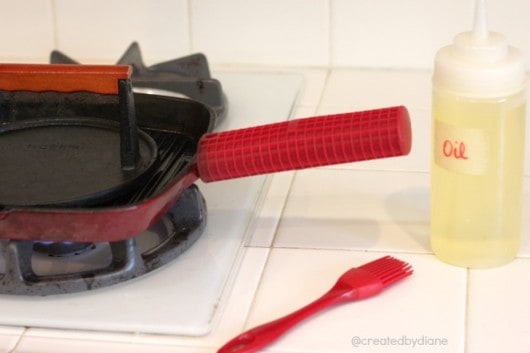 With a few tools and some chicken, you can have delicious chicken for the whole week prepared ready to eat and making meals simpler, saving time and money. This method of cooking chicken and having it at the ready is the best, trust me, dinner time will become less stressful!
This is what you'll do:
I heat my cast iron grill pan and cast iron press until it's hot.
I have oil in a squeeze bottle as it's easy to add just the right amount I need without overdoing it with a large opening on most oil containers.
I use a silicone brush to spread the oil on the grill pan and in between the grooves, as well as the press, so the chicken won't stick.
*updated to add that I now often use a 12 inch cast iron skillet and don't seem to care if the chicken doesn't have grill marks, the cooking process goes a little quicker as the chicken is sitting on more of the hot pan and the pan is bigger than the grill pan I have, plus the flat pan is way easier to clean up.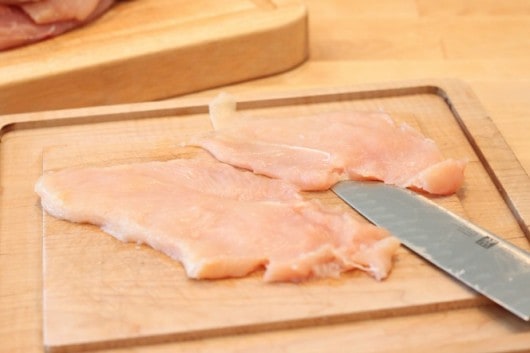 I purchase a 6lb package of boneless skinless chicken breasts at a warehouse store at $1.97 a pound. We are a family of 4 and that amount of chicken is the amount we eat each week. If your family differs from the amount of chicken you will eat, adjust accordingly.
To cook all 6 lbs of chicken on the size grill pan shown it takes me just under 45 minutes. While I have that going I usually cook a pound of pasta, rice, or quinoa so that all week there is food to eat any time of the day, which is really helpful when everyone's schedules don't line up.
I filet each piece of chicken in half. It makes it easier to cook the chicken evenly as there is usually one thick end that would usually take a lot longer to cook if it's left whole. I place my left hand on top of the chicken breast and with the knife in my right hand, I slice the chicken breast through the middle, making two even pieces of chicken.
If the chicken seems tough:
pound it with a food mallet. It will ensure tender chicken. I seems like the chicken I buy now is tougher than it used to be. So I often pound it as well. Place plastic wrap or waxed paper under and over the chicken and gently pound it even, so the fibers loosen.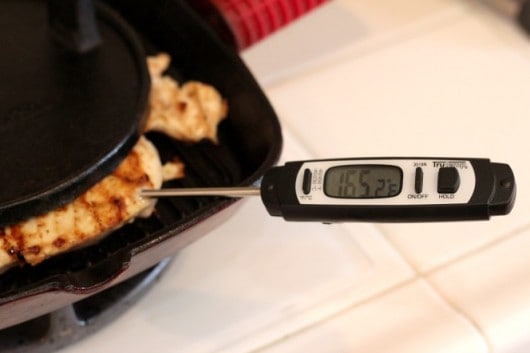 I place two to three pieces of chicken onto the heated grill pan and turn it after a few minutes, then put the press on top and use a meat thermometer to check the temperature. I remove the chicken precisely when the temperature is 165 degrees this ensures the chicken isn't overcooked and won't become dry.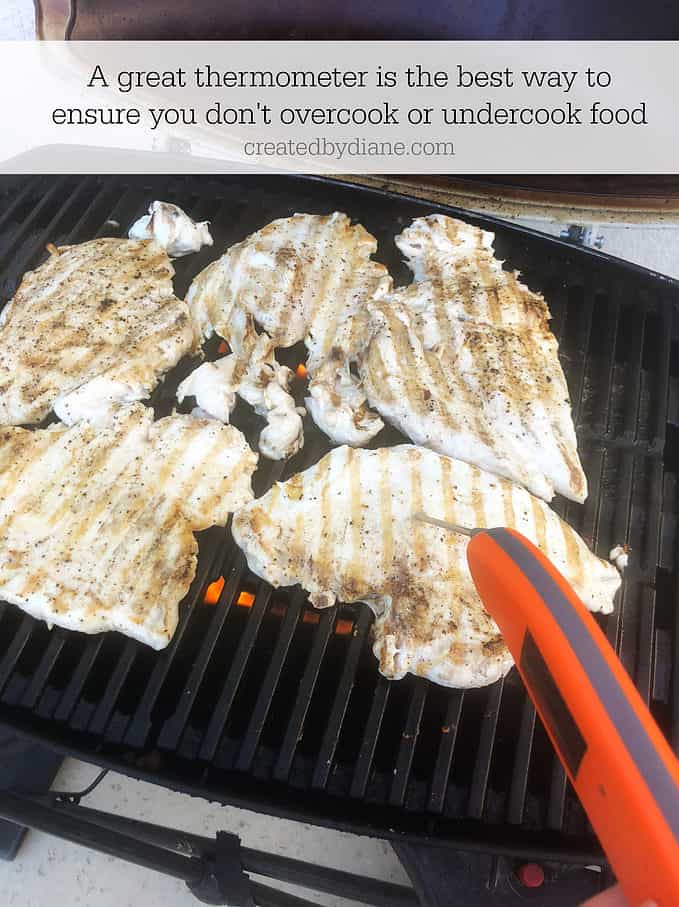 You can easily grill the chicken as well. Here you'll see my latest thermometer, it's a digital instant-read that works GREAT, far better than the one in the photo above as that one melted easily from the heat, and was made of plastic. My new one withstands hot temperatures!
it makes a great gift for any foodie, or to elevate your cooking to ensure the correct temperature for cooking meat, candy, and more.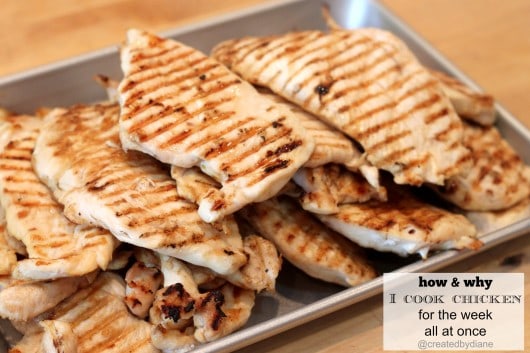 I place all the cooked chicken on a tray to cool before placing it into containers to go in the fridge.
What do I do with all this chicken?
1) I add it to salads for lunch, I slice and heat it for 30 seconds in the microwave to take the chill off of it from the fridge.
2) I make easy after school snacks for the kids, like chicken and cheese quesadillas or chicken, bean, and cheese burritos.
3) Since my kids love mac and cheese, I find it's great to add chicken to the top as they are heating it and hopefully through some veggies on top as well.
4) with the chicken portion of the meal all prepared, it only takes about 15 minutes to get some great meals on the table. Chicken isn't the only thing that is great to make ahead so is rice and pasta… Then chicken fried rice, orange chicken, chicken teriyaki along with delicious pasta dishes like alfredo with chicken, spicy chicken fra Diavolo can be on the table in minutes. Soup is so easy with cooked chicken and adding chicken to salads makes them a complete meal, for lunch or dinner. With some fresh rolls and your favorite sauce, you can enjoy a delicious sandwich any time of day.
the possibilities are endless for you to have a great meal in minutes, here are a few more ideas:
What Is The Best Pan to Use to Cook Chicken on the Stove?
I like to use a large cast-iron skillet to cook a large batch of chicken. It cooks the chicken perfectly and is large enough to cook a few pieces at a time. Cast iron skillets are really the best for cooking evenly and getting a nice seared crust on the outside of any meat. I keep some cooking oil in a squeeze bottle and squirt as much as I need into the pan to keep the chicken from sticking.
How Much Chicken Do I Need to Feed My Family for a Week?
I cook about 6 lbs of chicken breasts for my family of four for the week. If you have a smaller household or maybe some hungry teenagers, you might need to adjust the amount accordingly.
How Long Does it Take to Prep Cooked Chicken for a Week?
From start to finish, it takes me about 45 minutes to prepare a week's worth of chicken for my family. I filet each chicken breast in half so they're not as thick as usual. This helps them cook a lot more quickly and evenly. To filet the chicken, I start by placing my left hand on top of the chicken breast. With the knife in my right hand, I slice the chicken breast through the middle, leaving me with two even pieces of chicken.
At What Temperature is Chicken Fully Cooked?
When your chicken reaches 165 when a meat thermometer is inserted in the center, it's ready to eat! This also ensures that your chicken isn't over-cooked and dry.
How Do I Cook Enough Chicken to Last a Week?
Heat your cast-iron skillet over medium heat. Once your chicken is fileted, pat each piece dry with paper towels and season as desired. We love Greek seasoning, lemon pepper seasoning, or even just simple salt and pepper. Drizzle a bit of oil into your hot pan, and add as much chicken as will fit, leaving a bit of space between each piece (I usually cook 3 fileted breasts at a time). When one side is a nice dark golden brown, turn and cook until the internal temperature is 165. Set aside to cool before storing.
How Do I Safely Store Cooked Chicken for a Week?
Using a pair of tongs, I package the chicken in plastic containers with no liquid. Using tongs when I remove chicken from the container also helps the chicken to stay fresh. I wait until the chicken is completely cooled before covering and refrigerating — putting it in warm causes condensation to form in the container. My chicken always stays fresh for a week this way.
How Should I Use Pre-Cooked Chicken?
Salads. I love a salad for lunch, and this is super easy to throw on top for some protein.
After school snacks. Burritos, quesadillas, even cut up and dipped in ranch or buffalo sauce.
Mac and Cheese. My kids love mac and cheese! We throw on some diced chicken and even some veggies if we have them.
Easy meals. Fried rice, orange chicken, tacos…even added to baked potatoes!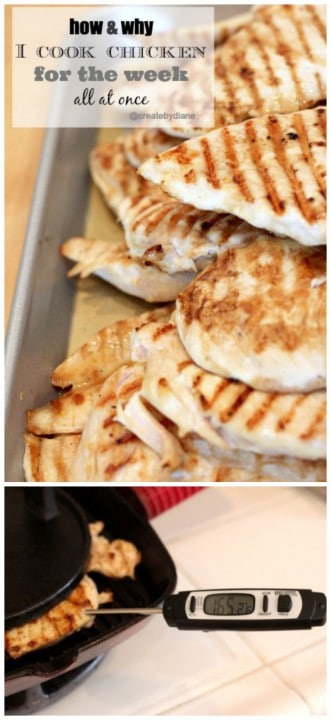 NOTE:
I package the chicken in plastic containers with no liquid. I wear food service gloves or use tongs each time I go into the container and when I'm packing it. This helps the chicken to stay fresh. I place the chicken (6 lbs) in two containers normally. I put it in the fridge with it's completely cooled. If you put it in warm, more condensation will form in the container and the liquid is what I find is what makes the chicken not stay fresh for the longest period of time. I have it last 7 days. There is no odor or sliminess on the chicken.
In regards to food safety, I am only giving my opinion. You do what you feel is right.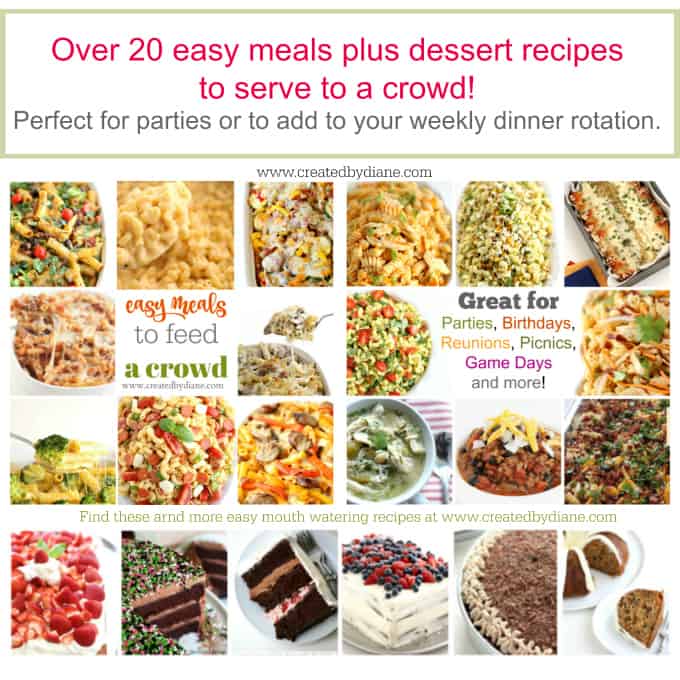 Another post all about CHICKEN is my post on Cooking Chicken for the week in 22 Minutes