This chicken soup recipes is NOT like other chicen soup recipes, it's become my all time FAVORITE CHICEN SOUP RECIPE!
It's all made in one pot with simple ingredients and ready in 30 minutes.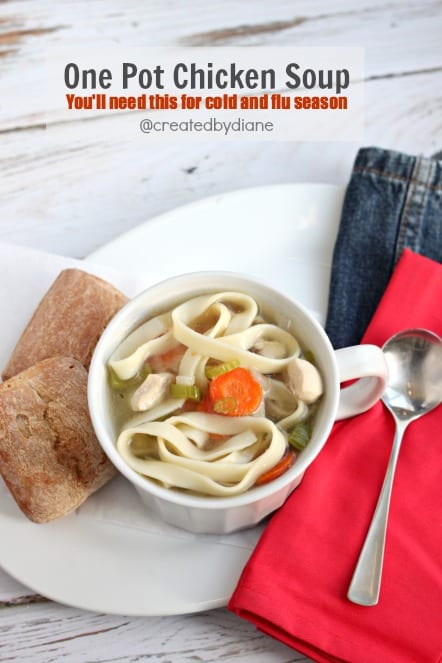 It seems like each week there is someone I know not feeling well.
Whether they have a cough, cold or flu OR someone who needs a bowl of the ultimate comfort food.
It seems like as soon as the weather slightly turns cold, we need to start preparing for all that "winter" bring.
If you follow me on Instagram, you'll know that I stocked up last week on Kleenex Tissues, then I headed home to prepare a chicken noodle soup that you will WANT TO PRINT.
Really!
While you're printing take advantage of this great coupon for $1.00 off Kleenex Tissues at Target.
just wait until you see how EASY this recipe is and how quick you will be able to serve this soup.
This is a no fuss, quick and easy chicken noodle soup recipe that you will want to have at the ready for when the sniffles start.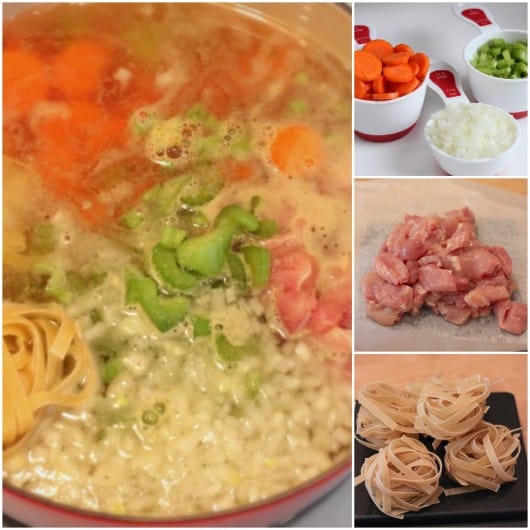 You won't believe how following a few simple steps will result in such a great soup in MINUTES.
There are a few things in this soup that I think are KEY to how delicious it tastes.
The chicken and the noodles.
The chicken I use is boneless skinless chicken thighs. I didn't want chicken on the bone, it would take too long and then deboning it, oh don't get me started on how little patience I have normally, then add in someone not feeling well and it seems like I have even more to do. Boneless skinless chicken breasts are dryer and won't lend the same flavor. But by all means use what you have if you are that sick and need to get better FAST, go ahead and use pre-cooked chicken if need by. But believe me when I tell you, if you follow my two key ingredients you will be much happier with the soup.
Next is the noodles.
I use fettuccine nests. Usua, ly I use egg noodles for chicken soup, but those would get very soft in a one pot soup, especially if there are left overs. As the noodles sit in the soup they would soak up too much liquid. Fettuccine is a more dense noodle and had a great texture when the soup was finished cooking as well as the part that sat in the soup that day, in the fridge and was reheated. Which I find very important to have a great noodle in chicken noodle soup.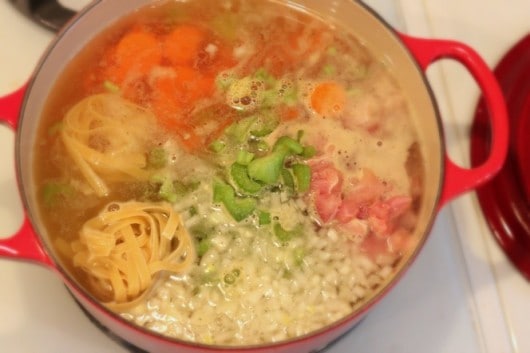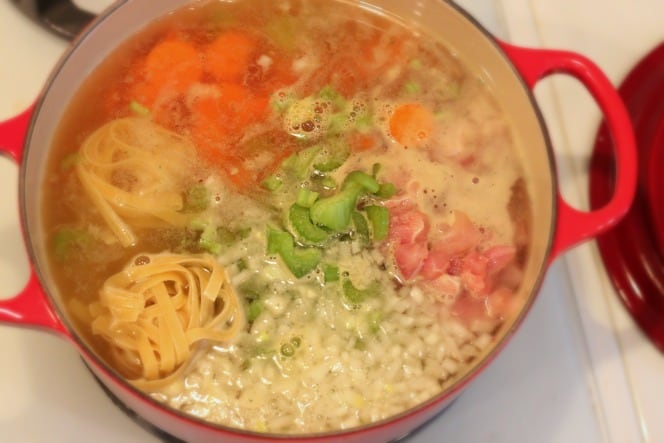 The glory of this soup is that it's easy to prep are and ready in minutes.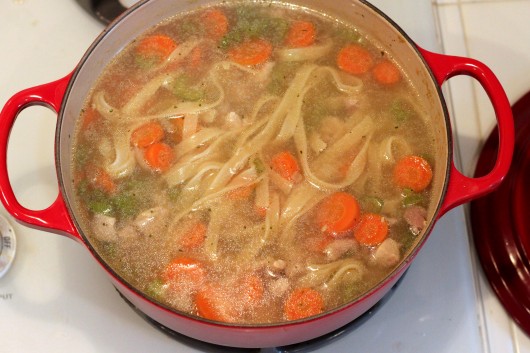 Before you know it you will be comforted by the age old get well remedy that sometimes seems daunting if you need to get out too many pots and pans and stand over the stove keeping an eye on it to finish.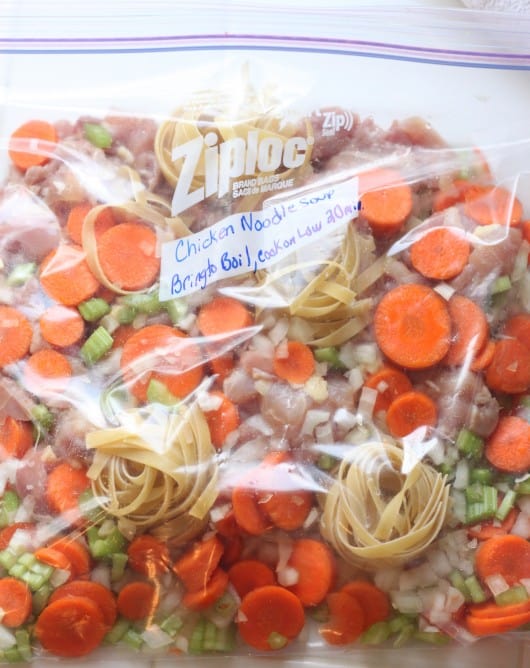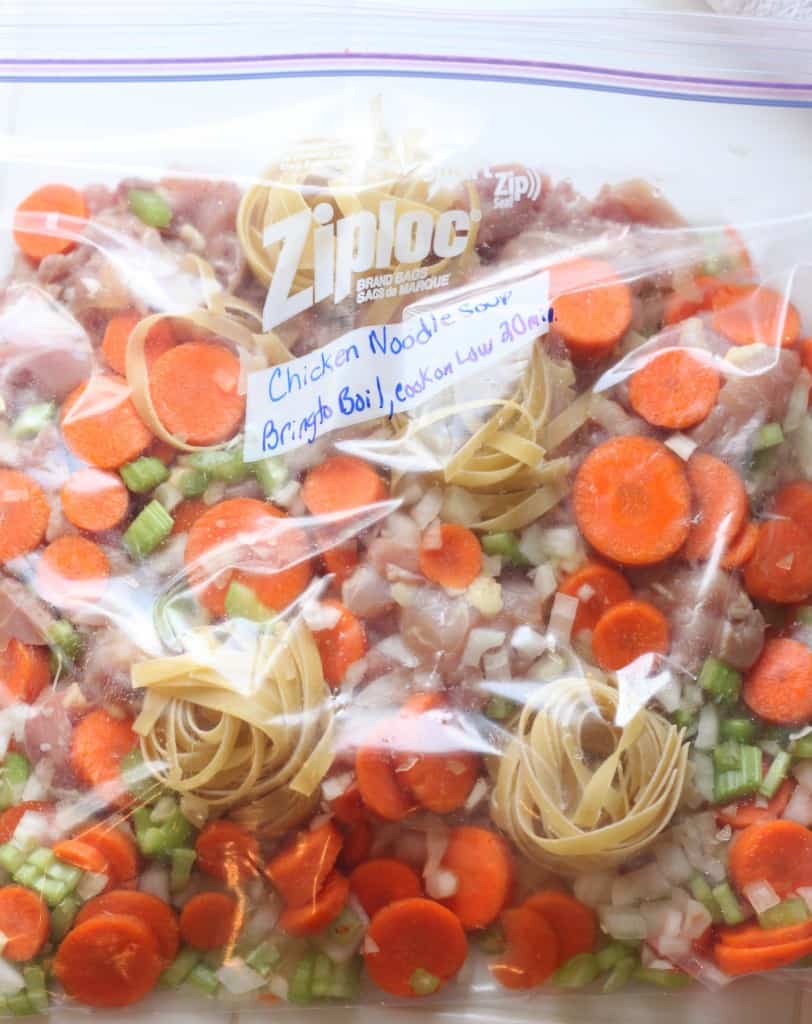 Just like I stocked up on tissues I'm taking the same precautions and making some freezer meals with all the ingredients needed to have this soup at the ready.
Since it's frozen I adjusted the time to be 20 minutes to be sure it's all cooked and I added how much water I needed to add to the label before putting it in the freezer too.
I may not want the cold weather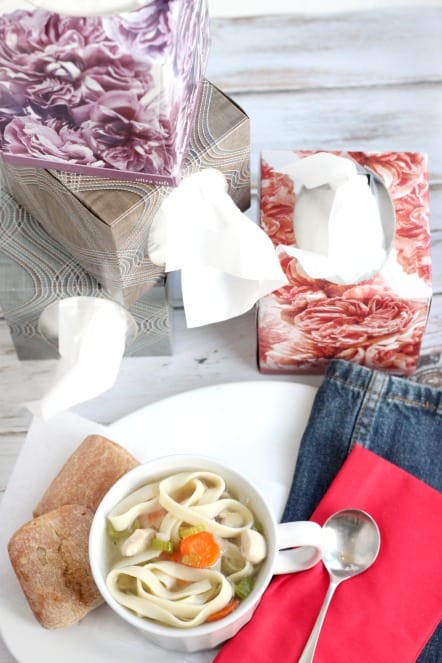 yet, but at least I feel a little better prepared now.
I may even print the recipe and tape it onto one of the tissue boxes that way when I'm not feeling all I'll have to do is ask my family to get me a box of tissues and maybe they will see the recipe and make it for me.
Good idea, don't you think?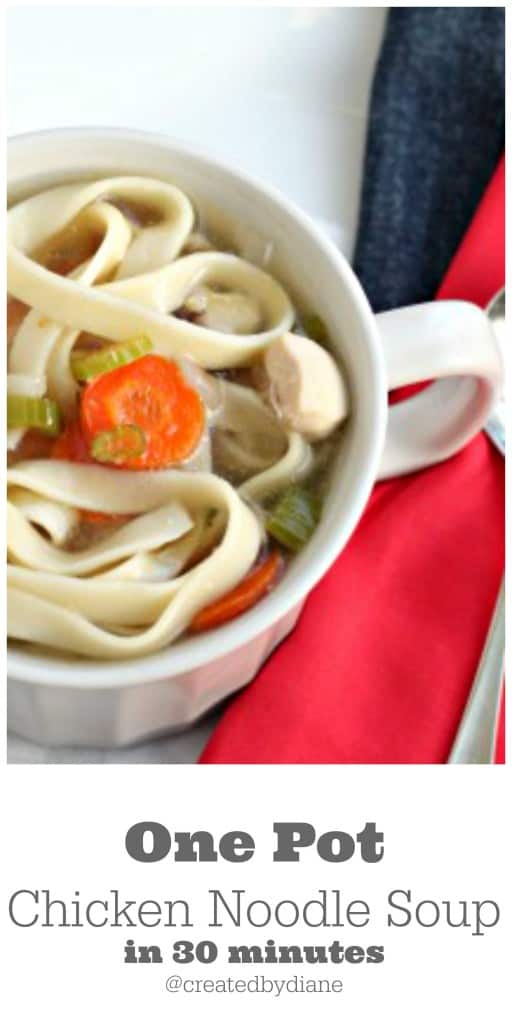 One Pot Chicken Soup
Ingredients
6 cups water
1 tablespoon chicken bouillon (Knorr is what I used)
11 oz boneless chicken thighs (three chicken thighs)
2 carrots sliced (1 cup)
3 celery stalks diced (3/4 cup)
½ medium onion diced (1/2 cup)
4 fettuccine nests (4.5 oz)
Instructions
Step 1. fill 4-quart pot with water and bouillon (or use broth, stock. homemade or purchased) turn burner on high.
Trim excess fat from chicken and cut into ½ inch pieces.
Thinly slice carrots
dice celery
dice onion
Carefully add ALL ingredients to the pot.
Place lid on the pot.
Bring it to a boil then turn on low to simmer at a low boil for 15 minutes. If low on your stove is very low, maybe medium-low would be better, you want to still see it bubbling.
Turn off the soup and serve.
This shop is part of a social shopper marketing insight campaign with
 Pollinate Media Group
™ and Kleenex but all my opinions are my own.