If you're looking for a quick and easy breakfast that you can make ahead of time, this is it!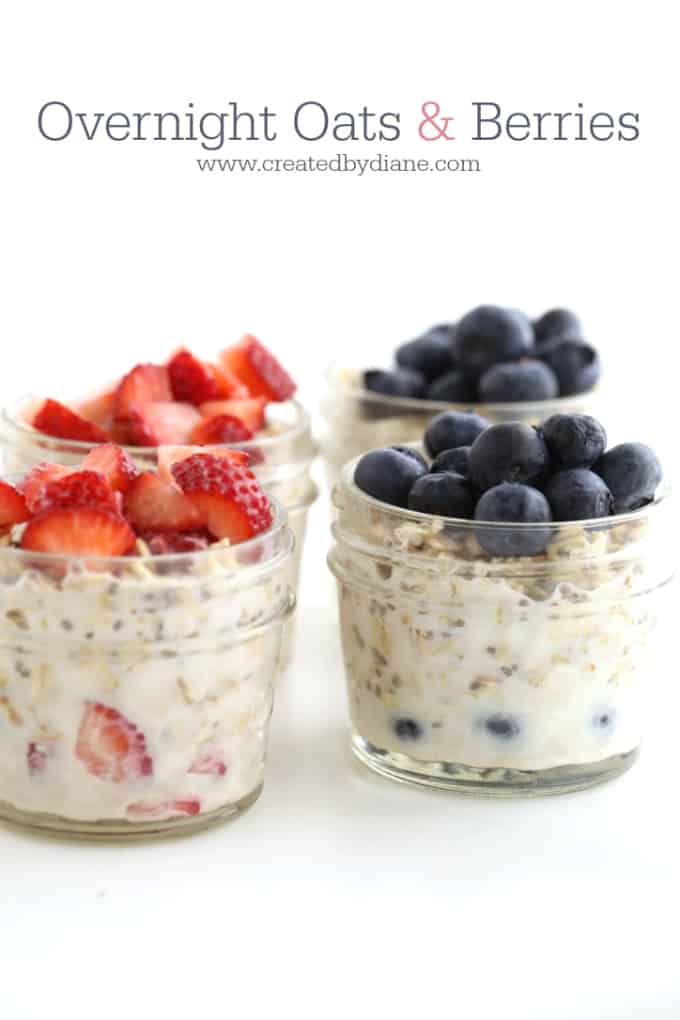 There are so many times I wished there was something grab and go in the fridge that I really wanted to eat.
This is the one grab and go item I could eat every day!
There are SO many flavor options it's crazy, I mostly eat them with strawberries and blueberries, but bananas and pineapple are yummy too. Add your favorite fruit, it's that simple.
It only takes a few minutes to put these together, and you're all set for days.
I like 4oz. servings if you want them larger just put it in 2 jars or double the recipe if you want 4-8oz. servings.
You'll find more Oatmeal recipes: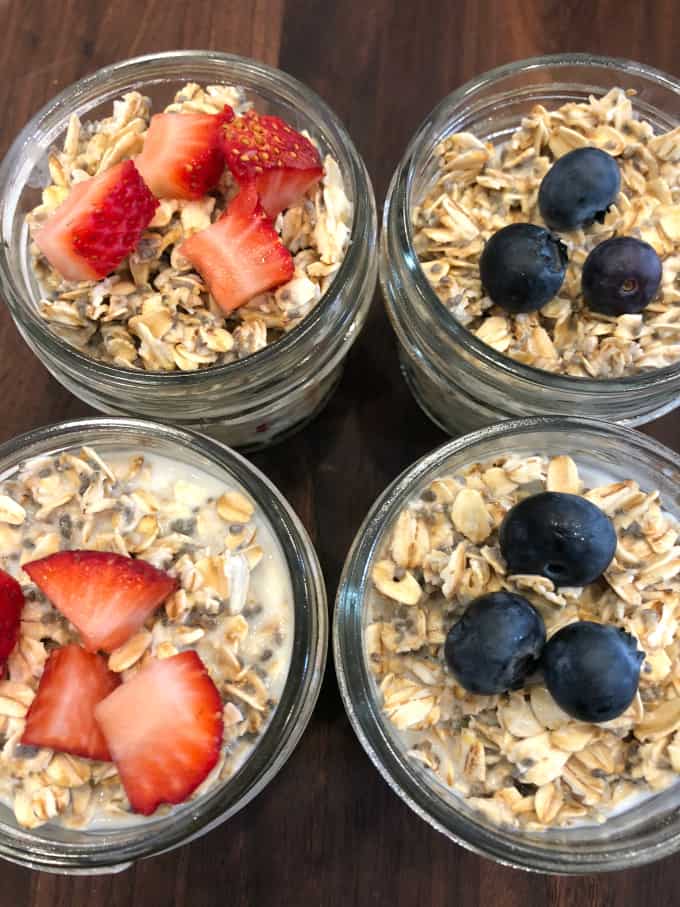 I always have strawberries and blueberries in the fridge, but these would be great with any fresh fruit you have on hand.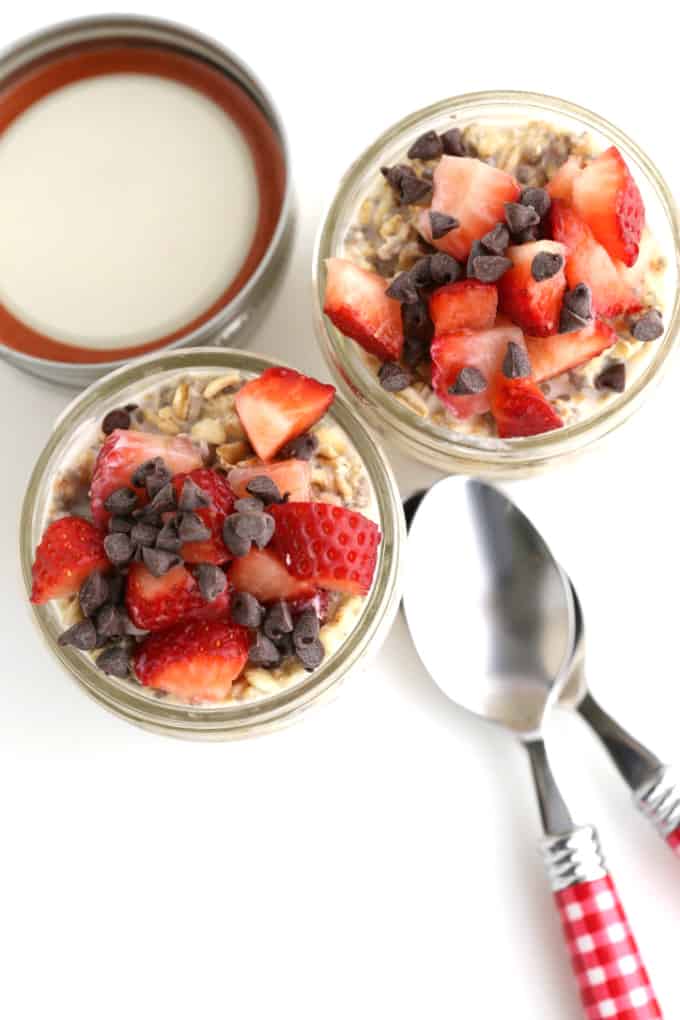 You can add toppings to these to customize them.
I like adding some mini chocolate chips to the strawberries, it's like having a dessert for breakfast without it being overly sweet!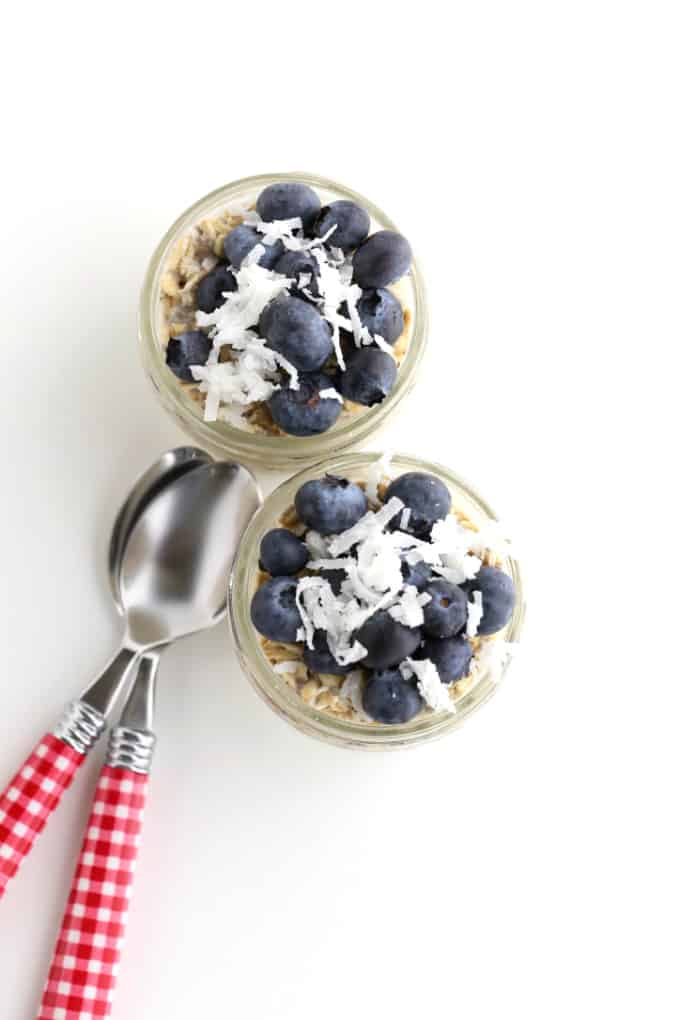 And I really love adding a little coconut to the blueberries.
I've added a little peanut butter to the strawberry and it was yummy, and tasted like a PBJ!
Overnight Oats and Berries
Ingredients
1 cup oats (not instant)
1 cup milk (any variety)
2 tablespoons real maple syrup
1 tablespoon chia seeds
1 cup fresh fruit
Additional fruit if desired when eating.
Toppings if desired, mini chocolate chips, nuts, coconut.
Instructions
This recipe makes 16 oz.
I put mine in 4-4oz glass jars.
In a medium bowl mix oats with milk, chia seeds, and maple syrup.
Place 1/2 the amount of fruit in the bottom of the jars (or containers), blueberries fit nicely cut larger fruit, so you can easily get some in each bite.
Add the oat mixture to the jars, then top it with the remaining fruit.
Place lids on jars and refrigerate them overnight (or at least a few hours)
You can top the jars with additional fruit and toppings.