Have you ever wanted to make a cake and NOT have to fuss with it. I have. No matter how many desserts I make, often I wish I could make a delicious cake without all the fuss.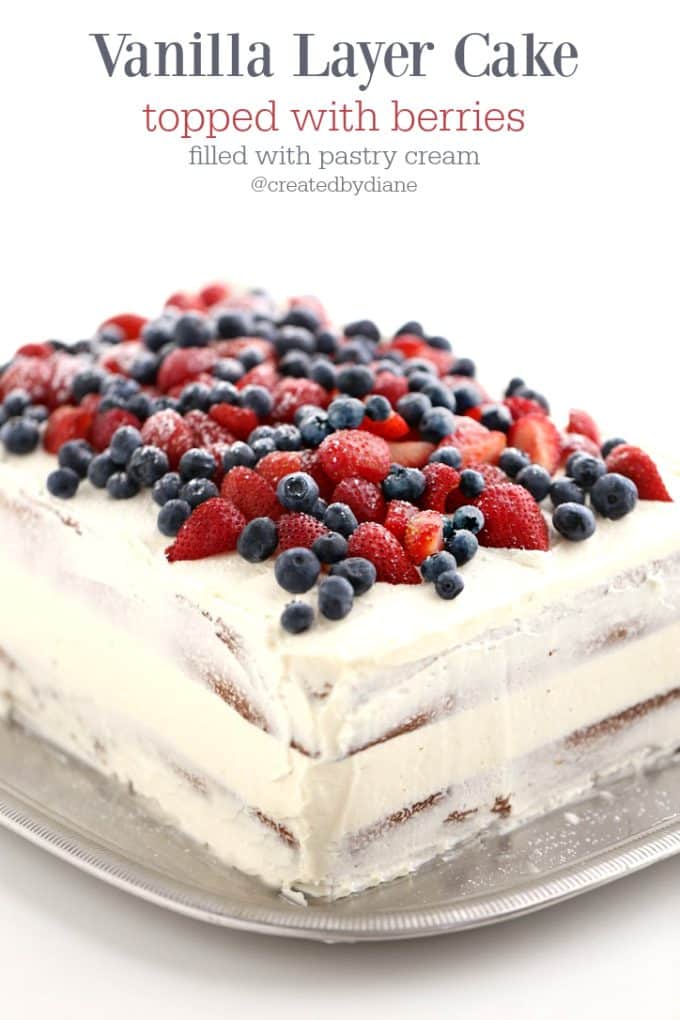 You know what I mean about fussing… I don't want to spend hours frosting and worrying how it will turn out.
Don't get me wrong, I always want it to look pretty.
I just don't want to have to fuss with it.
This is THE CAKE! There is no fuss, it tastes amazing and does not take all day to make.
I love the new "naked" cake style, it's kinda like when shabby chic became the style, I love that too.
I like that it looks pretty without being fussy or overdone.
There are many ways to top the cake to have it be just what YOU want.
I added strawberries and blueberries, other options are pineapple and coconut, fresh peaches with a drizzle of caramel, raspberries, and blackberries would be great also.
If you want to add some chocolate, a hot fudge sauce drizzled over the top and down the sides or chocolate curls.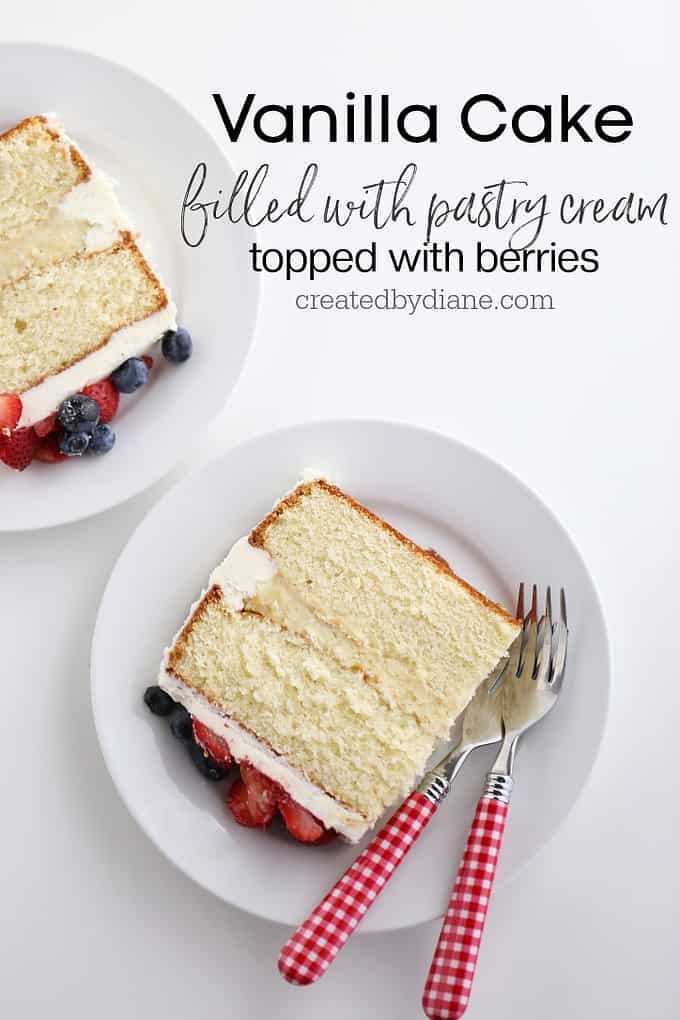 If you prefer candy to fruit top the whole cake with your favorite candy! M&M's or Butterfinger, Snow-Caps to Swedish fish, the possibilities are really endless.
This cake is the PERFECT cake for every day celebrating and especially July 4th, Memorial Day, Veterans Day, Patriotic Holidays in general and for anyone who loves America… each and every day. I served this at a party and it was wonderful!
The cake is made of two delicious vanilla cake layers with vanilla pastry cream slathered in between them, it's not overly sweet so you can certainly add a topping to it without pushing the sweetness over the top.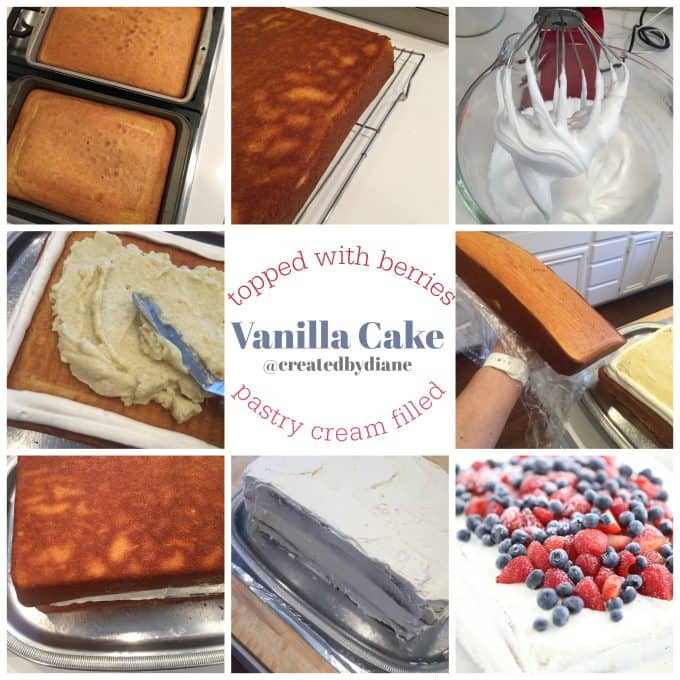 I find it easier to work with sheet cakes to bake them at least a day ahead of time.
Often I bake the cake two days ahead of time and then fill and crumb coat the day ahead and do the final coat of frosting or whipped cream the day of serving if time permits.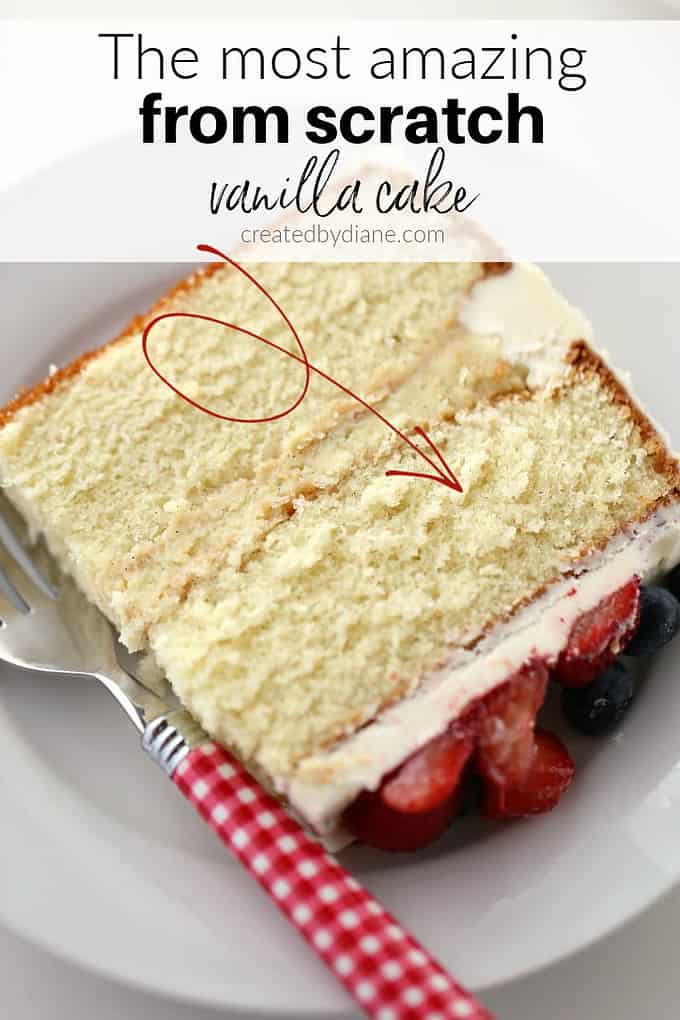 Large sheet cakes are easier to handle when they are firm, I allow the cakes to completely cool and then I wrap each layer twice in plastic wrap and place them on cardboard and put them into the freezer, to be sure they will freeze straight.
They are easier to handle, and the cake stays moist, they are firm and easy to work with, freshly baked cake, is floppy and crumbs a lot if you try to frost it after it's baked fresh.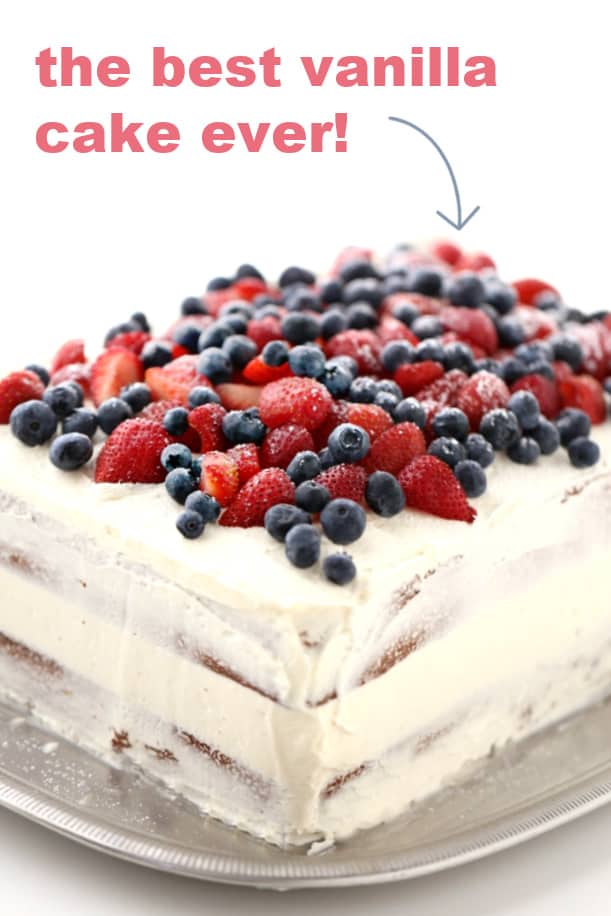 This is my favorite cake for a party.
It makes a large cake, you can make 2 batches of frosting if you prefer to frost the cake generously and not have a "naked cake" I will mention everyone loved that there wasn't SO MUCH frosting on the cake, and this frosting is not overly sweet, but oh so delicious.
There are quite a few steps and instructions to make this cake, but it's not too complicated.
It takes some time, but when you are done making this cake you and your cake eaters will LOVE you for it.
What should I do with leftover cake?
If you happen to have leftover cake, you can slice the cake and wrap them in plastic wrap and freeze them and take them out whenever you'd like a slice!
THIS is a great spatula to use to smooth the sides of this or any cake.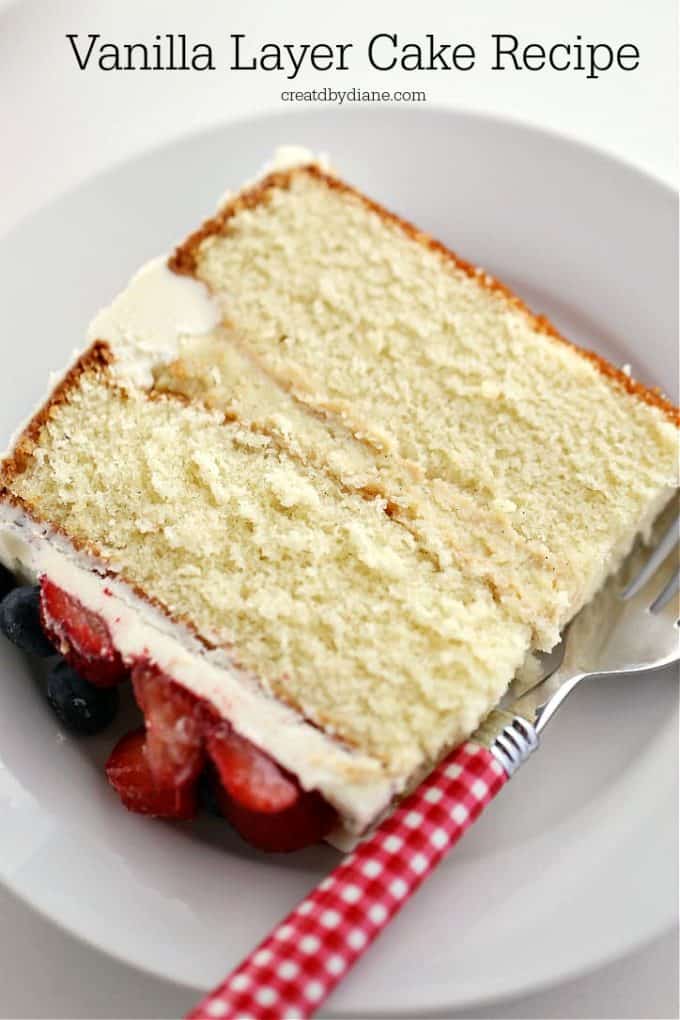 Be sure to check out these other Patriotic Recipes
Looking for more vanilla cake recipes?
This is my favorite vanilla cake recipe! I've baked it many ways, halved it, and such. Take a look at the other ways to bake this delicious vanilla cake:
I've made it into a single-layer cake and cupcakes.
Vanilla Layer Cake
Ingredients
4 cups sugar
8 eggs
5 cups all-purpose flour
5 teaspoons baking powder
2 cups whole milk
2 cups unsalted butter (melted and cooled for about 45 seconds in the microwave)
1/2 cup oil
4 teaspoons vanilla bean paste (or vanilla extract) remember the better quality vanilla the better this cake will taste.
Pastry Cream
4 egg yolks
1/2 cup sugar
1/4 cup cornstarch
1/4 teaspoon salt
2 cups whole milk (divided 1/2 cup and 1-1/2 cups)
4 tablespoons unsalted butter
2 teaspoons vanilla bean paste (or vanilla extract)
Italian Buttercream Frosting
2 cups sugar (separated into 1 cup each)
1/4 cup water
5 egg whites
1 pound (4 quarter sticks) room temperature butter (not soft) cut into tablespoon pieces
3 teaspoons vanilla extract
Decorating Cake
3 cups strawberries and blueberries
powdered sugar to dust over the top of the cake
Instructions
Preheat oven to 350° (325° for dark pans)
Use a baking spray to prepare 2-13X9 baking pans then place parchment on the bottom of each pan and give the parchment a light spray to ensure the cakes will release easily after being baked.
In a large mixer bowl beat sugar and eggs.
Mix in flour, baking powder, milk, butter, oil, and vanilla.
Mix until smooth and completely blended.
Pour batter evenly into each pan and bake for 35-40 minutes or until a toothpick comes out fairly clean, do not overbake. Check the cake every minute if needed to be sure you don't overbake it.
Allow the cakes to cool until cool, about 30 minutes, then release them from the cake pans onto cooling racks until the cakes are completely cooled.
I typically bake large cakes like this a couple of days ahead of when they are needed, so I can freeze the cake to make it easier to frost and they stay moist and stay together nicely without crumbling and falling apart when sliced.
I wrap my cakes at this point with plastic wrap and put them in the freezer. I put them on cardboard to keep them flat so they hold their shape.
Freeze the cakes until firm (a couple of hours at minimum to a few days- if you will be freezing them for more than a few days be sure to wrap them extra well so there is no frost on the cakes when you go to take them out of the freezer).
Unwrap the cakes and allow them the cakes to be at room temperature for 20 minutes to be able to handle them and stack them with filling. They won't bend much, so level cakes are best. I don't prefer to trim my cakes so I place the tops of each cake in the center and add the filling to adjust for any unevenness.
*I prepare the filling the day ahead so it's really cold and will fill in the middle of the cakes nicely.
I like to prepare the frosting the day I'm using it.
Pastry Cream
In a medium bowl mix sugar with cornstarch and salt together, then add 1/2 cup milk and whisk smooth.
In a small bowl mix egg yolks, then add the egg yolks to the mixture and blend until creamy.
In a small saucepan heat the remaining 1-1/2 cups milk to a simmer (small bubbles around the edge, not a full boil.
Slowly pour the heated milk into the egg mixture while whisking constantly allowing the egg mixture to heat slowly and evenly to prevent the eggs from scrambling (if you have any lumps or egg pieces place this mixture through a fine strainer)
Place the mixture into the saucepan and heat over medium-low heat until it boils about 5 minutes.
Remove the pan from the heat and stir in the butter and vanilla.
Place the pastry cream into a bowl and cover it with plastic wrap and allow it to cool, then put it in the refrigerator to get cold. (you can make this ahead of time even a couple of days)
Italian Buttercream Frosting
Separate egg whites into the bowl that fits a mixer, use the whip attachment.
Whip the egg whites with 1 cup sugar until stiff peaks form.
In a small saucepan, bring the other cup of sugar and the water to a boil and allow the temperature to come to 245° degrees.
Immediately remove the pan from heat and d=rizzle the syrup mixture into the whipped egg whites mixture on medium speed.
Once you've added all the syrup bring the speed up a bit to medium-high and mix until the bowl is cool to the touch. Put it on high if needed this takes about 10 minutes.
Place the flat paddle attachment onto the mixture.
Add in the butter a tablespoon at a time and mix on high.
Drape a towel over the bowl so it won't spatter.
Keep adding the butter while the mixer is going until all the butter is added and it's creamy.
If it looks curdled, keep mixing it could take 20 minutes if it's hot or there is a lot of humidity, put an ice pack on the mixer bowl if it needs chilling to become smooth. Alternatively, if you happen to refrigerate the mixture and need it warmed up to whip it, place a warm wet towel around the bowl.
Add in vanilla.
You can keep the frosting at room temperature for 2-3 days. If it's really hot in your kitchen or outside, you can put it in the fridge to chill it a bit if the frosting is cold allow it to come to room temperature and re-whip it before using it so it spreads nicely.
ASSEMBLING CAKE
Place the first layer of cake on your serving tray, pipe some frosting around the edge, and spread the pastry cream filling over the cake layer.
Place the second layer of cake.
Spread the frosting smoothly over the cake.
Reserve a small amount of frosting to spread over the top when you will be adding the berries so they stick into the frosting.
I added about 3 cups of berries onto the top of the cake and before serving it, dusted the cake with powdered sugar.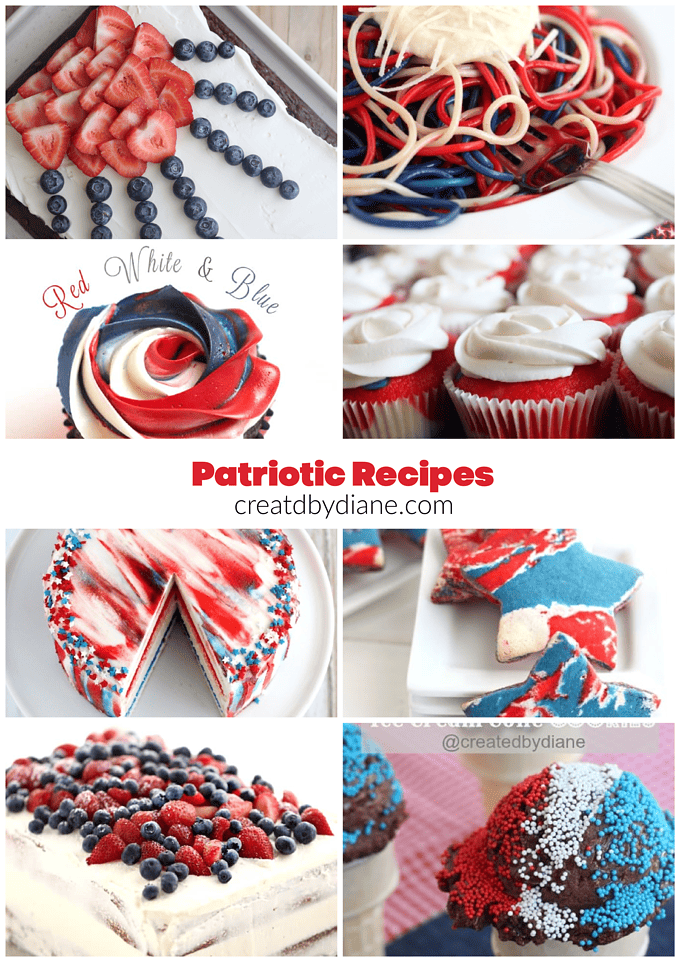 MORE Patriotic Recipes