Oatmeal Cupcakes with Cinnamon Sugar Frosting Recipe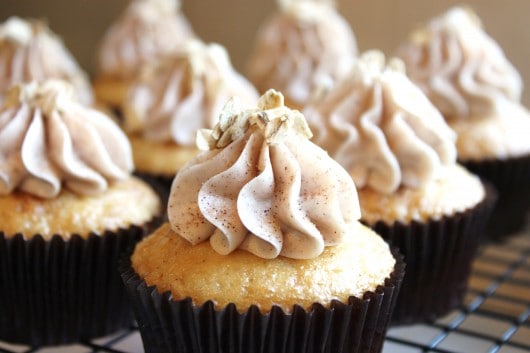 Oatmeal isn't just for breakfast!
I ran out of the house late today and was in a huge hurry, my watch stopped working days ago and I haven't had time to get a new one. It didn't need a battery. I replaced the battery last month. It's been losing minutes and I didn't realize until last week when someone was picking me up and I wasn't ready.
I'm typically on time<<< like really I'm an ON-TIME Person!
When I got in the car, I realized the time on the dashboard was twelve minutes later than I thought it was. Twelve minutes can seem like forever, especially when you are waiting for someone. Luckily I have good friends and she didn't leave me behind.
I should have had some of these ready, they would have been perfect, to bring and make it all better, saying something like I was busy baking these to bring to you. But since I had no idea I was late, that didn't happen.
It was 7 am (yes nice and early… WOW early!) and neither one of us had eaten breakfast, we knew it was going to be a long day. We were going to Los Angeles to Blog World. If you are a blogger and have the opportunity to go to Blog World I'd recommend it. The next Blog World is in NY. It was very informative.  We not only got to see people we already know and catch up, we met new friends like Ted Rubin and were filled with information from beginning to end. Great information from Seyd of WPbeginner. I even got to talk with Patty who is the Director of Business Development for Blog World and find out we are practically neighbors. It really is a small world! Getting out and meeting people is so important. It really keeps you involved in growing to be your best self!
These cupcakes would have been great, but then I would have been way later than twelve minutes.
Oatmeal Cupcakes with Cinnamon Sugar Frosting Recipe
Author:
Diane Schmidt, Created by Diane
Ingredients
1 box vanilla cake mix, plus ingredients to make the cake according to the package
1 teaspoon cinnamon
3 tablespoons brown sugar
1 1/2 cup Old Fashioned Quaker Oats
Cinnamon sugar frosting
1 cup butter
4 cups powdered sugar
1 teaspoon vanilla
1/2 teaspoon cinnamon
3 tablespoons milk
Instructions
Mix according to package directions, add in the cinnamon sugar and oats, and stir until blended. Bake and then let cool before frosting.
frosting
Beat butter until smooth add powdered sugar, vanilla, and cinnamon along with 3 tablespoons of milk. Mix until blended.
I piped the cupcakes with a pastry bag and #857 tip.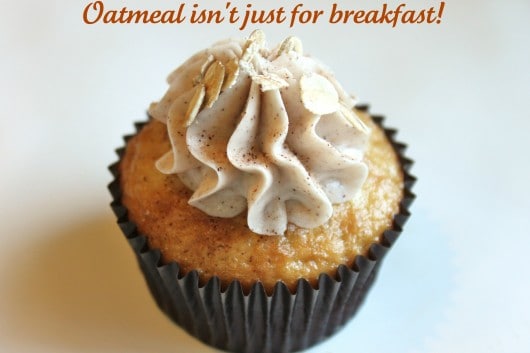 I have lots of Oatmeal Favorites: