When you are craving a S'more…..these will definitely satisfy!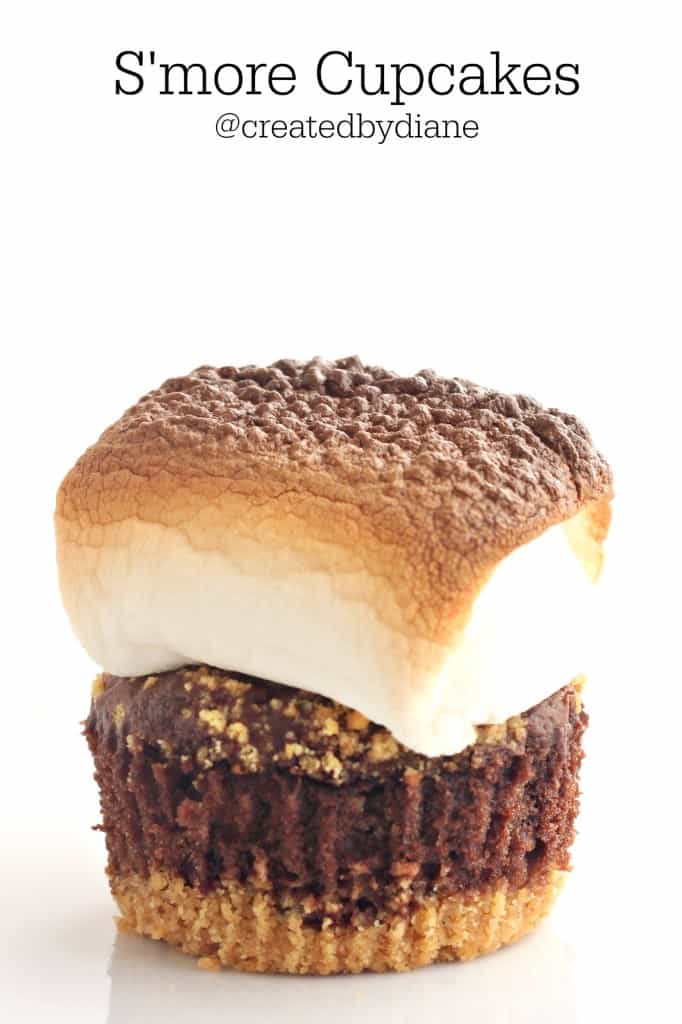 These just may be the easiest S'more Cupcakes ever,
I made many batches, to be sure there was enough graham cracker goodness in every bite.
That there was plenty marshmallow and
just like when roasted marshmallows timing matters,
no fancy tools needed..
these are EASY!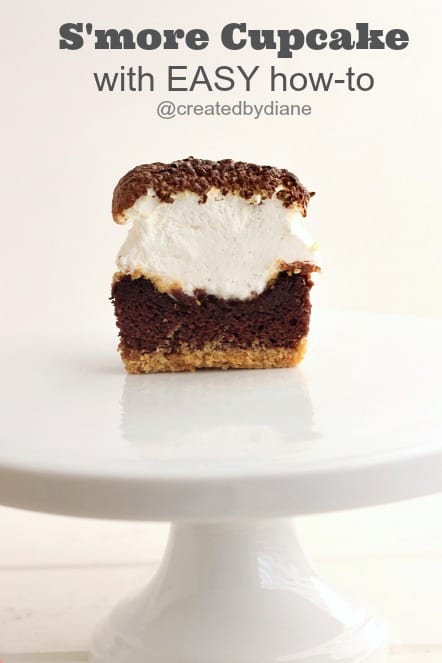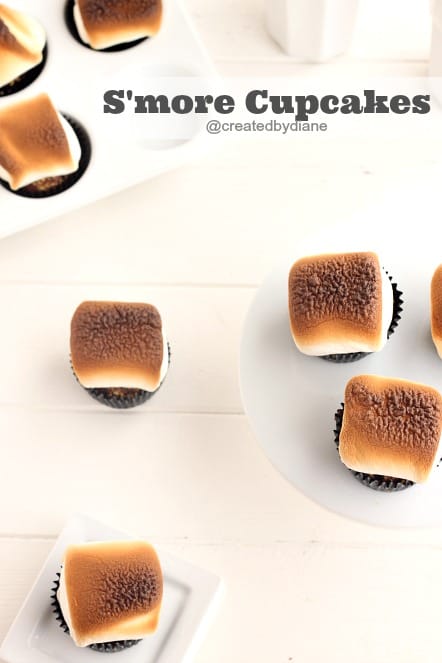 You will need giant marshmallows,
trust me on this….
don't make them with regular marshmallows,
they just don't seem to have that super amazing s'more quality
Bring out the big ones for this!!!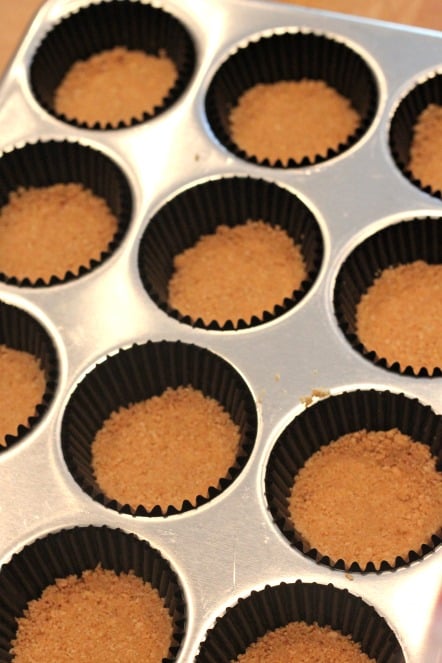 Mix graham cracker crumbs with butter and press into the bottom of the lined cupcake pans
use the bottom of a small measuring cup to pack it down, or a pastry tart tool, the back of a spoon will work, but a flat bottomed item will do it easier.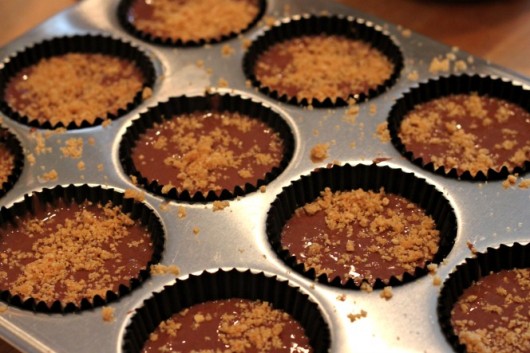 place the cupcake batter on top (I used a cake mix, I was going for EASY here, of course you can use any chocolate cake batter your prefer)  sprinkle the remaining graham cracker crumbs on top of the cake batter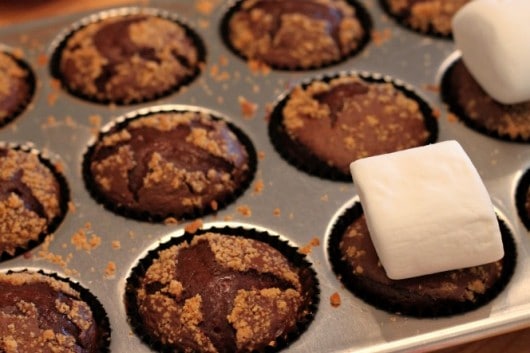 Bake the cupcakes.
Then remove them from the oven,  and place a giant marshmallow on top of them, pressing in lightly so they don't fall off, but not so much that you squish the cupcake, just so they stay put. Carefully put the cupcakes back in the oven, with the broiler on high. Toasting the marshmallows will only take a minute to a minute and a half. Do no close the oven door, don't take your eyes off of them, watch the magic happen. In no time, they will be all golden and toasted.
I put my above the middle, I wanted them toasty!
If you want them lighter, leave the rack in the middle, and watch them….carefully. As soon as you like the color of them take them out. You can always put them back in for a few more seconds if needed.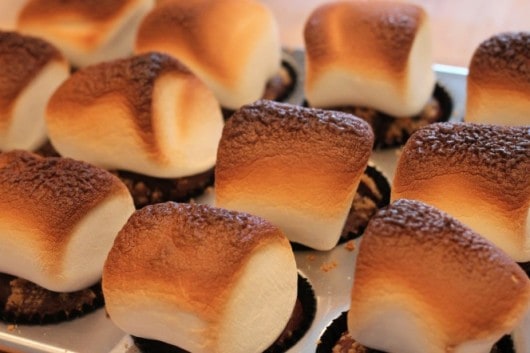 NOW those are some TOASTY marshmallows!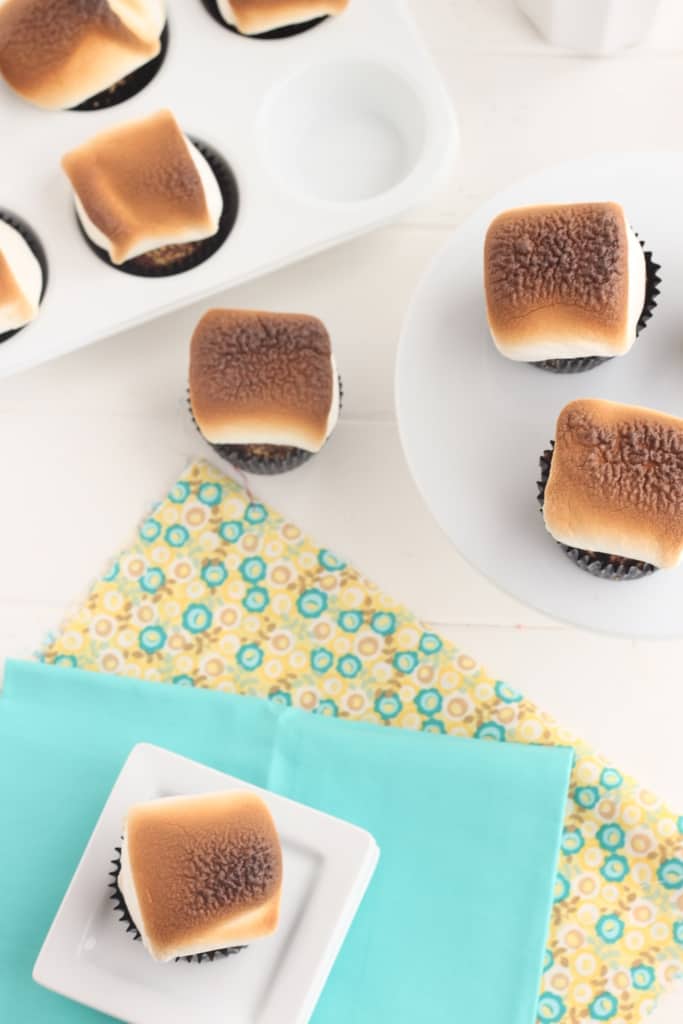 Ok, that was easy right…
what are you waiting for,
go make a batch!
Everyone will LOVE you for it 🙂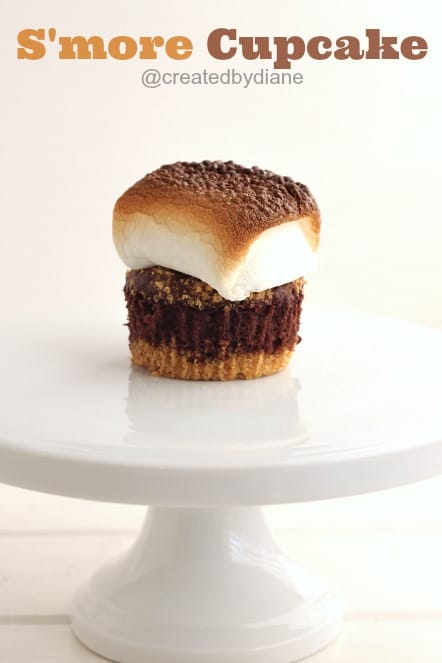 Easy S'more Cupcakes
Ingredients
1 box Devils food cake mix
2 cups graham cracker crumbs
4 tablespoons butter (add another tablespoon if it's too dry)
24 jumbo marshmallow
bake 15 minutes
broil for 1 1/2 minutes.
Instructions
Prepare cake mix according to package directions
In separate bowl mix graham crackers with butter with a pastry cutter or fork until all the graham crackers are coated well and it's crumbly
Press 2 teaspoons of the graham cracker crumbs into a cupcake pan lined with cupcake papers
use a tart tool for pressing the mixture, back of a spoon, or the end of a mini rolling pin that is roundish at the ends, a small class or measuring cup will work well too.
Then add 3 tablespoons cupcake batter on top of the graham cracker mix,
then sprinkle on the remaining graham cracker crumbs on top of the cake mix
bake at 375 degrees for 15 minutes or until cupcakes are baked
remove from oven, place a giant marshmallow on top of each cupcake carefully so they don't roll off as you transfer them back to the oven (press them in lightly)
Turn the broiler on high
and Broil the marshmallows for a minute and a half or until they are toasted
Watch them carefully, do not close the oven all the way...keep an eye on them, they toast quickly.
Remove from oven and let cool, then remove from cupcake pan and serve.
Notes
I have made these with regular size marshmallows and it was not enough marshmallow.
for an extra chocolaty taste you can add a cup of mini chocolate chips to the batter