Cheesy Bacon Breakfast Potatoes.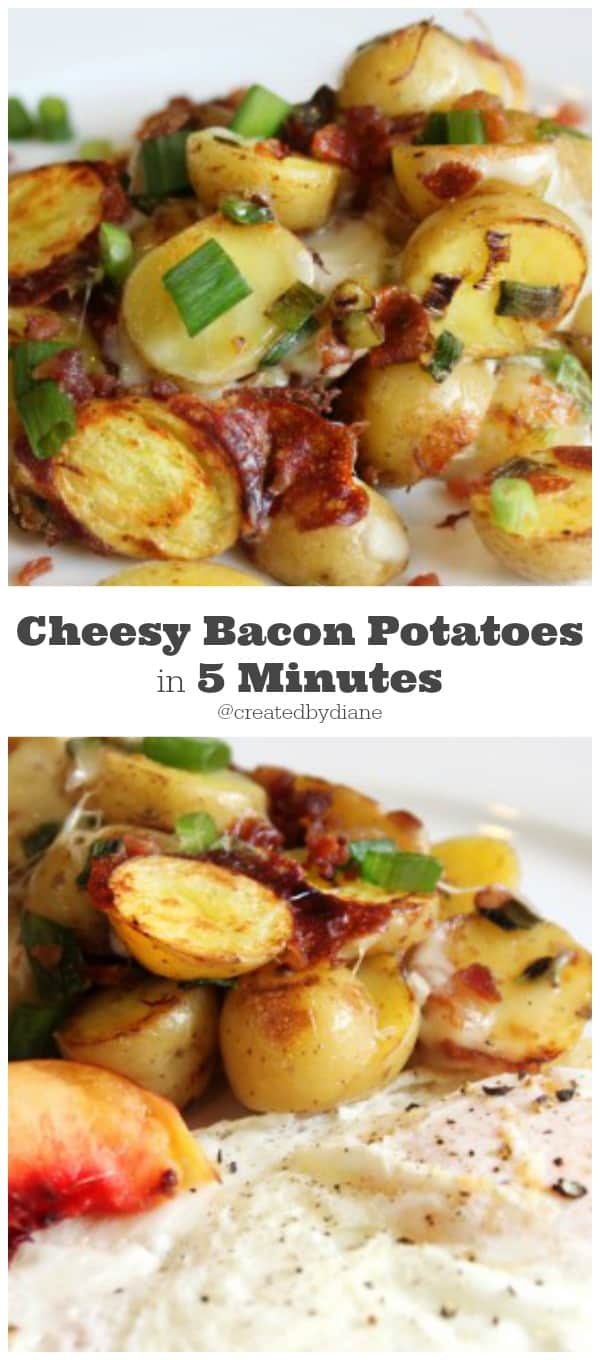 I love having a big breakfast on the weekends. My typical breakfast on weekdays is…
eat… and run.
It's great to sit down and relax with a hearty breakfast.
My ideal breakfast would always include potatoes. Since I'm not so great at planning it out, either by precooking my potatoes or by getting up early to cook them, I don't enjoy them as often as I'd like.
Until now.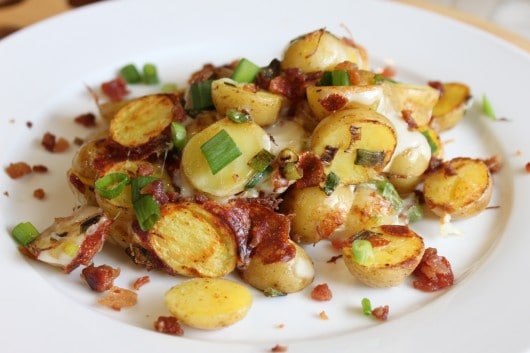 Frieda's sent me a sample of potatoes from The Little Potato Company I had no idea just how cute they would be.
Not only are these potatoes cute, they cook up so quickly they were done before I knew it. They come pre-washed and there is no peeling required. One bag is 1 1/2 pounds. They do come in different varieties and colors. I used the Piccolo which are creamy and smooth yellow potatoes.
Would you believe that my Cheesy Bacon Breakfast Potatoes were done from start to finish in 5 minutes?
There are many varieties of small potatoes available, as long as they are small they will cook quickly and easily and be perfect in this dish.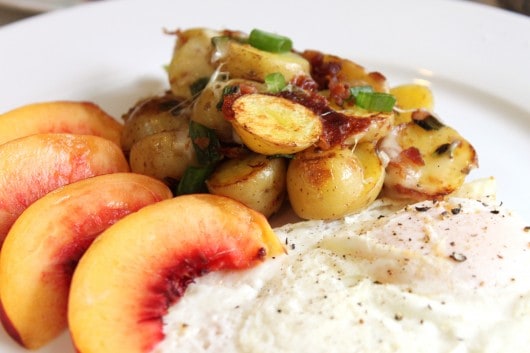 Cheesy, Bacon, Breakfast Potatoes
3/4 pound potatoes
1/2 cup cooked crumbled bacon
1/2 cup shredded Mozzarella Cheese
2 scallions diced
1 Tablespoon oil
I microwaved half a package of Piccolo Potatoes for 2 1/2 minutes. I sliced them in half and added them to a heated pan with a tablespoon of oil with two diced scallions and bacon. I purchase a bag of this great bacon at Costco and love how I can add bacon quickly to any recipe. I then added on shredded Mozzarella Cheese, place a lid on it for the cheese to melt quickly turn the potatoes over to brown the cheese a bit.
I love the crispy cheese on these potatoes and the great flavor of bacon and scallions. Freida's told me these potatoes are available at Ralph's. I shop at Ralph's often and will be keeping my eye out for them.Here is you chance to try these little cuties:
Frieda's is on Facebook if you'd like to keep up to date with their specialty produce. If you recall I made Crepes with eggs and bacon with Frieda's Crepes.
disclosure: I was given potatoes from Frieda's but the opinions are my own. I can't help it, I just love these little potatoes and couldn't wait to share them with you.