What are my favorite items? I'm happy to share the items I love, the items I buy as gifts, and what I use most often!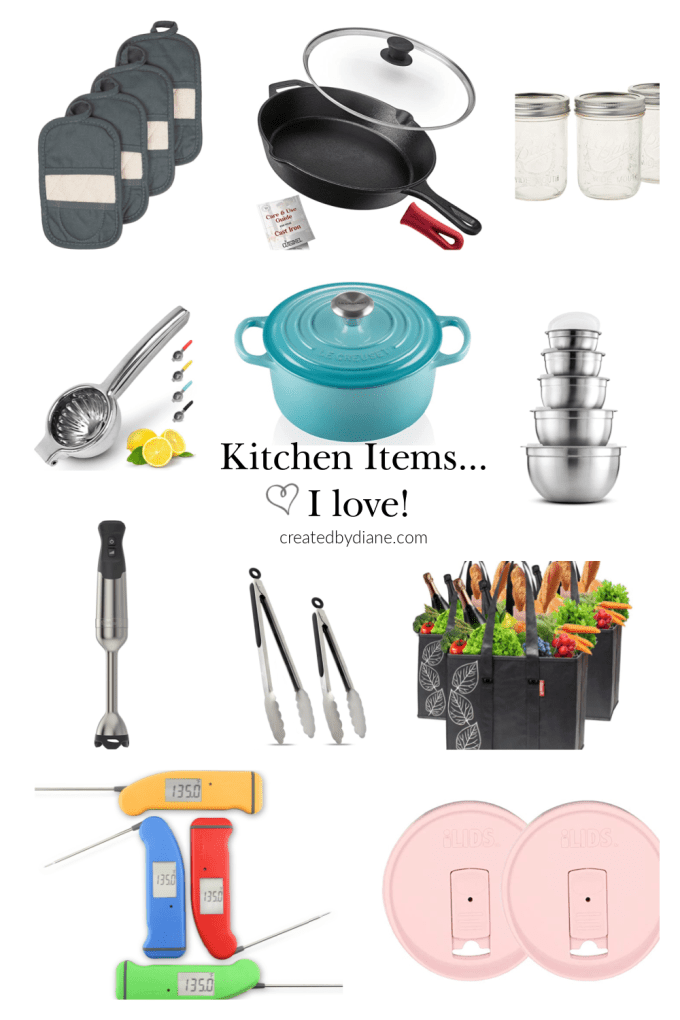 I not only have all these items and use them daily, but I also buy them as gifts which are always well received and for good reason!

I have a few other lists of items so be sure to check out my favorites here, and my other gift guides here.

Pot Holders I have had SO many potholders in the past and THESE are my favorite, they wash up nicely and are thick and I don't get burned using them, which happens with lots of other potholders.
Cast Iron Skillet a grill without the fuss, no going out in the rain, no propane to worry about, easy cleanup, it browns chicken, and beef and cooks fish nicely- sears well, gives shrimp extra flavor and the liquid burns off so easily as the pan stays hot that it cooks evenly, it's a must-have and I buy this for wedding gifts and even have a fun printable to give with the gift.
Glass Jars I put everything in glass jars, from pens on my desk to leftover soup and I even use them as my everyday drinking glasses, I love them that much!
and use these great sip lids and find these leakproof lids for storing leftovers invaluable.

Lemon Press I love lemons and limes and find that this lemon press isn't' only cute, it's a must-have to get that lemon in the super-fast, makes lemonade making fun for everyone, and don't forget about the ever-lovin' margaritas!
Dutch Oven Le Creuset pot5.5 – the BEST pot to have, cooks food evenly and holds heat so it's great for serving out of. Brown meat, cook soup, boil potatoes you name it, this is the pot to have. Remember it's cast iron inside, so it's heavy, but cleans up easily, since it's coated it's recommended to use medium heat, if you get something browned that won't come out, use barkeepers friend, it's gentle and will scrub away any stains. I have many sizes I use them all. The 9 qt is great when cooking for a crowd or boiling 2 lbs of pasta. I have a wolf cooktop that is super hot, and these pots are the best, thinner metal pots burn most item son a professional cooktop.
Stainless Bowls no worrying about them breaking, they chill fast and can help you get something cold quicker in the fridge or freezer, or with warm water to get eggs to room temp easily.

Immersion Blender great for smoothies, sauces, mayo, salsa, hummus
Tongs I find it really hard to cook without tongs, I use them for everything from cooking chicken, to flipping vegetables, turning large cuts of meat in the oven, hold the turkey still to slice it nicely, it works better than a carving fork.
Shopping Bags After all the flimsy bags, I found these and they are so great I have 12 of them, we use them for everything! We stock the RV using them, place items in the car to bring on the go, and of course use them for groceries, hauling items home from Big box stores and so much more. They make a great gift and anyone whom I've given them too thanks me all the time for them as they say they use them every day as well.

Thermometer, this is for the serious cook!
and don't miss this thermometer, it's smaller it's perfect for everyone who cooks and the price point is much lower, making it a great housewarming gift, a kid who moves out, stocking stuffer!
Any cook should have a good thermometer, knowing the temperature makes sure you don't overcook your steak, and ensures the temperature of items are done, no guessing!
And I have a few of these great sip lids for glass jars, which not only make them cute it's great when we have company and everyone can tell whose glass is who's!
If you're looking for more FUN posts…
I have one on Simplifying Christmas,
I bake a lot of cookies,
find all my cookie recipes here, but around Christmas,
I am also always making peanut brittle,
these delicious walnuts,
and my famous fudge!
My favorite syrup recipes to make for gift-giving as well.
Homemade bread and flavored butter is also a wonderful gift.
Tips on how to travel with food so it arrives safely.
and now that the weather is cooling off,
don't forget to make some SOUP!
If after the holidays you're looking to not only clean up the items but clean out your house, be sure to check out my post on how I EASILY DECLUTTER my home with 3 simple rules.
Check out my favorites here, and my other gift guides here.