This is one of my most favorite Mexican dishes. It's simple to assemble and once baked, it's easily DEVOURED!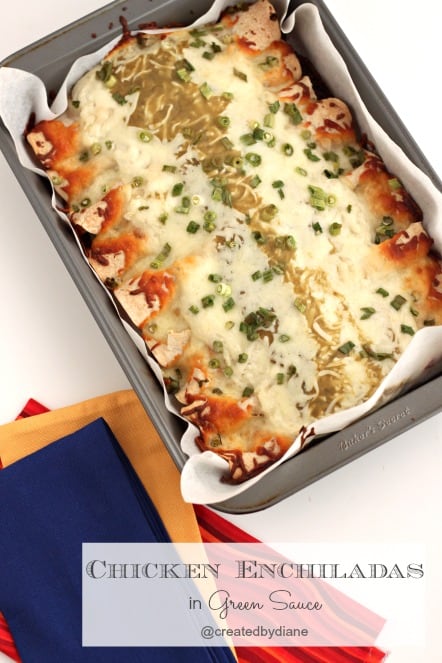 I just love easy meals,
this is a new favorite in my house.
I haven't always been the biggest fan of enchiladas. Crazy, right?
I realized I don't like red enchilada sauce,  but I really love the green sauce.
This couldn't be easier and more delicious. I've made it so many times and each and every time I make it everyone RAVES over it.
So what's stopping you from making it, it's easy… trust me!
You only need a few ingredients and in minutes you'll be popping it into the oven… which makes this meal great for a Sunday dinner, prep it in the morning, enjoy your day and then bake it and gather everyone around the table for a nice meal. 
It's the perfect weeknight meal too, and who doesn't like a hot baked casserole dinner! 
Some variations on this could be that you like it spicier, so go ahead and add some sliced jalapenos. 
You can add in whatever item your family loves to make it your own. 
My family likes it just as the recipe is written, but go right ahead and use pork in the enchiladas if chili verde is your favorite, I have made it with pork and it's yummy. My husband is always ordering chili verde when we go out for Mexican food and that is how he knows if he'll like the rest of their menu… just by that one dish. 
Nothing is better than a creamy green sauce smothered over chicken and topped with cheese… right…
You can use any type of cooked chicken you prefer. 
I typically cook 6 pounds of chicken a week, I always have plenty on hand to whip this delicious dish up in minutes.
You can use rotisserie chicken, canned chicken or pressure cooked chicken like this.
Other Mexican Recipes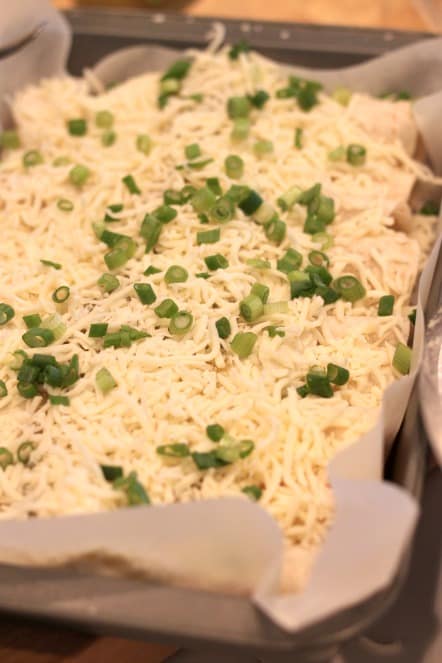 I like my green sauce creamy so I add some Greek Yogurt to the green sauce to mix with the chicken and out come…  a super creamy chicken.
You can use sour cream if you don't have yogurt on hand. Either one is delicious. If you don't have one of these or don't want to add so much dairy, use chicken broth and thicken it with cornstarch, heat it up, and then add the green sauce to that.
It's like a yummy green chili gravy.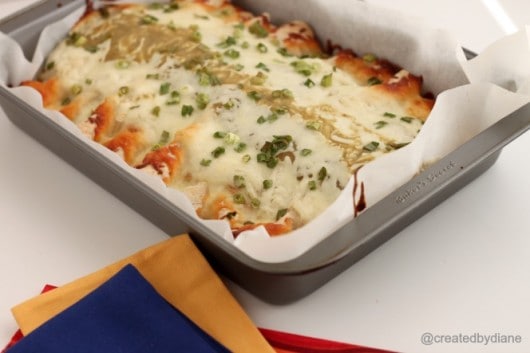 This dish comes out of the oven hot and bubbly with the cheese melted, top with some green onion and cilantro.
You can add as many tortillas as you can fit if you need a few more to feed your family.
Leftovers are great too, everyone fights over them in my house.
I'm always reading the label of the green sauce I use to be sure it doesn't have MSG in it, (sometimes It effects me and my mom) I typically use Ortega brand, but there are many others. I made my own green sauce once, it was good, but not as convenient for every time. I cooked tomatillos, a can of diced green chilis, added garlic and onion, and then pureed it with some chicken stock some cumin, salt, and pepper. Sometimes I can't find tomatillos so often I just use a jar of green sauce.
HERE is my homemade Salsa Verde recipe if you want to make the green sauce first then make the enchiladas.
Chicken Enchiladas in Green Sauce
Author:
Diane Schmidt, Created by Diane
Ingredients
8-8" flour tortillas
2 large chicken breasts cooked (about 6-8 oz each)
1-8 oz bottle green taco sauce ( I used Ortega, it has no MSG)
1 cup sour cream or Greek yogurt
1 1/2-2 cups cheese shredded (Monterey Jack or Mexican Blend)
3 green onions diced
(add chopped cilantro if desired)
Instructions
line a 13X9 pan with a 1/2 sheet of parchment paper for easy cleanup.
Preheat oven to 350 degrees.
Use room temperature tortillas.
Shred chicken, it's easiest to do this when the chicken is warm. I put mine in my kitchen-aid mixer like in this post here.
Mix 6oz of green sauce with the sour cream or yogurt.
Use all but 1/2 cup of the sauce to mix with the chicken,
Add about 1/3 cup of chicken to each tortilla and roll the tortillas and place the seam down into the pan.
Spread the remaining green sauce mix over the tops of the tortillas and top the tortillas with cheese, onions and the remaining 2 oz of green sauce.
Bake for 30 minutes or until the cheese is fully melted and the center of the enchiladas are hot.