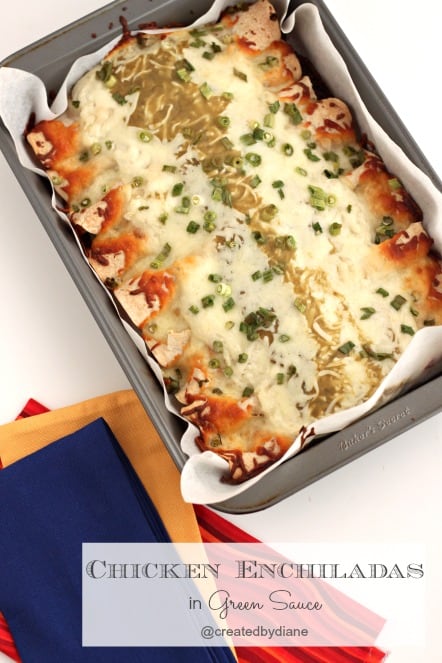 I just love easy meals,
this is a new favorite in my house.
I haven't always been the biggest fan of enchiladas. Crazy, right?
I realized I don't like red enchilada sauce,  but I really love the green sauce.
Since I typically cook 6 pounds of chicken a week, I always have plenty on hand to whip this delicious dish up in minutes.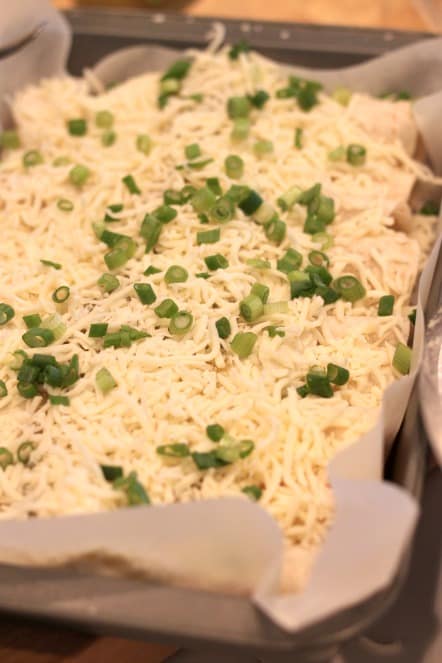 I like my green sauce creamy so I add some Greek Yogurt to the green sauce to mix with the chicken and out comes a super creamy chicken.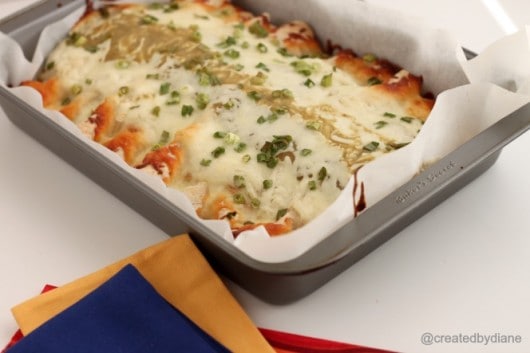 Chicken Enchiladas in Green Sauce
Ingredients
8-8" flour tortillas
2 large chicken breasts cooked (about 6-8 oz each)
1-8 oz bottle green taco sauce ( I used Ortega, it has no MSG)
1 cup nonfat Greek yogurt
1½-2 cups cheese shredded (Monterey Jack or Mexican Blend)
3 green onions diced
(add chopped cilantro if desired)
Instructions
line a 13X9 pan with a ½ sheet of parchment paper for easy cleanup.
Preheat oven to 350 degrees.
Use room temperature tortillas.
Shred chicken, it's easiest to do this when the chicken is warm. I put mine in my kitchen-aid mixer like in this post here.
Mix 6oz of green sauce with the yogurt
Use all but ½ cup of the sauce to mix with the chicken,
Add about ⅓ cup of chicken to each tortilla and roll the tortillas and place the seam down into the pan.
Spread the remaining green sauce mix over the tops of the tortillas and top the tortillas with cheese, onions and the remaining 2 oz of green sauce.
Bake for 30 minutes or until the cheese is fully melted and the center of the enchiladas are hot.
Someday I'll make my own green sauce…until then, this is my version of fast food.