These Cranberry Pecan Bars have such a unique flavor, they have a graham cracker crust and the pecans and cranberry combination is fruity, nutty all mixed in a sweet sauce with cinnamon.
The entire kitchen smells amazing while these are being made, and they look so pretty!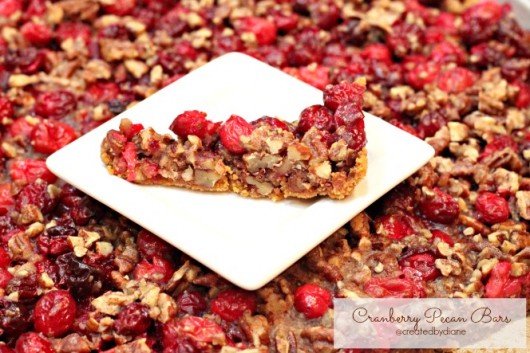 Cranberry season is in full swing and these are just PERFECT for this time of year.
These make you wish cranberries were around all year long.
I put bags of cranberries in the freezer just to make these, they are that good. I give up freezer space for them so when spring arrives I can make them.
We got rid of our large chest freezer a couple years ago and so freezer space is only reserved for premium items!
As soon as my husband sees cranberries he requests these.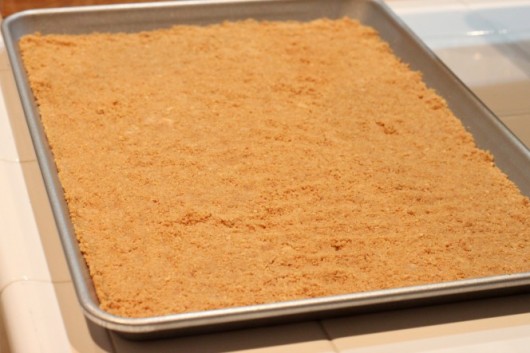 Press the graham cracker mix into a 1/2 sheet pan.
Next pile on the cranberry pecan mixture.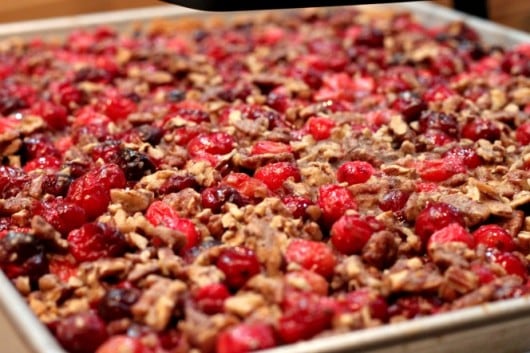 Spread it all out and bake.
It is as easy as 1,2,3.
These are most requested by guys. Really these are the guy approved sweets. Off the top of my head I can think of at least 10 guys who ask me to make these again and again.
I've made them in a cupcake pan you can find the Mini Cranberry Pecan Pie Instructions Here. I just had to find an easier and quicker way to make them and so that they could also be enjoyed by a crowd.
They all said this was a winner.
So head out and pick of lots of cranberries.
You can also make this Cranberry Cheesecake Pie with them too.

Cranberry Pecan Bars
Ingredients
2 cups graham crackers crumbs
8 tablespoons melted butter
1/3 cup sugar
3/4 cup flour
1 cup Southern Comfort (a fruity spiced liquor) substitute rum if desired
1 1/2 teaspoon cinnamon
3 cups pecans chopped and toasted
3 cups cranberries
1 1/2 cups light corn syrup
Instructions
Mix graham cracker crumbs with butter and sugar and press into a half sheet pan prepared with baking spray.
Mix flour with Southern Comfort and cinnamon.
Toast chopped pecans over a med heat.
Put the toasted nuts in a bowl with cranberries and light corn syrup, then pour flour mixture on top and stir to coat well.
Pour over top of graham cracker crumbs.
Bake at 350 degrees for 25 minutes or unit firm.
Let cool before slicing.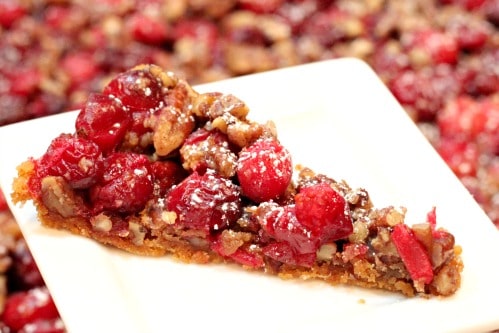 I sliced them into triangles, but squares would work too.