Red Velvet Deep Dish Cookies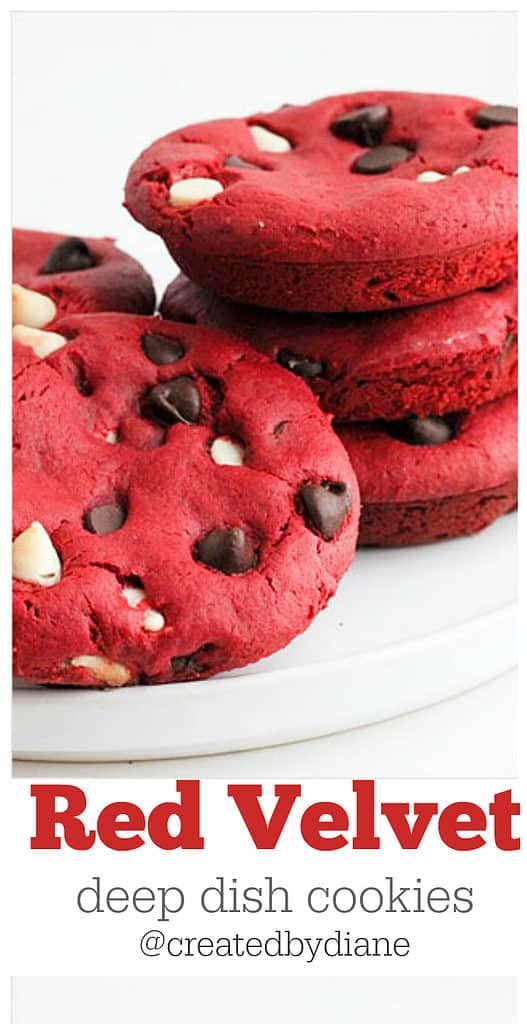 As it turns out, I'm not the best planner.
Valentine's Day is approaching SUPER-FAST!
Are you ready?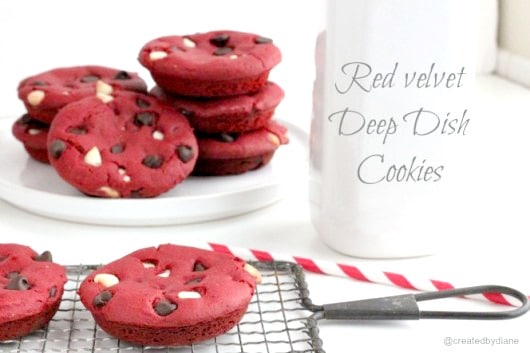 Well I wasn't until this morning. I woke up early (which is not my favorite thing to do) and got started making cookie dough. With a couple interruptions, the oven was then on and ready for the cookies to go in.
These are for my little guy and I really think he is going to LOVE them. That is if I don't eat them all before he gets home to see them.
Big Red Velvet Cookies with white and chocolate chips….YUM! I may have sampled one or two.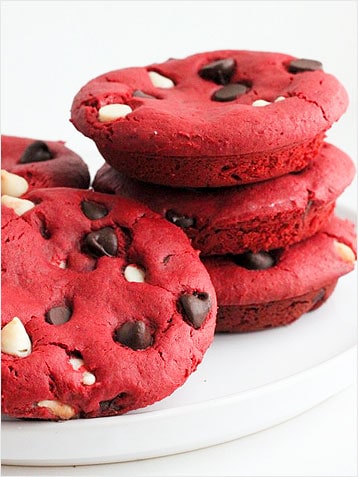 These may just be my new favorite cookies!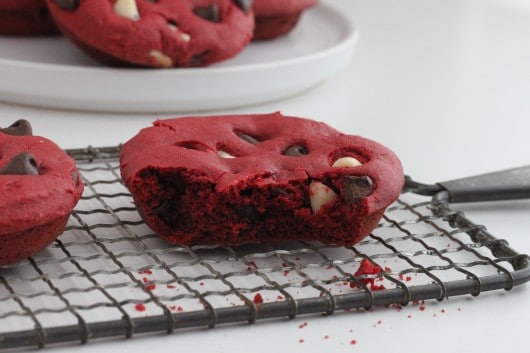 These cookies came out with a wonderful crispy edge and a great chewy center.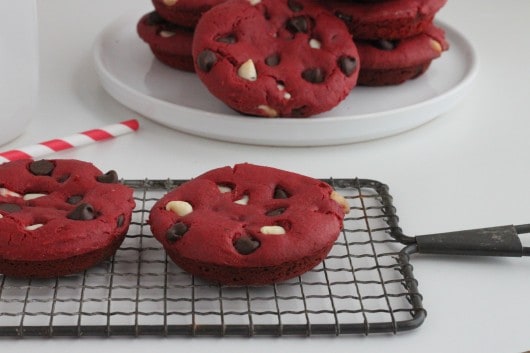 I'm not the biggest fan of white chips, but in these they are just PERFECT!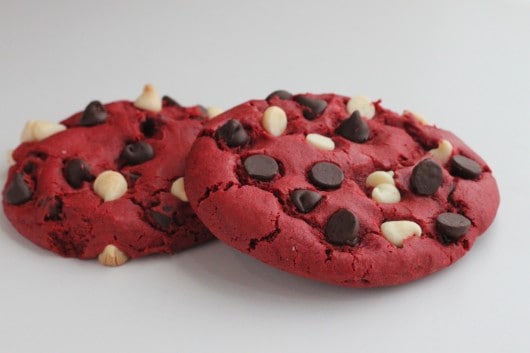 NO DEEP DISH PAN…no problem
These were baked on a cookie sheet. They are just as delicious as the deep dish cookies. I just LOVE big cookies with lots of chips! I better go stock up on Red Velvet Cake Mix! I'm sure I'll be making these again real soon.
Red Velvet Deep Dish Cookies
Ingredients
1 box Red Velvet Cake Mix (I used Betty Crocker)
2 eggs
1/2 cup oil
1/2 cup flour
1/2 cup white chips
1/2 cup chocolate chips
Instructions
Place cake mix, oil, eggs, flour into bowl and mix on medium until dough pulls away from sides.
Stir in chips.
Place 3 tablespoons onto deep dish cookie pan and flatten into the pan. I use the bottom of a 1 cup measuring cup.
If you want some chips to poke out, don't mix all the chips in to the cookie and place some on top. The result won't be as smooth, which I prefer.
If you don't have a deep dish cookie pan,(Muffin Top Pan) just place 3 tablespoons dough on a parchment lined cookie sheet.
Bake at 350 degrees for 10-12 minutes. Until center of cookies are not wet, but not completely dry or the cookies will be dry in the center when cooled.