This is the ANYTIME cake… it's perfect anytime! Breakfast, lunch, brunch, snacking… and especially at midnight!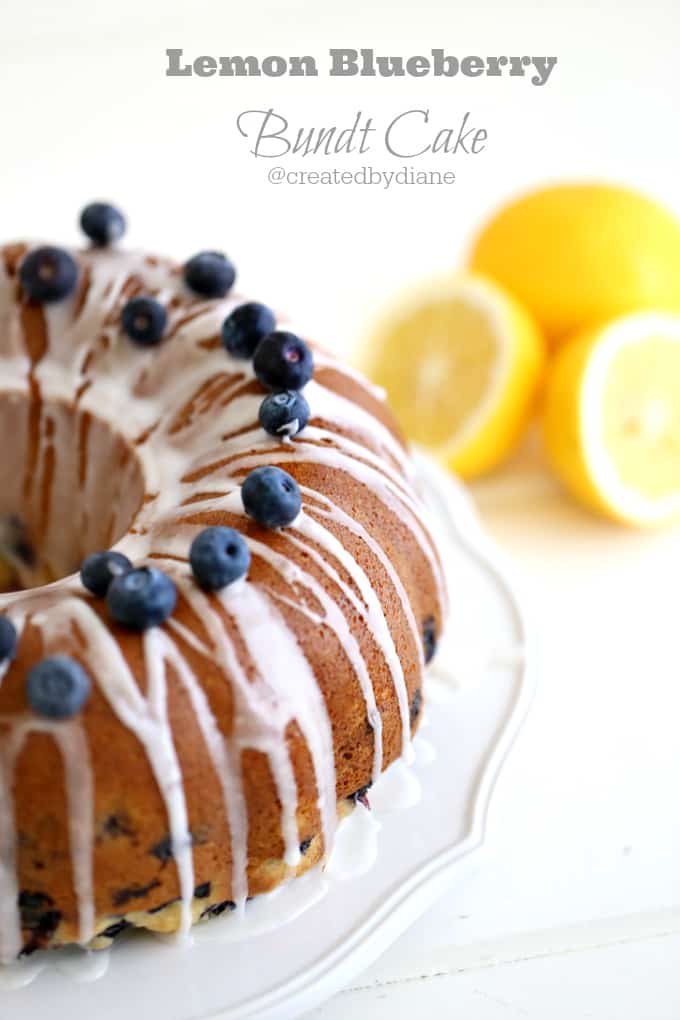 There is no better time to make this lemon blueberry bundt than right now!
I'm sure you will find someone to help you eat it with no trouble what so ever.
I'm sure you'll even find a friend or neighbor to bring a piece too and they will REALLY appreciate it, believe me.
Wouldn't you just LOVE if someone stopped by to visit you with some of this!
My mom always said give the gift you'd like to receive
I have a funny blueberry story,
First I will say when I grew up every summer my mom would bring us kids to go blueberry picking. All season long, we'd buy blueberries in 5 pound boxes and we enjoyed them all the time, to be able to enjoy them in the winter, my mom would freeze at least 10 pounds.
She makes the best blueberry muffins!
20 years ago when my parents moved from NJ to California, there were  NO blueberries to be found. Really!
The people in the grocery store looked at my dad like he was crazy to ask for blueberries, about a year or two later, he found a 3 oz clam shell with blueberries for some ridiculous price.
I still remember the expression on his face when he came home.
It was as if no one in the area they moved knew who delicious fresh blueberries are,
I'm so glad they do now, now large clam shells are readily available.
Not sure what changed, big warehouse stores carry them, and so do grocery stores, oh than goodness they jumped on the blueberry band wagon,
because I just LOVE them and buy them each week.
A fridge is not complete without eat least one package of blueberries!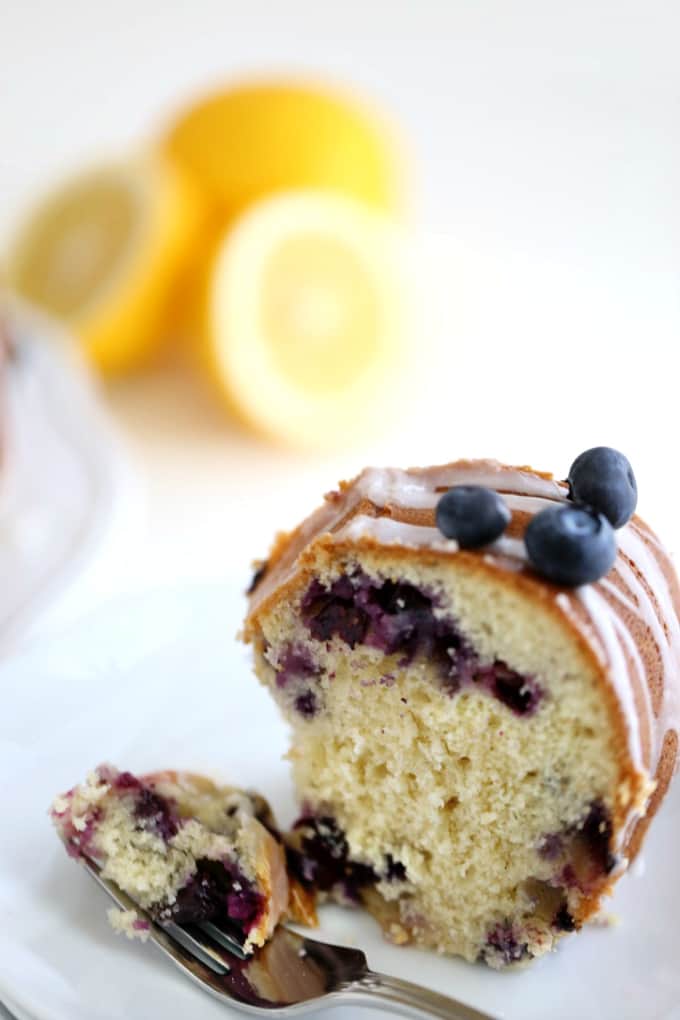 Lemons and blueberries are a great combination and this bundt cake is so tasty,
easy to whip up and ready in no time.
The delicious fresh berries will entice you to enjoy each and every bite,
I just love the lemon glaze on this bundt, it's tangy and sweet and oh so delicious.
There is no better time to make this lemon blueberry bundt than right now!
Lemon Blueberry Bundt Cake
Ingredients
3 cups flour
1 tablespoon baking powder
6 tablespoons butter
1 1/4 cups sugar
1/2 teaspoon salt
2 eggs
2 tablespoons lemon extract
2 tablespoons lemon juice (fresh squeezed)
1 teaspoon vanilla extract
1/4 cup sour cream (or greek yogurt)
3/4 cup milk
2 cups fresh blueberries
Instructions
Prepare the bundt pan with a baking spray or butter and flour lightly.
In a mixer bowl beat butter until fluffy, add sugar and mix on medium.
Add eggs one and a time and mix well.
Add lemon and vanilla extracts, lemon juice and sour cream.
In a separate bowl sift flour, baking powder together with salt.
Add the flour mixture with the butter mixture in three additions alternating with the milk. Begin and end with the flour.
Mix until the batter is just combined.
Spoon half the mixture into the bundt pan, sprinkle in 1/3 cup blueberries, then add the remaining batter and then the remaining blueberries gently press them into the batter.
Bake at 350 degrees for 1 hour.
Remove cake pan from oven when toothpick comes out clean.
Let the pan cool 10 minutes on a rack.
Turn cake over on rack and let cool completely.
Once cooled, prepare icing the recipe is in the notes, then drizzle over bundt and add more blueberries to garnish.
Notes
Lemon Icing:
1 cup powdered sugar
1 teaspoon lemon extract
1 tablespoon corn starch
3 tablespoons water
Mix well and drizzle over cooled cake.
Lemon Blueberry Bundt Cake
Don't miss one delicious recipe and get my FREE e-cookbook click here!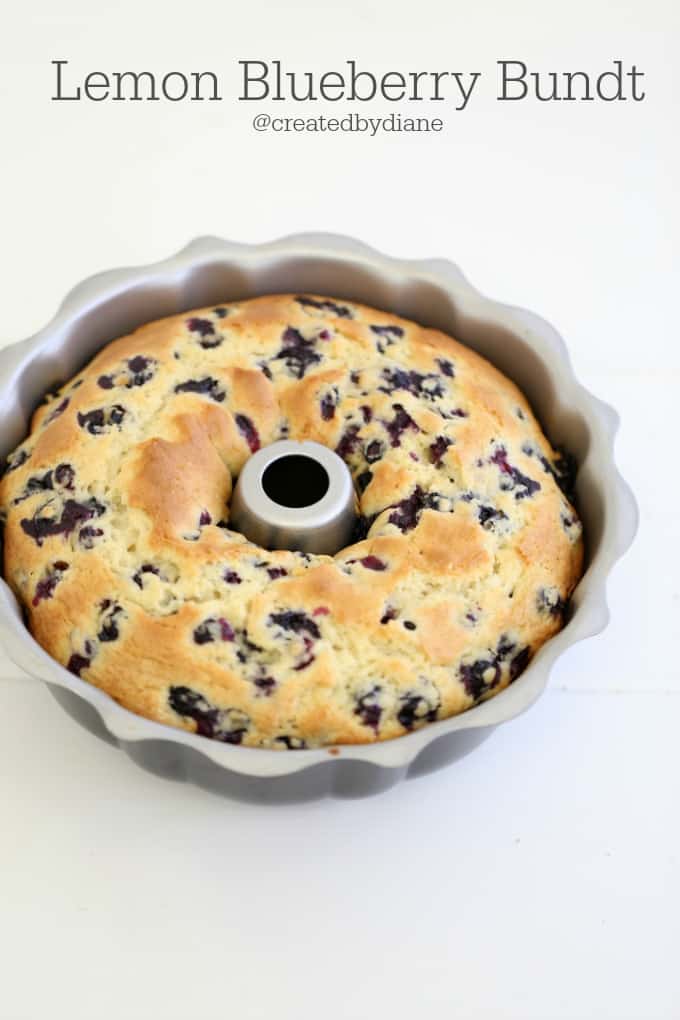 If you need a GREAT Bundt pan, this one is the best I've ever used. Not one little crumb stuck to the pan. You can find it on Amazon here, Cuisinart Bundt Pan.
More LEMON and BLUEBERRY recipes