One whiff that is all you would need of this to start peeling apples to make this Skillet Apple Crisp.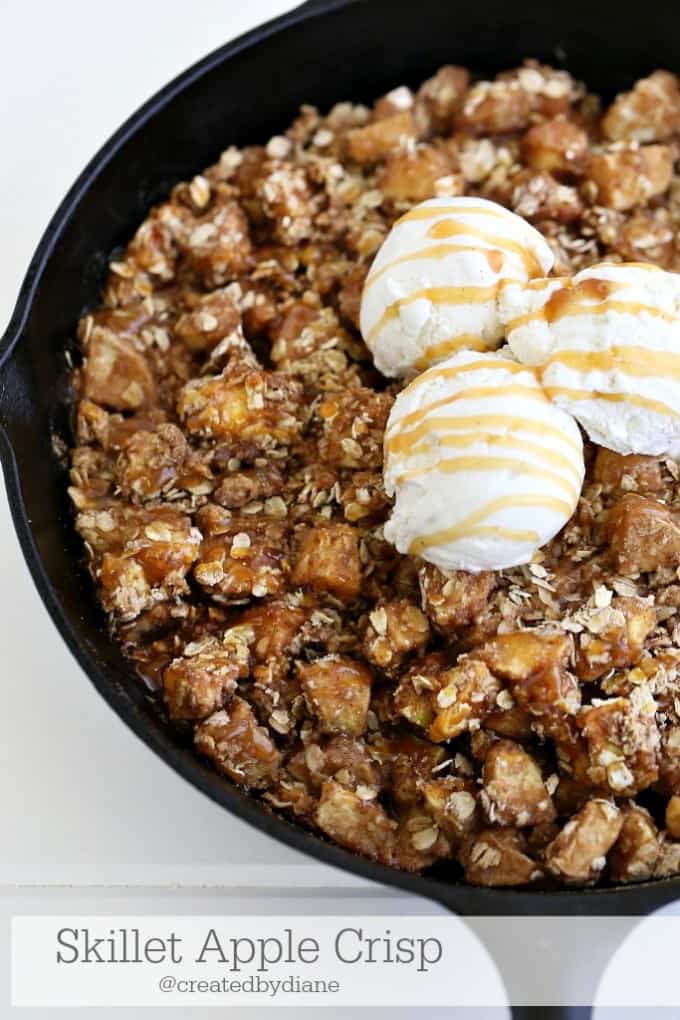 Skillet Apple Crisp
Don't miss one delicious recipe and get my FREE e-cookbook click here!
A hot skillet full of apples,
let me have it!
I just love desserts like this that can be made impromptu and served hot
with ice cream of course!
Oh… and caramel, what is it about apples and caramel, they are the perfect married couple.
Now mix this all-together on your for, the hot apples, oatmeal, caramel, and ice cream and well…
there are simply no words!
This is my go-to dessert that can be made in minutes and tastes amazing, I always have apples on hand, and oatmeal in the pantry, so this recipe comes together quickly and easily.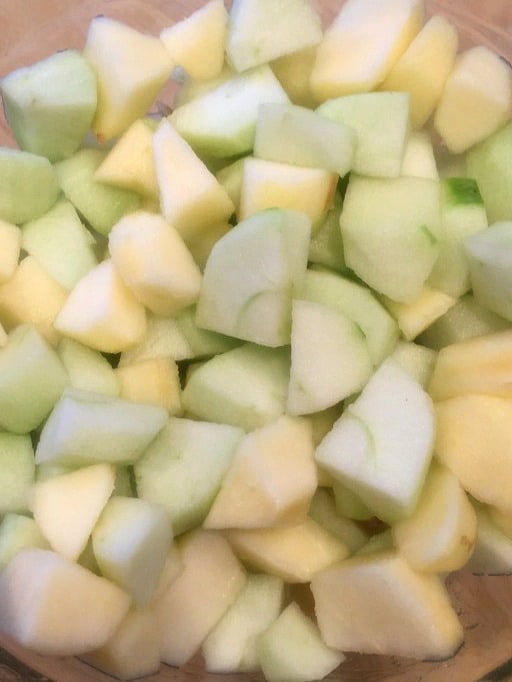 I used a combination of gala apples and granny smith apples. Of course, you can use your favorite variety of apples, this combination was nice as the granny smith apples stay firmer while the gala apples get a bit softer and are less tart.
I was lucky to receive fresh apples right off a friends' tree…. oh how I just love surprises like that.
Food makes the best gift in my book! Don't you agree?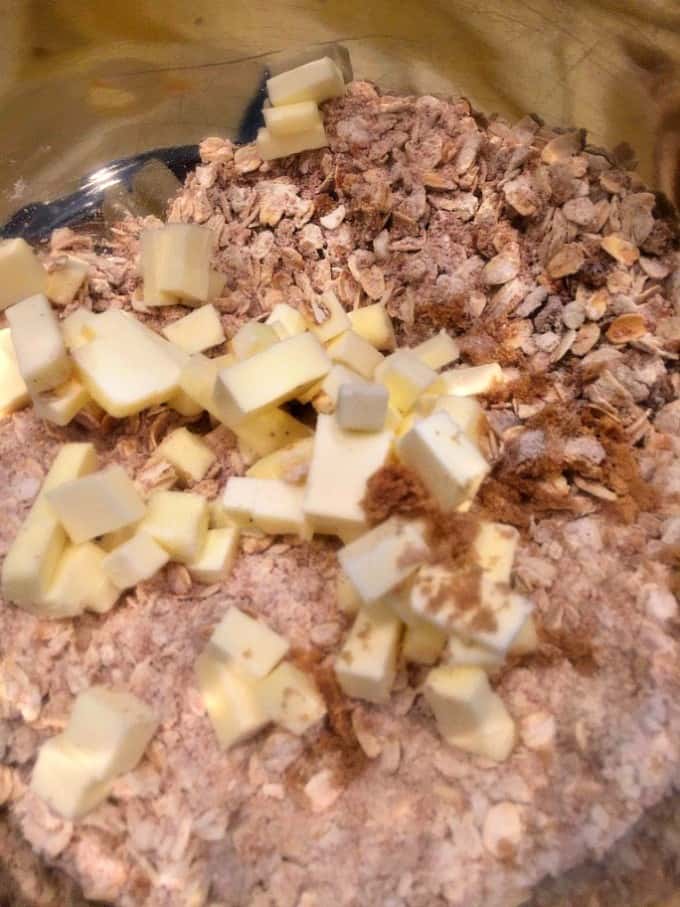 Just mix the flour, oats, sugar and cinnamon and crumble in the butter.
I often slice apples into slivers when making pies and such, but the chunks of apples in this were just perfect and easy.
I didn't want small pieces of apples I wanted the finished dish to have a BIG BOLD APPLE taste and it did!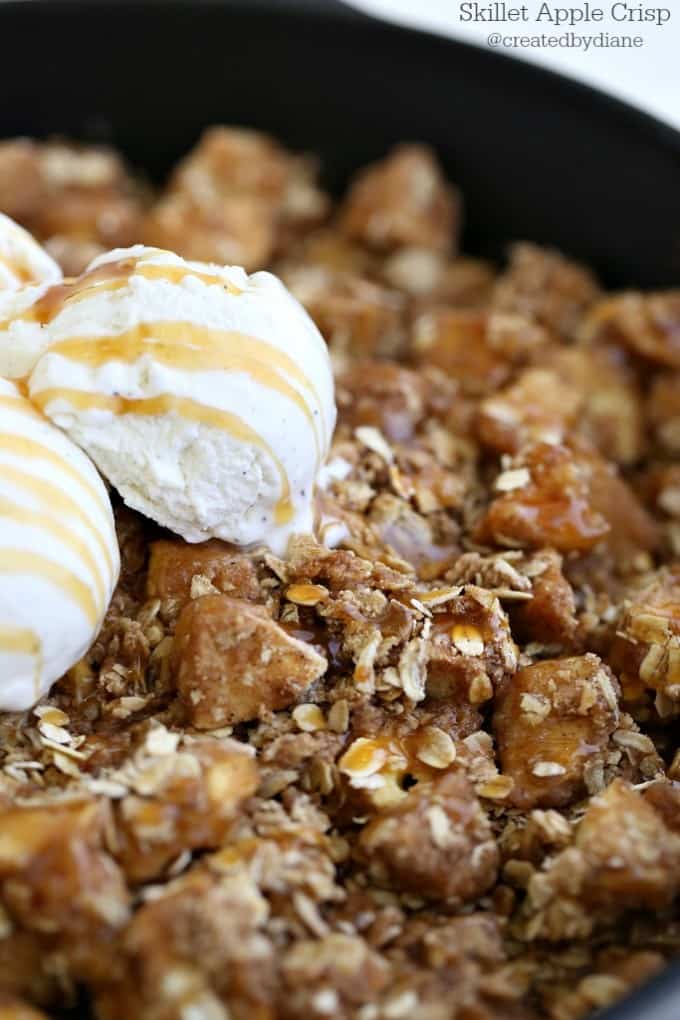 I drizzled caramel syrup on top before baking and again when it came out of the oven to serve with ice cream. I used Ghirardelli Caramel Syrup, oh the flavor is so good. If you want to make your own here is the recipe for Caramel Sauce. 
You can make this any weeknight and surprise everyone when the dishes are done, imagine this beauty coming out of the oven!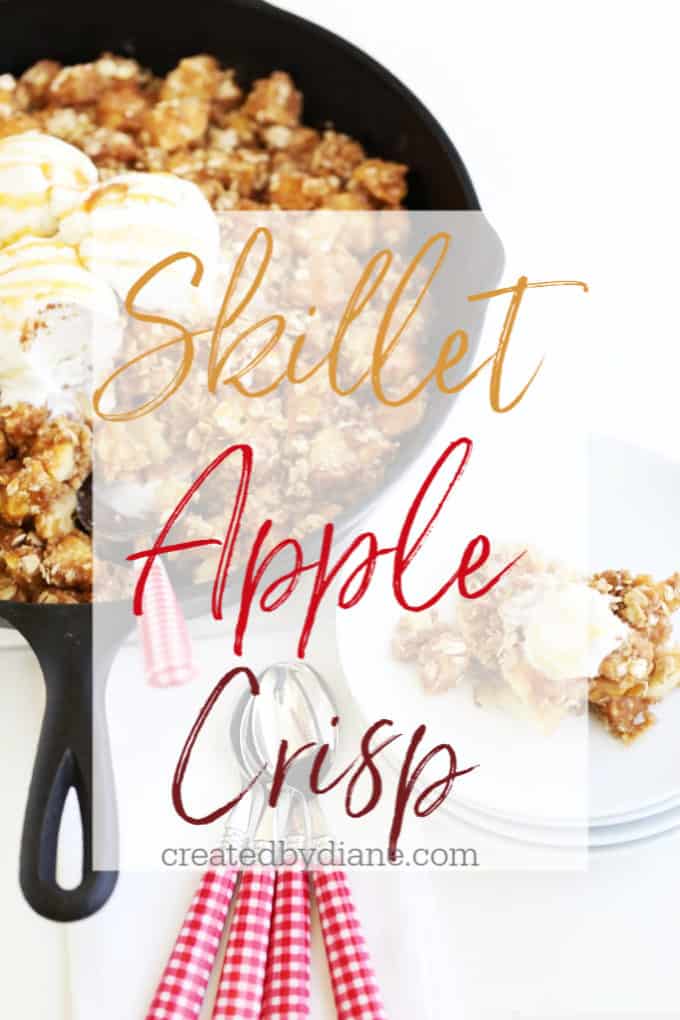 THIS is the skillet I use and love and I use it so much I have 3 of them and more in other sizes too, it's a kitchen must-have.
Skillet Apple Crisp
Ingredients
6 cups peeled chopped apples (approx. 2 1/2 lbs) Gala and Granny Smith Apples
2 cups oats (I used quick cook oats)
1 cup flour
1/2 cup cold butter
1/2 cup brown sugar
2 teaspoons cinnamon
2 tablespoons caramel sauce +additional caramel for serving
vanilla ice cream for topping
Instructions
Preheat oven to 375 degrees
In medium bowl mix oats, flour, sugar, cinnamon and cut cold butter into small pieces and use a pastry cutter to crumble the butter into the dry mixture. (alternatively use a fork)
On stove heat cast iron skillet until hot.
Add 1 tablespoon butter and allow it to melt.
Pour in apples and stir gently, then add oatmeal mixture and stir with a wooden spoon or spatula to mix together.
Drizzle 2 tablespoons caramel sauce over the top.
Remove from stove.
Bake in the preheated oven for 20 minutes or until apples are tender and oatmeal is golden.
Top with ice cream and more caramel sauce and serve.
Notes
You could also add a 1/2 cup of chopped nuts or raisins also.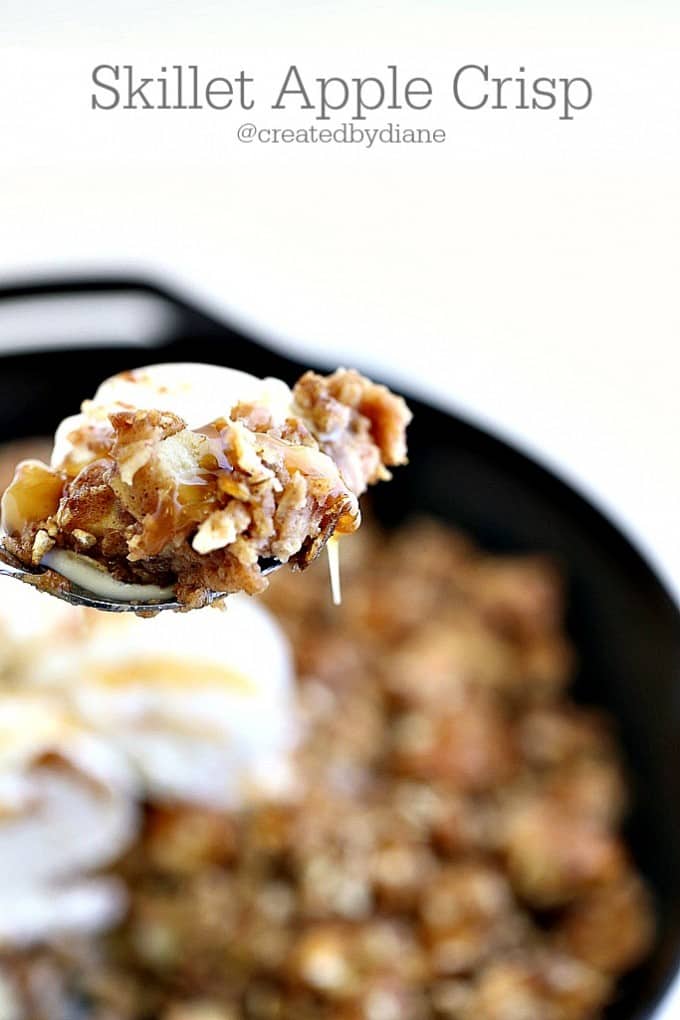 Enjoy!