Gingerbread Spice Cupcakes with Gingerbread Italian Buttercream Frosting
Oh I just can't get enough of these cute little gingerbread men!
They were easy to make and really topped off these gingerbread spiced cupcakes with lots of cuteness!
Gingerbread flavors are so yummy this time of year.
I added molasses and pumpkin pie spice to vanilla cake batter and also to frosting to create these delicious and cute cupcakes.
Gingerbread Spice Cupcakes with Gingerbread Spice Italian Buttercream Frosting, topped with Gingerbread toppers. These would warm up any dreary, cold and wet winter day!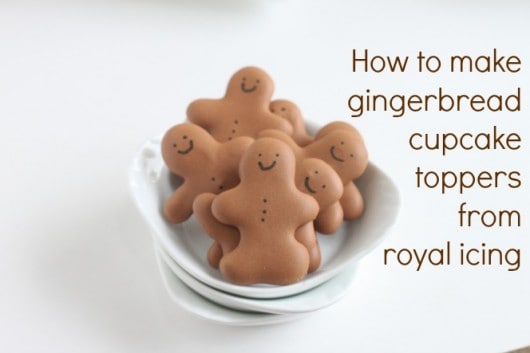 Prepare a batch of Royal Icing, tint it brown.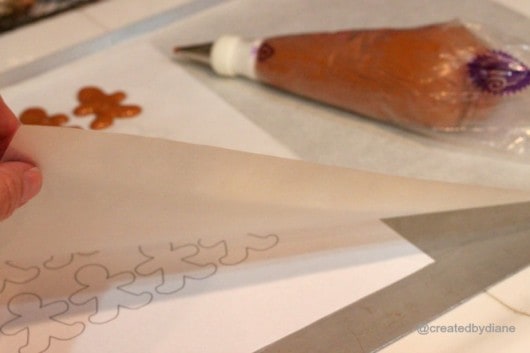 I found a drawing of a gingerbread man and copied it onto a piece of paper after having multiplied the image over and over. I had 16 on the paper. If I locate the file I used I will insert it here. I am having trouble with my computer's hard drive and needless to say things aren't going my way right now.
Place the paper under a sheet of parchment paper. Place the icing in a piping bag with a #2. Trace and fill in the image with the icing. If you need more, just slide the paper to a blank area of parchment and make more.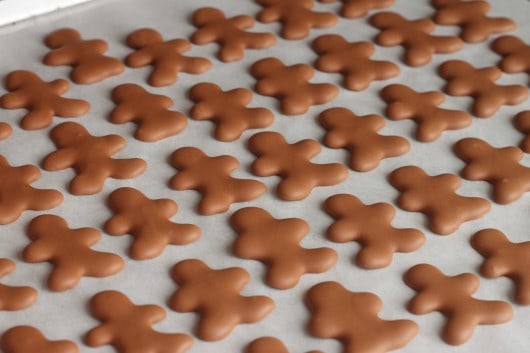 I made lots of them!
Once they were completely dry ( I let them dry overnight) I drew faces on them with an edible marker.
Don't miss my great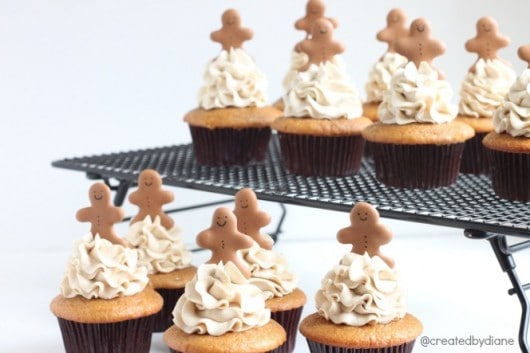 I think of that song every time I looked at these… You know the one. Run, run, as fast as you can.
Well, apparently they didn't run fast enough and got stuck in the frosting.
\Which by the way is a pretty good place to get stuck in, right… it beats being stuck in the mud!
royal icing
Ingredients
2 pounds powdered sugar (each pound of powdered sugar is about 4.5 cups of powdered sugar)
1/3 cup + 1 tablespoon meringue powder
3/4 cup warm water
1-2 teaspoons vanilla extract
Instructions
Mix powdered sugar and meringue powder on low for 1 minute until it's fully blended.
Add water and extract and mix on low until it's mixed well.
Then turn mixer on medium and beat until the icing is stiff, 8-10 minutes.
Add water to thin to the consistency you need.
You can store royal icing at room temperature or in the refrigerator for a few weeks.
Whip it if it becomes separated.
Gingerbread Spiced Cupcakes
Ingredients
1 box french vanilla cake mix and ingredients to prepare
3 tablespoons molasses
1 tablespoon pumpkin pie spice
Instructions
Prepare mix according to package directions adding to it the molasses and pumpkin pie spice.
Bake and cool cupcakes.
Notes
Gingerbread Italian Buttercream Frosting Prepare a batch of
Italian Buttercream Fr
osting [/b] add to 4 cups of the frosting 2 tablespoon molasses and 2 teaspoons pumpkin pie spice. Mix smooth, then place in piping bag with a #2d tip and pipe frosting onto cupcakes. Top with gingerbread royal icing toppers