Espresso Cupcakes with Espresso Cinnamon Cream Cheese Frosting.  
Don't miss one delicious recipe from Created by Diane and get my FREE e-cookbook click here!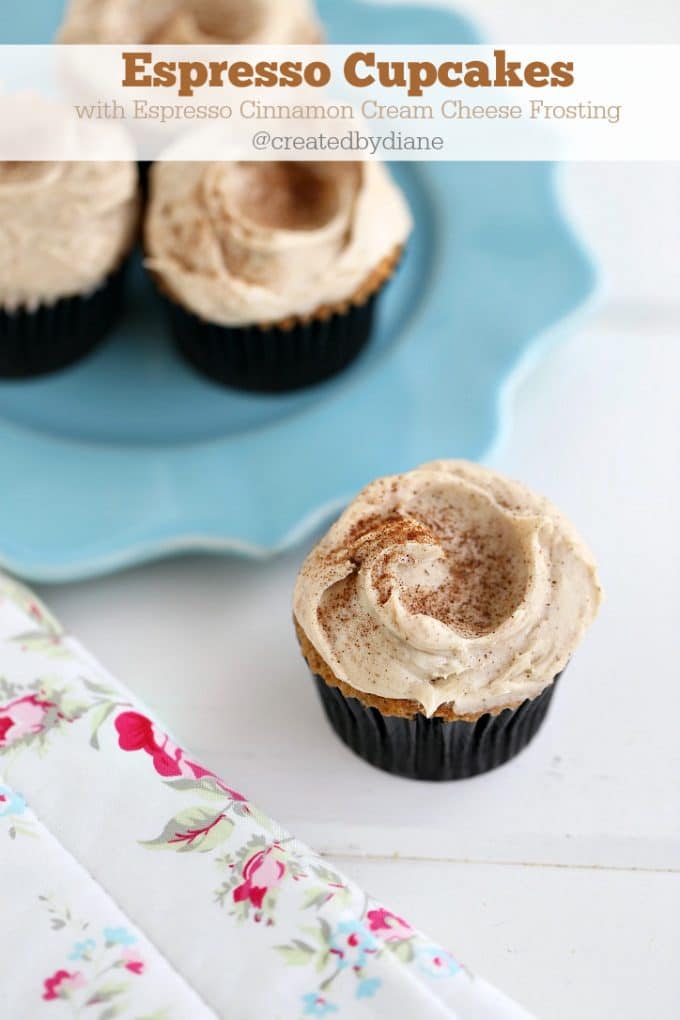 These cupcakes are AMAZING,
they have a delicious coffee flavor that I find irresistible, and the frosting….
oh my goodness, the frosting will have you over the moon in ONE Minute!
It's Espresso Cream Cheese Frosting, and well you know my feelings on cream cheese, it' makes EVERYTHING taste YUMMIER!
These recipes make a small batch, 12 cupcakes…
perfect to make ANYTIME, which I love.
You can eat 4 for breakfast, 4 for lunch and 4 for dinner… just kidding!
I always use my kitchen aid stand mixer,
except today…
and I have no idea what I was thinking.
The bowl was too small, cream cheese  stuck in the beaters more than expected and frosting was flying all over my kitchen.
So this is just one more MAJOR reason I love a large stand mixer compared to a hand mixer, but if a hand mixer is all you have, go right ahead and use it. Grab a towel and cover the splattering, or you'll have a huge mess to clean up.
after you  mix the frosting, then add in the flavors, in this I used instant espresso, and cinnamon. Oh my goodness the aroma alone will have you reaching to lick the beaters, but turn them off first!
As always learn from my mistakes, use a large bowl if you are using a hand mixer. If you don't have a stand mixer and love baking put one on the top of your wish list. If you want other ideas as the holidays approach, I created a whole list, click here for my "Foodie Favorites"
To frost the cupcakes, just add some frosting to a spatula and apply it on top of the cupcake and swirl in a circle leaving an "indent" in the center.
Sprinkle the top of the cupcakes with cinnamon and espresso.

Espresso Cupcakes
Ingredients
1 cup sugar
2 eggs
1 1/4 cup flour
1/2 cup milk
1/4 cup butter (melted and cooled)
2 tablespoons oil
1 1/4 teaspoons baking powder
1 tablespoons instant espresso powder
1 teaspoon vanilla
Instructions
Preheat oven to 350 degrees.
In a mixer beat sugar with eggs to combine completely.
Add in flour, baking powder, milk, butter, oil, espresso, and vanilla and mix on medium until incorporated.
Place 3 tablespoons of batter into each cupcake liner and bake at 350 degrees for 18-20 minutes or until toothpick comes out clean.
Espresso Cinnamon Cream Cheese Frosting
Ingredients
4 oz cream cheese (room temperature)
4 tablespoons butter (room temperature)
3 cups powdered sugar
1/2 teaspoon cinnamon
2 teaspoons instant espresso
2 tablespoons heavy cream
additional cinnamon and espresso for dusting on top
Instructions
In mixer bowl beat cream cheese and butter until smooth.
Mix in powdered sugar, cinnamon, espresso and heavy cream on medium until blended then on high until whipped smooth.
Spread onto cupcakes with a spatula into a swirl.
Dust with additional cinnamon and espresso powder.