If you like Caesar Salad, just wait until you take a look of this one…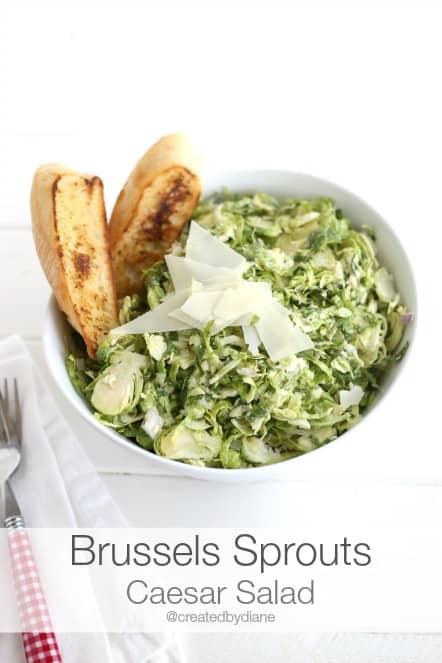 It's made with Brussels sprouts!
I am a huge Brussels sprouts fan.
I can still remember the first time I had them.
A friend made them with some butter and bread crumbs and I thought they were out-of-this-world delicious!
They have become one of my favorite vegetables, and they make this Caesar salad over the top fantastic!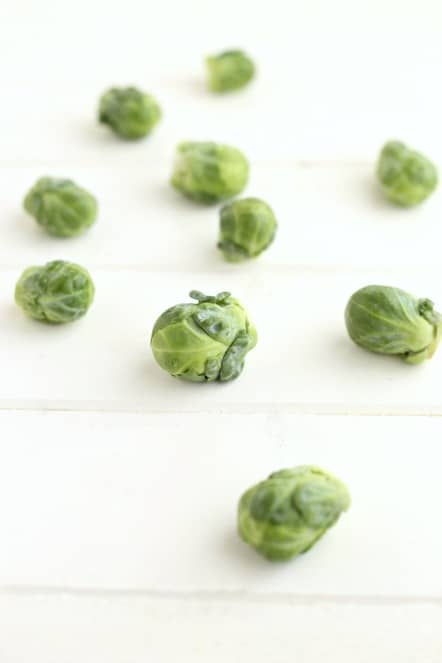 Aren't they CUTE!

Really, they fill you up way better than lettuce, so they are just perfect for this salad.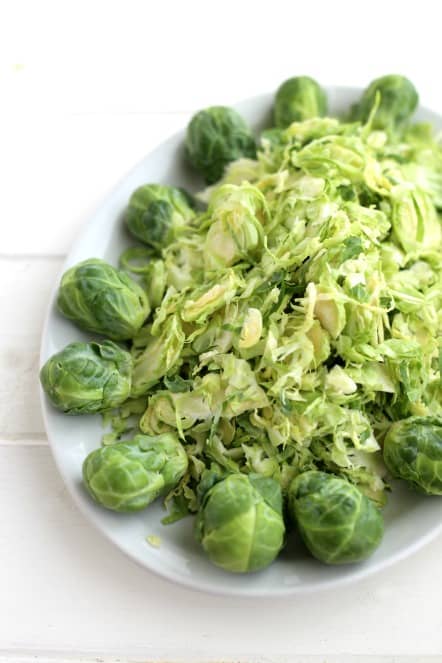 They have such an incredible crunch, sliced Brussels sprouts stay crisp for days after they are sliced.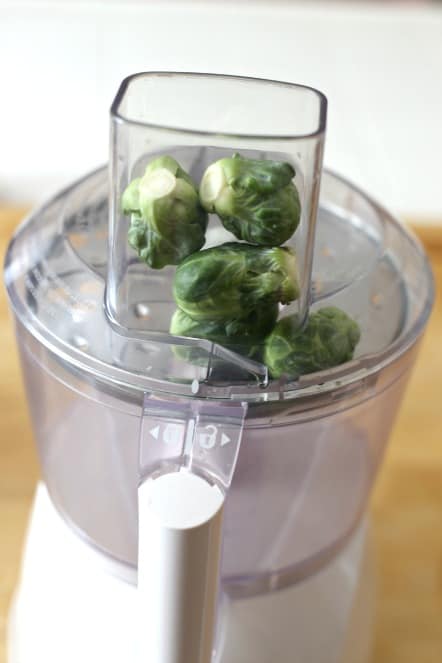 It's easiest I've found to slice them in a food processor with the slicing blade attached. Just pile them into the chamber and start slicing.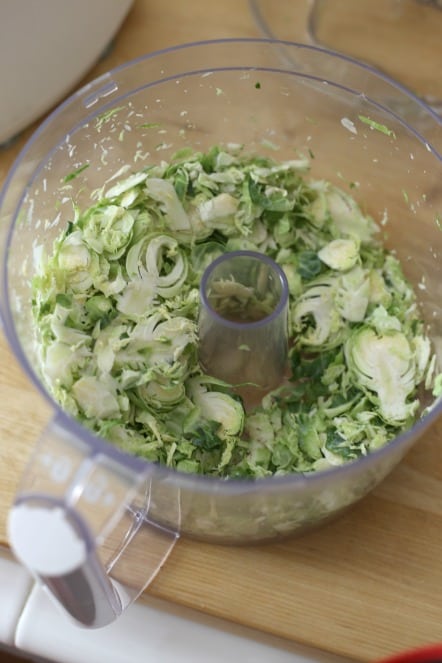 In minutes you can slice pounds of Brussels sprouts. Alternatively you can slice them with a knife, it may take a bit longer but really this salad will be worth it. Slice them thin.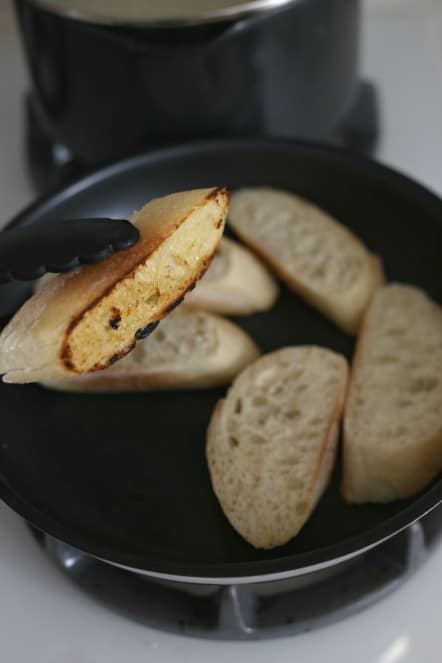 Croutons are typically found in a Caesar salad. Mine are just bigger! I brushed sliced baguette with melted butter and garlic and toasted it in a pan over medium heat.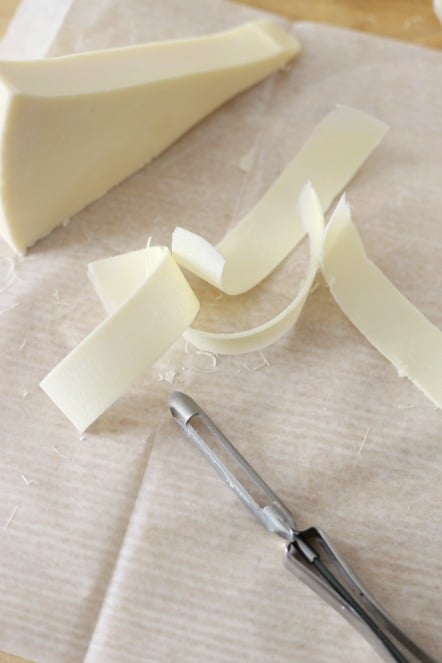 The parmesan cheese (Oh, the parmesan cheese… how wonderful it is!).
To create large thin slices I used a vegetable peeler and created large slivers. Grated will work well too. I usually have a go big or go home attitude, which probably explains the bread and the cheese!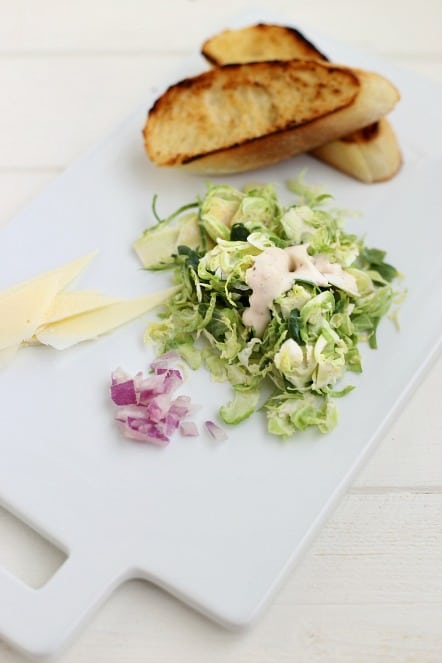 I like a little added diced red onion and then… the dressing. Marzetti® Simply Dressed® Caesar Dressing is a MUST–after all it's a Marzetti Simply Dressed that makes for a truly delicious Caesar Salad Dressing. These dressings are so great because they are made with a minimal number of simple ingredients, such as extra virgin olive oil, canola oil (contains Omega-3 ALA) and sea salt. They complement any salad or meal with no preservatives trans fats, high fructose corn syrup, added MSG, artificial flavors or colors. With a salad like this the dressing is the most important part! So stock up on it like I do. Because you will NEED it.

Ingredients
1½ lbs Brussels sprouts
¼ cup diced red onion
¼ - ½ cup Marzetti® Simply Dressed® Caesar Dressing
parmesan cheese
bread toasted with garlic butter
Instructions
In a food processor on the slice setting, process the Brussels sprouts.
Mix in the diced red onion.
Pour on the dressing and toss the dressing into the salad or shake between two bowls until the dressing has covered all the Brussels sprouts.
Top with parmesan cheese and toasted garlic bread.
Notes
Finish with ground black pepper to taste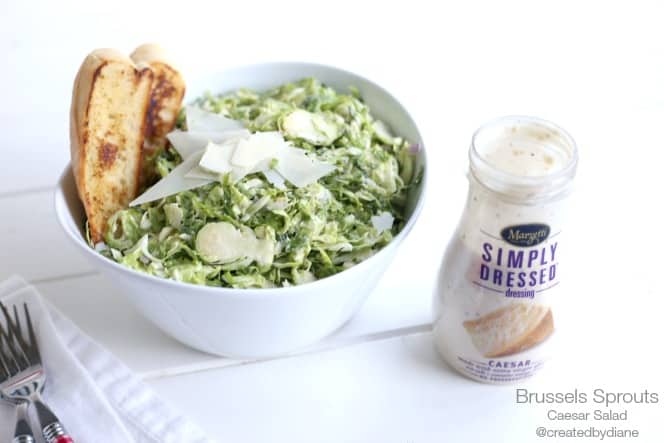 This salad stays so crunchy even after it's mixed with the dressing! Add this into your menu and you may be surprised by who ends up liking Brussels sprouts! Slicing a whole bunch of brussels sprouts in the beginning of the week and having them on hand makes it easy to whip this salad up in minutes (add some chicken if you like, too!).
This Brussels Sprouts Caesar Salad is sponsored by Marzetti Simply Dressed Salad Dressing. All opinions are my own.