Instant pot Asian Beef Short Ribs are so tender and delicious, there is no need to go out to eat with all this delicious food, ready in under 30 minutes.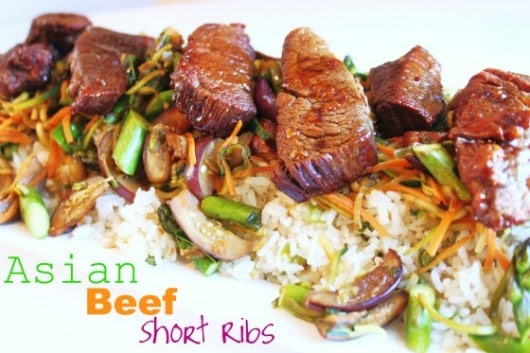 I've had a pressure cooker for over 14 years.
I go back and forth using it a lot and using it a little.
But one thing is for sure, it's FAST!
It cooks chicken, pork, and beef as if it were slow-cooked, very tender, but the pressure cooker cooks it FAST, by locking in the steam it automatically tenderizes the meat,
I always use my pressure cooker for corned beef, otherwise
I'd be ALL day cooking three corned beef, what can I say.
We like corned beef and if you going to go ahead and made all the trimmings for the meal, you might as well have plenty of beef to go with it. I've made Corned Beef Dinner and Corned Beef and Cabbage Soup if you want to see them.
I keep hearing that pressure cookers are coming back. We'll see, most people I know don't use one, but I love it.
Asian Beef Short Ribs (Pressure Cooker Recipe)
Ingredients
3 lbs boneless beef short ribs
1 cup soy sauce
1/4 cup rice wine vinegar
2 teaspoons lemongrass (Gourmet Garden)
1/4 teaspoon ginger (Gourmet Garden)
1/2 cup brown sugar
1/2 teaspoon crushed red pepper
1/4 cup orange juice
1 teaspoon corn starch
2 carrots julienned
2 zucchini julienned
2 cups mini eggplant (or I medium eggplant) cut into pieces
1 1/2 cups chopped asparagus
3 scallions diced
Instructions
Place beef in a pressure cooker with 1 cup water and cook with pressure on High for 20 minutes.
Release pressure when finished.
Whisk soy sauce, vinegar, lemongrass, ginger, sugar, pepper, orange juice, and corn starch together and heat in a skillet.
Saute vegetables in a separate skillet with a tablespoon oil, cook on medium heat for 2 minutes.
Then place beef ribs into a sauce to coat them.
Serve over cooked rice with beef and vegetables on top and drizzle sauce on top.
recipe adapted from Emeril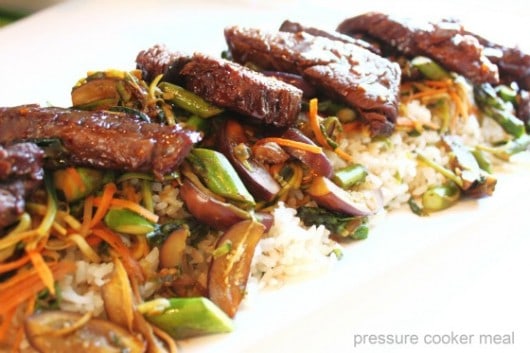 I just love easy meals like these thanks to my pressure cooker they are FAST too. Under 30 minutes till it's on the table.