Just imagine you can have the great taste of a California Roll anytime without having to learn to roll sushi. Keep scrolling down for my  LOW CARB option to this great meal!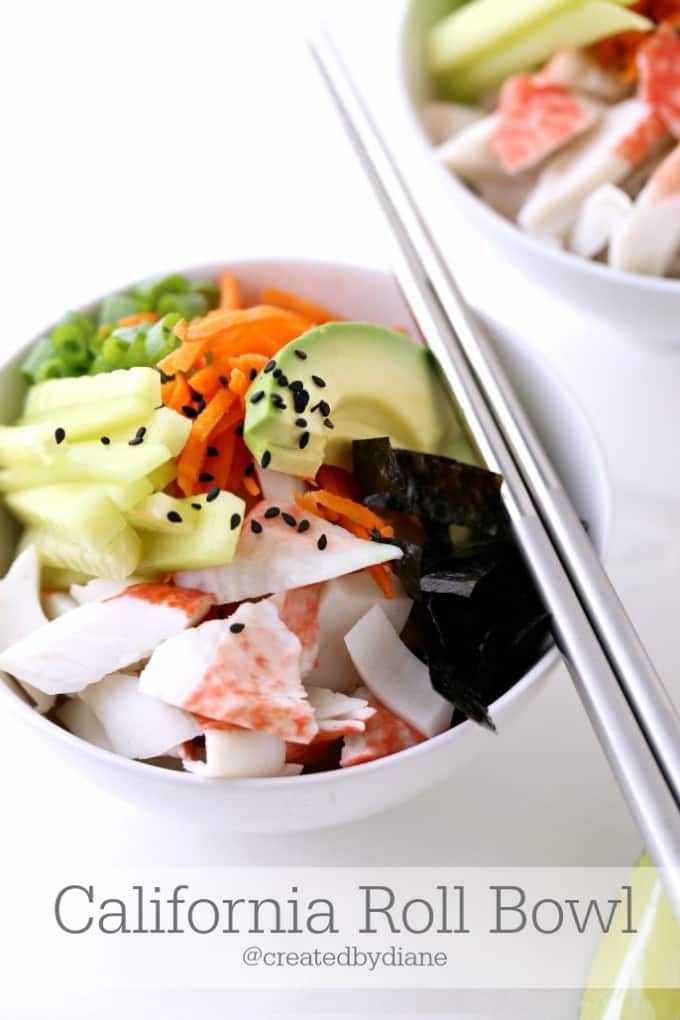 This bowl if full of all the delicious flavors of a California Roll, and I made some super fantastic sauce to go on top. The crab used in this recipe is the "imitation crab" use see used in sushi rolls, it's also popularly known as "seafood". It's made from white fish. It's easy to work with, inexpensive and it's great to make quick meals with. 
Take a look at this one…
This deconstructed California Roll is so easy and delicious.
Now, no matter how many times my kids ask me to get them California Rolls, I can just whip these up quickly to give them what they want…
but the homemade version.
No actual rolling involved.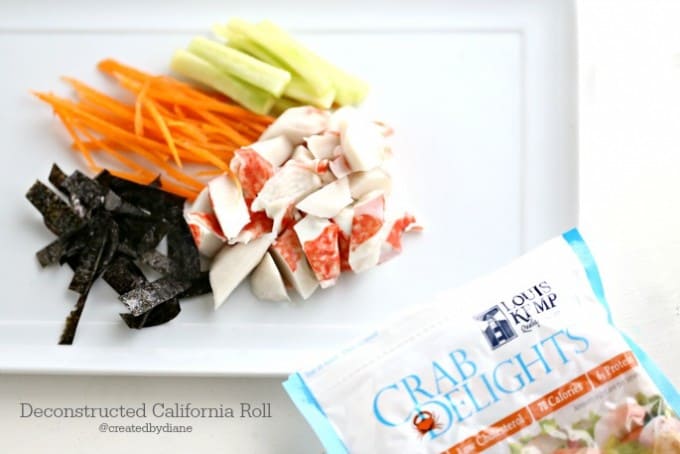 It starts with some basics.
The key ingredient is Crab, it's readily available at grocery stores and is a great protein to have on hand for this and many other easy recipes.
It's perfect straight out of the package, which would be great in Mac and Cheese and I can't wait to try it in this Beer and Cheese Dip!
Louis Kemp Crab Delights® are made from Alaska Pollock and real snow crab. Alaskan Pollock is a highly sustainable Alaskan caught whitefish and commonly used in fish sticks. It's high in omega 3's and it's a great healthy snack, it's gluten-free, low calorie, ready to eat.
If you prefer the crab with mayo, just add the crab with mayo with a little salt in the food processor and blend it and scoop it out onto your plate, a bed of rice, or shredded cabbage.
This recipe is easy to make, just pick up a pack of Imitation crab in the refrigerated seafood section of your grocery store and in minutes…
you'll be enjoying a BOWL full of yumminess.
Now keep scrolling down, I have a great sauce for this dish too!

California Roll Bowl
Ingredients
3 cups cooked rice (Calrose Rice 1 1/2 cups rice cooked with 2 cups water)
1 8 oz package Louis Kemp Crab Delights Flake
2 carrots julienned
1 English cucumber sliced into thick strips
2 green onion diced
1 avocado (sliced)
1 large sheet roasted seaweed (cut into small strips)
Black sesame seeds
Instructions
Place 3/4 cup rice in each bowl (to have plenty of space to fit the other ingredients, it's best to use a half-rounded scoop of rice, so there is plenty of room around the edges to place the remaining ingredients without them spilling out of the bowls)
rice is best at room temperature to warm, vs ice cold.
Remove crab pieces from the package and cut into smaller bite-sized pieces.
Place all ingredients on top of rice.
Serve with my Asian Sauce, recipe follows)
Place black sesame seeds on top.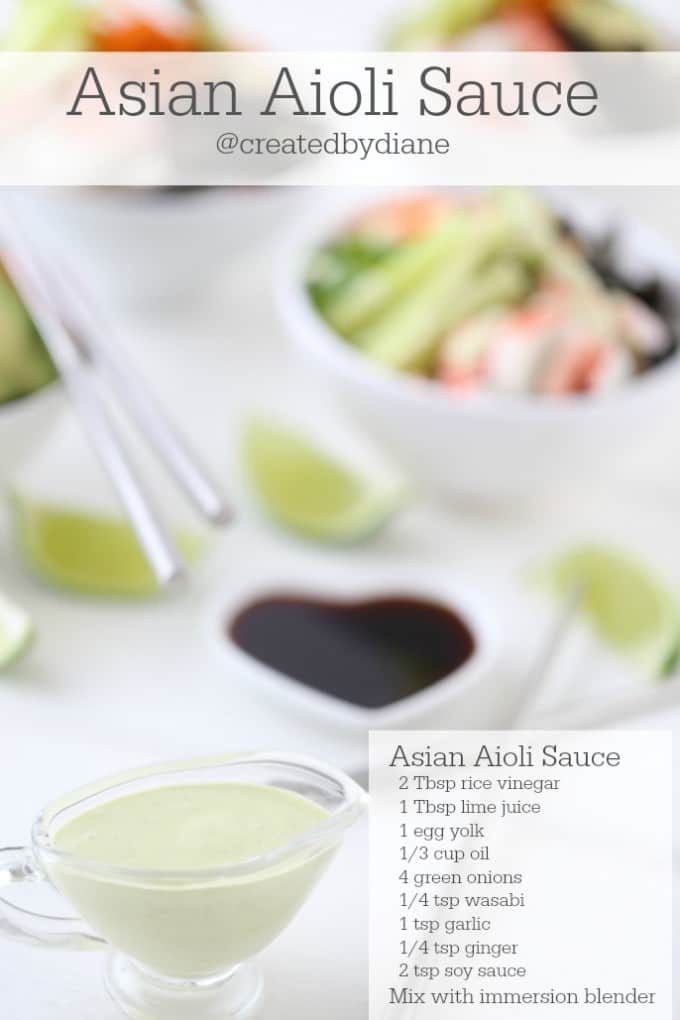 This sure is a WONDERFUL sauce, and I can't wait to use is more.
It only takes a minute to whip up with an immersion blender.
This sauce is tangy and creamy and just perfect for all types of Asian recipes.
I just LOVE sauces…. don't you!
Be sure to check out my post on Homemade Mayo if you'll be making the mayo from scratch as I do. You can use store-bought mayo, but homemade tastes best!
Asian Sauce
A great tangy Asian sauce great on California rolls, imitation crab, shrimp, and other seafood dishes, and a great spread on sandwiches.
Author:
Diane Schmidt, Created by Diane
Recipe type:
dressing, sauce
Ingredients
2 tablespoons rice wine vinegar
1 tablespoon lime juice
1 egg yolk
1/3 cup oil
4 green onions
1/4 teaspoon wasabi
1 teaspoon garlic
1/4 teaspoon fresh ginger
2 teaspoons soy sauce
* you can use purchased mayo instead of the egg yolk, vinegar, and oil, and just stir the mayo with lime juice, onion, wasabi, garlic, ginger, and soy sauce.
Instructions
Mix all ingredients with an immersion blender, the egg and oil along with vinegar will emulsify and become a thicker sauce.
The sauce will thicken more as it chills.
Keep scrolling there is more… and my low carb options too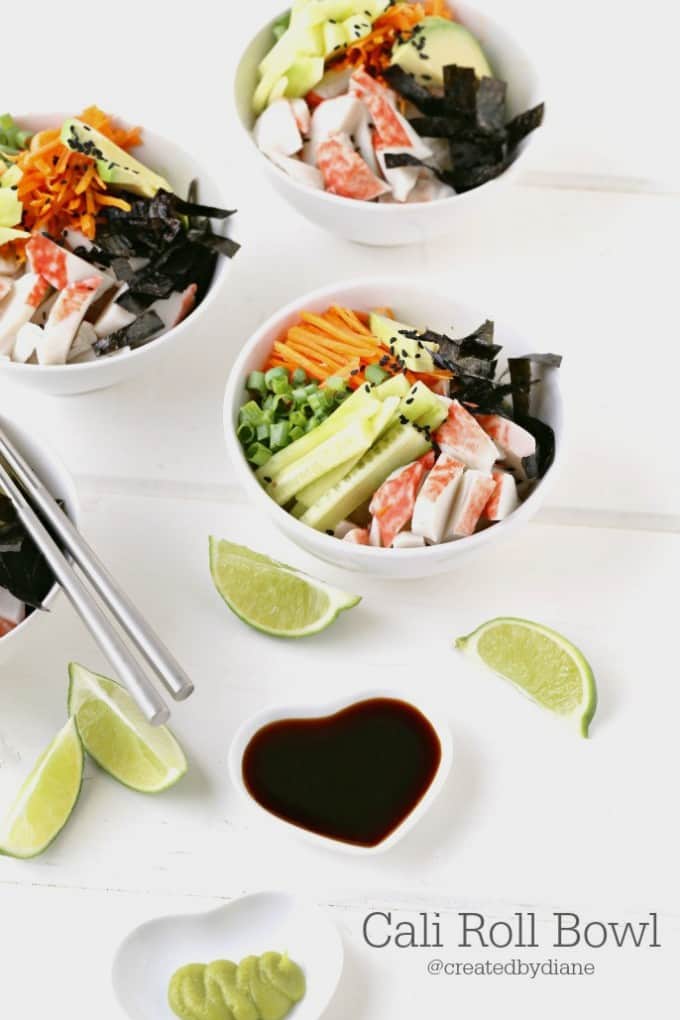 Break out the bowls and chopsticks (or fork) and dig right in, these are irresistible!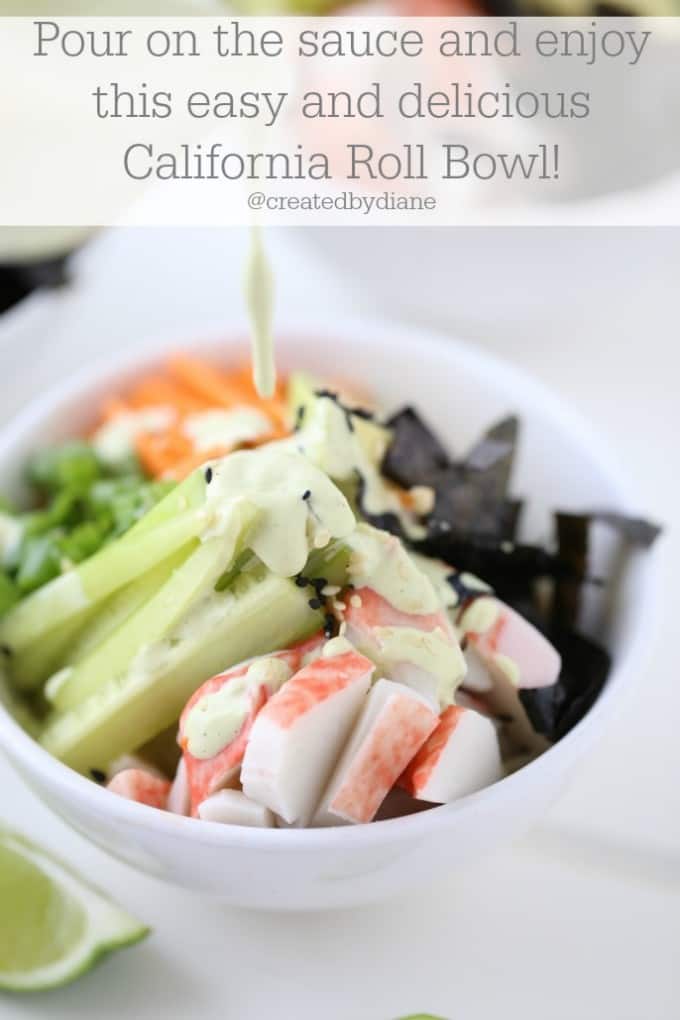 Now you can enjoy a California Roll anytime with this no-fuss recipe!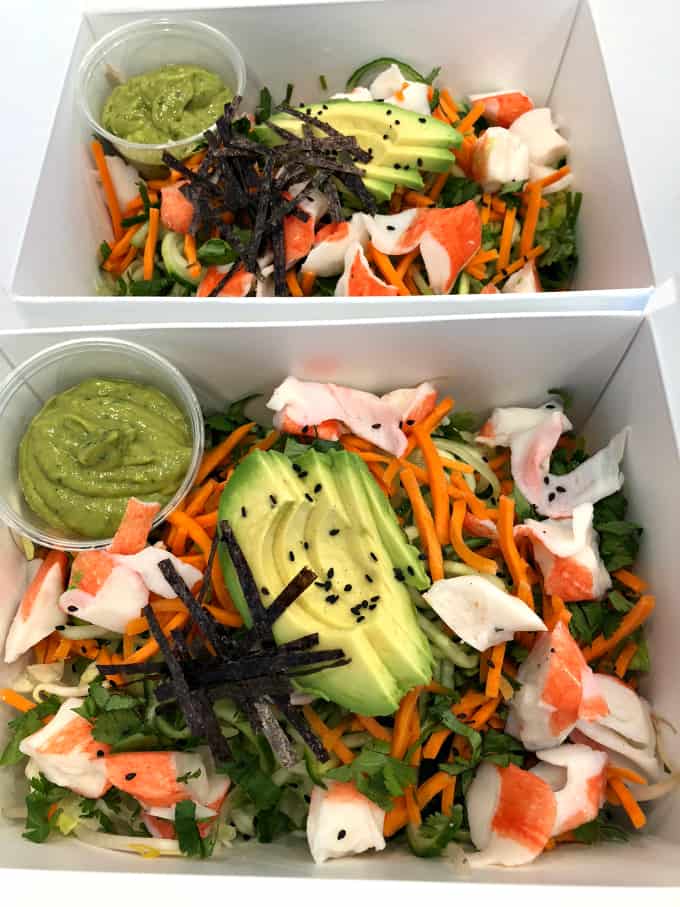 I've been eating low carb and have made these with no rice and spiral cut the cucumber and added shaved lettuce, bean sprouts, and cilantro and they are so delicious! Alternatively, you can cook some cauliflower rice add a dash of soy sauce to enjoy with the dish too. I really like the crunch of the bean sprouts so that would be my favorite way to eat this!

These Cali Bowls are great to make for any meal or snack. Perfect to take for lunch on the go too!
\