Pick your favorite pie filling and bake it into this delicious cake, the perfect amount of filling in every bite.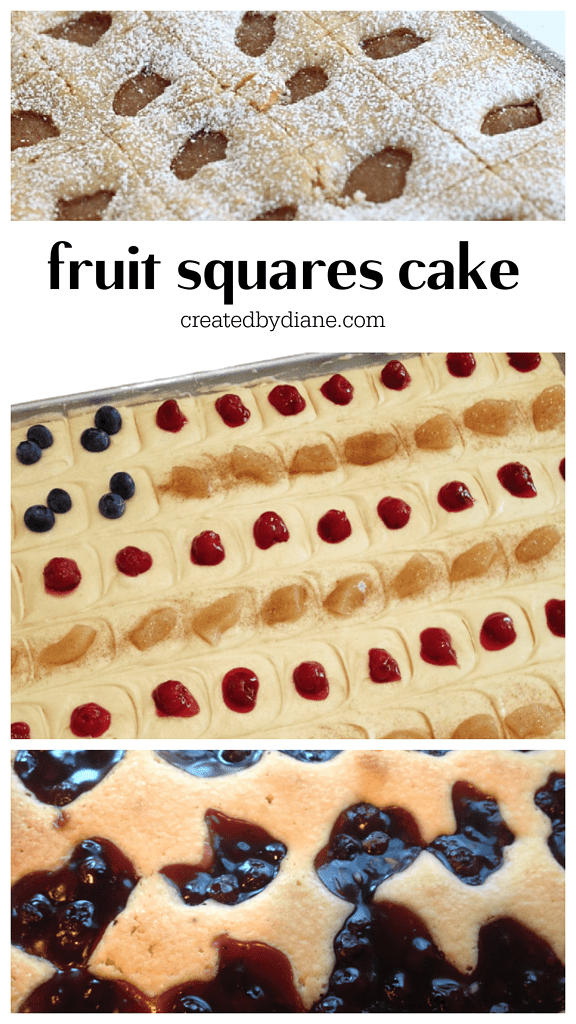 This sheet cake is undeniably delicious! You won't believe how tasty the cake is, how wonderful it is to bit into some fruit in the center of each cut square, how simple this is to make, and all the WOWs you'll get when you serve it.  You can use any fruit, fresh or canned.
If you like apple pie, blueberry, cherry… you name it it's going to turn out delicious.
Use premade pie filling or quickly saute fruit with a little sugar and water to create a quick filling.
This is the type of recipe that will be requested over and over.
It's very easy to make, and looks CUTE too!
It transports well which is an added bonus.
Everyone will think you spent a TON of time on this, but they will be mistaken.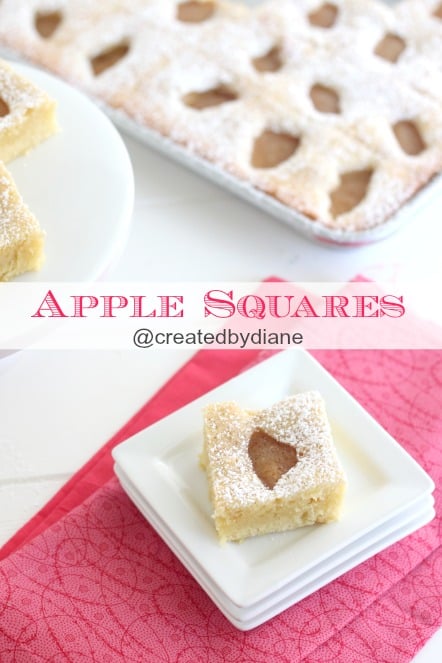 How do you add fruit to cake?
This great recipe allows you to add any fruit filling or fresh fruit booed with sugar to this great cake recipe to create fruit squares. It's like a fruit surprise in every bite.
How do you evenly distribute fruit in a cake?
Take a knife and make a grid mark on the cake batter in the sheet pan, then add fruit to the centers of all the squares. As the cake bakes the fruit will stay in place.
How do you fill a cake with jam?
You can add a dollop of jam to the squares before baking for a fun alternative to fruit filling.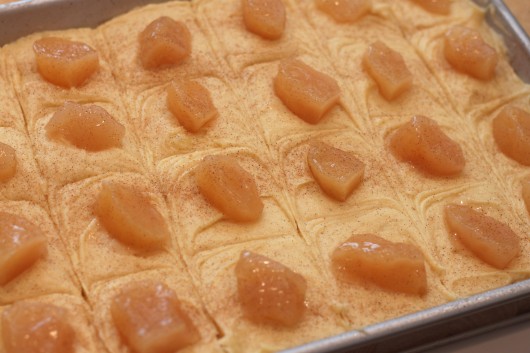 Mix up the batter, spread it in the pan, then take a knife and score the batter so you have created square shapes in the pan.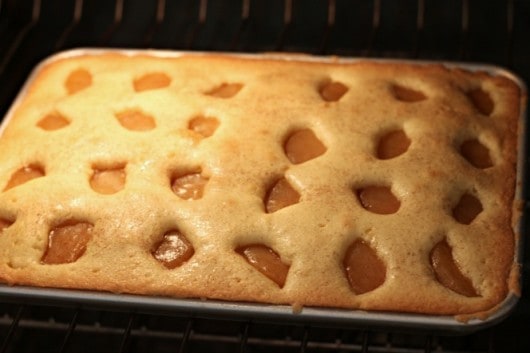 As the batter bakes, it puffs up around the apples creating little pockets.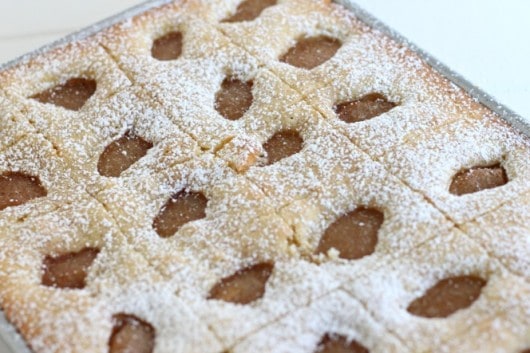 Once the tray has cooled, you can cut the squares and add powdered sugar.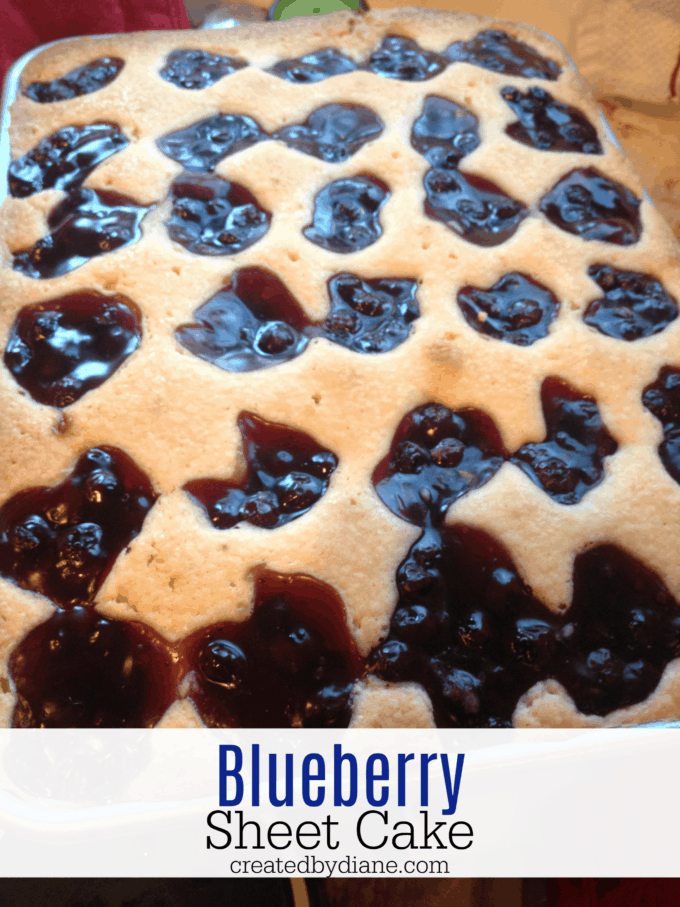 I've made this cake in so many flavors… and all are delicious. I added blueberry pie filling to make this version. You could boil fresh blueberries with sugar to make it all homemade as well.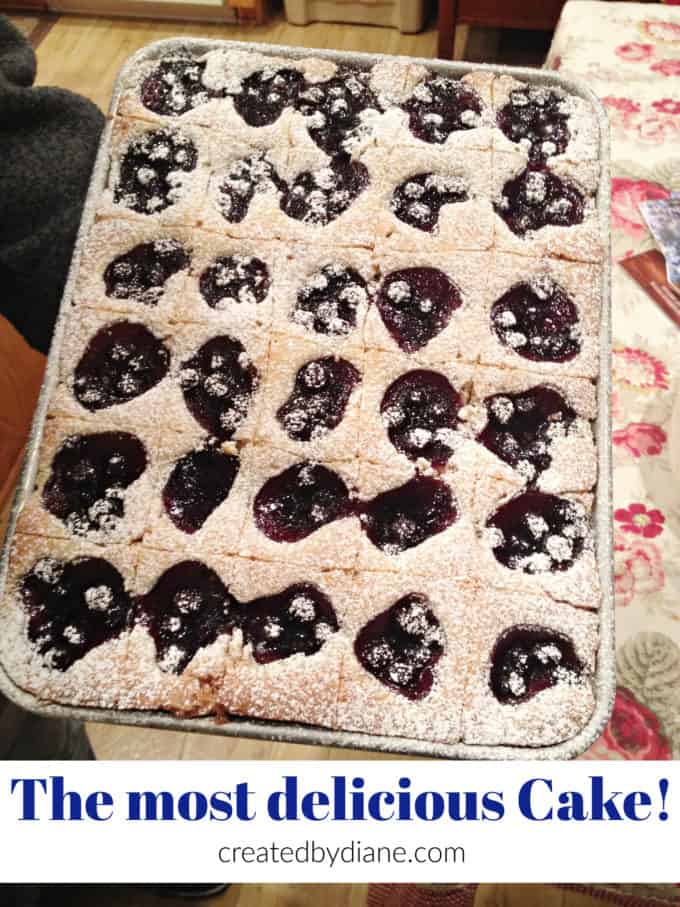 Once the cake cools, it's fun to dust the whole top with powdered sugar before serving.
REally I lost count how many parties I've brought this cake too…
it's always a huge hit, any flavor… what flavor would you like it to be?
This blueberry version is WODNDERFUL!
How do you best keep this cake fresh?
Store this cake in the fridge, just as you would any cake with fruit in it. Take the cake out of the fridge 30 minutes before serving. This will allow the cake to stay fresh for 3-5 days. If you're not hoping to have the cake for days, you do not need to refrigerate it. Allow the cake to cool completely then cut into squares and serve at room temperature.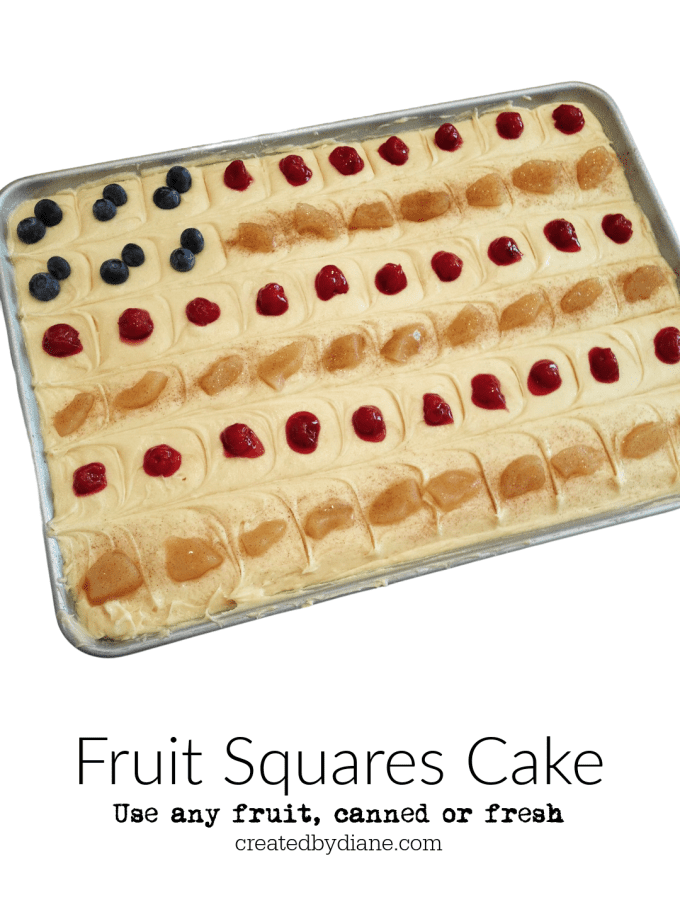 Fruit options:
Use canned pie filling, fresh fruit cut, or bring it to a boil with some sugar to create a little sauce. 
Apple, blueberry, cherry, strawberry, peach, pumpkin, and Nutella would be delicious. 
Apple Squares
Ingredients
1 cup butter
1 1/2 cups sugar
4 eggs
2 cups flour
1 teaspoon vanilla bean paste (or vanilla extract)
1 can apple pie filling (I used about 1/2 of a 21 oz can)
cinnamon and sugar mixture (1/4 teaspoon cinnamon+ tablespoon sugar)
powdered sugar (apply when cooled)
Instructions
preheat oven to 350 degrees
spray a 1/4 sheet pan (or 13x9 pan) with a non stick baking spray
Beat butter and sugar until light and fluffy
add in eggs and mix thoroughly
mix in flour and vanilla until blended and smooth
pour batter into pan and spread smooth
score batter with a knife into 24 squares
cut apple pieces in half and place them in the middle of each square so they can fit into each square nicely
sprinkle with powdered sugar
bake for 30 minutes or until toothpick comes out clean (be careful to not over bake or like any cake they will become dry, add a minute at a time if needed until they are just baked through)
allow the tray of apple squares to cool,
then cut again into the square shapes and dust with powdered sugar and serve
Notes
If you use unsalted butter you may want to add 1/4 teaspoon salt to the batter.
Add more cinnamon to the apple filling or to the batter if you like a stronger cinnamon flavor.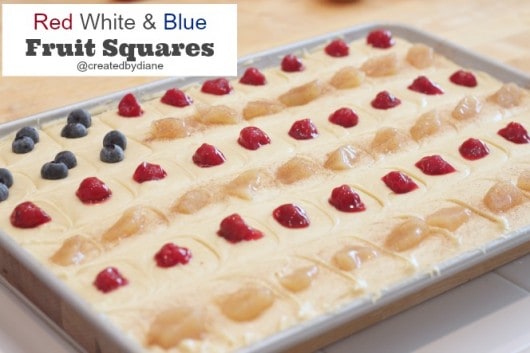 I made these to look like a flag, it cake out really cute. Here is a photo before it was baked. Fresh blueberries, cherry pie filling, and apple pie filling.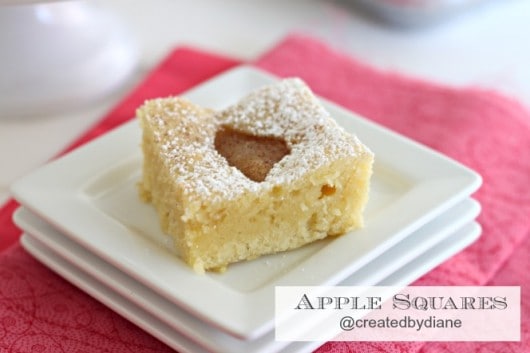 Cut apple squares into a square and serve.
This cake slices up nice and it's such a great alternative to serving apple pie, it's wonderful for parties as you can transport it in the baking pan or slice them and arrange them on a platter and they won't mess up in the car ride over, unlike many other desserts.