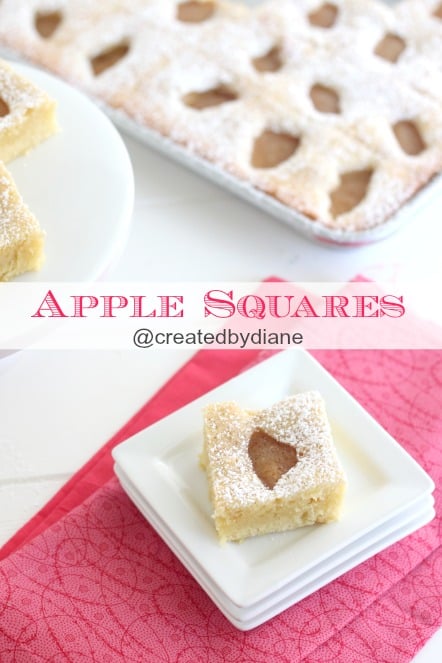 If you like apple pie,
just wait until you get a taste of these apple squares.
This is the type of recipe that will be requested over and over.
It's very easy to make, and looks CUTE too!
It transports well which is an added bonus.
Everyone will think you spent a TON of time on this, but they will be mistaken.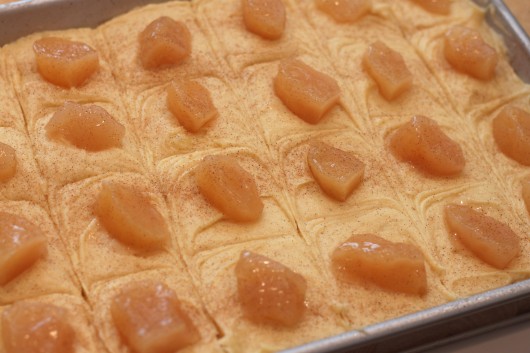 Mix up the batter, spread it in the pan, then take a knife and score the batter so you have created square shapes in the pan.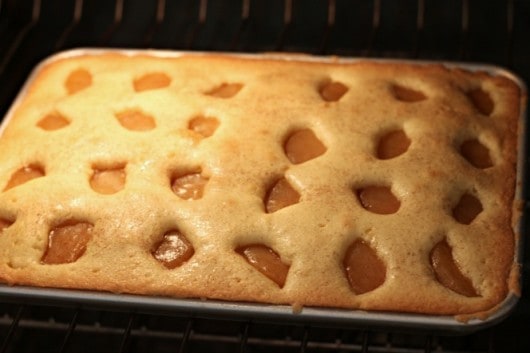 As the batter bakes, it puffs up around the apples creating little pockets.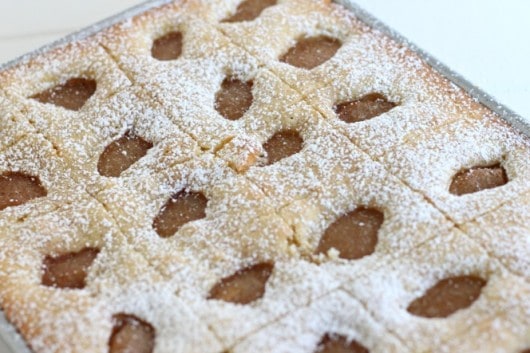 Once the tray has cooled, you can cut the squares and add powdered sugar.

Apple Squares
Prep time:
Cook time:
Total time:
Ingredients
1 cup butter
1½ cups sugar
4 eggs
2 cups flour
1 teaspoon vanilla bean paste (or vanilla extract)
1 can apple pie filling (I used about ½ of a 21 oz can)
cinnamon and sugar mixture (1/4 teaspoon cinnamon+ tablespoon sugar)
powdered sugar (apply when cooled)
Instructions
preheat oven to 350 degrees
spray a ¼ sheet pan (or 13x9 pan) with a non stick baking spray
Beat butter and sugar until light and fluffy
add in eggs and mix thoroughly
mix in flour and vanilla until blended and smooth
pour batter into pan and spread smooth
score batter with a knife into 24 squares
cut apple pieces in half and place them in the middle of each square so they can fit into each square nicely
sprinkle with powdered sugar
bake for 30 minutes or until toothpick comes out clean (be careful to not over bake or like any cake they will become dry, add a minute at a time if needed until they are just baked through)
allow tray of apple squares to cool,
then cut again into the square shapes and dust with powdered sugar and serve
Notes
If you use unsalted butter you may want to add ¼ teaspoon salt to batter.
Add more cinnamon to the apples filling or to the batter if you like a stronger cinnamon flavor.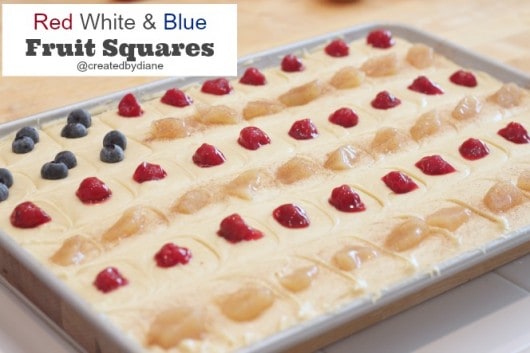 I made these to look like a flag, it cake out really cute. Here is a photo before it was baked. Fresh blueberries, cherry pie filling and apple pie filling.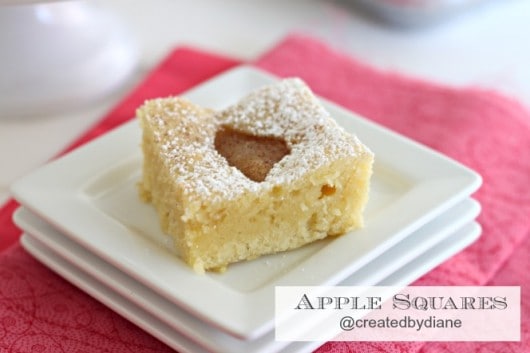 Cut apple squares into a square and serve.
This cake slices up nice and it's such a great alternative to serving apple pie, it's wonderful for parties as you can transport it in the baking pan or slice them and arrange them on a platter and they won't mess up in the car ride over, unlike many other desserts.