I just LOVE food that is perfect for breakfast and dinner too… don't you?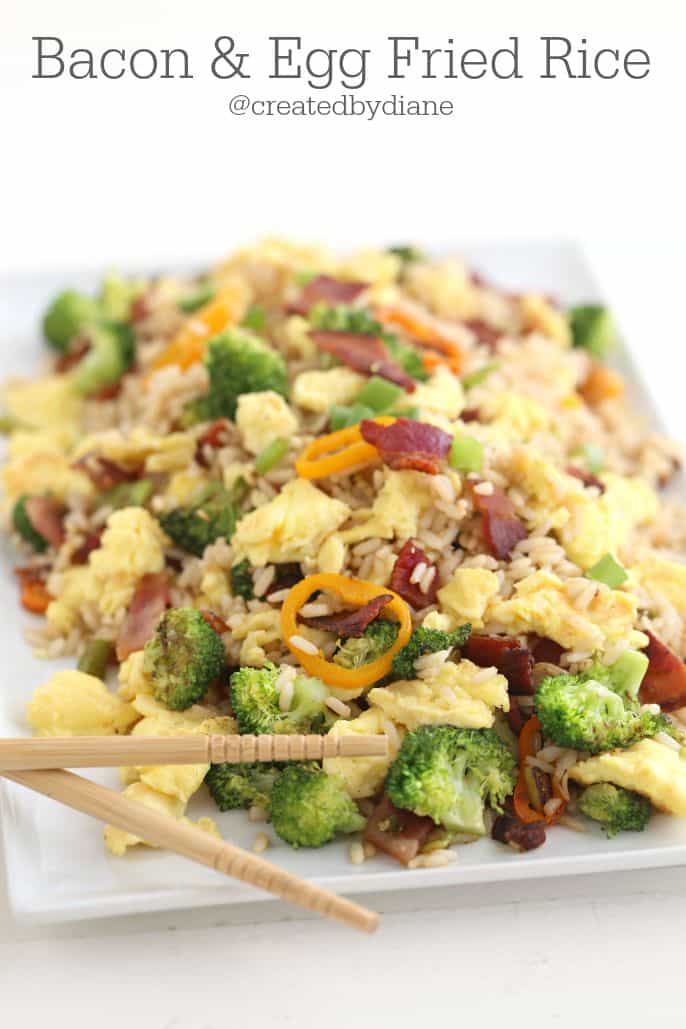 Bacon and Egg Fried Rice
Pin this on Pinterest to save it for later!
Follow created by Diane on Pinterest to see more delicious recipes!
You will make this again and again, trust me!
It great for breakfast or dinner and is packed full of flavor.
This is just one more delicious dish you can pack the BACON into. Have I mentioned I love bacon!
Take a look at my post on How to Bake Bacon. It's always good to have cooked bacon on hand if you ask me!
If you don't have rice already cooked. Cook rice as you normally would and then spread it on a baking sheet, place it in the fridge while you get everything else ready and begin cooking. I usually cook my rice on the stove and follow the package directions. I like Asian rice. I most often use Calrose rice. But any variety of rice is fine.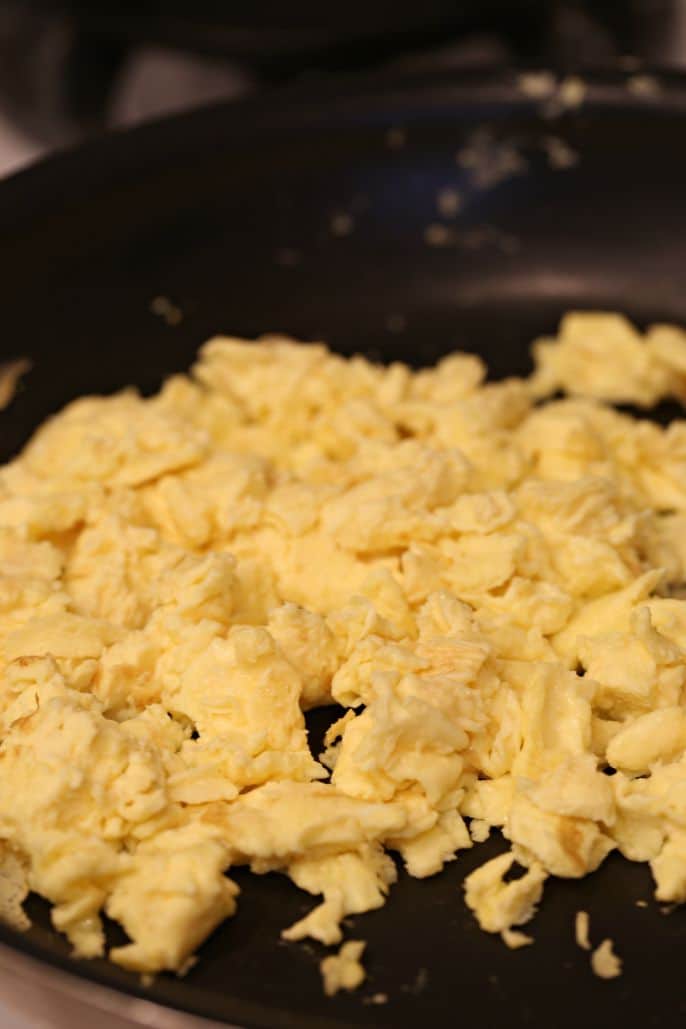 Heat skillet to medium and add in eggs mixed with water, cook until fluffy and cooked through. Then remove from pan, you will add the eggs back to the dish at the end.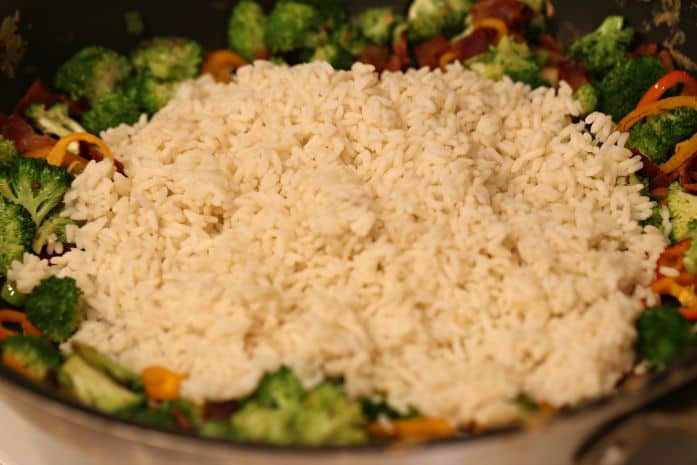 Turn heat on high, add the peppers, and broccoli and bacon to the pan and cook until just tender (if you prefer softer vegetables, cook them longer- I like mine fairly firm)
Add in cooked rice, then add in soy sauce, sesame oil, chili oil, along with vegetable oil.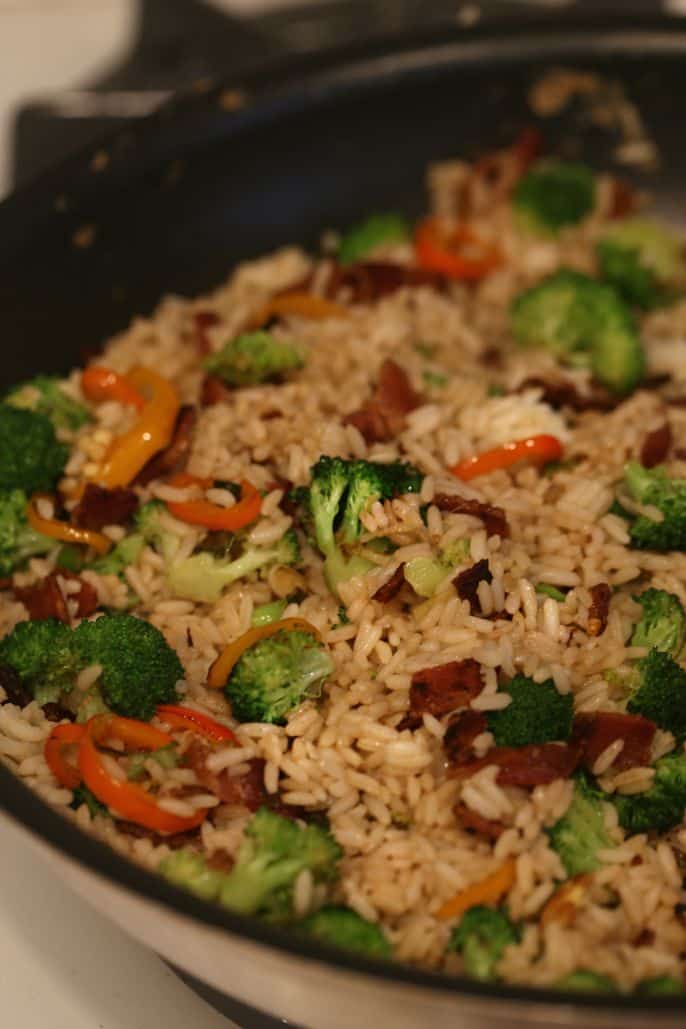 Stir to coat all the ingredients with the "sauce" add the bacon and heat it until crispy.
Add eggs and stir, then plate and serve.
I just love meals that are great for breakfast and dinner, this is wonderful for brunch and makes a pretty delicious snack any time of day too! I love spicy Asian mustard and spread some on the side of my plate to dunk into while eating this.
Bacon and Egg Fried Rice
Ingredients
2 1/2 cups cooked rice
1 1/2 cups broccoli
6 slices cooked bacon (chopped)
6 eggs
2 T water
1/4 cup sliced peppers ( I used mini peppers and sliced them thin)
2T soy sauce
1 teaspoon sesame oil
3 drops chili oil
1-2 tablespoon vegetable oil
2 green onions
Instructions
Having cooled cooked rice is key when making fried rice or it will be mushy.
Cook your rice ahead of time, or cool it quickly in the fridge on a baking sheet.
In a medium skillet over medium to medium-low heat, mix eggs and water and scramble them together, stir in skillet and cook until firm.
Remove eggs from pan.
Next, add broccoli, peppers to skillet along with bacon cook until broccoli is slightly tender I turn the heat up to medium-high for this (or longer if you prefer it softer)
Make space in the middle of the pan turn the temperature to high, add the sesame oil, vegetable oil, chili oil, and soy sauce.
Place rice in the middle and begin stirring to combine the oil and soy sauce with rice and then incorporate the vegetables.
Add in the egg and green onions until everything is hot.
Plate and serve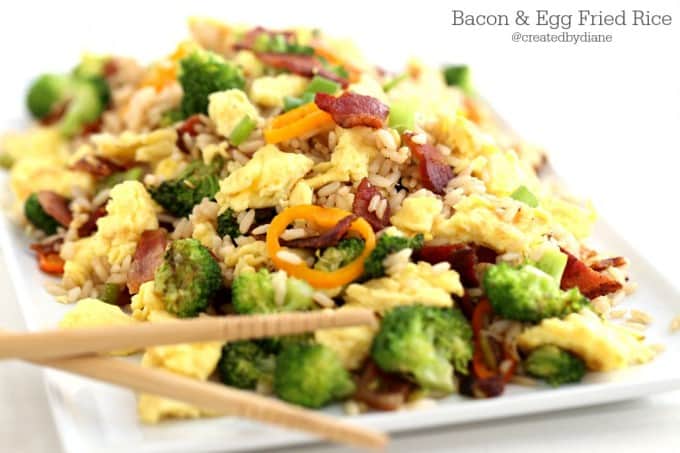 Grab your chopsticks and get COOKIN'!!!!