Oh my goodness, this flavor combination is a so irresistible!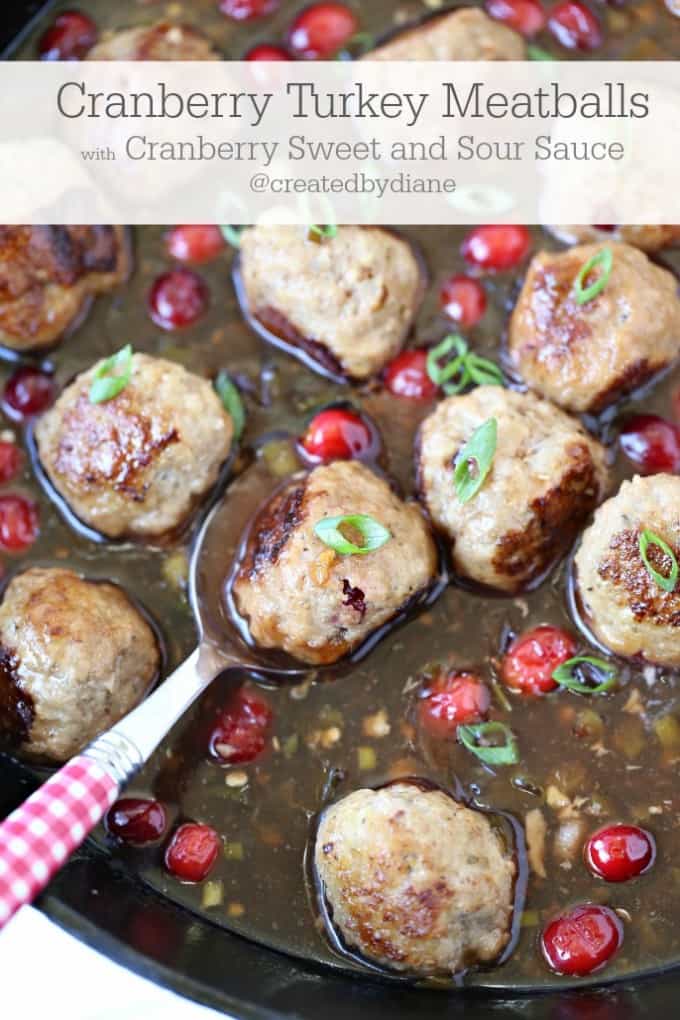 Cranberry Turkey Meatballs with Sweet and Sour Cranberry Sauce
Don't miss one delicious recipe and get my FREE e-cookbook click here!
Not only is dish gorgeous, but the it's so DELICIOUS!
I just LOVE meatballs
and any great tasting dish that can be made in minutes.
Turkey and cranberries together alone are amazing,
not add to it this delicious sauce, it's slightly sweet and sour and is PACKED with flavor.
These meatballs are perfect for an appetizer, they stay hot in the skillet and you can munch on them while the game is on tv, they are perfect over egg noodles or rice for dinner, or on a roll with the sauce poured over top for a fun sandwich.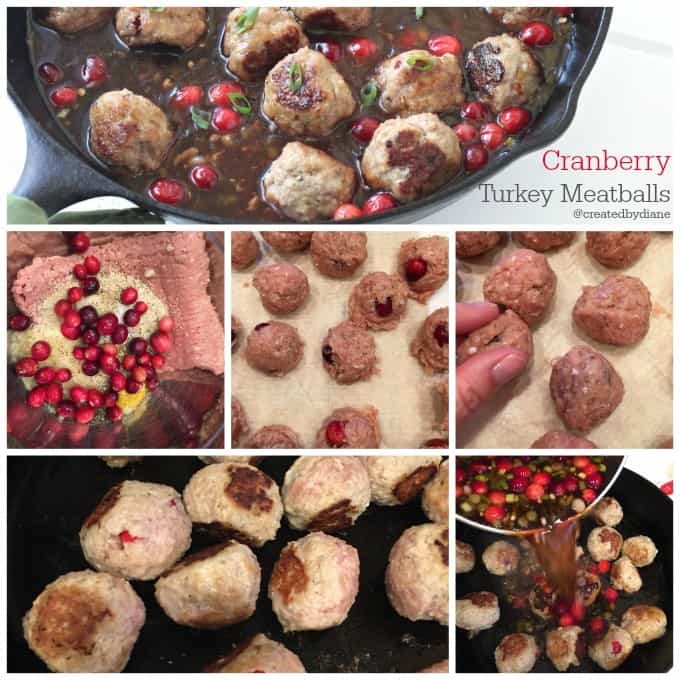 After mixing up the ground turkey with panko bread crumbs some seasonings and an egg and the cranberries, roll the meatballs into 2 tablespoon sized portions. If the cranberries are sticking out of the meatballs, tuck them in by pinching the meatball mixture around them. They may pop out when cooking, but you wouldn't want them all to be popping out before you start cooking, or all the juice from the cranberries won't be inside the meatball.
Now a little about this great sauce, it's so good I think I could eat it off a spoon all on its own. It's tangy and sweet with a little spice and just PERFECT with these meatballs.
I even freeze 3 or 4 bags of cranberries every year at the end of "cranberry season" to be sure I have some in the freezer to make cranberry recipes with.
Take a look at this post for more cranberry recipes there are 6 cranberry sauce recipes along with links to 10 other cranberry recipes posts I've made.
Cranberry Turkey Meatballs
Ingredients
1 lb ground turkey
1/2 cup panko bread crumbs
1 egg
1/2 cup cranberries
1 teaspoon oregano
1 teaspoon crushed garlic
1/4 teaspoon salt
1/8 teaspoon black pepper
Instructions
In a medium bowl mix, ground turkey with bread crumbs, egg, cranberries, remaining ingredients.
The cranberries are smooth and slippery, you can add two to each meatball if you choose.
For 2 tablespoon-sized meatballs and tuck the cranberries into the center of each meatball.
Alternatively you can mix the turkey meatball mixture then wrap it around two cranberries per meatball to distribute them evenly.
Heat skillet on medium high, cook meatballs turning often to get slightly crisp for some texture, Then turn on low and cover them until fully cooked and reach 170 degrees on a meat thermometer.
Sweet and Sour Cranberry Sauce
Ingredients
1 1/2 cups cranberry juice
1/2 cup brown sugar
1/4 cup white vinegar
1 tablespoon soy sauce
1/2 cup cranberries
1 jalapeno diced fine I leave the seeds in for a little spice (or bell pepper)
2 tablespoons cornstarch
Instructions
In a medium saucepan combine, cranberry juice, brown sugar, vinegar, soy sauce, cranberries, jalapeno and corn starch.
Whisk until well blended, then heat on medium heat until it boils, then turn on low for 2 minutes.
Remove sauce from the stove.
The Sauce will thicken as it cools.
Pour hot sauce over meatballs and serve with rice, egg noodles, on a sandwich or as an appetizer.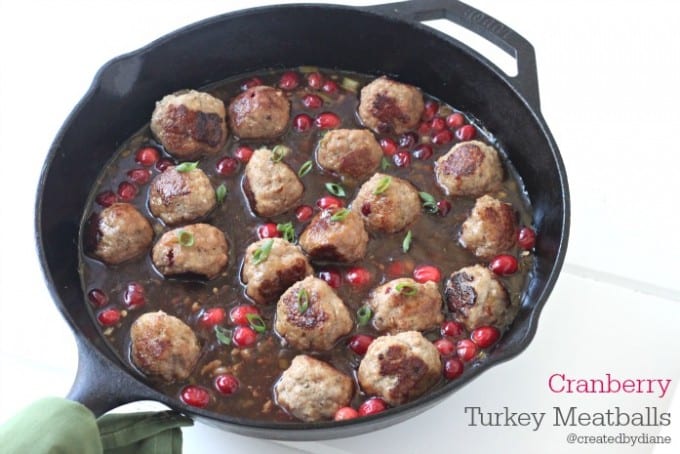 Enjoy the flavors of the holidays ANYTIME with this easy and delicious dish!