Gingerbread Scones, the absolute best scones, not only cute but so delicious.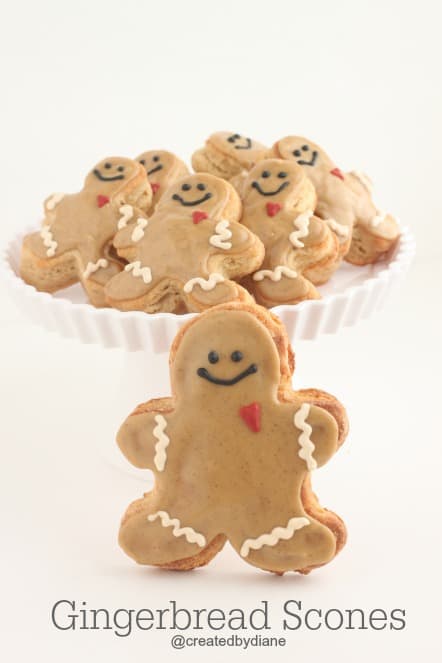 I just LOVE gingerbread boys, they are so adorable.
I keep seeing people post a 4-foot tall gingerbread metal decoration that looks like the gingerbread cookie cutter, oh my goodness it's all I can do to NOT stop by the store and pick one up. I've thought about it many times, but I have nowhere to store him!
I've thought about it many times, but I have nowhere to store him!
Yes, my Holiday purchases are often based on storage.
When I was growing up we had a basement. I LOVED it, and since we moved to California…..I have really missed having a basement. I could go into the many, many reasons…but that would bore you. I'll just say you never really had to worry about storing anything.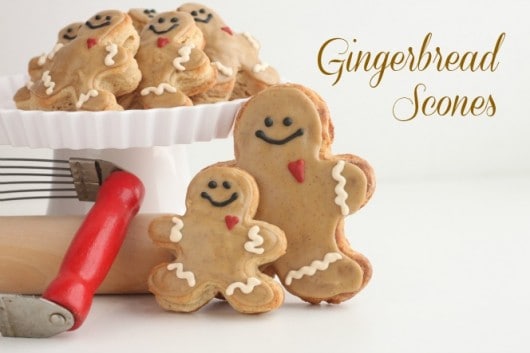 So I've been keeping myself busy with my gingerbread cookie cutters and stuffing my face with these little guys to keep myself so occupied, I don't start dreaming of basements or that giant gingerbread boy.
These gingerbread scones are lightly flavored with molasses and spices but not the real heavy gingerbread taste that kids seem to turn up their noses at, no these are well liked by the little ones. If they are on the "nice" list they will be oh so happy you shared these with them.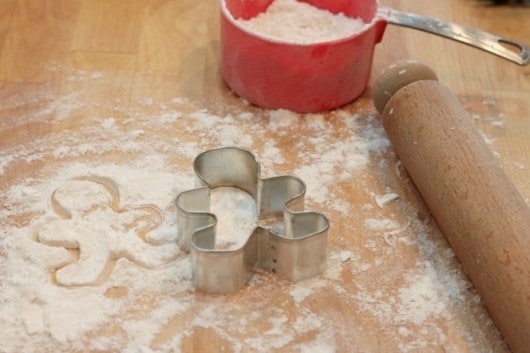 This is my favorite gingerbread boy cutter. I have a few of them, just in case I misplace one and NEED to make up a batch of these cuties really fast.
I've made the full batch and when I've been in a hurry I've even made a half batch which makes 12.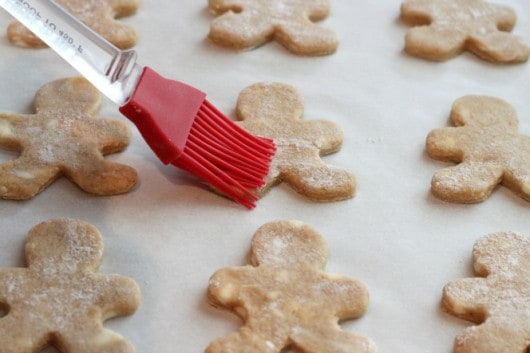 If there is too much flour on the scones before baking, just brush it off gently.
I love silicone brushes for this as they don't tend to leave marks on the scones or cookies for that matter.
Don't miss my great 
Gingerbread Scones
Ingredients
2 cups flour
1/4 cup sugar
3 teaspoons baking powder
1 teaspoon salt
1/2 cup cold butter (diced)
1/2 cup heavy cream
2 tablespoons molasses
1 1/2 teaspoons pumpkin pie spice
1 teaspoon vanilla bean paste or vanilla extract
2 eggs
Instructions
Mix together flour, sugar, baking powder, and salt.
Cut in butter until mixture resembles coarse crumbs.
Add cream, molasses, pumpkin pie spice, and vanilla along with eggs, stir until combined.
Knead mixture on a floured surface until smooth. Adding flour as needed.
Cut with a cookie cutter.
Place on parchment-lined baking sheet.
Bake at 400 degrees for 10-15 minutes depending on the size and thickness. Bake until golden on edges and bottom.
Notes
Gingerbread Glaze Icing 1 cup powdered sugar 1 teaspoon corn syrup 1/2 teaspoon pumpkin pie spice 1 tablespoon molasses 1 teaspoon vanilla 3 tablespoons water Mix all ingredients together and adjust the consistency needed by adding more water or powdered sugar. Color icing black for eyes and mouth and red for the heart. Cream or white for the rick rack trim. I already had
royal icing
made in the colors I needed but I used the glaze to ice the brown gingerbread flavor on the scones. I just added a couple of drops of tan color to the glaze.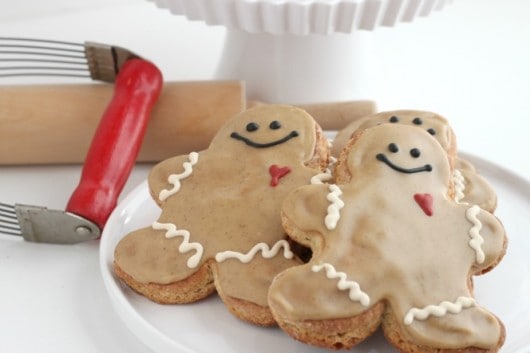 I used the 4-inch cutter for the large gingerbread men.