Instant pot chicken is going to save you time, money, and effort to get a delicious meal on your table so you have time for life! If you're looking for a simple way to prepare boneless skinless chicken breasts fast, take a look at this… chicken cooked in the pressure cooker for chopping or shredding chicken for delicious tender chicken to use in many recipes.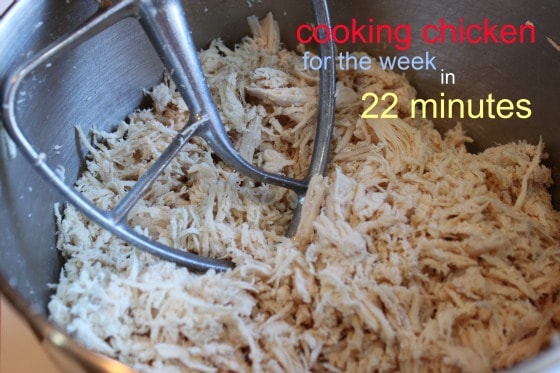 Don't miss one delicious recipe and get my FREE e-cookbook click here!
This post will help you get meals on the table fast all week long.
I show you how to easily cook and shred chicken and give you a dozen great recipes to use the chicken in as well.
I just love it when I've planned ahead for the week and have all the dinners in mind I want to make.
Often that doesn't happen, but let's pretend it happens every week.
Okay?!
This is my new TIME SAVER.
Cook the chicken you need all at once.
Sounds simple enough, right. But what if you haven't planned out your weeks' meals and just want to incorporate chicken into most of your meals, great! That is where my TIME SAVER tip really comes in handy.
I cook 6 pounds of boneless skinless chicken breasts in my traditional stovetop pressure cooker in 22 minutes. Yes, you heard me right, they were all finished cooking and ready to be added to the many many options of meals I was about to make this week.
You can use this same instruction for boneless skinless chicken thighs as well, chicken thighs are more tender than chicken breasts so use which you prefer.
I have instructions on the new electric Instant Pot BELOW
This idea is great for the weeks when you will be CRAZY at dinnertime.
If you don't have a pressure cooker… Place the chicken on a baking sheet covered with foil and bake at 350 for 40 minutes or until the internal temperature is 165 degrees. If the chicken is really thick, filet it so it's thinner and cooks quicker. But for tender shredded chicken you are looking for the chicken to be cooked a little longer (but not at a high temp as that would make it tough) so give it maybe 10 more minutes if you have thick chicken, or are finding it's tough to shred. Keeping the chicken covered when you remove it from the oven for 15 minutes will help steam the chicken and keep it tender, so it's best to let it rest before trying to shred it.
Alternatively, you can use a slow cooker to cook the chicken, check out my post on the slow cooker method HERE.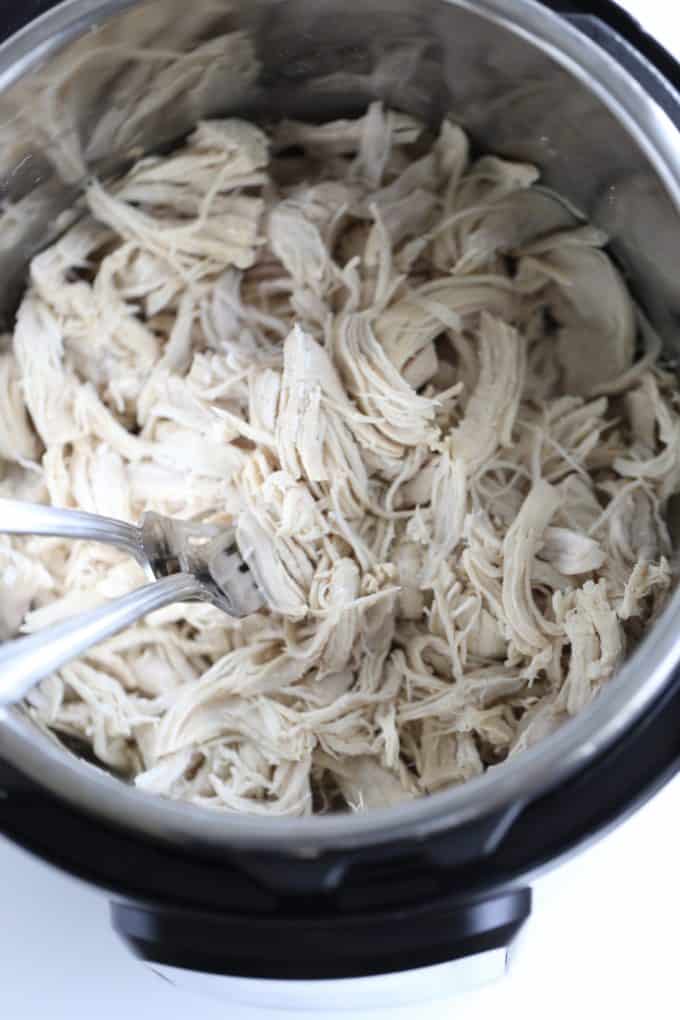 I used a stovetop pressure cooker for 20 years, this is the one I use.
UPDATE: using an electric pressure cooker- INSTANT POT

I now use an electric pressure cooker an INSTANT POT.
I purchased a 6 quart Instant Pot 9 in 1. It's simple to use and I'm happy it doesn't need monitoring like the traditional stovetop version I previously used.
With the electric version, you do not need as much water as you're able to seal the steam inside while it's cooking. The stovetop version releases steam continuously as it cooks. So for 3 lbs of chicken, only 1 cup of water is needed, as the steam does not release like on the older versions when cooking.
Since the electric version stores up the steam, it cooks quicker than the stovetop version. For every 2-3 lbs of chicken, I set the pressure cooker to 6 minutes (it takes time to come to pressure so it's always cooked when I release the steam) for 4-6 lbs I set it to 10 minutes.
You can do a quick release or allow the pressure to come down on its own for the chicken. The chicken cooks best if it's the same size, so if you have very large or thick chicken breasts, cut them in half lengthwise before putting them in the instant pot.
I do a quick release if I'm looking for the chicken to be cut into chunks, but if I want to shred it, I most often allow the pressure to release naturally for at least 10 minutes, then do a quick release if any pressure if left.
If you want the chicken to shred easily cooking the chicken for 12 minutes will the internal temperature higher and that means the chicken will be cooked a little longer and be able to break apart and shred easily.
If you want the chicken to be cut into chunks, 10 minutes is good. Allow the chicken to cook a few minutes, then cut it with a knife into chunks.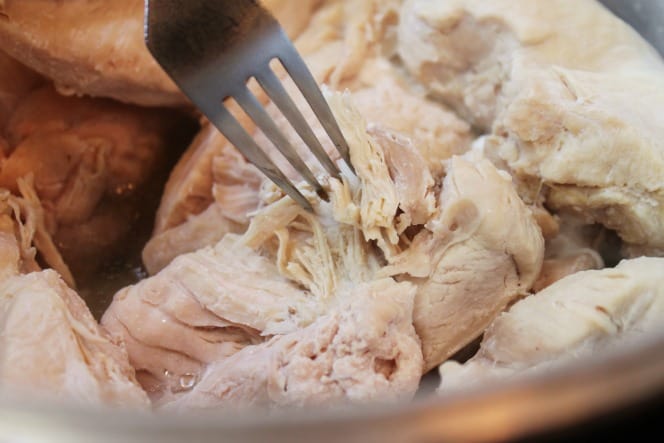 I place 6 pounds of boneless skinless chicken into my pressure cooker with 4 cups water. (note there is no need to use this much water in an electric pressure cooker as the steam does not release as you cook it)
The water is just coming over the cooling rack in the pressure cooker, that way the chicken isn't sitting in the water and I have plenty of chicken stock when I'm done.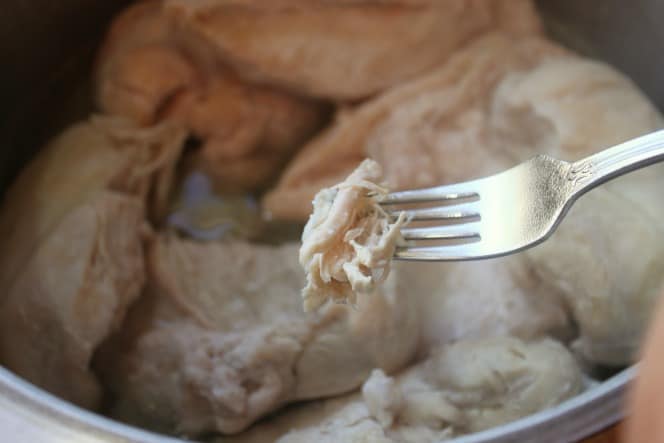 It takes 10 minutes for it to come to the proper pressure and I cook it for 12 minutes with the pressure regulator rocking high.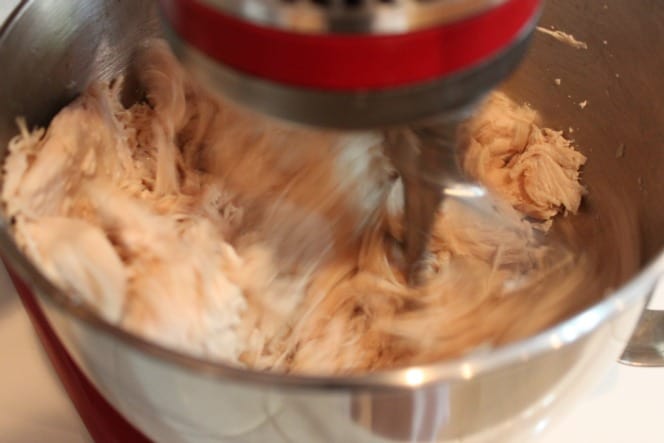 I then place all the chicken into my KitchenAid mixer and turn it on high for about 30 seconds and it is then all shredded. No standing there with two forks shredding it until my hands hurt anymore.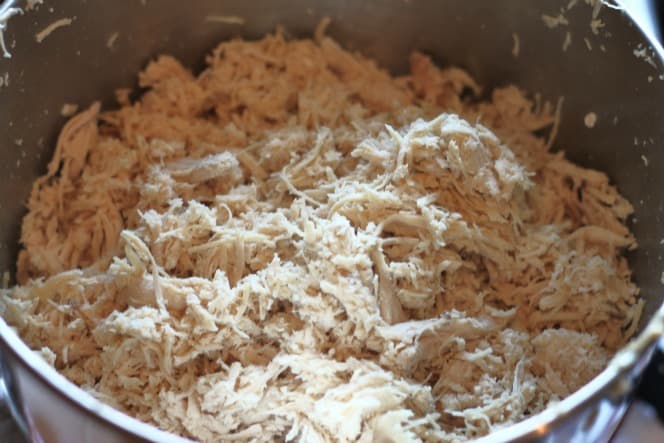 Now want some meal ideas for all this chicken,
Shredded chicken would go in any of these meals nicely…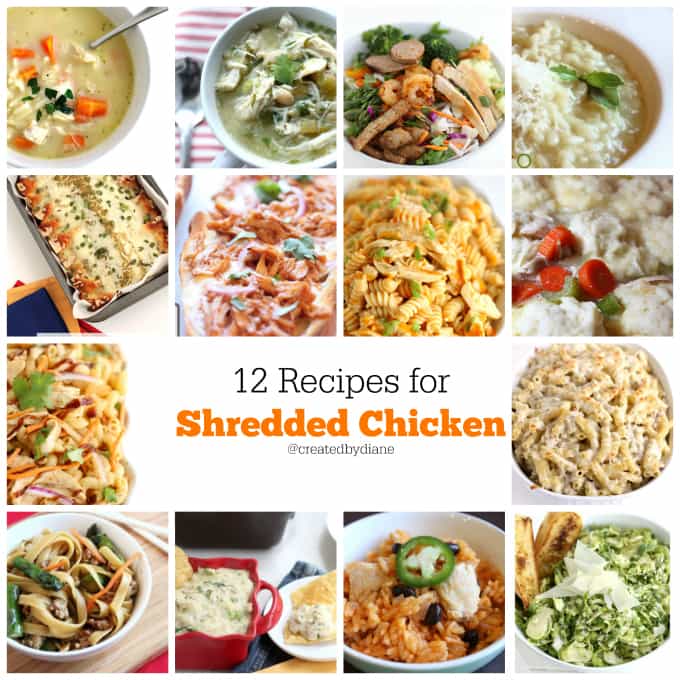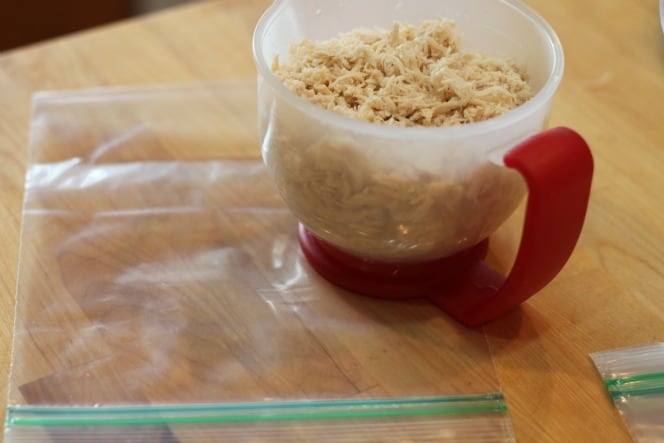 To make it easy I package 2 cups of shredded chicken into quart-sized plastic bags. They can be frozen or kept in the refrigerator until you're ready to use it.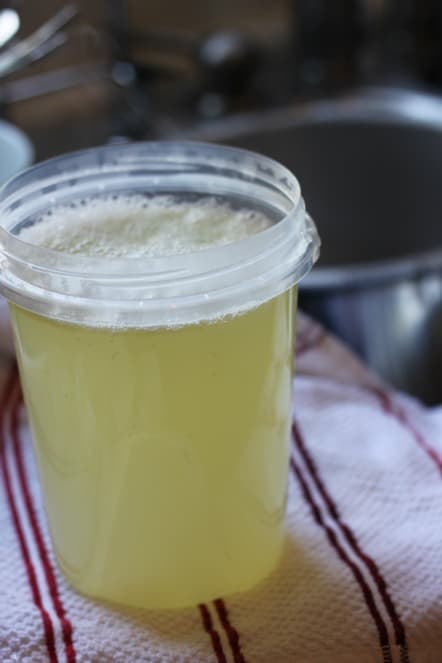 Don't forget you will also have 4 cups of chicken broth, you can use it to add to sauces…
soup…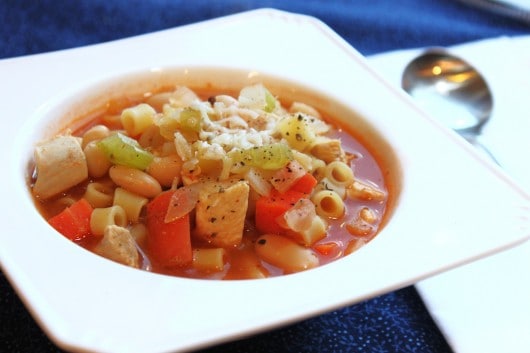 or even a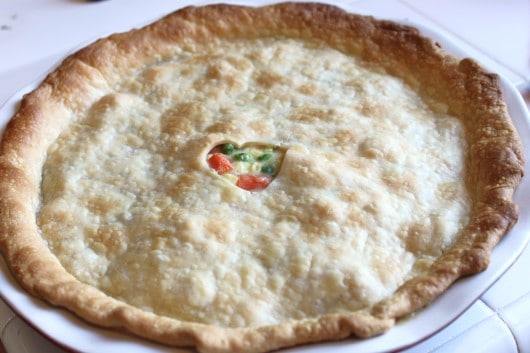 the options are endless and I will have a few new recipes with shredded chicken to share with you soon!
Another GREAT post on cooking chicken for the week is my post on How and Why I cook chicken for the week all at once.
The Instant Pot: saves you time, money, and effort to enjoy life!
You'll save time, its fast cooking tender chicken for a wide variety of recipes, it'll save you money, you can buy larger portions of chicken and cook at once to use for many meals which is cost-effective and will save you from making dinner each day, and you'll have more time and energy to enjoy life!