Lemon Saffron Salad Dressing, the ultimate in salad dressing, you'll love the flavor explosion in this recipe.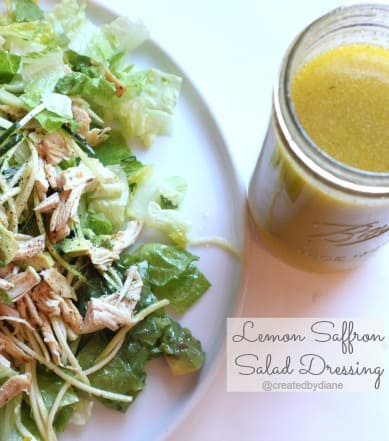 I have been eating salad like CRAZY!
Let me tell you why…
I've been keeping track of what I was eating, which let to eating better, working out and pushing myself to reach new goals.
This dressing is the key to my love of salads and I thought you should know that.
I knew if I were going to eat more salad, I'd need a dressing that I LOVED and all I knew is that it had to have lemon in it.
SO as far as keeping track of what I've been eating and such….my friend told me about this app she uses,
I just love how technology has helped me keep track and stay focused on my goals.
I've been using the app Lose it!
I started reading labels more and became someone who counts calories…
I always loved math, but calorie counting never seemed to interest me at all,
That is until it started working…
Then I became REALLY interested, the best part is I really don't have to remember the calories of items, the app takes care of that for me.
Guess what…
And it's working!
Some days I will admit that I felt like I had lost it…..really, as in lost my mind… I didn't think I was going to get the hang of keeping track of what I was eating and remember how many calories are in foods I prepared.
The app really helped me and was easy to use.
I have no affiliate with the app, I just really LOVE it.
In 10 weeks I lost 10 pounds and to reach my goal I have just a few more to go. I really couldn't be happier… my favorite jeans are no longer folded and tucked far away in my closet, they made it onto the hanger. Which in my closet means you WILL get to see the light of day.
There were some big changes I made.
I knew if I was going to do this right, I was going to have to give up some of the things I had gotten used to eating that weren't any good for me. Namely potato chips, I have mentioned many times my addiction to those salty crunchy let me devour the whole bag goodness craziness that used to get me every time. I would buy multiple bags of potato chips at the store and the clerk would ask if I was having a party…not these are for me…I have a problem with chips! Yep, that got me some odd looks.
I cut my carbs and controlled my snacking, once I got the hang of it, it got a bit easier.
I have been working out for quite a while and the pounds just wouldn't budge, so I knew it was time to try something else.
I stayed within my 1200 calories for the majority of the time, there were a few times I went over, by about 200 calories.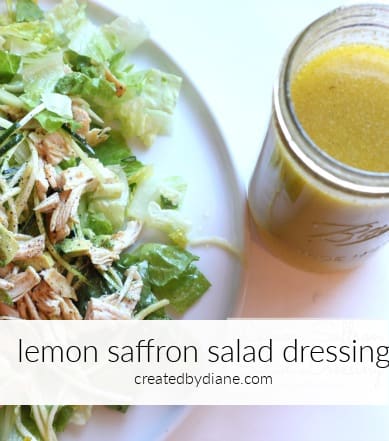 I also stepped up my workouts to include a little bit more weight training along with running, elliptical,  stair master and biking., the variety keeps it interesting. On days I don't go to the gym, I find other workouts to do, The Core Challenge once if I do a short run, or three times if I don't.
For quite a while I thought that if I worked out I could pretty much eat whatever I wanted, that was until I realized that I really wasn't working out enough to work off ALL the calories I was consuming.
There really isn't anything that I'm not eating at all, but I have cut back on pasta since I used to eat a TON of it…and beef and I try not to eat a whole tray of cookies in one sitting.
Don't worry, I'm not going to change and cook all healthy on your all the time, but I will share with you all some of the recipes I am loving, just like always….healthy or not! I'm a sharer.
I share a bunch of day to day stuff on Instagram, you can find me here.
.
As far as calories go, I really didn't know how many calories were in a peanut butter and jelly sandwich and I soon realized that I wasn't going to be eating as many of those in a pinch to eat something quick. I really would rather have a salad for lunch and be able to eat some freshly baked cookies or a piece of cake after dinner. So for me, it was about making choices, and since I have to live with the consequences…..I'm trying to make better choices so I can enjoy life just a little bit better, hopefully, longer, and be fit and stronger while doing it.
Staying motivated is key for me, I work out with a friend and well, she's the best…she is a great friend and she keeps me motivated, I hope I do the same for her. We are both night owls, we even go running late at night. It's cooler then and we have all the stuff of the day out of the way and can focus on ourselves. What we've learned is that it doesn't really matter what we do, just as long as we are doing something and pushing ourselves, after all, we are spending time out of our day, we might as well get results.
Now onto my Salad Obsession Dressing….
Let's get mixing…
For this salad:
Romaine chopped
zucchini Julienned
cooked chicken shredded
avocado cut into pieces
I've made this dressing with different types of lemons and different types of vinegar, I have found that heating it mellows the flavors so it's not so super tangy, but some lemons are sweeter like the Meyer Lemons and they didn't need heating. If the dressing seems too sharp or tangy add a teaspoon of sugar.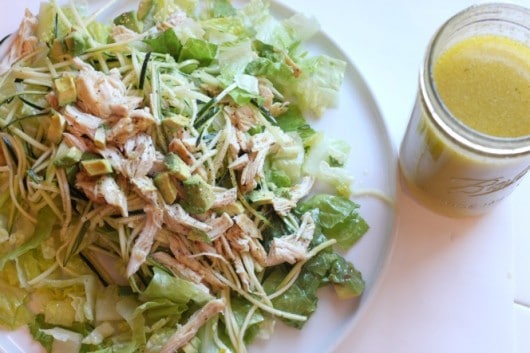 I store the dressing in a glass jar in the refrigerator and it lasts for weeks.
I love it over chicken too.
If the oil gets thick, I just heat it in the microwave for 15 seconds, then put the lid back on give it a good shake and toss the lettuce with the dressing. Sometimes I mix everything together, but I've found that I like the look of a pretty salad, and really like when the dressing is coated all over the lettuce and vegetable portion. Feel free to mix it up just how you like it.
I also find that I use less dressing when the dressing is well coated on the salad. I do this by putting the salad portion in a large bowl and tossing it with tongs.
I have always been someone who brings food with me almost everywhere I go. Preparing the main items ahead of time has helped me be able to even go on vacation and know that what I will be eating is really what I want, instead of settling for what is nearby when I'm hungry. A cooler full of ice is the best thing to bring on vacation!
I cook chicken for the whole week and shred it you can find that post here or I cut boneless skinless chicken breasts thin and cook them on the grill, or on a grill pan. I then use them on salads and in the dinners I make for the rest of the family (kids) who aren't on the "salad kick". I cook a pound of pasta at the beginning of the week also and it's amazing how I can integrate just those two items into MANY meals for them and it really cuts down on the time making meals every night.
UPDATED: I updated this recipe on 2/2022 and omitted the previous version with wine vinegar as I now make this will all lemon juice and the flavor is far superior to my previous version. 
This is my go-to salad dressing!
With the aromatic flavor of saffron in this salad dressing, this Mediterranean dressing is sure to please.

Lemon Saffron Salad Dressing
Lemoney and flavorful salad dressing with the added aromatic taste of saffron, so irresistible you'll make this one, again and again, perfect on a salad, chicken, shrimp and so much more.
Author:
Diane Schmidt, Created by Diane
Cuisine:
American, Mediterranean
Ingredients
1/2 cup fresh lemon juice
2 cloves fresh garlic, minced (fresh is best in this recipe)
1/2 cup oil, I use avocado oil or a light olive oil
6 threads saffron
1 teaspoon oregano
1 teaspoon salt
Instructions
In a glass jar add the lemon juice, garlic, oil, saffron, oregano and salt, mix well and serve. Chill and serve over salads.
Nutrition Information
Serving size:
1 tablespoon
Calories:
32