The combination of flavors in this dish will have everyone wanting to dive into it as soon as it's made.   
BBQ Chicken Macaroni Salad
Don't miss one delicious recipe and get my FREE e-cookbook click here!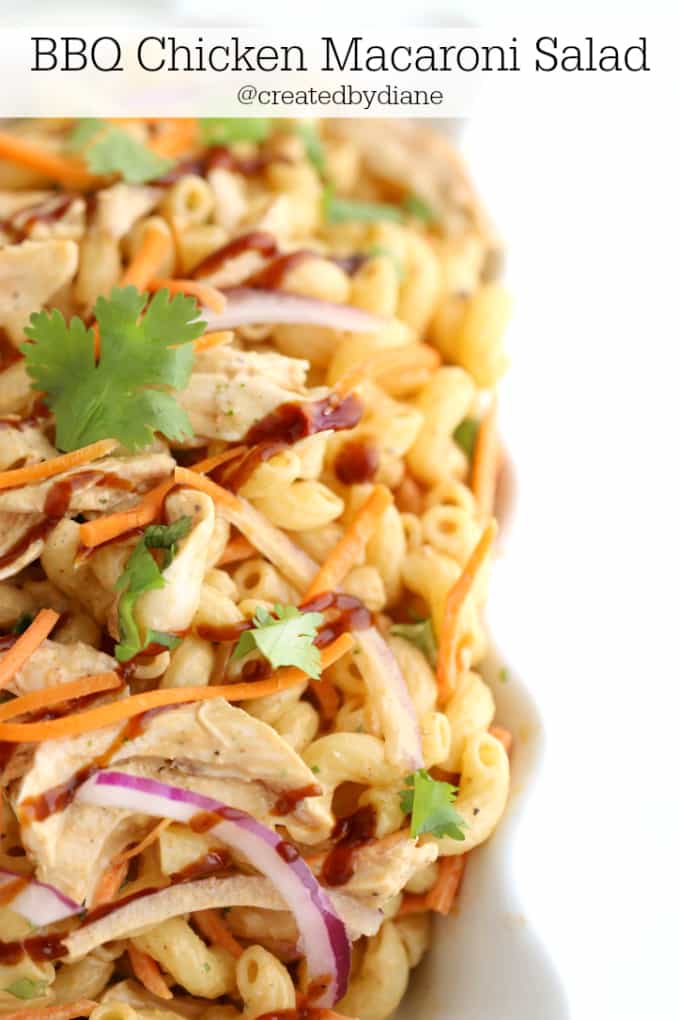 Pasta is a real go-to in our house, so I'm always thinking of new ways to serve it.
This was a hit with everyone.
Lots of flavor and super easy to make.
Great for BBQ's and a nice dish to bring to potlucks!
With the long weekend ahead this will be a PERFECT time to make it.
This is also a great alternative to a sandwich for school or work lunches. That is just ONE of the many reasons pasta salads are so perfect.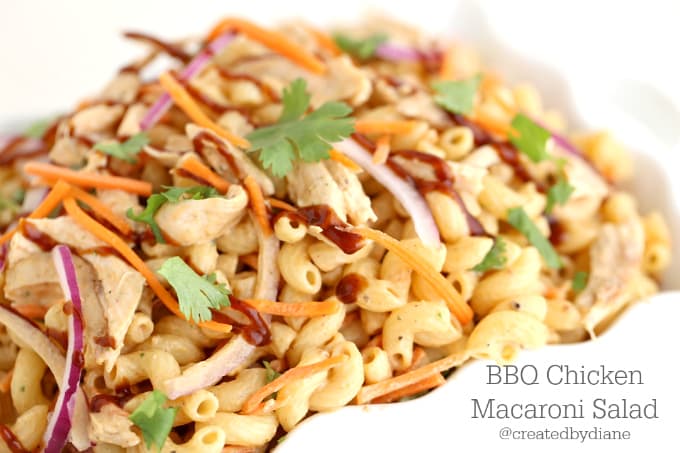 The colors in this dish really POP! I just love that. They say we eat with our eyes first and in this dish you can almost taste how yummy it will be just by looking at it.
In this dish you'll find all the great flavors you would on a BBQ chicken pizza.
Added to the pasta is chicken, red onion, cilantro, some julienned carrots, and cilantro. The sauce is a homemade aioli with bbq sauce mixed in. Then a drizzle of additional bbq sauce over the whole dish tops it off wonderfully!
If you prefer not to make the homemade bbq mayonnaise, you can use purchased mayonnaise, but really it's worth the 30 seconds to make it homemade, the flavor is fantastic!
Here you'll find my post on How and Why I cook chicken for the week all at once. This just adds to the list of great recipes to make with precooked chicken!
If you prefer a vegetarian dish, omit the chicken, if you eat shrimp, go ahead and add in some cooked shrimp!
BBQ Chicken Macaroni Salad
Ingredients
1 lb macaroni pasta
2 cups cooked shredded chicken
1/3 cup thinly sliced red onion
1/2 cup chopped cilantro
2/3 cup grated carrot
bbq sauce for garnish
recipe for homemade bbq mayonnaise follows if you don't want to make it, use purchases mayonnaise and add 1/4 cup bbq sauce to 3/4 cup mayonnaise, mix well.
Instructions
Boil macaroni noodles following package directions.
Rinse noodles in cold water.
*make mayonnaise*
Mix flavored mayonnaise into noodles.
Stir in red onion, cilantro and carrot.
Garnish with a drizzle of bbq sauce.
BBQ mayonnaise
Ingredients
1 cup oil
2 egg yolks
1/3 cup vinegar
1/2 teaspoon salt
1/4 cup bbq sauce
Instructions
With immersion blender whip oil, egg yolks, vinegar and salt.
Then mix in bbq sauce.
Add the bbq mayonnaise to the pasta dish and refrigerate for an hour for best results before serving.
Notes
You can serve this dish hot or cold!