Buffalo Chicken…..in a cheesy baked pasta dish, oh YES please!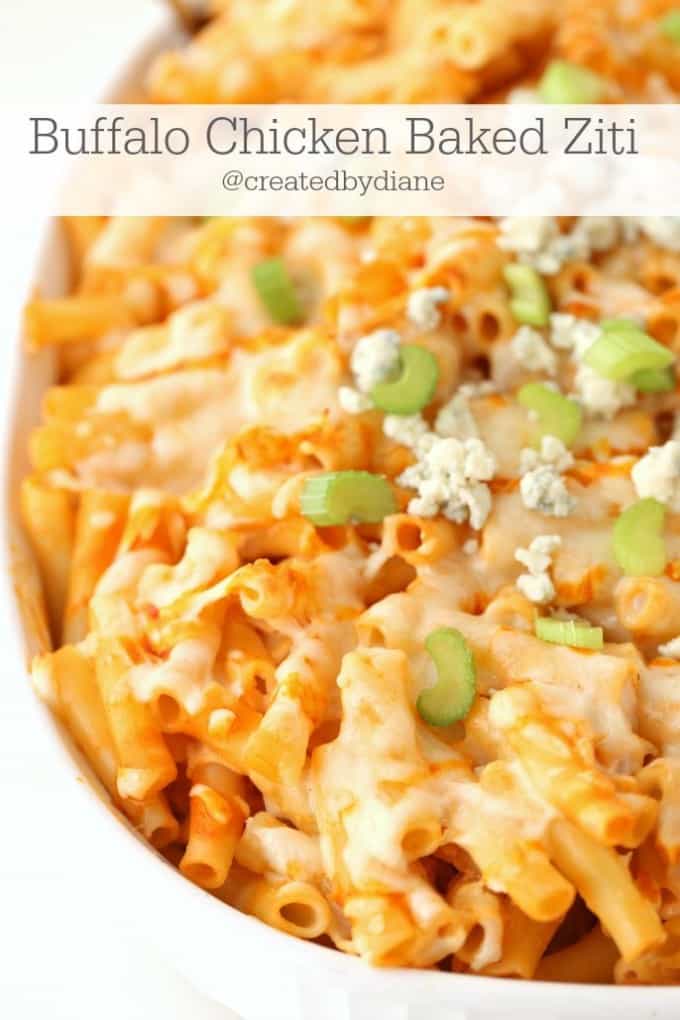 Buffalo Chicken Baked Ziti
Pin this onto your dinner, chicken, or pasta Board
Follow created by Diane on Pinterest to see more delicious recipes!
Dinner has never been this fun before!
Well that is what my family said. They LOVE Buffalo Wings and when they saw this coming out of the oven they just about lost their minds.
They were not disappointed at all, they all had two servings and couldn't stop saying how much they loved it.
So this is a win-win, it's easy to make and a crowd pleaser!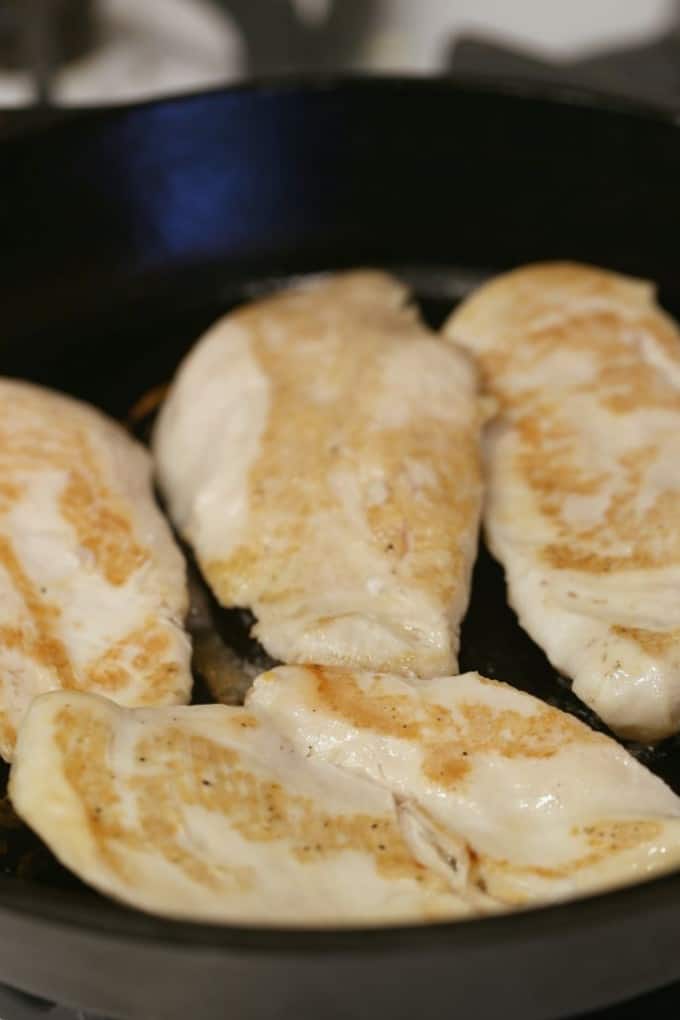 I cooked some chicken in my cast iron pan as I was boiling the pasta. I sliced my chicken in half so it wasn't so thick and would cook quickly. Click here to see How and Why I Cook Chicken for the week all at once. (typically I do this on Sunday), this week I didn't but same principals applied, and if you take a look at that post I give you lots of dinner ideas to use it in.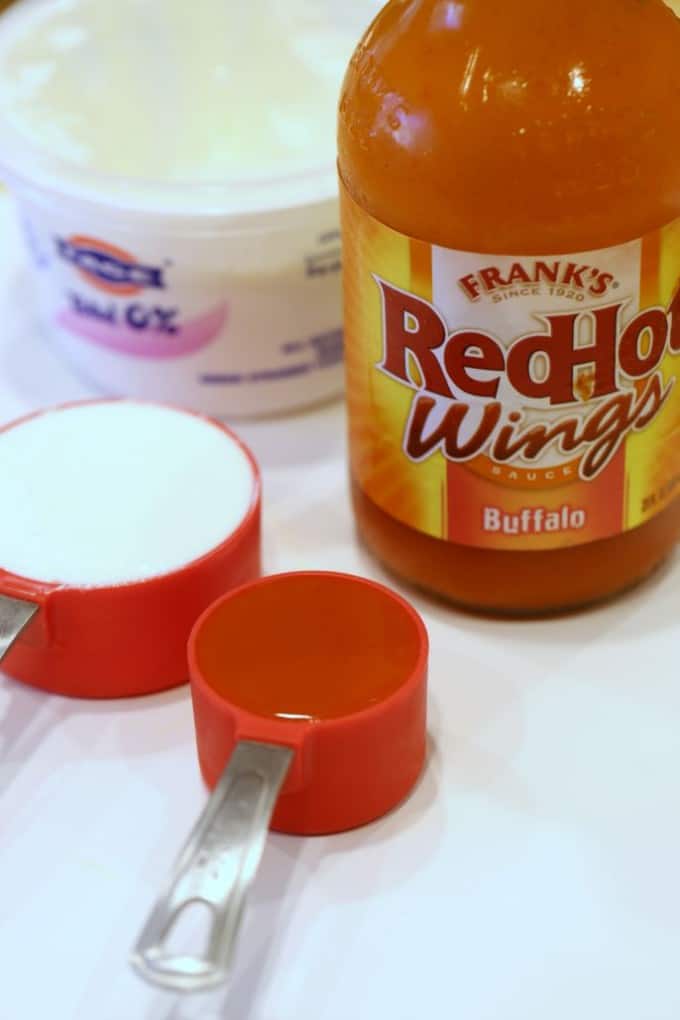 Next get out the all important sauce ingredients.
Plain yogurt and buffalo sauce, I do love Franks Buffalo sauce, as you can see I buy the large bottle. We go through quite a bit of it around here!
If you didn't plan ahead and don't have plain yogurt, you could substitute sour cream, or make a milk sauce in a pan. (1 tablespoon butter, 1 tablespoon flour, then whisk in 1 cup of milk)
When you chicken is done cooking take two forks and shred the chicken, if you are cooking quite a bit, use your mixer to shred it, it's so easy and takes only 30 seconds to shred (I have a whole other posts on How to Cook and shred Chicken for the week in 22 minutes and lots of uses for the chicken too, take a look)
Now in the pot you cooked the pasta in or a large bowl combine the pasta, chicken, yogurt and buffalo sauce, mix it all together.
Shred your cheese and then place the pasta mixture in a casserole dish in two layers, placing 1/2 the cheese over the first layer, then the other half of the cheese over the second layer.
Bake at 350 degrees for 30 minutes.
When if comes out of the oven, sprinkle on some blue cheese and chopped celery. Alternatively you could drizzle it with ranch dressing if you prefer it to blue cheese.
Buffalo Chicken Baked Ziti
Ingredients
1 lb ziti noodles
1 1/2 cups plain yogurt (I used greek yogurt)
1 cup buffalo sauce (I used franks buffalo sauce) plus two tablespoons to drizzle over top
1 1/2 cups grated mozzarella cheese
1 1/2 lb chicken (cooked and shredded)
1-2 tablespoons blue cheese for garnish (optional)
1 piece chopped celery (for garnish)
Instructions
Cook ziti noodles according to package directions and drain.
Mix yogurt and buffalo sauce along with chicken into pasta.
Spread it into a 13x9 baking dish in two layers placing 3/4 cup grated mozzarella cheese on each layer.
Drizzle the two tablespoons buffalo sauce over top of the cheese.
Bake at 350 degrees for 25-30 minutes until cheese is completely melted and bubbly.
Top with blue cheese and celery before serving.
Notes
If you prefer your pasta more "saucy" add more yogurt and buffalo sauce. You can also cover this dish as it bakes, then uncover it that last 5 minutes so the cheese melts completely on top and begins to get golden on the edge.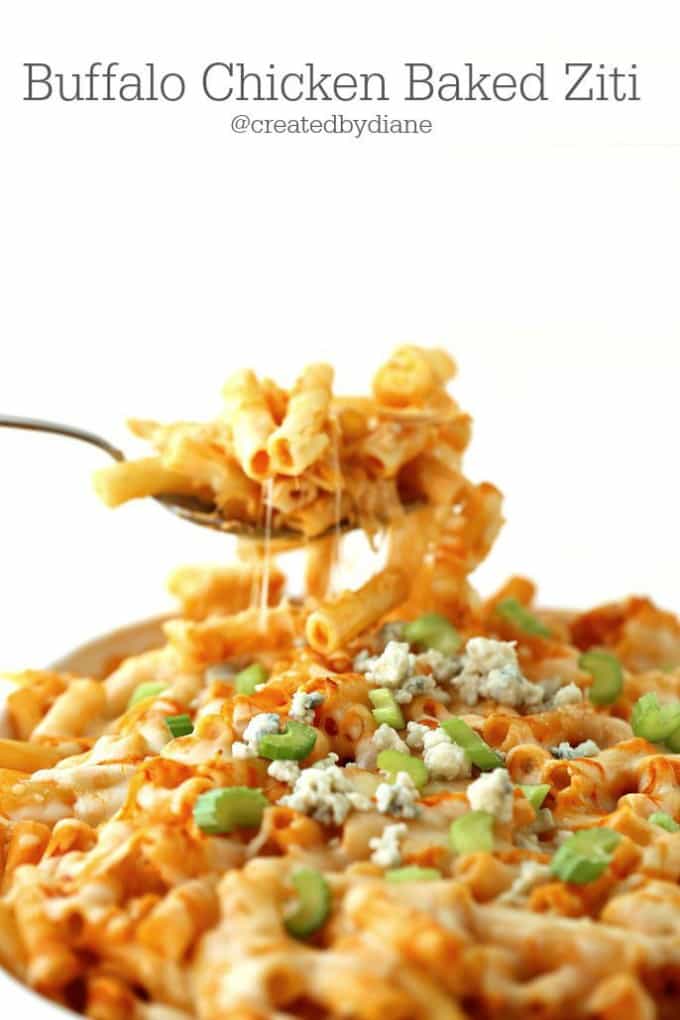 This is the dish every buffalo chicken fan will LOVE to dive into. It's great for game day too, quick to assemble and hot and ready at half time!