If you're looking for your new favorite meal… check out this Instant Pot Shredded Pork Recipe!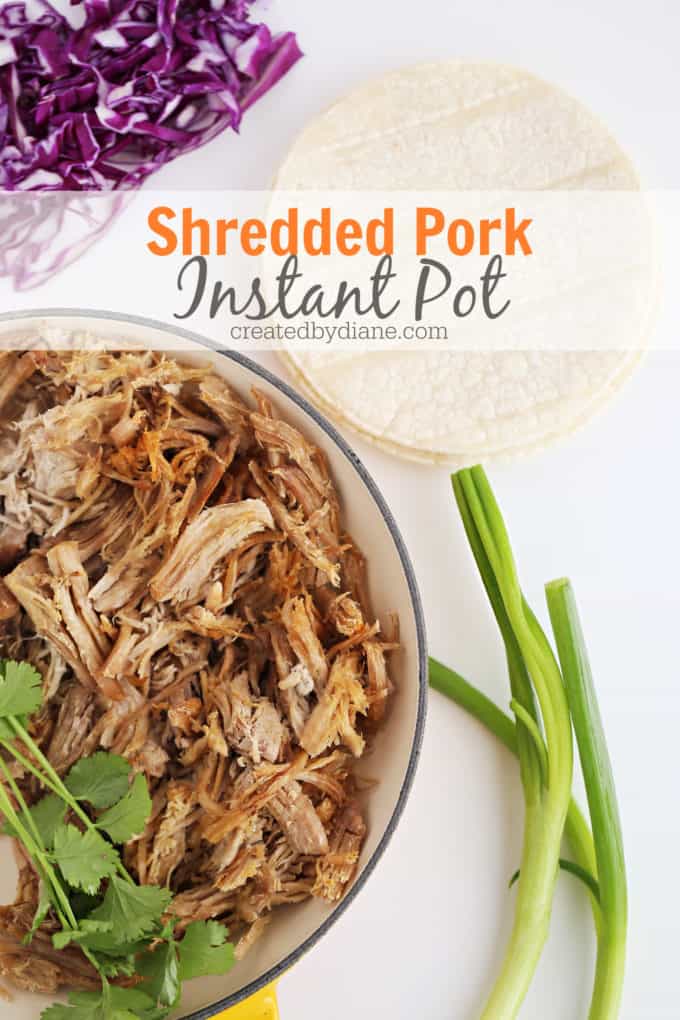 I just love shredded pork tacos, 
but truth be told I use shredded pork in many dishes. It's flavorful and easy to make.
I crisp the pork when it comes out of the instant pot (pressure cooker) and oh those little crispy pieces are amazing. Great for tacos, burritos, enchiladas, and can be used in bbq pork sandwiches without slaving over the bbq for hours on end.
It's no secret I love my instant pot, I've been using a pressure cooker long before they came out with the new electric versions and I have always loved how tender meat comes out and the time it saves.
I buy pork butt shoulder roast at a local store that sells it in 7lb roast, which you would THINK is a large roast, but wow can it go quickly, it's that delicious. The name on the package of a pork roast can be pork butt or pork shoulder, where I shop they have both on the label, I buy boneless as it's easier to cut and manage. The other type I buy is boneless pork sirloin roast usually 6-7 lbs. Of course, any size roast will work, just adjust the timing, if your roast is 5-6 lbs the timing would be 90 minutes, smaller4-5 lb roast 75 minutes.
I heat up leftovers in a skillet and fry an egg on top… OMG so yummy, just top it with green onions and cilantro, rethink breakfast!
The toppings I typically eat on pork carnitas tacos is cotija cheese, diced white onion, and cilantro, but you can add anything you like to your tacos, or whatever you want to use this pork with. It's also great served over rice with a nice gravy on top. 
I'm someone who can take one item and turn it into a bunch of different tasting meals. This is one of those times…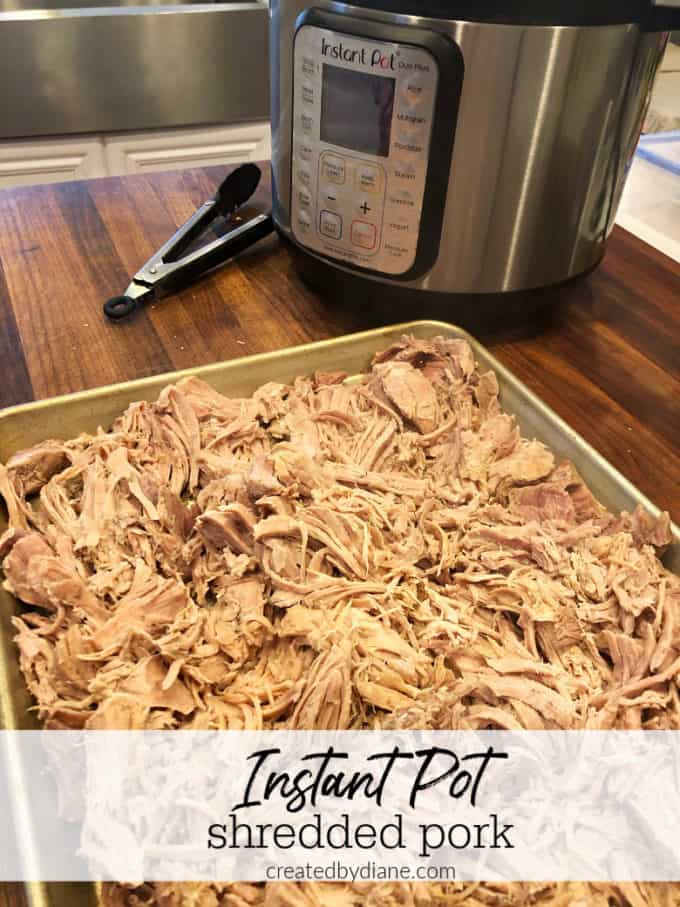 Tips on cooking shredded pork
Cut the pork roast into smaller pieces rather than cooking it as one large piece, the meat will cook quicker and be more tender.
I make sure my pork is boneless, that way I can cut it easily. I have had occasions where I have purchased pork with the bone in and just cut around the bone as best I could to make the pieces smaller.
I used to cut it into 4 large chunks, now I cut it even smaller and find the meat is more tender and I don't need large strings of meat so cutting it smaller is now my go-to method.
How do I ensure the meat will be crispy like carnitas?
Spread the shredded pork on a baking sheet and put it under the broiler for 5-10 minutes or until its crispy, or place it in a skillet to crisp it over high heat. 
What type of pork should I use?
You want to use a marbled piece of pork, you should be able to see the fat on it, extra-lean pork will taste dry especially if you crips it. Avoid lean pork chops that are typically the "white" meat of pork and you'll want a fattier cut to ensure the pork remains juicy. and has more flavor the "dark" meat of pork is what you're looking to use. You'll be looking for something labeled pork shoulder or pork butt. Or like in my store it's a combination of words that don't make sense and they call it a pork butt shoulder.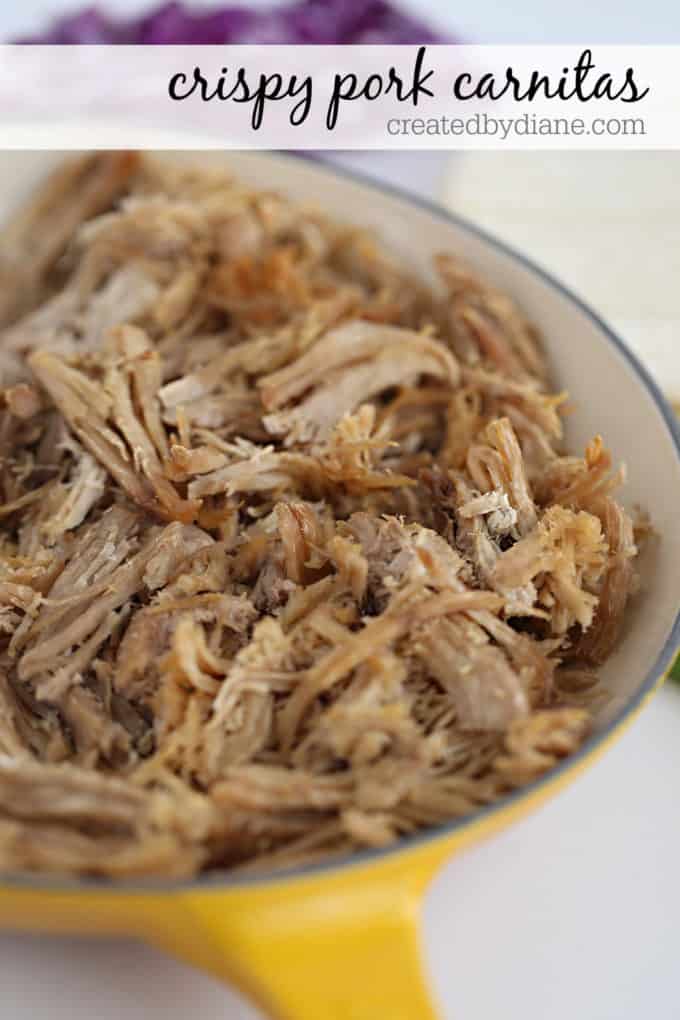 Is this how they make carnitas in a restaurant?
This would be considered the "leaner" way to make it. Typically the pork is simmered in lard, then crisped. I don't have a need for that extra fattening way to cook it. And I've served this to some very picky Mexican food eaters and they all had rave reviews!
How should I crisp the pork for carnitas?
If you trying to crisp a lot of pork at once, place it on a baking sheet under the broiler for 5-10 minutes. If you're doing just a portion on two you can do it in a skillet on the stove.
Does this taste just as good, if it's not simmered in lard?
Yes, it's delicious and no stomach ache!
What other flavors can I add to the cooking pot to spice the pork up?
You can add chopped onions, garlic, and chili powder and crushed red pepper flakes to give the pork an alternative flavor. I most often keep it simple that way I can use it in many recipes without the other flavors blending in.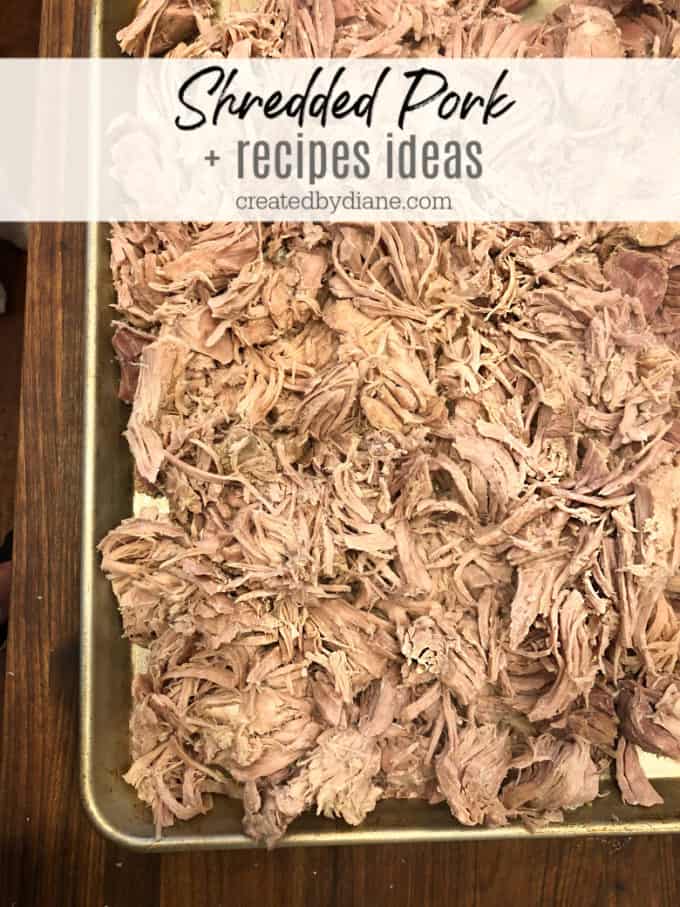 What should I serve with this?
Corn and pork go hand in hand…
If you're looking to eat this low carb, just pile the pork on top of a bowl of shredded cabbage and then add your favorite toppings. I eat it this way if I'm avoiding the carbs. If you want to see more of my LOW-CARB recipes click here.
And if you love your Instant Pot as much as I do be sure to look at my post on cooking chicken in a pressure cooker.
What else can I do with the shredded

pork?

Below are 5 delicious options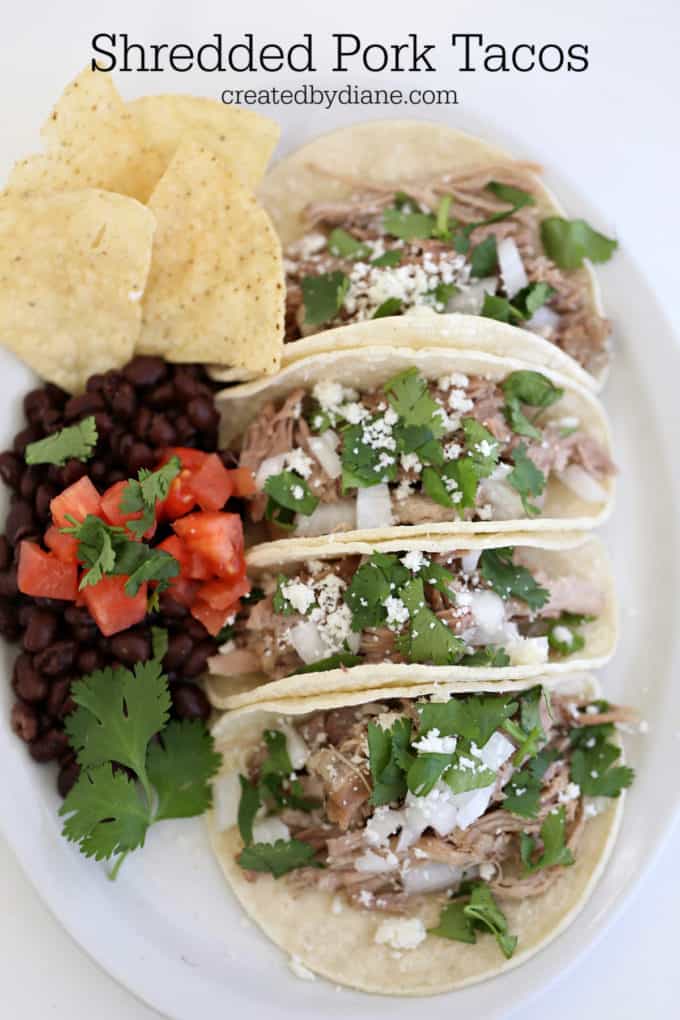 Can I cook this without a pressure cooker/Instant Pot?
Stove Top cook pork for at least 2 and 1/2 hours in a large stockpot or dutch oven (use a pot that is 8 quarts or larger if making 7 lbs of pork).
Slow Cooker "Crock Pot" cook on high for 6-7 hours, on low for 10 hours for 4-5 lbs.
I used to cook the pork whole or cut in half. I now cut it smaller into 2-inch pies and reduce the timing, so don't be afraid to cut it smaller to speed up the cooking time.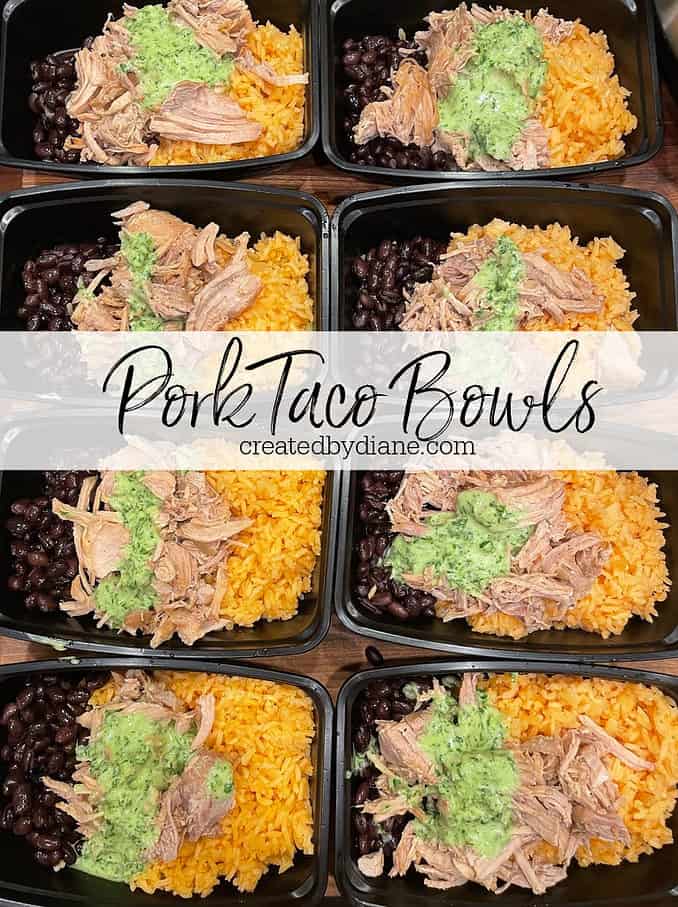 Cilantro Lime Sauce, the perfect topping for taco bowls
Instant Pot Shredded Pork
Shredded pork cooked so tender it shreds easily, great for tacos, carnitas, pulled pork sandwiches, and other dishes using pulled pork.
Author:
Diane Schmidt Created by Diane
Ingredients
7 lbs boneless pork "butt" shoulder roast (you can adjust the timing if you're roast is smaller -15 minutes per lb) or boneless sirloin roast.
1 1/2 cups chicken broth, or water
1/2 onion
3 cloves garlic
1 teaspoon salt,* I use coarse kosher salt (if using table salt use 1/2 teaspoon)
Instructions
Cut the roast into smaller pieces, it'll cook evenly and remain juicier. 4" chunks works well.
Place the pork in the pot of the pressure cooker, and add the chicken broth.
I've cooked it in just chicken broth with great results,
Add in onion, garlic, and salt.
Close the lid and be sure to set the toggle to closed (so it won't release steam as it cooks)
Set the timer for 1 hour and 45 minutes.
Once the timer goes off allow the pressure to release naturally by switching the toggle to release steam, don't press on it to do a quick release, it'll take about 10-15 minutes to release pressure.
then remove the lid carefully.
Place the pork on a tray and use two forks to shred the meat.
If you want it crispy for carnitas, put the meat under a high broiler for 10 minutes.
Notes
roast size 5-6 lbs the timing would be 90 minutes, smaller4-5 lb roast 75 minutes.
If your roast is bone-in and you not trimming around the bone and removing it, but cooking the pork on the bone adds 15 minutes to the timing to ensure the meat will be tender and pull off the bone.