While there are differences between pot roast and beef stew, I usually take the easy way and cut meat into large pieces and cook it in an Instant Pot Pressure Cooker.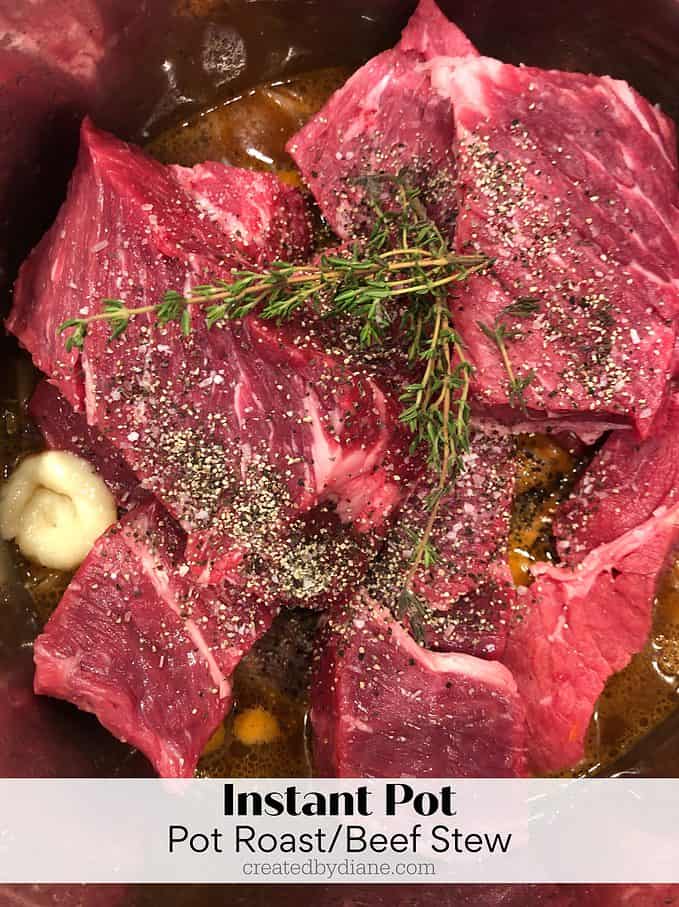 I use boneless beef chuck roast, for a stew version cut it into 1-2 inch pieces, for servings more like pot roast I cut it large into 3-4 inch strips a couple of inches thick.
I often saute the meat to brown it on all sides, but when in a hurry just put it all in the inner pot of the Instant Pot along with the other items I'm using and begin the timer to cook. You can cook stew or pot roast on the stove or in the oven, until tender if you don't want to use a pressure cooker.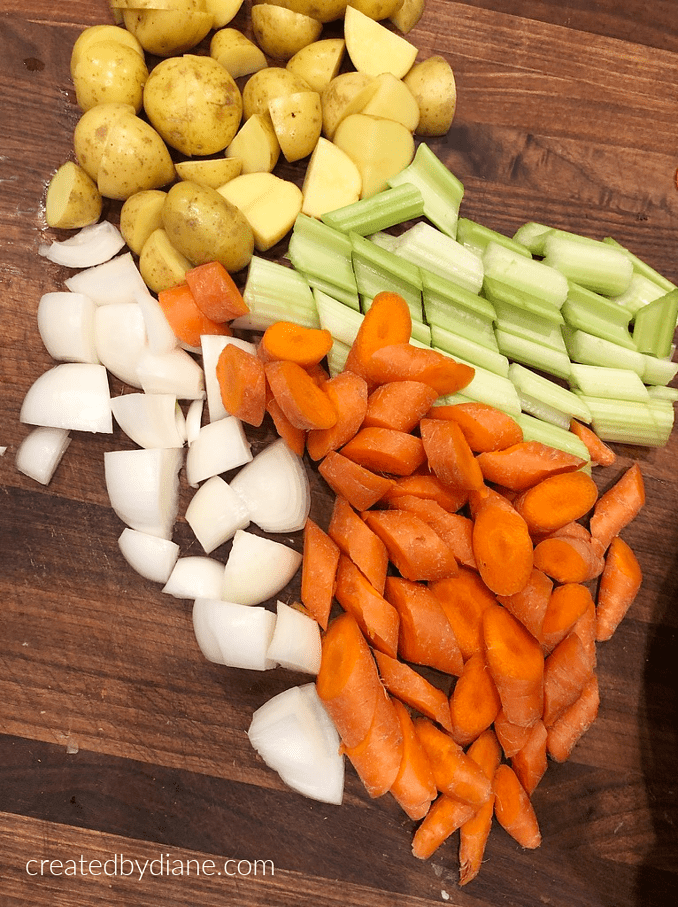 I cook the meat with the potatoes, then I release the pressure and add the carrots and celery for the last few minutes, or cook those in a pan and add a little chicken broth to soften them.
Once the meat is finished cooking and it's fork tender. I remove the meat and drain the liquid and make a roux of butter and flour in a skillet to create the gravy, I heat it and whisk it until the butter is melted and the flour is combined, then slowly add in the liquid from the pot and simmer it, adding any additional flavor at that time.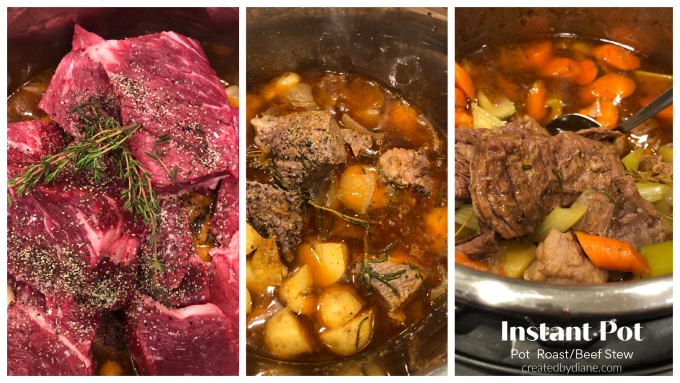 It may need some salt or pepper, and some chicken or beef bouillon if needed.  I add garlic, onion, Worcestershire, tomato paste, rosemary, and bay leaf to the cooking pot it's usually very flavorful. I usually leave out the Worcestershire, tomato paste, rosemary, and bay leaf for stew, but add it in when I want more of a pot roast rich delicious flavor. Both equally delicious, just depends on what flavors you'd prefer.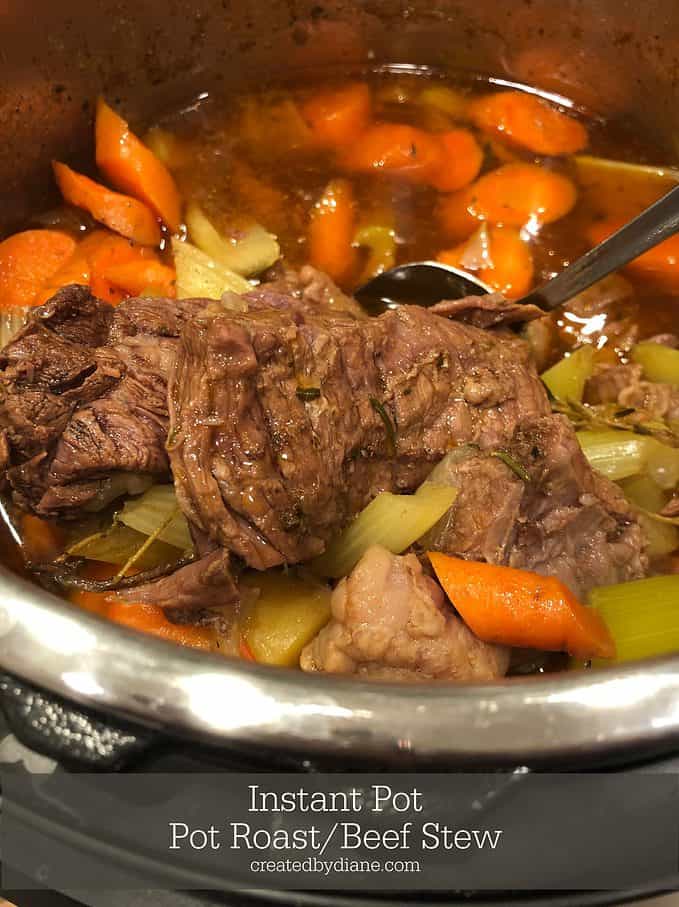 Typically pot roast is a big piece of meat, but I'm inpatient (one reason I use an instant pot) and cut up large pieces of meat when cooking them, as I don't care to serve a platter of uncut meat on the table as they show in tv shows, same goes for a holiday turkey, I carve it up so I don't care if it's the most beautiful, I care that it's cooked the way I want and done in the time I need.
Pot roast often isn't served with gravy, you can omit making it. It's often not cooked with vegetables, you don't have to add potatoes, or vegetables as I mentioned.
Now if stew is what you're after, cut the meat smaller, and serve it with some crusty bread to soak up some of the beef drippings or gravy if you like it thickened.
Instant Pot Beef Stew
Instant pot beef stew, full of delicious flavor with carrots, celery, and potatoes. Comfort food at its best.
Author:
Diane Schmidt, Created by Diane
Recipe type:
Main Dish, Beef
Ingredients
3-3.5 lb chuck roast
1 onion halved then quartered
1-1 ½ lb small gold potatoes, sliced in half or quartered depending on size
4 carrots, chopped
3 celery stalks chopped
1 cup beef broth
2 teaspoons Worcestershire sauce
1 large clove garlic, minced or 1 tablespoon garlic paste
1 bay leaf
2T tomato paste
½ cup red wine
½ cup water
2 tablespoons cornstarch
Instructions
Cut the meat into chunks, and brown meat in a tablespoon of oil on high in the pot of instant pot (if desired) I've made it both easy depending on time. Both are delicious.
Then add in cut vegetables and broth, Worcestershire, garlic, bay leaf, and tomato paste along with any fresh herbs (like rosemary, oregano)
On hight pressure set the timer to 60 mins, allow pressure to reduce naturally
Vegetables should be fork-tender,
beef should be cooked and tender when separated with a fork.
Remove meat and vegetables, and bay leaf. Turn the instant pot to high and bring the broth to a boil, in a measuring cup mix the water, wine, and cornstarch together and drizzle into the broth while stirring constantly until it thickens.
Add salt and pepper to taste.
Add back in the meat and vegetables and serve.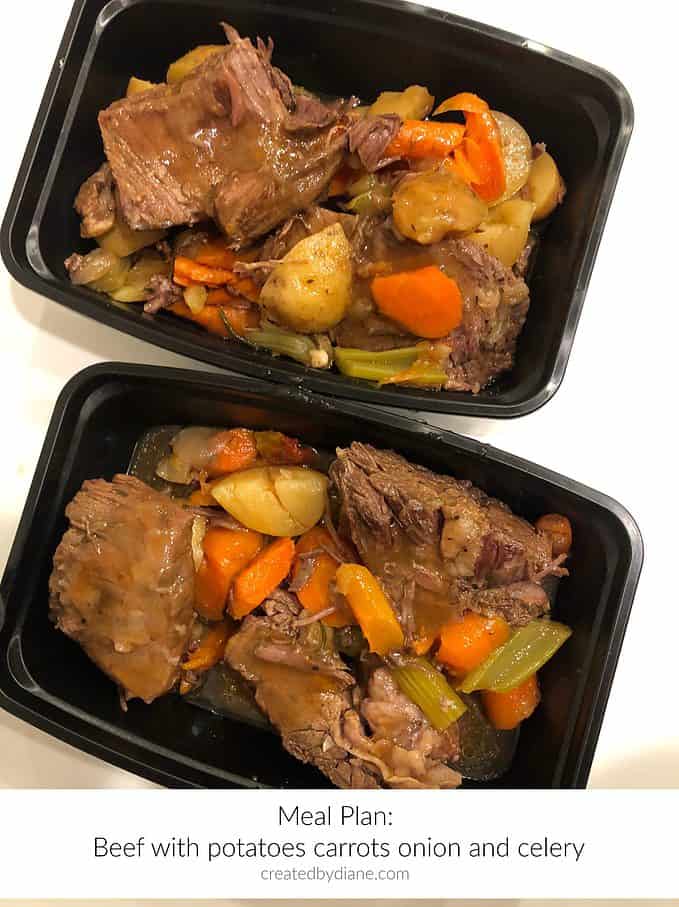 I meal plan every week: I cook meals so they are ready to eat for my family. I eat at home, but they often eat at work. So having food ready to go is the way we can enjoy a home-cooked meal no matter where it's enjoyed.
I use this style of to-go containers as they are the perfect size for the meals I make. I usually cook at least twice a week and make multiple meals each day, saving, me a lot of time as I only have to prep and clean up twice. And I make the meals I can make in bulk and the items they love so the food gets eaten. Here is a post on cooking chicken that includes meals for it.