Customizable to your liking, these will be you new FAVORITE. I'm sure of it!   
Vermicelli Bowls
Don't miss one delicious recipe and get my FREE e-cookbook click here!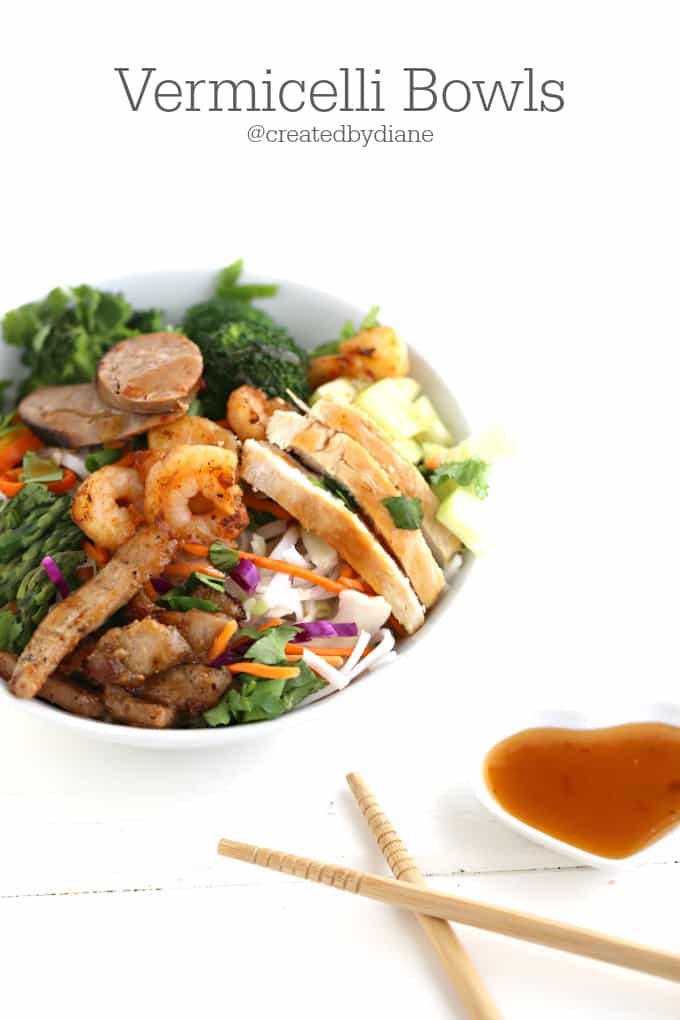 Enjoy vermicelli bowls Hot or cold,
with chicken, pork, sausage, and/or shrimp
the combinations can be up to you.
I made these vermicelli bowls with chicken, pork, sausage and shrimp.
You don't need to make them all, but you can if you like.
If you do make all the proteins you'll have plenty of food to enjoy for many meals or pick your favorite protein and start there.
The vegetables I made were broccoli, white cabbage, peppers, asparagus these vegetables were cooked and the carrots and purple cabbage are served raw.
Once you have your proteins and vegetables prepared you can whip these bowls up so quickly.
When I go to Vietnamese restaurants they sometimes serve the noodles cold, other restaurants serve them hot, that's just one more bonus about these…. you can enjoy them on the go, at the beach and perfect when you don't have a way to heat up your meal.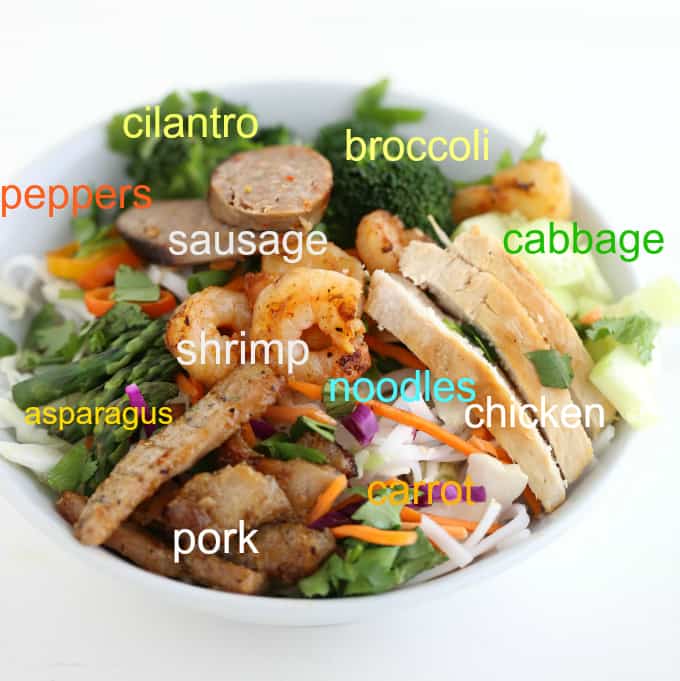 Rice Vermicelli Noodles:
There are many different brands of rice noodles and they all have different cooking instructions.
I like the thin noodles for this dish, I most often bring water to a boil then soak the noodles in the water for 30 minutes they noodles do not get mushy or fall apart easily.
To see the specific rice noodles I used in this dish click here.Thai Kitchen Stir Fry Rice Noodles, 14-Ounce (Pack of 6)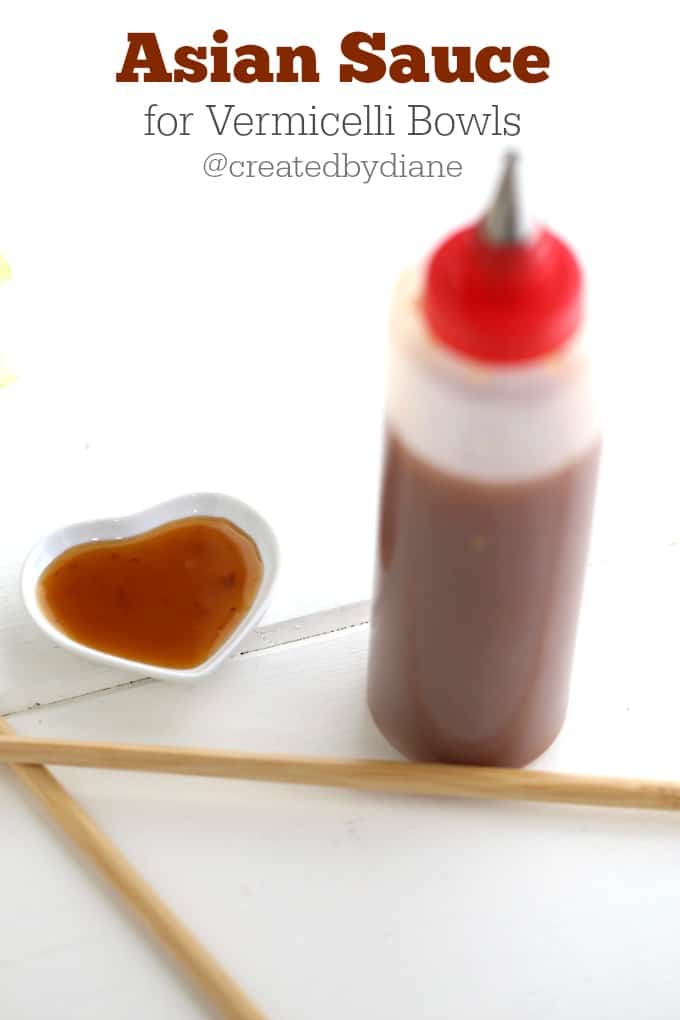 This sauce is so delicious, I'm sure you find lots of things to put it on…I like it on rice too! Finding the right sauce for a meal like this makes all the difference. You can customize the sauce to be spicier or sweeter by adding more crushed red pepper, or a tablespoon or two of sugar. If you prefer lots of fish sauce, go right ahead and add that.
LOW-CARB option: Use shredded cabbage and fresh bean sprouts to fill your bowl and omit the rice noodles. That dish is filling without adding any extra carbs. I often order the dish this way when I go out if I'm eating low carb.
**Fill your bowls with either rice noodles and cabbage or cabbage or cold slaw pack with bean sprouts and top with vegetables, meats/protein and cilantro and carrots, then drizzle over the sauce and you're all set. Vermicelli bowls are really adaptable to what flavors and items you prefer.
Asian Sauce for Vermicelli Bowls
Ingredients
1 1/2 cups water
1 tablespoon chicken bouillon
1 tablespoon cornstarch
1 tablespoon fish sauce
1 tablespoon soy sauce
1 tablespoon Chinese vinegar
1 tablespoon chili paste
1 teaspoon sesame oil
1 teaspoon garlic paste (or 2 cloves minced garlic)
1 teaspoon oyster sauce
1/4 teaspoon ground ginger
1/4 teaspoon crushed red pepper
Instructions
In a medium saucepan mix, all ingredients with a whisk and heat over medium to medium high temperature until it comes to a boil, stirring occasionally.
The sauce will thicken as it cools.
If you want the sauce spicier to add more crushed red pepper.
I cooked the shrimp with some sriracha, which is spicy and totally delicious.
The sausage I used was hot Italian sausage. Just cooked in a skillet, then sliced.
I cooked the chicken  in a cast iron pan just as I do here, on my post of How and Why I cook chicken for the week all at once.
and the pork…The pork is so delicious.
I sliced pork chops thin, marinated them and roasted them in the oven on a rack in the oven.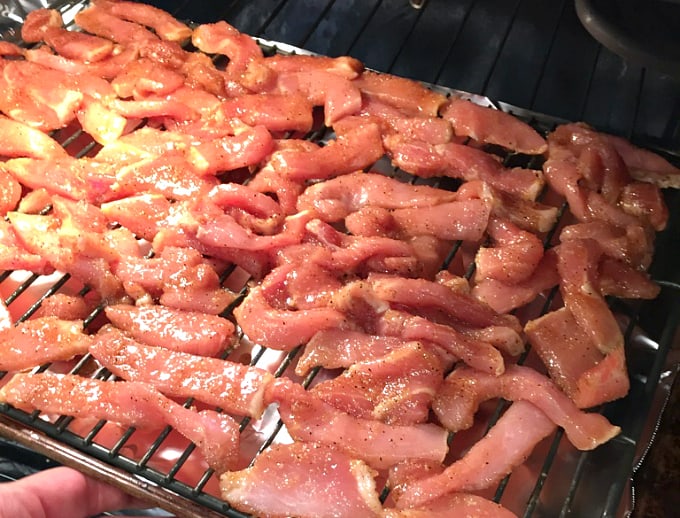 Cooking the pork on a rack allows it to become crispy. If  you first check it and it's not as crispy as you'd like put it under a high broiler for a few mintues.

Roasted Pork for Vermicelli Bowls
Ingredients
1 lb thin sliced pork chops
2 tablespoons brown sugar
1 tablespoon fish sauce
1 teaspoon garlic powder or two cloves minced
1 teaspoon onion powder
Instructions
Slice pork chops into thin strips.
In a medium bowl add brown sugar, fish sauce, soy sauce, garlic and onion powder.
Place pork in the bowl and stir until pork is completely coated.
Marinate in the fridge for 30 minutes.
Place the slices of pork on a rack over a baking pan and bake in the oven at 400 degrees until the pork is cooked (145 degrees) It should be crispy on the edges. If it's not crispy enough turn the broiler on high for 1-2 minutes.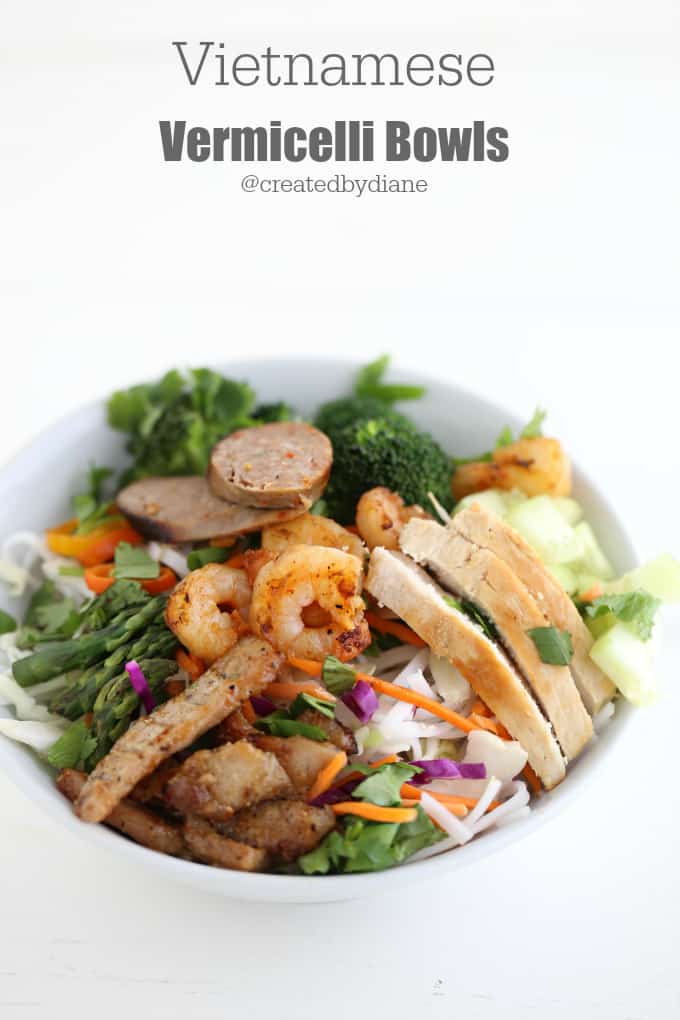 Don't forget to make these when you trying to avoid take out. When kids have sports practices, games and other busy days. This makes a great lunch, or dinner!
Having something that is so customizable is great to fit everyone tastes.