I have eaten more bowl of chicken and dumplings than I can count. It's always been my favorite. If you're looking for an easy and delicious comfort food meal this is it!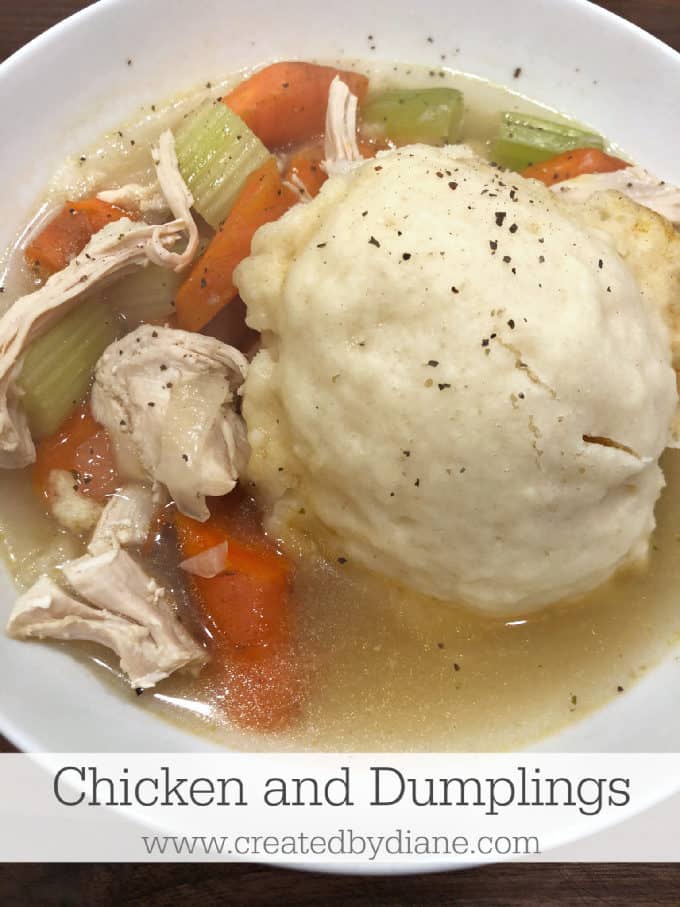 Growing up if you asked me what I'd like for dinner, it would be Chicken and Dumplings and
Baked Ziti
…
those were my favorite dinners my mom made.
I great up having the dumplings made from Bisquick and they were yummy.
But I never used it for anything else, I always thought it made pancakes and waffles too "heavy" so…
I now make the dumplings from scratch, and after many attempts, I'm sharing my GO-TO dumpling recipes and it's DELICIOUS and light and fluffy, just the way you want a dumpling to be. This recipe easily doubles for more portions, in a 5 -6 qt pot I often double the recipe for 6-8 servings.
The choice is yours on how you can make it with my easy recipe, but me…
I prefer the homemade dumplings and have extra room in my pantry since I don't need to buy Bisquick for dumplings anymore.
I do know in the south they serve noodles in their chicken and dumplings, these are not that type of chicken and dumplings.
Chicken and dumplings are the epitome of comfort food, the chicken is slow-cooked and tender, with a mix of carrots and celery, and onion…
and the chicken broth is so delicious.
How to make delicious chicken broth
Using chicken on the bone or with just the skin will result in a richer delicious chicken broth. 
This recipe can be made on the stove or pressure cooker (instant pot).
Depending on how much chicken you cook timing will be about 40+ minutes. You can cook it for 20 minutes in the pressure cooker, then add the vegetables and cook for 5 minutes or longer if you want them softer, then remove the chicken and add the dumpling mixture.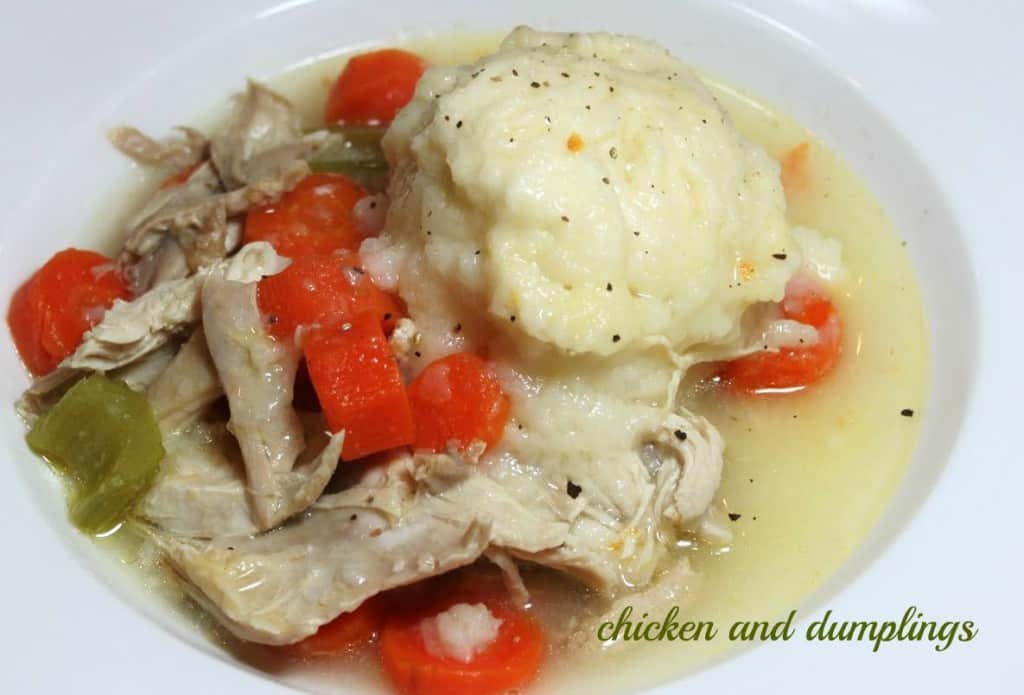 Chicken & Dumplings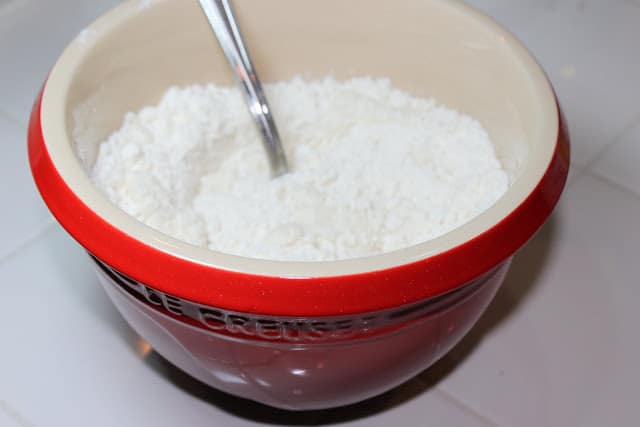 I've used this bowl so many times and have only had it a couple of days.
It's 1.4 quarts and shiny red and pretty as can be.
I now have it sitting on the counter next to the stove ready to go with whatever is next! It makes a great garbage bowl when prepping meals and wanting easy cleanup, sadly I don't think they sell it anymore, but
THIS one
is on my list to get.
It's plenty large enough to mix in, I used it to melt butter for my
Italian Cookies
which have to cool before I add the eggs and it was so nice that the bowl wasn't so hot after being in the microwave, as my other bowls get.
Back to Dinner…
I use my
Le Creuset dutch oven
to cook large portions, I use this
5.5 qt dutch oven
for meals to serve 4-6. I love how evenly they cook, the food says hot long after the burner is off. They are heavy duty and clean up well. You can use induction burners which we have used outside, which is great when you don't want to heat up the house,
remodel a kitchen
, or just want to enjoy the outdoors with some modern conveniences. I have this induction burner and use it often. In the kitchen when we
remodeled we added a commercial cooktop,
ordinary pots and pans would not hold up to the heat, so I've been adding to my collection piece by piece to have a variety of sizes.
My mom always says you have to have the right tools,
and now I feel the same way, I use it all the time. I have a few of them in different sizes.
I slow-cooked the chicken on medium.
while I took the chicken off the bone.
I skimmed the fat off the broth then,
chopped  6 large carrots, 3 stalks of celery, and half an onion.
I simmered them with 1-2 tablespoons of chicken flavor,
then scooped out the dumpling mix and placed it on top of the simmering broth with the chicken returned to the pot.
 I cooked the dumplings for 10 minutes without being covered
then 10 minutes covered
the dumplings come out flakey
Just like I remember my mom's… Thanks, mom you are the best!
Chicken and Dumplings in an Instant Pot:
(Pressure Cooker) Add the chicken, broth, carrot, celery, and pressure cook for 12 minutes. Release pressure then add the dumpling mixture on top of the cooked chicken soup, time if for 5 minutes, then cover with foil, a lid or the pressure cooker lid for 3-4 minutes, release pressure if using the pressure cooker lid, then serve. 
Dumpling Recipe for CHICKEN AND DUMPLINGS
Easy and delicious homemade chicken and dumplings a comfort food tradition, the recipe is easily doubled to have plenty for leftovers
Author:
Diane Schmidt, Created by Diane
Ingredients
1 cup flour
1 egg
2 teaspoons baking powder
1/2 teaspoon salt
1/2 cup buttermilk ( or 1/2 cup milk with 1 teaspoon vinegar)
thicker for gravy consistency
1 cup milk
2 tablespoons cornstarch.
Instructions
Mix all ingredients in a medium bowl with a fork.
Place dollops of dumpling dough on top of lightly boiling chicken broth, and time it for 10 minutes.
Then place a lid over the pot and simmer for 10 more minutes.
Serve with chicken and vegetables and spoon broth over the dumplings.
To thicken the broth to a rich and creamy "gravy" add 1 cup milk mixed with 2 tablespoons cornstarch, and pour slowly into the simmering broth.