I love pizza, and I'm not sure what I love more…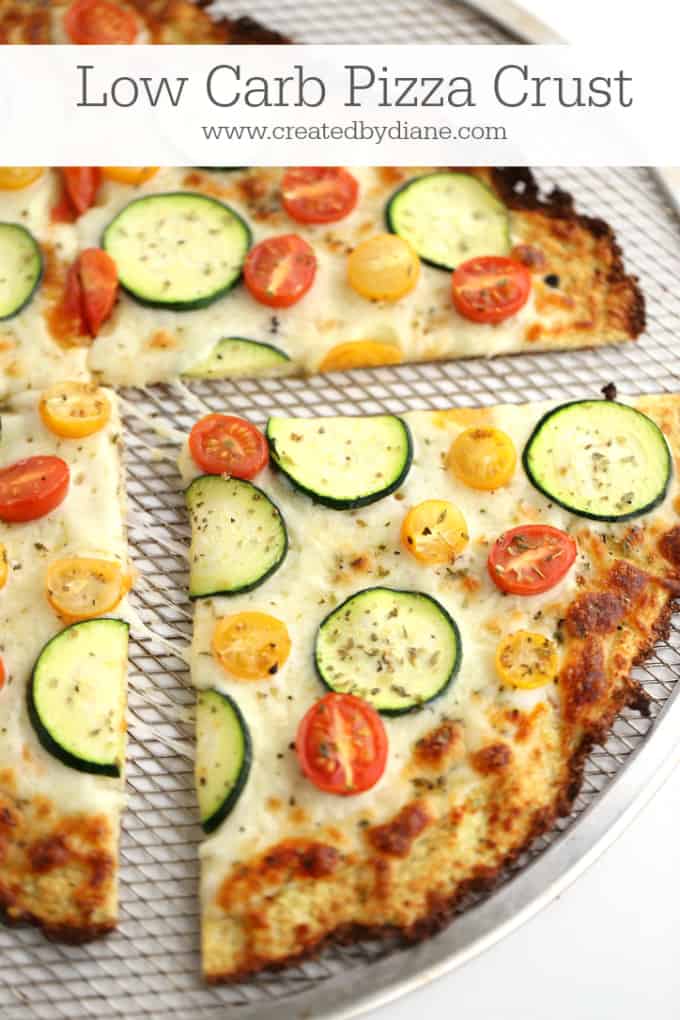 The sauce, the cheese or the crust.
Normally I'd tell you it's how the pizza tastes all together, and yes the crust is important… perfect crisp and chewy and not bready is what I like.
When I'm eating low carb, it's really hard not to eat pizza it's one of my favorites!
I'm sharing with you the 3 ways to easily make low carb pizza crust recipes that are easy and taste great and let you EAT PIZZA when eating low carb!
The pizza crusts only take minutes to prepare, which I just love about them.
They are equally delicious so it really comes down to preference or what you have on hand, they each taste great.
With just a few simple ingredients you could be minutes away from eating cheesy delicious pizza!
Each of the recipes are made in under 30 minutes, that is faster than picking up a phone and ordering takeout and having it delivered, not to mention this is much less expensive than takeout!
If you want a more traditional pizza here is my 20 Minute Pizza Dough Recipe.
Other fun pizza options you may want to see:
Pizza Omelet–  a really fun breakfast even kids love!
Breakfast Pizza– a real favorite, you can use the same ingredients to top a low carb pizza with.
BBQ Chicken Pizza, take a look at this for an option to top a pizza with some great flavor.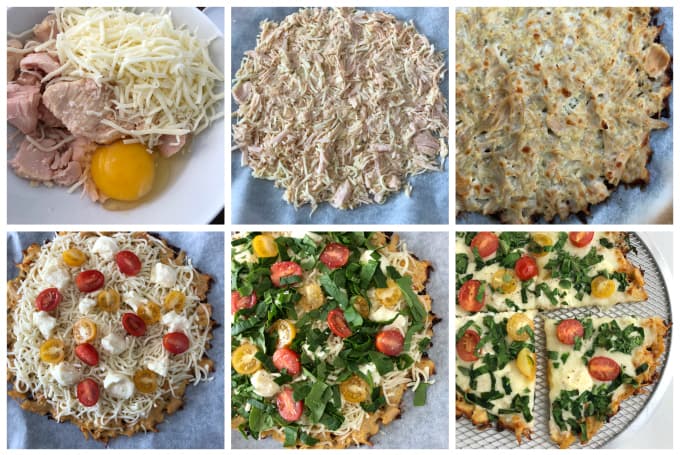 This is the first low carb pizza crust I made, it's made with chicken, yes chicken. It tastes great. It's full of protein, you can make it with any type of cooked chicken, leftover from dinner, rotisserie, canned etc.
Now, this tasted great and some people had a hard time figuring out what on earth it was made of.
They never guessed chicken (the only exception is it's easier to tell if you use canned chicken, but rinsing it does help with the taste you get with canned chicken.
As far as texture goes I mixed this with a fork, its worked well, but the texture and thickness of this pizza was not the best, but certainly is yummy I would suggest chopping the chicken and cheese with a large knife until it's fine if you don't have or want to use a food processor.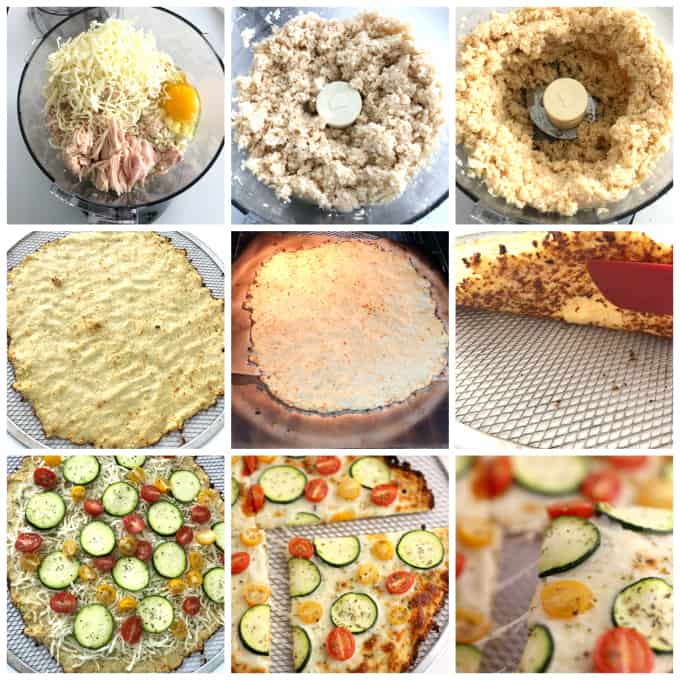 This is my favorite it's made with both chicken and cauliflower. All the ingredients are put in a food processor and then you just pat them into a flat pizza shape on a parchment lined pizza screen (or baking sheet).
The taste is great, it crisps up really well,
and the texture is great,
I prepared this in a food processor which made the chicken unrecognizable with the cauliflower mixed in mellowed the chicken flavor in the all-chicken crust.
Because it was blended in the food processor I was able to press the crust thinner and smoother.
I had three people test the pizza recipes and it was funny if the crust had chicken in it, it was NOT guessed as an ingredient.
You can use any type of cooked chicken for this recipe
Canned Chicken Breasts
Rotisore Chicken
I have a Cuisinart food processor and love it, it's similar to this one, if you don't have one just chop the main ingredient with the cheese until it's small then mix in the egg.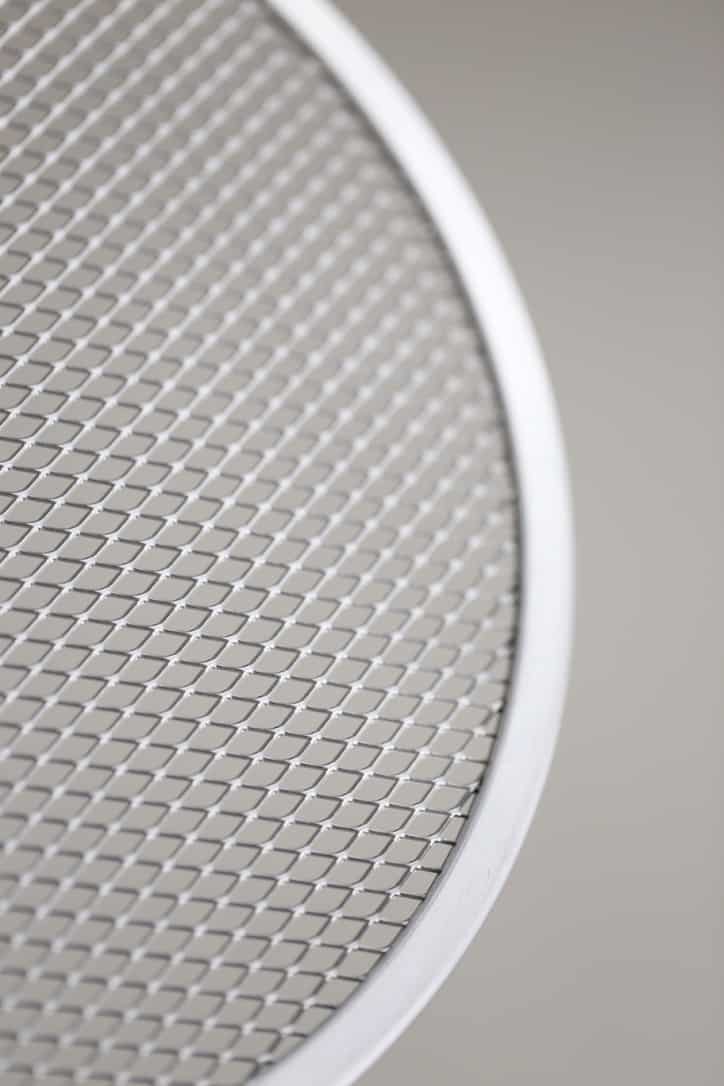 This is the pizza screen I bake my pizza on, you can find the one I use here
it's great!
First, you line it with parchment, then press the pizza crust into shape.
Bake for 15 minutes.
Then remove the parchment as the crust will be firm enough not to fall through the holes.
Now top the pizza with sauce if you're using it, cheese, and veggies. You can add sauce, cheese, and pepperoni if that's your thing.
Then put the pizza goes back in the oven for a few minutes to melt the cheese and cook the vegetables.
Out comes a cheesy delicious pizza whichever crust you decide on.
I will mention I just LOVE dry oregano on top of my pizza, so don't forget to add some!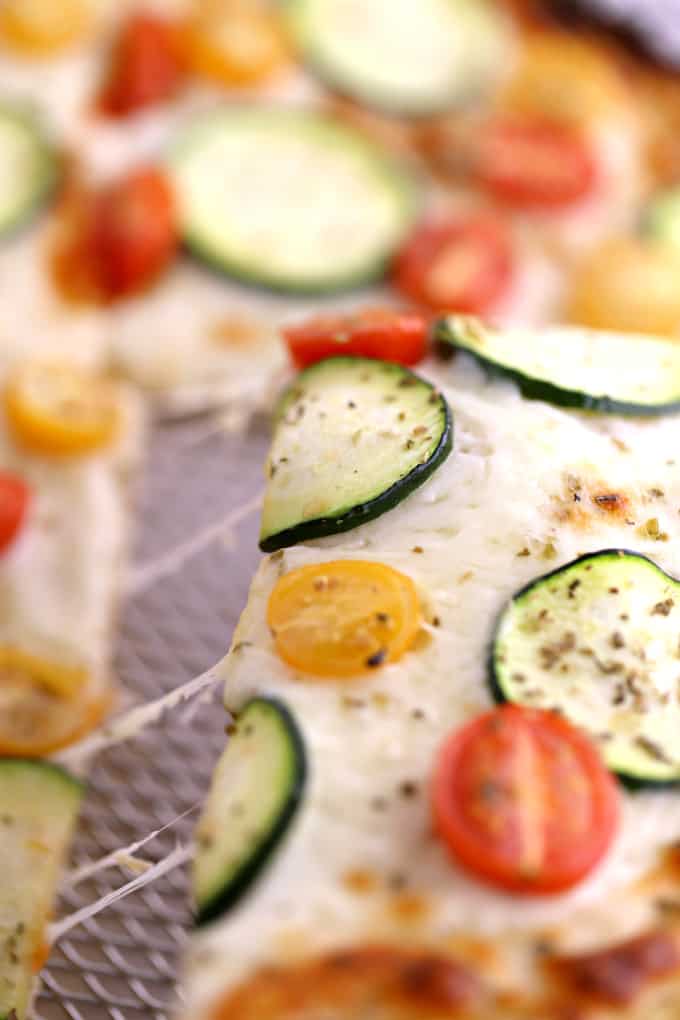 This is a really delicious cheesy pizza that you will love if you're eating low carb and looking for a delicious option.
You may also like it even if you are eating carbs, my daughter loves it and asks me to make the chicken crust pizza for her often.
Truth be told, I LOVE a piece of this leftover for breakfast, it's a great low carb breakfast option and if you make a pizza for the week, you can easily have a slice a day!
AND if you like eggs, give my Pizza Omelet a try.

Low Carb Pizza Crust Recipes
Ingredients
All Chicken (2 cups cooked chicken)
Chicken and Cauliflower (1 cup cooked chicken 1 cup crumbled cauliflower)
All Cauliflower (21/3 cups cauliflower crumbles/rice) you'll need an extra 1/2 cup mozzarella cheese for this crust to get crisp, so 1-1/2 cups total cheese.
1 cup shredded mozzarella cheese
1 egg
Toppings for pizza
1 cup shredded mozzarella cheese
1/4-1/2 cup pizza/tomato sauce
Zucchini, grape tomatoes, pepperoni etc
Instructions
Each recipe makes a 14" pizza (or two smaller pizzas)
I prefer each of the crusts mixed in a food processor, the texture is nicer.
Add whatever option you decide on: all chicken, half chicken, and half cauliflower, or all cauliflower.
Add an egg and the cheese.
*you can add garlic, salt and pepper and any herbs you like.
Mix in a food processor until it resembles small crumbs.
Press the mixture on a parchment lined pizza screen or similar baking sheet with holes so the crust can crisp and not end up soggy.
Bake at 425° for 15 minutes
The pizza crust is firm enough to scoot off the parchment and slide it onto the screen by itself.
Add the topping you'd like, such as a cup of shredded mozzarella cheese and zucchini and grape tomatoes, top with some oregano.
Or tomato sauce and cheese and maybe pepperoni.
Continue baking the pizza for 5 more minutes or until cheese is melted, about 5-7 minutes.
Notes
Sometimes I bake the pizza at 450° for 10 minutes then add the toppings and bake for another 5 minutes or so with great results as well. Often my oven stays hot at 450 without dropping in temp, like most ovens do so adjust temp and time according to whats needed.
If the instructions aren't clear,
All chicken pizza: 2 cups chicken, 1 cup shredded mozzarella cheese, 1 egg.
1/2 chicken 1/2 cauliflower: 1 cup cooked chicken, I cup crumbled cauliflower (or riced raw cauliflower), 1 cup shredded mozzarella cheese, 1 egg.
All Cauliflower: 2 1/2 cups raw crumbled/riced cauliflower, 1 1/2 cups shredded mozzarella cheese, 1 egg.
Add any seasonings you'd like to the crust, oregano, garlic, salt.
Bake the crust by itself until it's firm on the bottom,
then top the pizza with your preferred toppings and bake until toppings are hot and cheese is completely melted.