If you are looking for something that is super fast and delicious,
look no further,
this black bean soup is ready in no time.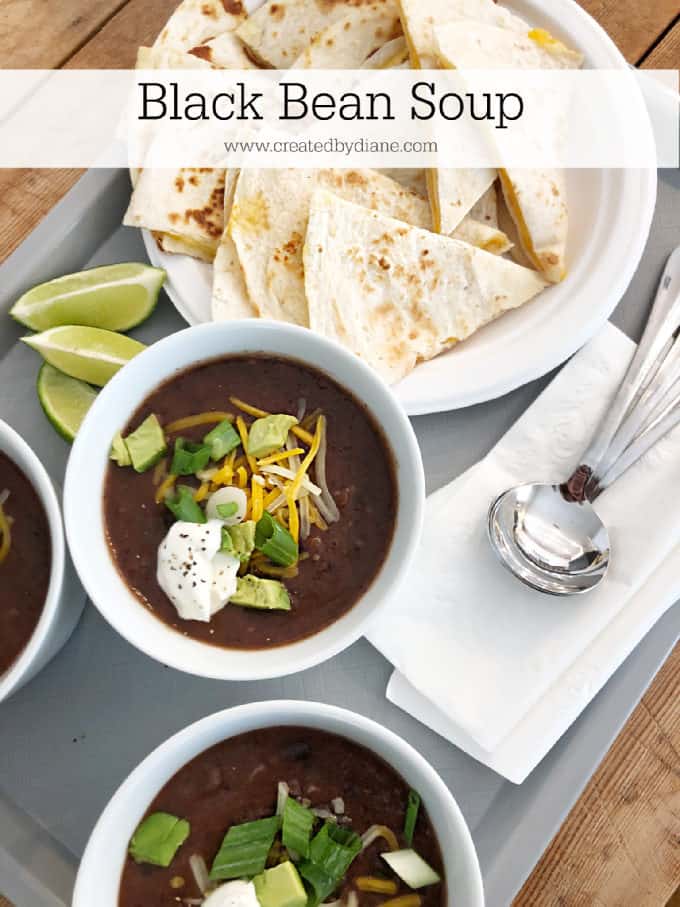 It's no surprise I love soup!
I recently made a wonderful Baked Potato Soup
and I've blogged about Zucchini Soup…
I've made this soup a lot, and each time I wonder why I don't make it more often.
It is quick, easy and delicious!
It can be made smooth or more chunky. 
I use an immersion blender to make the soup smooth. Often I add half the beans then puree the soup, then add the second half of the beans. 
If you want to make more soup, you can simply add another can of beans.
Sometimes I rinse the beans for a thinner soup, but most often I add all the contents of the cans, and if I still want it thicker I add a slurry of cornstarch and water to the simmering soup, it'll thicken.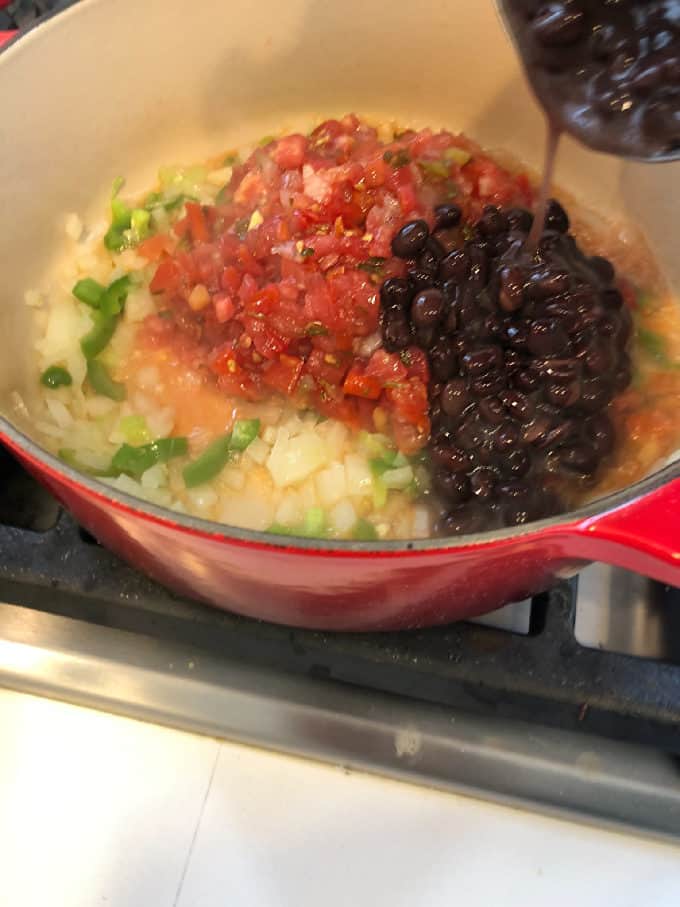 Top off the bowls of soup with sour cream, cheese, jalapeno, green onions, and avocado.
and
quesadillas!
I love eating it with quesadillas.
It's also great served with tacos, taquitos, and chips!
This soup is a fantastic Mexican tasting item that can be served before a meal or alongside it, I even like it with some Mexican rice or white rice added in!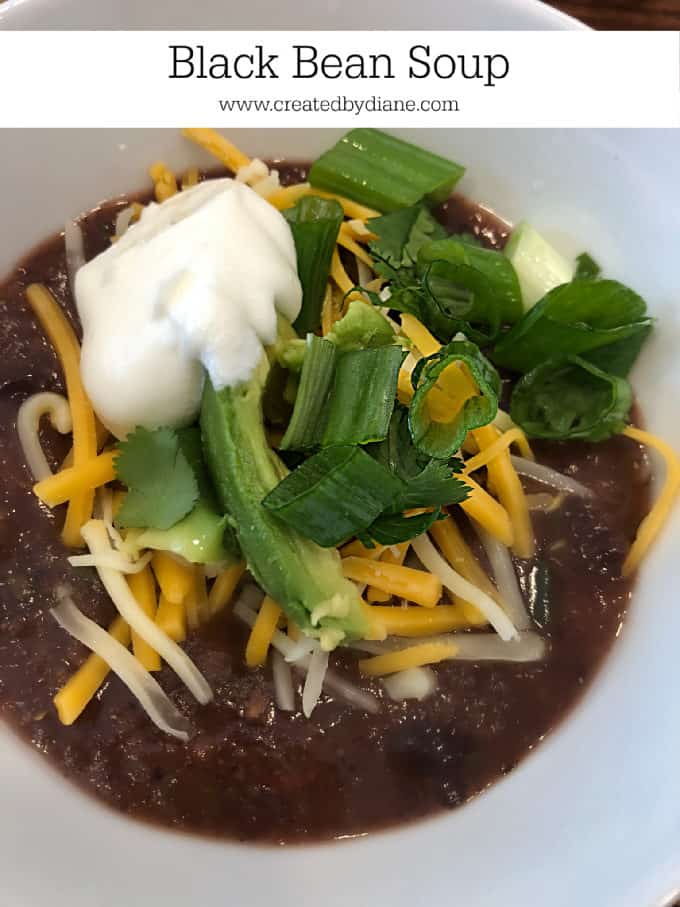 This soups only takes about 15 minutes to make… so what's stopping you from making it soon, NOTHING! 
What can I add if I don't have fresh salsa?
You can use fresh tomatoes, a jalapeno, and a little onion. If you don't have fresh ingredients available, use a jar of salsa, with jarred salsa this will become a pantry meal, or a can of tomatoes will work as well, add in some canned chili or jalapeno peppers for more flavor. Simple…. ready in minutes and better than prepared processed foods any day.
I want my soup extra thick, what can I do?
Add in the cornstarch as written in the recipe when the soup is boiling, if it's not thick enough add another portion of cornstarch mixed with water (this is called a slurry). If it's still not as thick as you would like it, add in a cup or so of grated cheddar or Monterey jack cheese, it will be nice and thick as the cheese melts in the soup. I've also added 1/4-1/2 cup of heavy cream to the soup to give it a creamier texture. So, all good options to make the soup thick.
Be sure to check out these posts:
Easy Black Bean Soup
Author:
Diane Schmidt, Created by Diane
Ingredients
1/2 onion diced
1 jalapeño diced
2-16 oz cans of black beans (for thicker soup add 30 oz beans) you can choose to add the liquid that comes with the beans or drain the beans, your preference. I typically add it.
1-15 oz container fresh salsa
2 cups chicken broth
2 tablespoons cornstarch
1/4 cup water
1 fresh lime, juiced
1/4 cup cilantro chopped
Instructions
In a 4 quart pot, saute the onion with jalapeno in a tablespoon of oil.
Add in the beans, salsa, chicken broth and bring to a boil
Mix cornstarch with water and slowly stir into slowly boiling soup. (the soup will thicken)
Add in lime juice and cilantro.
Puree with an immersion blender until smooth, or add 1 can of black beans and puree, then add the second can of black beans if you prefer it chunkier.
Serve topped with cheese, sour cream, and cilantro.