If you are looking for something that is super fast and delicious,
look no further,
this black bean soup is ready in no time.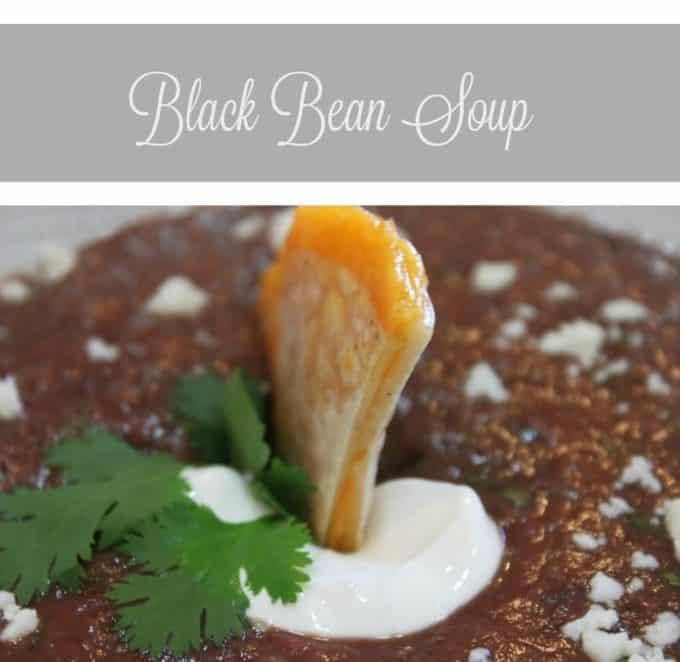 It's no surprise I love soup!
I recently made a wonderful Baked Potato Soup
and I've blogged about Zucchini Soup
I've made this soup a lot, and each time I wonder why I don't make it more often.
It is quick, easy and delicious!
If you don't want the soup smooth, you can leave some beans out of the processor and stir them in when you put everything in the pot.
 Don't forget to top off the bowls of soup with sour cream, I topped mine with Cotija cheese. Scallions are great too.
Dipping quesadillas into it is wonderful!
It's also great served with tacos, taquitos, and chips!
This soup is a fantastic Mexican tasting item that can be served before a meal or alongside it, I even like it with some Mexican rice added in!
This soups only takes about 15 minutes to make… so what's stopping you from making it soon, NOTHING! 
Easy Black Bean Soup
Ingredients
Black Bean Soup Recipe
Two cans of black beans (rinsed and drained)
juice of one lime
small bunch cilantro
one jalapeño roasted(I roast it on the burner-then remove seeds leave them in if you like it spicier)
one container fresh salsa approx 15 oz.
two cups chicken broth
Instructions
In a food processor, puree the beans with the salsa, then add cilantro and jalapeño and process until all smooth. Add to a saucepan with the chicken broth and lime juice, bring to a simmer.