This amazingly delicious one-dish meal may just blow your mind how easy it is!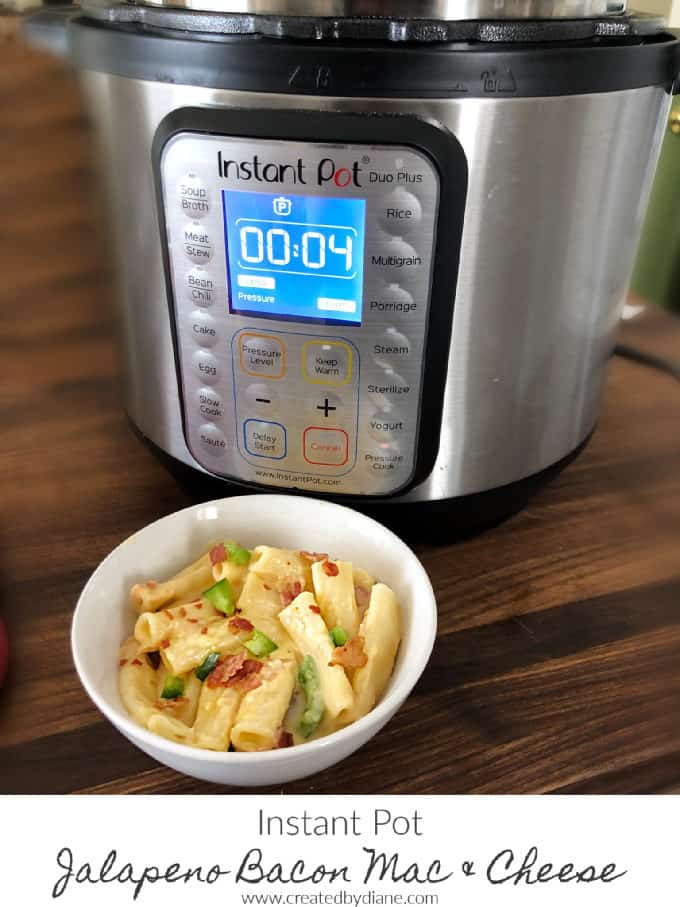 Let's first talk about the Instant Pot, WOW are they popular!
It's a pressure cooker (and so much more) for today I'll focus on the pressure cooker part and the saute function.
This recipe is ALL made in the pot of the pressure cooker, it's so simple.
Pasta cooks in 1/2 the time and even quicker since it boils the water so quickly.
I get asked ALL THE TIME to make mac and cheese, and this is by far the most requested version! 
Who doesn't like jalapeno and bacon (and if you're afraid of spice don't worry you can adjust it to your liking)
Since they sell cooked bacon, it's so easy to make this dish quickly.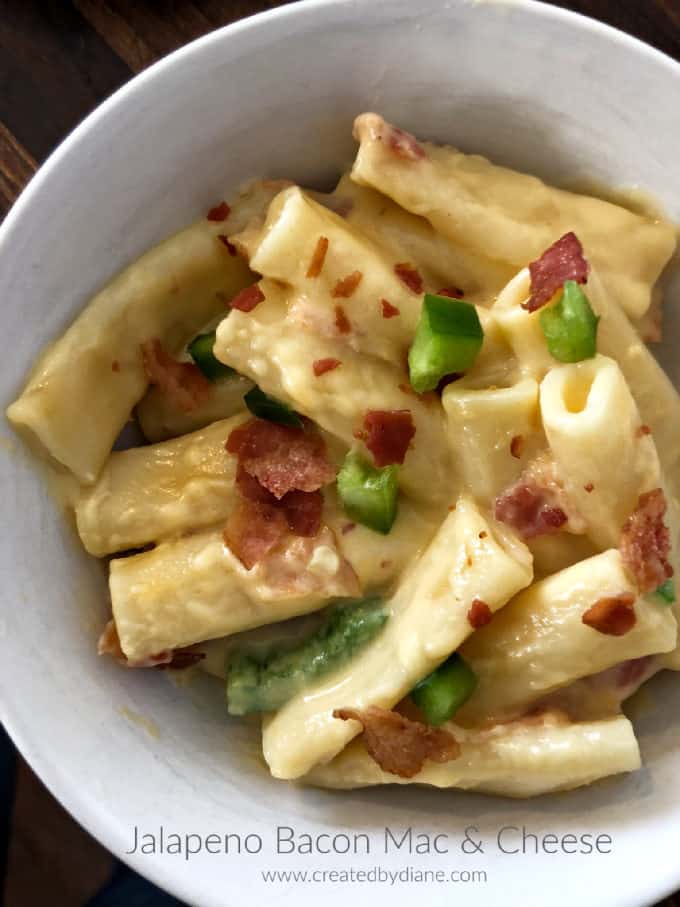 Cooking pasta in the instant pot is pretty easy.

I tried many shapes and they all came out great.
A few tips to remember when cooking pasta in an electric pressure cooker/Instant Pot.
Start with warm tap water.
Timing, cut the lowest time on the pasta box in half and then take away 1 more minute.
Cover the pasta with water so it's all covered by about half an inch.
You'll drain any excess water off the pasta when it's done cooking.
When the pasta is done cooking, leave it in a strainer in the sink.
Put the instant pot on "saute" 
Add the butter, jalapeno, and bacon,
then add in the flour and stir to heat thoroughly *the longer you cook the jalapeno the less spicy it'll be, leave out the rib and the seeds if you like it mild. If you like it spicy just saute the jalapeno for a minute, cook it for about 2 minutes if you prefer more medium flavor. (the flavor and heat of the jalapeno will depend on the jalapeno pepper itself, some are spicier than others. I regularly use jalapenos and can tell as soon as I slice it how spicy it'll most likely be)
Then you'll slowly add the milk/cream ( I prefer whole milk and a little cream, if I only have skim milk I add more cream… you get the idea, right)
Stir until the sauce is thick, then add in the pasta and give it a stir. 
Top with more bacon and some fresh diced jalapeno if you like it with a kick!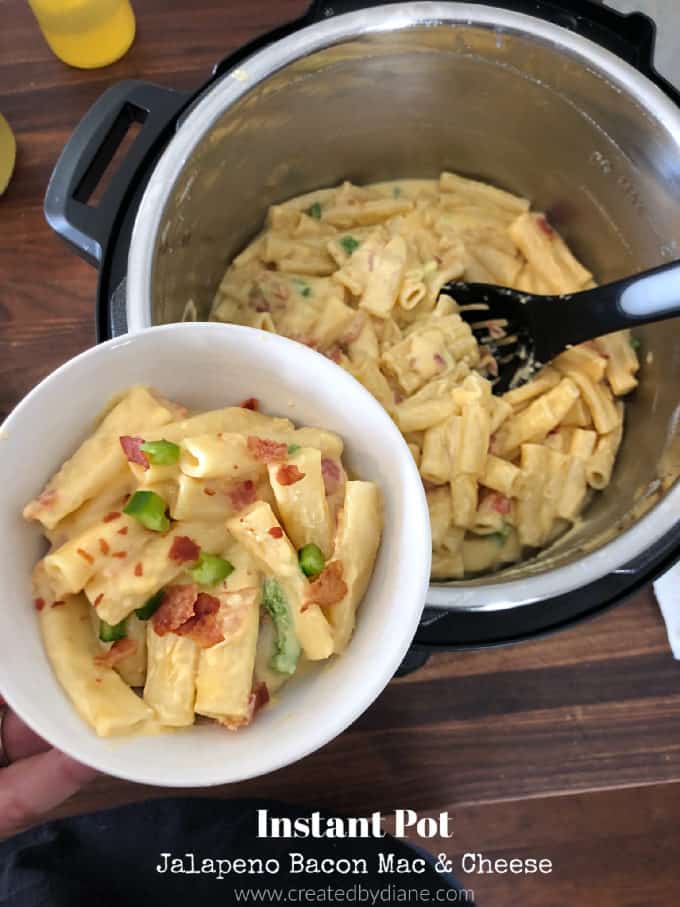 I used a traditional pressure cooker for years and while I like it, I can honestly say I love the instant pot! It's quicker, easier (since there is no monitoring the pressure) and I use it every week.
I never thought I'd use it for pasta, but recently I made 4 lbs of pasta and SURE wish I had used the instant pot, so I put my mind to it and tried the instant pot to cook pasta for DAYS, and used rigatoni, penne, elbows, and wavy egg noodles, the results were great.
You can even saute meat then add sauce then pour back in the strained cooked pasta for a quick and easy meal. Don't forget to add some diced onions and garlic for extra flavor!
For more instant pot recipes look here:
I think the Instant Pot is great for so many people and great for RVing, college students, people who want to simplify cooking, easy to operate for beginner cooks. I'm working on more posts using the Instant Pot, I use it a lot to cook and shred chicken, beef, and pork and enjoy eating tacos, nachos and "taco bowls" most!
What if I don't want to use jalapeno and bacon in this dish, what will it taste like?
It will taste like a creamy delicious mac and cheese recipe.
Can I use any type of pasta in this recipe?
I used ziti noodles, I've also made it with elbow noodles. Any tubed noodle will work well.
What other type of cheese can I use?
You can use Monterey jack cheese, pepper jack cheese, Gruyere cheese, swiss cheese is another option, but will give it a completely different flavor. In a pinch when I don't have all cheddar cheese, I have used half cheddar and half mozzarella cheese.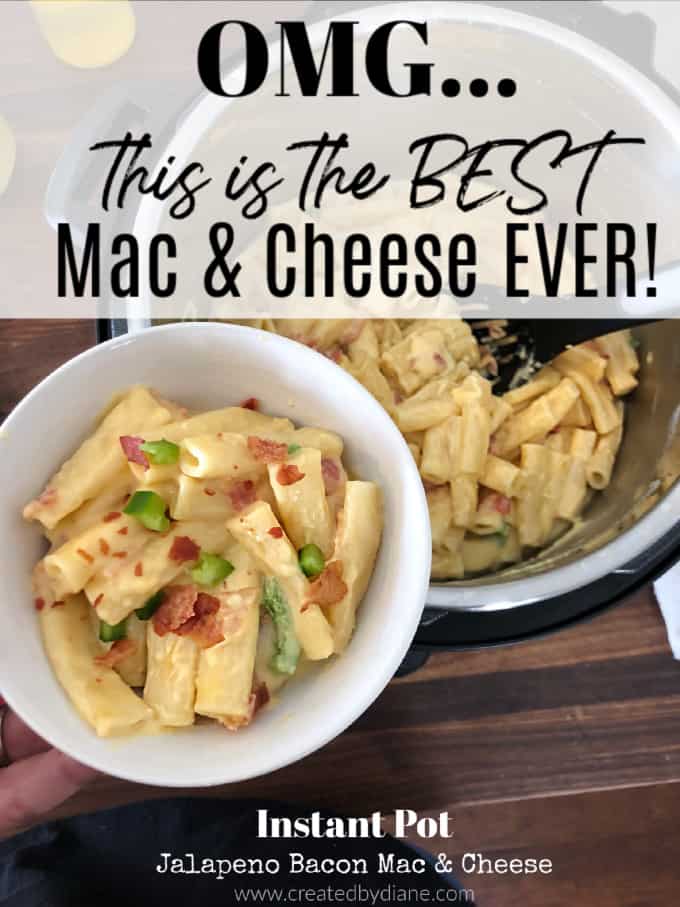 Instant Pot Jalapeno Bacon Mac and Cheese
Ingredients
1 lb pasta (I used rigatoni the instructions said to cook pasta 9-10 minutes) I cooked in instant pot for 4 minutes.
1 jalapeno pepper, diced (if you prefer mild, remove rib and seeds)
5 sliced cooked bacon, chopped (or more if preferred)
2 tablespoons butter
2 tablespoons flour
9-10 minutes, I cooked in the instant pot for 4 minutes)
2 cups milk/cream (I use a combination of whole milk and cream typically 1 1/2 cups whole milk and 1/2 cup cream)
2 cups cheddar cheese
Instructions
In the pot of the instant pot place pasta, cover with warm tap water.
Cook on high pressure for half the time of the pasta package minus 1 minute. The package of rigatoni said to cook for 9-10 minutes, so I cooked it for 4 minutes.
Release the pressure when the timer goes off.
Drain pasta in a strainer.
Place the pot back in the instant pot and turn the saute feature on (without the pasta in the pot)
Add butter and jalapeno, saute, Add chopped bacon, and cook until crisp.
Add in flour and stir until combined. Slowly add in milk mixture and stir until creamy.
Stir in cheese until combined.
Place pasta into pot and stir.
It's ready to serve, top with additional bacon and jalapeno.