One of my all-time favorite take out foods is Lo-Mein, this recipe will win you over to make it again and again, it's made with ground pork, is ready in under 30 minutes and you'll probably have plenty of leftovers to enjoy too!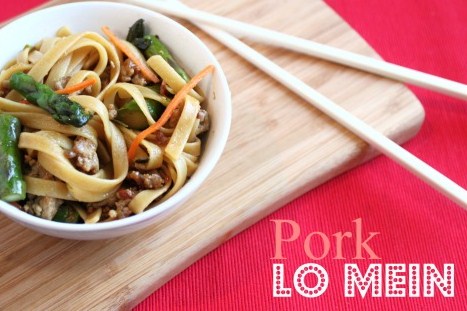 One of the best parts of ordering Chinese Food to me is having leftovers the next day.
I usually make sure I order extra, just so I can enjoy it all over again.
Lo Mein is one of my favorites.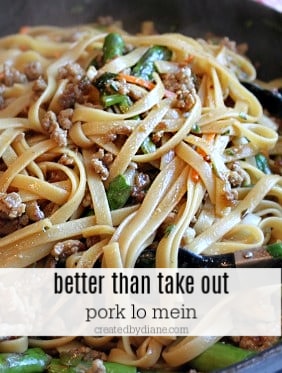 I typically order Chicken Lo Mein, but once I tried making Lo Mein at home with ground pork, I was hooked!
This is one of those go-to meals for me, I make it OFTEN.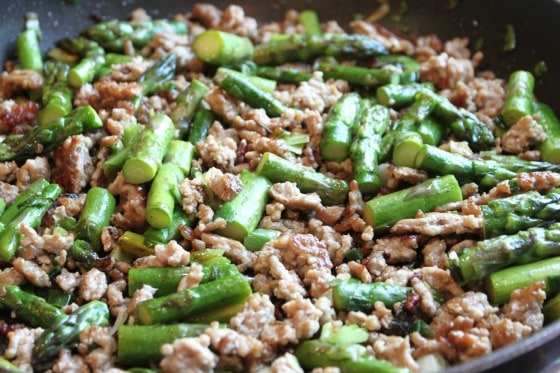 Saute the ground pork with scallions and asparagus.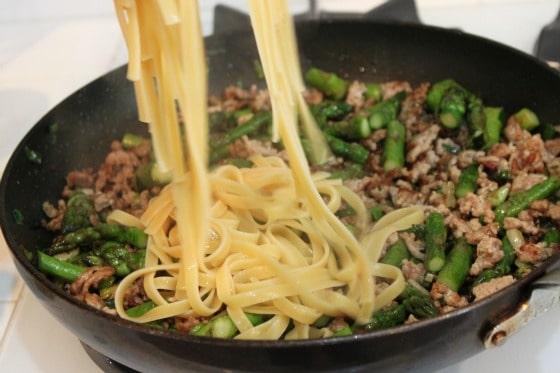 Ladle pasta in so the starch of the pasta water helps thicken the sauce.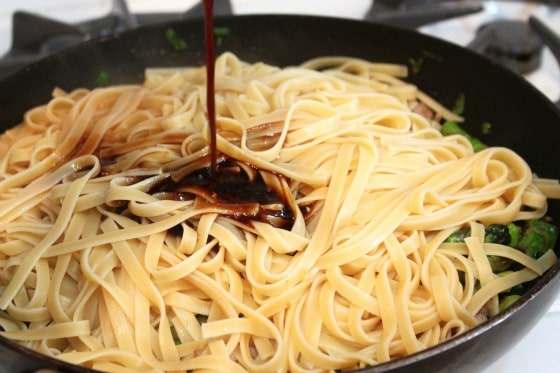 Pour the sauce over and give it all a toss.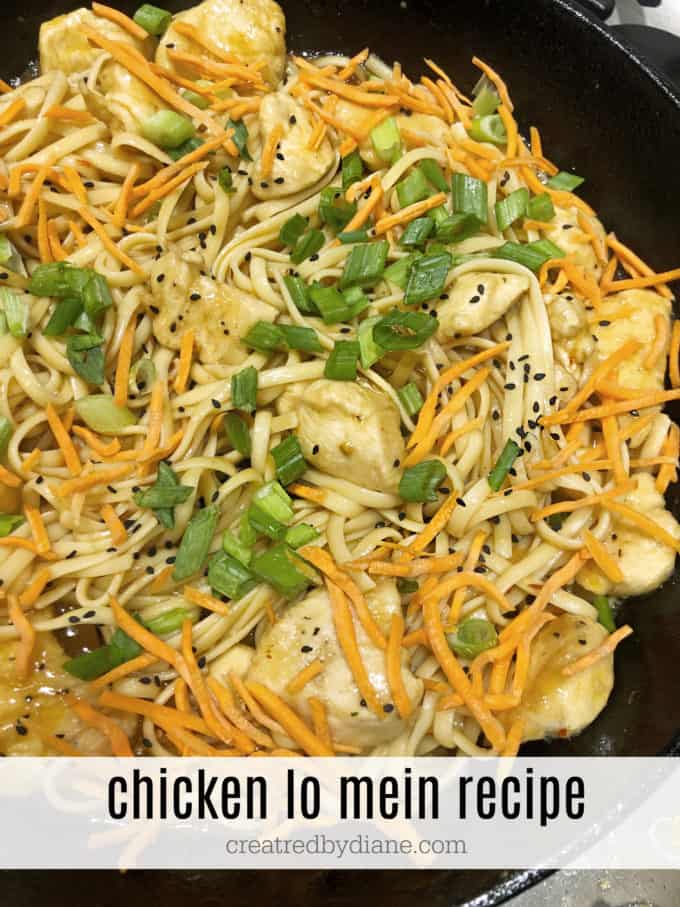 My other favorite version of this recipe is chicken lo main, just use boneless skinless chicken breasts sliced and sauteed, and add the sauce and vegetables with pasta, so delicious! Often I leave out the vinegar and oyster sauce, but just add the soy sauce, sesame oil, and chicken broth, it's so easy and yummy and is one of my favorite go-to meals.
Pork Lo Mein
Ingredients
1 pound fettuccine, spaghetti, linguine cooked according to package
1 lb ground pork
1/2 cup water
1 teaspoon chicken bouillon
1 tablespoon soy sauce
2 tablespoons oyster sauce
1 teaspoon sesame oil
1 tablespoon rice vinegar
1 bunch asparagus (approx 3/4 lb), cut into 1 1/2 inch pieces
4 scallions, chopped
1 carrot, julienned
Instructions
Cook pasta according to the package.
In skillet cook ground pork.
Add in asparagus and scallions.
Cook on medium heat.
Prepare sauce: Mix water, bouillon, soy and oyster sauce along with sesame oil and vinegar together.
When pasta is finished cooking, do not drain, but ladle the pasta over the pork and asparagus.
Pour on sauce and stir.
Add carrot and mix together.
Notes
The starch from the pasta water will help the sauce be thick and stick to noodles. If you prefer it spicy, add chili oil. Sometimes I add freshly grated ginger. This meal is easy and ready in less than 30 minutes. This is WONDERFUL reheated. A perfect meal to make ahead. A fun dish to bring to a party. You may vary the vegetables and use, broccoli, eggplant or squash or a mixture of all of them.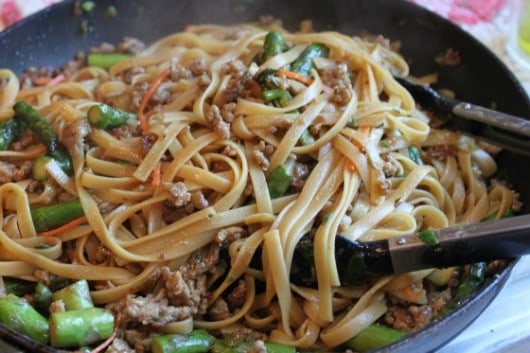 Stir in carrot at the end.
I make this meal just about every week. I vary the vegetables according to what is in season. This is a crowd pleaser, it reheats wonderfully. It really is like having great Chinese food leftovers in your refrigerator, it's so good….some days I eat it for breakfast!