Restaurant-style Mexican Rice at home…..
nothing better than home cooking!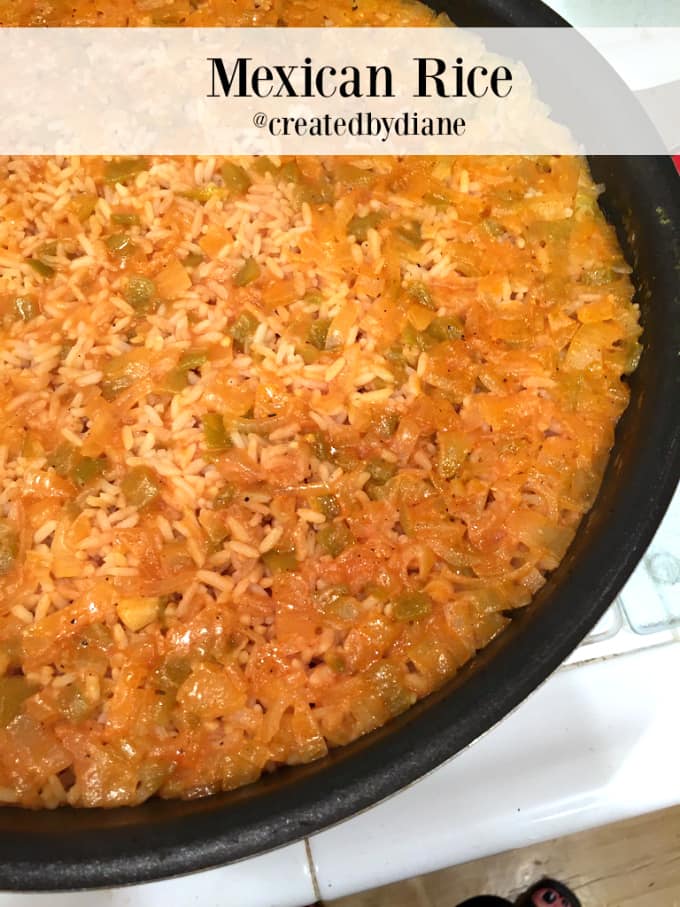 When I go to a Chinese food restaurant, I look forward to ordering fried rice.
I even like to order extra so I have plenty left over. I really like to eat it for breakfast the next day.
Is that wrong?
I really don't want to share the leftovers with anyone.
I write my name on the carton.
Hide it in the paper bag in the refrigerator, behind some containers.
I keep my fingers crossed that no one will ask if there are any leftovers too.
Chances are slim, we are talking about breakfast time.
I think they won't jump out of bed like me and want Fried Rice, but you never know.
I heat it and eat it right out of the container, no need to dirty a bowl.
(It will only give them more of a chance to notice what I'm doing once they smell the goodness).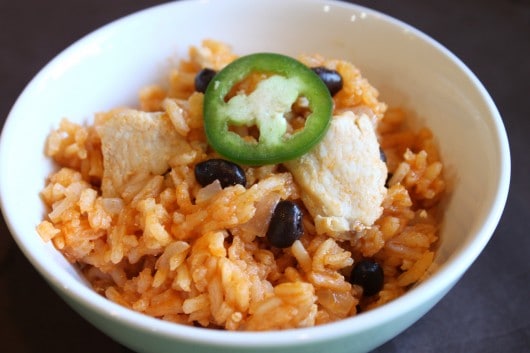 Which brings me to this Mexican version of Fried Rice I made.
Which pretty much tastes as delicious as Mexican Rice you get is great Mexican Restaurants.
It's a great recipe to add chicken, pork, or black beans too and enjoy it as a one dish meal.
Oh this is so delicious, and not fried in a ton of oil, so I don't feel guilty eating it at all. Not even for breakfast. Oh this is so delicious, and not fried in a ton of oil, so I don't feel guilty eating it at all Not even for breakfast. The other day a friend called and was asking me all about the Mexican food places near us. Where do I buy my Carne Asada to cook at home?  Where do I buy Tamales?  Where do I go out to eat Mexican food. Which of course after this in depth conversation had me wanting Mexican Food. I didn't really want to leave the house to pick up any, so I decided to whip up a quick Mexican Fried Rice and call it dinner.
Mexican Rice Recipe
Ingredients
2 cups long grain rice
2 Tablespoons oil
3 cups chicken stock
1 Tablespoon Knorr Tomato Bouillon
1 large onion
1 8oz can unsalted tomato sauce
1 can black beans
3 cooked boneless skinless chicken breasts
cilantro-jalapeno (optional)
Instructions
In a large frying pan ( you will need a lid to fit this pan)
Place 2 Cups long grain white rice
Tablespoons oil
Cook on medium heat stirring rice until it starts to turn golden about 3-4 minutes.
Add 3 cups chicken stock
Tablespoon Knorr Tomato Bouillon
large onion diced
oz. can unsalted tomato sauce
Cover with lid, cook on high temperature until it comes to a boil. Turn temperature to low for 30 minutes or until rice is tender.
Uncover, then add
can drained black beans
cooked and diced chicken breasts ( I cut 3 boneless skinless chicken breasts into 1 inch pieces then cook them in a heated frying pan while the rice is cooking)
The rice is so hot, that the black beans heat up very quickly. By the time I stir everything together, cover it for a minute until everyone sits down, it's done.
I wish I had fresh cilantro. I just ran out of it the day before. Why does that always happen.
The next morning when I was eating a bowl of this, I sprinkled on some dry cilantro, it was fine but you know...not the same as fresh.
I did have a jalapeño, so I thinly sliced it and topped off the bowls with it. It added a little kick!