What's for dinner?
That is the inevitable question, isn't it?   
Well, you're in luck, I have plenty of answers. This slow cooker chicken recipe is as easy as it gets and is the base for lots of easy meals throughout the week.
Most people love to pull down their SLOW-COOKER in the fall for cold weather cooking, but I'm here to tell you that they're a life saver year round.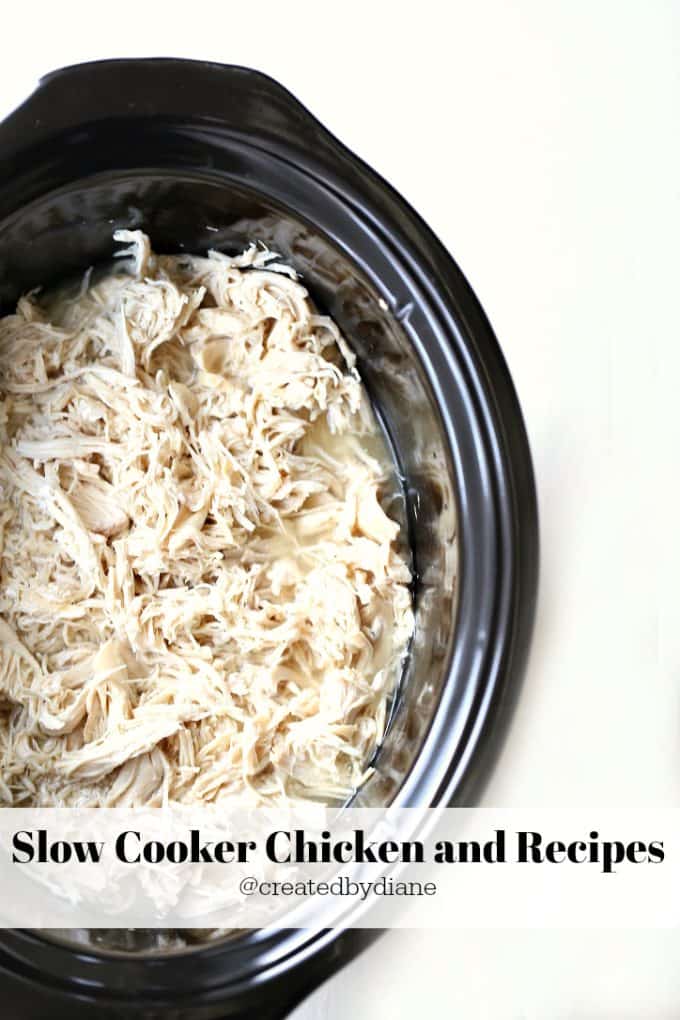 Often doing one task ahead of time saves tons of time each day.
Sometimes I enjoy planning out my meals. Most of the time, however, I want to cook whatever strikes my fancy… that day!
Just like cleaning up after yourself every day for 5 minutes, reduces the time each week it would take you to organize then clean your home. If everything is picked up, it makes it way easier and less time to do the actual cleaning.
Same rules apply for meals.
By using this method you can have tender juicy chicken all ready to go at meal time.
If you happen to have a fussy eater that won't eat everything you'd make having chicken ready a breeze for some super quick ideas.
Since my family and I prefer chicken as our mainstay protein, I always want to have it on hand, ready to go. So it needs to be easy and quick to prepare.
One thing I've discovered, though, is that frozen chicken just tastes "off." The texture can be stringy, too. Fresh chicken breasts just taste better to me.
You're going to love this recipe and won't believe how easy it is! Simply place boneless and skinless chicken breasts in the slow cooker and add chicken broth, then set it and forget it.
Voila!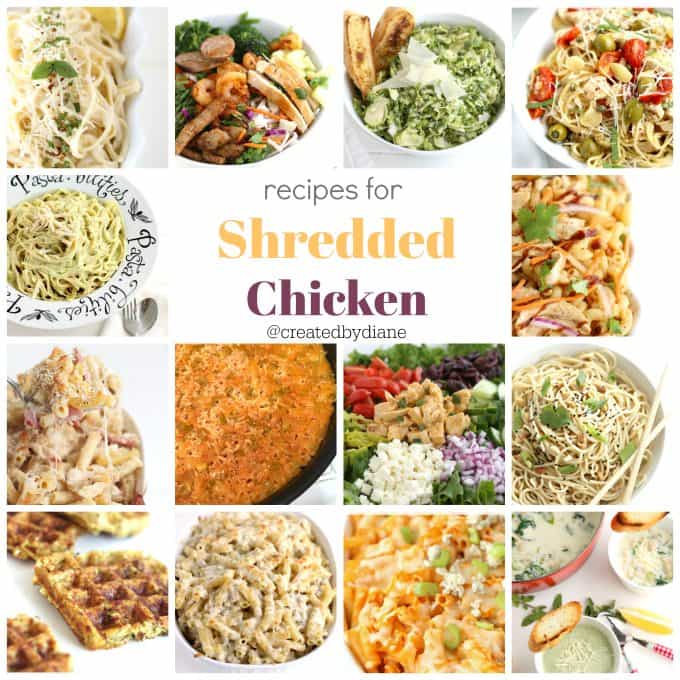 In no time, your slow cooker will be full of tender, savory chicken. Just pull it apart with two forks and store the shredded chicken in the refrigerator, ready to use in your next meal. The broth is great to use when making a sauce, I'll give you lots of meal examples to use it in below.
We all adore soup in my house. Saute some carrots, onions, and celery then add the chicken broth and shredded chicken and you're all set. Add in some small pasta and everyone will run to the kitchen to grab a bowl full! 
Craving Mexican food? Take the chicken add in some beans and cheese and wrap it in a tortilla and place it on a hot skillet for a super fast toasted burrito.
Another option is to mix the chicken with some salsa and put it between two tortillas with cheese for a stuffed quesadilla. Ole!
Try this chicken in:
stir fries

sandwiches

noodle bowls

casseroles
or whatever strikes your fancy. Really the possibilities are endless!
Take a look there are more than a dozen other recipe options to add this chicken too.

Lemon Vodka Pasta Sauce  All year long this is a favorite!
Vermicelli Bowls So customizable with vegetables and it never hurts to add shrimp!
Brussels Sprouts Caesar Salad This is one of my favorite go-to items!
Lemon Puttanesca Pasta I LOVE Lemon, and this tangy dish is just perfect for the lemon lover in your life!
Avocado Alfredo  This is so creamy and delicious!
BBQ Chicken Macaroni Salad  The flavors in this dish are fantastic!

Cordon Bleu Baked Ziti Chicken Cordon Bleu just got a whole new look with this easy dish!
Mexican Rice This PLATE Clearing recipe will be everyone's favorite.
Greek Chicken Salad with Greek Tomato Salad Dressing Oh my goodness, just wait until you try this GREAT dressing!
Thai Peanut Noodles Weekly meal planning is not complete without this!
Turkey and Stuffing Waffles Just add in chicken where the recipe calls for turkey and it'll be like Thanksgiving Dinner in MINUTES, slather on some cranberry sauce and you're all set!
Chicken Baked Ziti  Any chicken will work in this dish, it's creamy, cheesy and delicious.
Buffalo Chicken Baked Ziti Do you happen to have a Buffalo Chicken Fan in your house.. if not you may just make a new one with this dish!
Italian White Bean Soup Look out! This may become your new favorite soup and all other will fall to the waist-side!

 Pasta Primavera A dish everyone will love, any time of year.
Creamy Buffalo Chicken Pasta Now this is so creamy I could eat the whole pot in one sitting.
Mushroom Baked Ziti This red wine sauce in this dish is irresistible!
Italian Zucchini baked Ziti The flavors in this are unforgettable, the zucchini, peppers, and cheese are a flavor combo you won't forget about anytime soon after the fork hits your mouth!
Now, all the baked ziti dishes can be served without baking if you prefer, just Mix all the ingredients and omit the cheese, or just top the dishes with cheese.

Slow Cooker Chicken with Recipes
Ingredients
4 lbs boneless skinless chicken breasts
2 cups chicken broth (or water with chicken bouillon)
Instructions
In a slow cooker place the chicken with chicken broth, place slow cooker on high for 4 hours or low for 6 hours.
With two forks, shred the chicken in the slow cooker.
You can store the chicken and the broth separate or together for future use if you're not going to use it all the day you prepare the chicken.