If you are looking for a new 30 minute meal, look no further…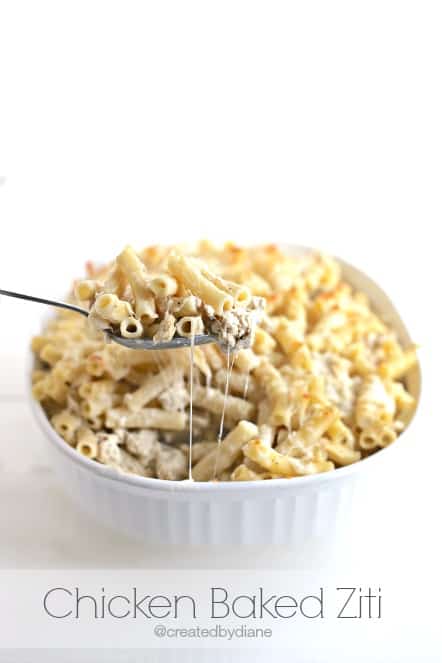 this is it!
It's creamy and delicious without being heavy.
It is FULL on flavor, without tons of calories or fat.
This is one chicken and pasta dish that will be returning to our dinner table often.
I love how easy it is to pull together.
Perfect for busy weeknights.
I've always loved regular Baked Ziti, my mom would make it all the time when I was a kid. It still is one of my favorites,
so I thought about making it based on chicken and I've used lots of ground turkey in recipes,
but have not used much ground chicken, and now I can't believe I haven't been making more recipes with it,
it cooks up so quickly and has a great flavor!
There are two easy ways to make this recipe, one using ground chicken the other using cooked chicken.
Ground chicken cooks quickly, but if you already have chicken cooked it's perfect for this meal.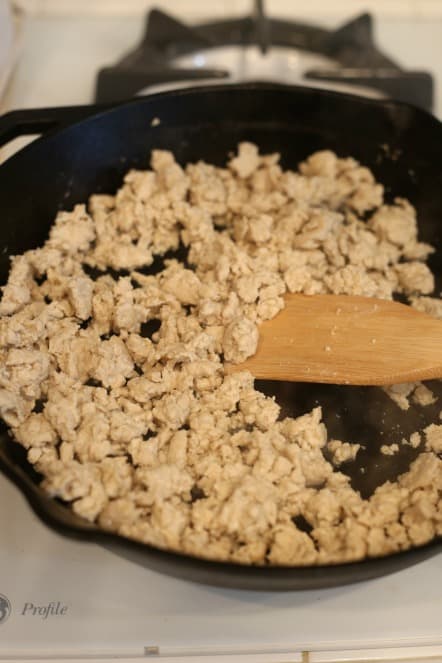 Cook the ground chicken in a skillet over medium-medium high heat.
( if you prefer shredded chicken, you can certainly use that too)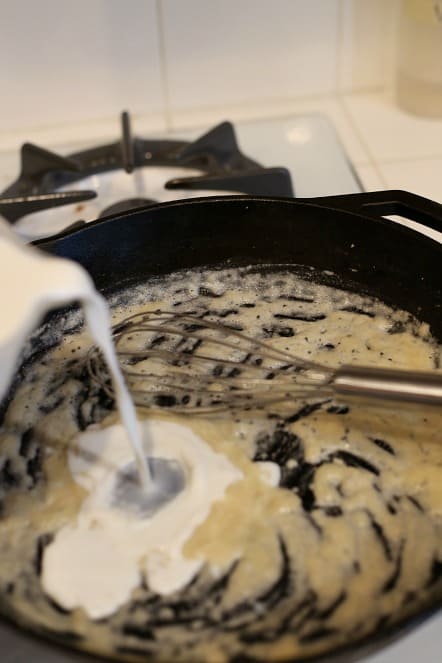 Now for the sauce… oh how a creamy sauce can be the difference between a good meal and an OUTSTANDING meal! don't you agree?!?
I used a combination of chicken broth and milk along with some low sodium chicken flavor.
If you'd like to see my complete post on how to make a sauce take a look at "How to make a Sauce"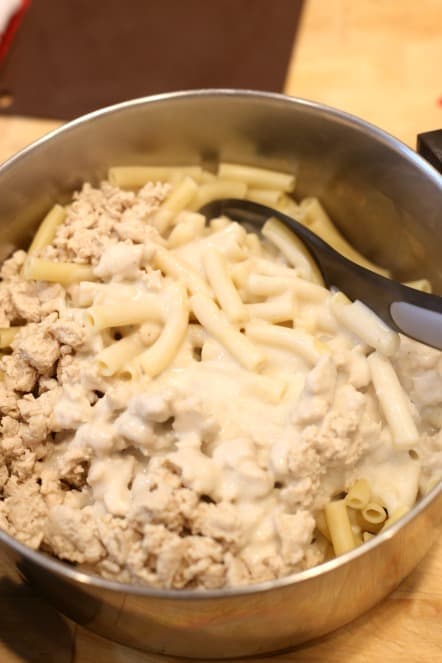 Mix the chicken with the sauce into your cooked ziti noodles.
Ziti noodles are so great, they are thick and cook up so nicely, they hold their shape even when baked, just be sure to cook them properly, don't over cook them. Set a timer, there is nothing worse than pasta that has been over cooked! (says this pasta lover!)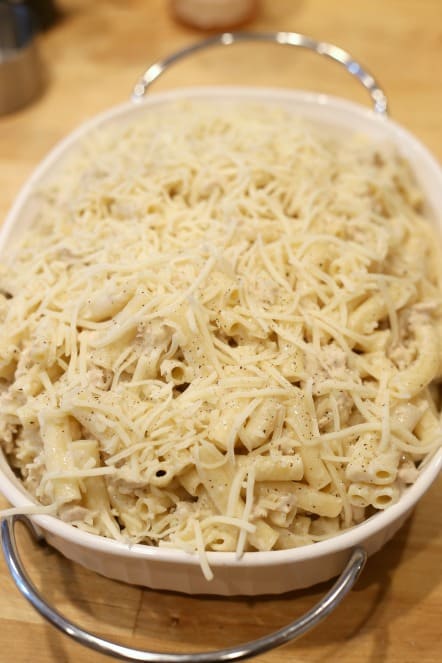 Pile it all into a baking dish with the cheese,
and now you are only minutes away from this delicious dish.
In 30 minutes you can have this on your table for dinner TONIGHT!
It's a very generous dish, so you'll get lots of servings. Leftover heat up great too.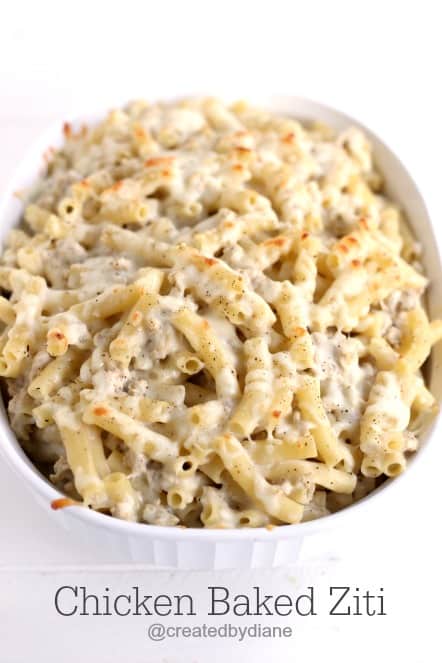 I made this with ground chicken, you can use ground turkey or cooked shredded chicken or turkey to make this dish.
Flavor options:
Add in some onions when you cook the chicken 
Add in diced tomatoes if you want a more Italian flavor, be sure to add in some garlic and oregano too.
If you like things a little spicy, add in some sliced jalapenos.
I use mozzarella cheese, if you looking for more flavor in the cheese department add in some parmesan cheese, Romano Cheese, lots of options when it comes to cheese, try some asiago, manchego, and cotija cheese with the jalapenos is yummy!
Chicken Baked Ziti
Ingredients
1 lb ziti noodles
1 lb ground chicken
2 tablespoons butter
2 tablespoons flour
1 cup chicken broth
2 cups milk
1-2 teaspoon chicken flavor
1 1/2 cup mozzarella cheese (I used part-skim)
Ground black pepper
Instructions
preheat oven 350
Boil ziti noodles according to package, don't overcook them. (Cook to al dente)
In a skillet, cook ground chicken. Check with a thermometer that it reaches 165 degrees.
Prepare sauce: In skillet melt butter, whisk in flour and slowly pour in milk and chicken broth add in chicken flavor. (I like the additional chicken flavor, I used a reduced sodium chicken flavor packet)
Drain noodles, add cooked chicken and sauce to the pan, along with 1 cup of mozzarella cheese stir until all combined.
Pour into a 9x13 baking dish
Pour mixture into pan, top with remaining cheese
Bake for 15-20 minutes or until cheese is melted and starting to turn golden brown.