I LOVE Chinese Take Out I sometimes wish I could have it every day. This Asian Chicken Recipe will make getting delicious dinner on the table fast, with these 5 dinner recipes all using this great chicken recipe.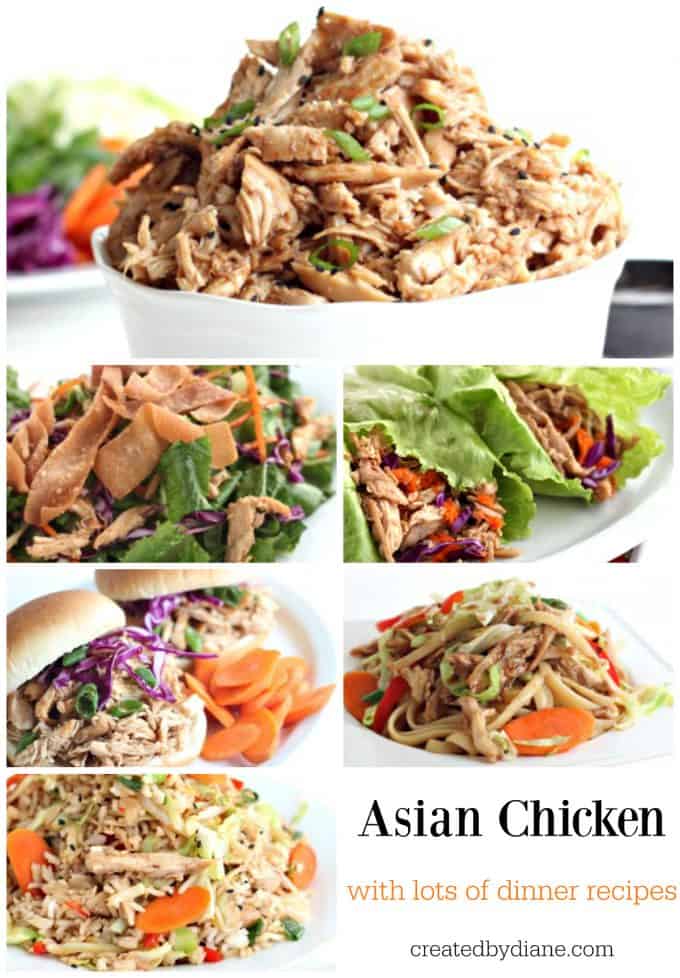 The noodles, rice, oh and of course the chicken…
I even love eating the leftovers for breakfast.
I created a way to have all my wishes come true!
Well, I am all about the multi-use meal.
Once you make this chicken, you can easily put together at least 5 great meals.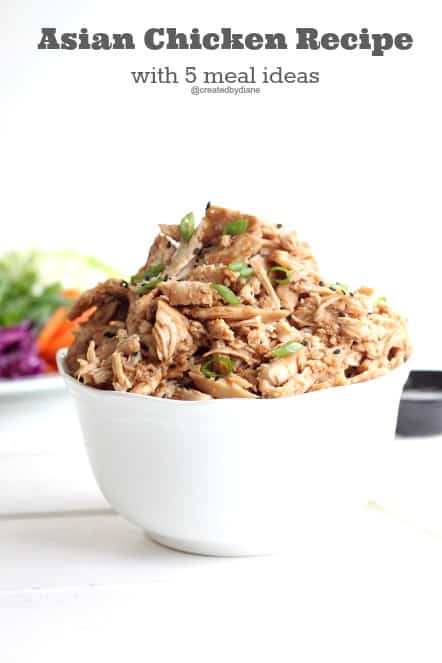 Make plenty of chicken. You'll thank me! It'll make it easy to whip up an easy and delicious meal in no time.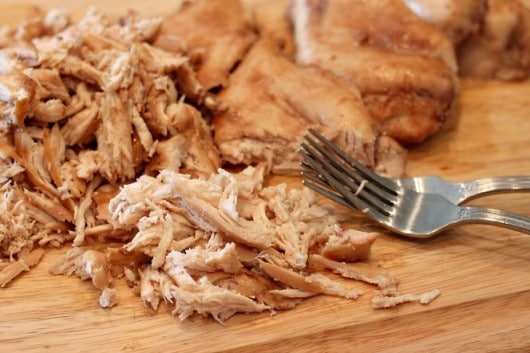 I coat the chicken with my favorite Asian Sauce which is a combination of soy sauce, honey, sriracha, chili oil, sesame oil, garlic, and ginger. It's no overly sweet or spicy but gives the chicken a delicious flavor.
Bake the chicken in the oven or cook it in a slow cooker if you prefer.
Use two forks to shred the chicken or take a look at this post on
Cooking Chicken for the Week in 22 Minutes
. If you prepare it that way, just add the sauce after the chicken is cooked and shredded.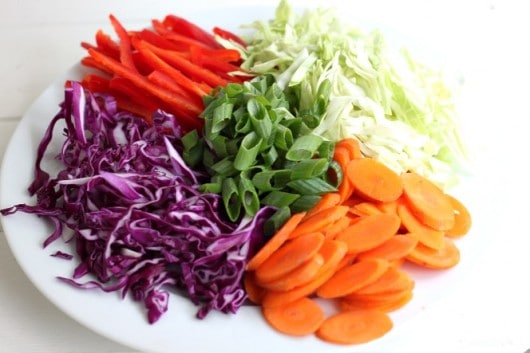 Let's talk about the veggies. Cabbage, scallion, red pepper and carrots all play a big part in making 5 easy meals with this chicken.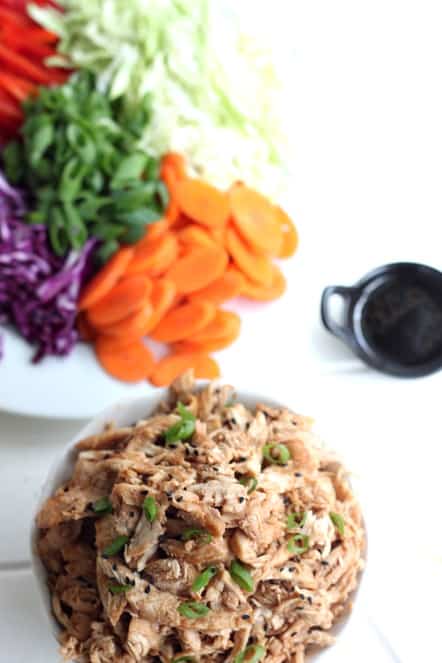 Once your chicken is shredded, you can add a little more Asian Sauce if you prefer. This will keep the chicken moist, especially if you are going to make the meals later.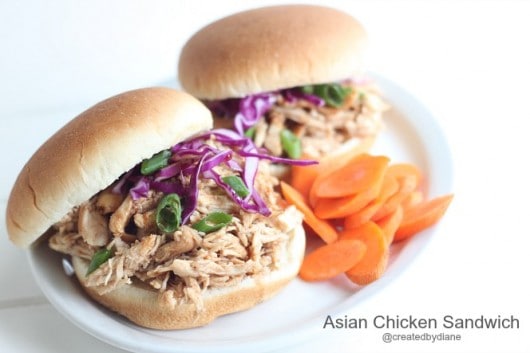 Asian Chicken Sandwiches:
 Place chicken on a bun with scallions and red cabbage and drizzle with a little more Asian Sauce. Great hot or cold. Perfect for a hot day with pre-made chicken.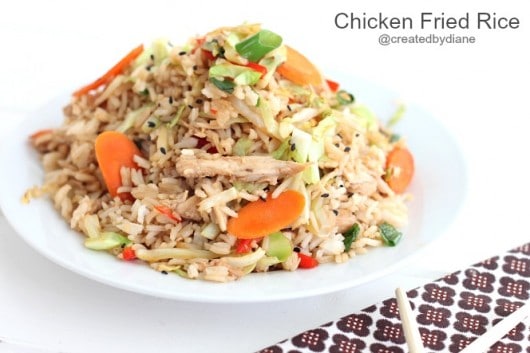 Chicken Fried Rice: I usually make rice and pasta at the beginning of the week when I make chicken, which is great for fried rice. The key to fried rice is to have cold rice. Just saute the cold rice with a little Asian Sauce, with the chicken and some scallions, cabbage, red pepper, and carrots.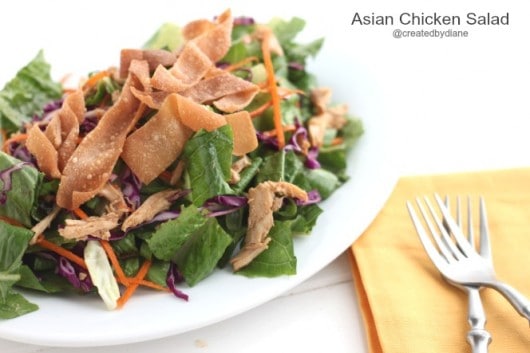 Asian Chicken Salad:
Start with some romaine and add the chicken with some red cabbage and carrots and top the salad with some Asian Sauce and some fried wontons.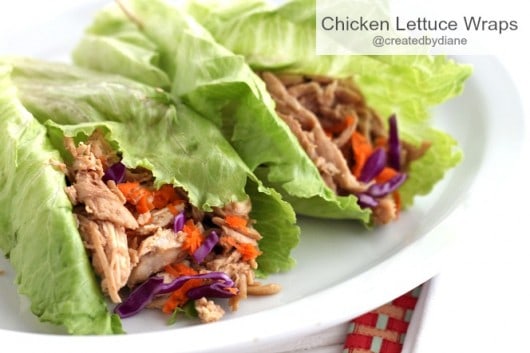 Asian Chicken Wraps: In large lettuce leaves add chicken, red cabbage and carrots drizzle on some Asian Sauce and wrap up the lettuce. If you are serving a lot of them, use toothpicks to hold the back of the lettuce together.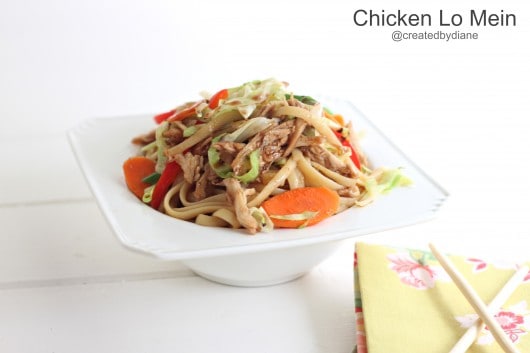 Chicken Lo Mein: Cook up some pasta (I use linguini) or if you are good at planning making the pasta at the beginning of the week as well as the chicken just look at all these great meals you can make in minutes. Toss the vegetables in a pan with a little Asian Sauce and cook them until they are al dente, add the pasta, chicken and drizzle on a little more Asian Sauce.
5 Meals made in MINUTES
with a little planning and prep for the week. Print up the recipe, stop by the store and get a large pack of
 Boneless Skinless Chicken Breasts, Cabbage, Scallions, Bell Pepper and Carrots.
Asian Chicken Recipe
A delicious Asian Chicken recipe to use in many meals, this post has 5 recipes included.
Author:
Diane Schmidt Created by Diane
Ingredients
4 Boneless Skinless Chicken Breasts
1/4 cup soy sauce
2 teaspoons sesame oil
3 tablespoons honey
2 teaspoons sriracha
1/2 teaspoon chili oil
1-2 teaspoon minced fresh garlic
1/2 teaspoon minced fresh ginger
add crushed red pepper flakes if you want it spicier
Instructions
In a small deep bowl combine soy sauce, sesame oil, honey, sriracha, chili oil, garlic and ginger and whisk until smooth.
Cut chicken in half so they are thin, they will cook quicker and there will be more coverage of sauce when baked.
In shallow baking place spread a tablespoon of sauce lay pieces of chicken then add two more tablespoons of sauce on top, I use a silicone brush to evenly distribute the sauce.
You can use the sauce as a marinade and place the chicken in the fridge for a couple hours or bake it immediately.
Bake at 350 degrees 30 minutes or until an internal temperature of is 165-170 degrees.
Use remaining sauce to add to the chicken after it's shredded or to drizzle on top of a meal.
Notes
This is enough sauce for 4 chicken breasts, make multiple batches for a large amount of chicken.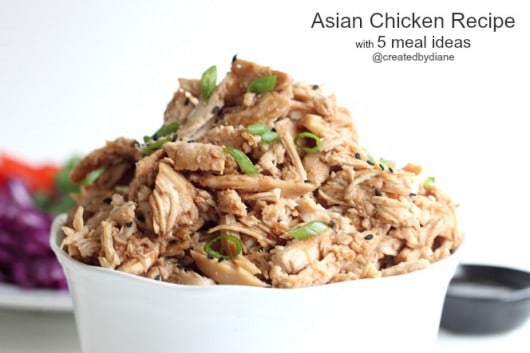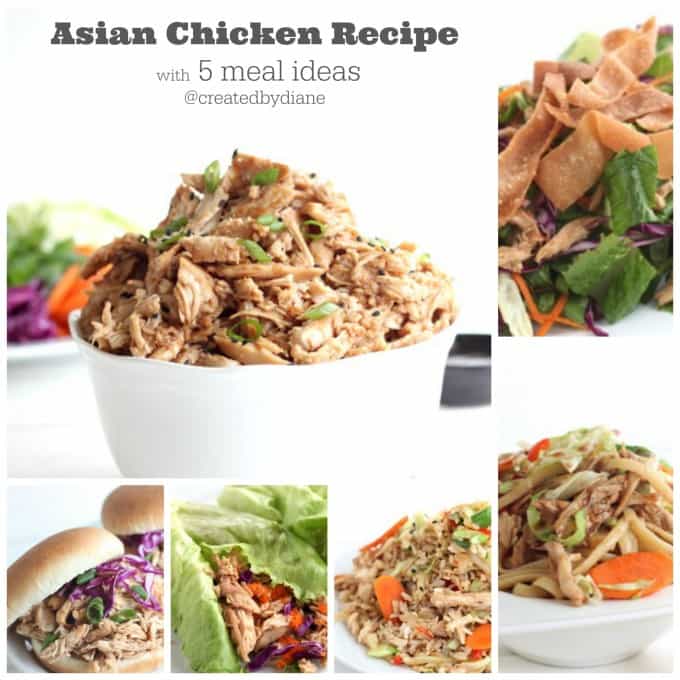 Which Asian Chicken Recipe will you be trying first?
This is a sponsored post on behalf of Tyson Chicken. All opinions are my own.