If you've ever wanted to make the best tasting soup, you're going to love this. Learn how to make soup, with simple ingredients, great tips, recipes, and more.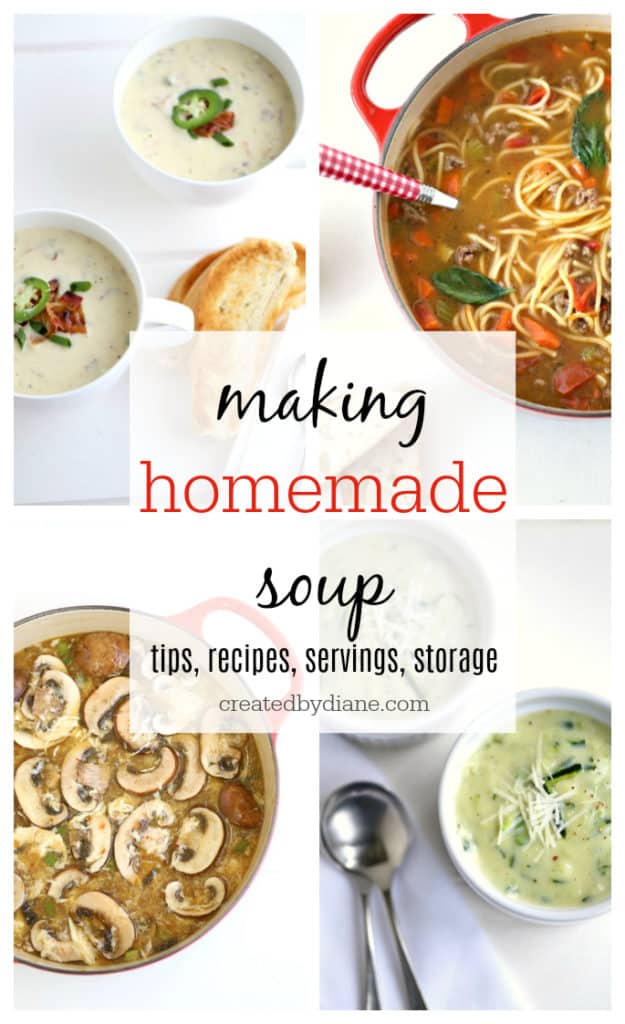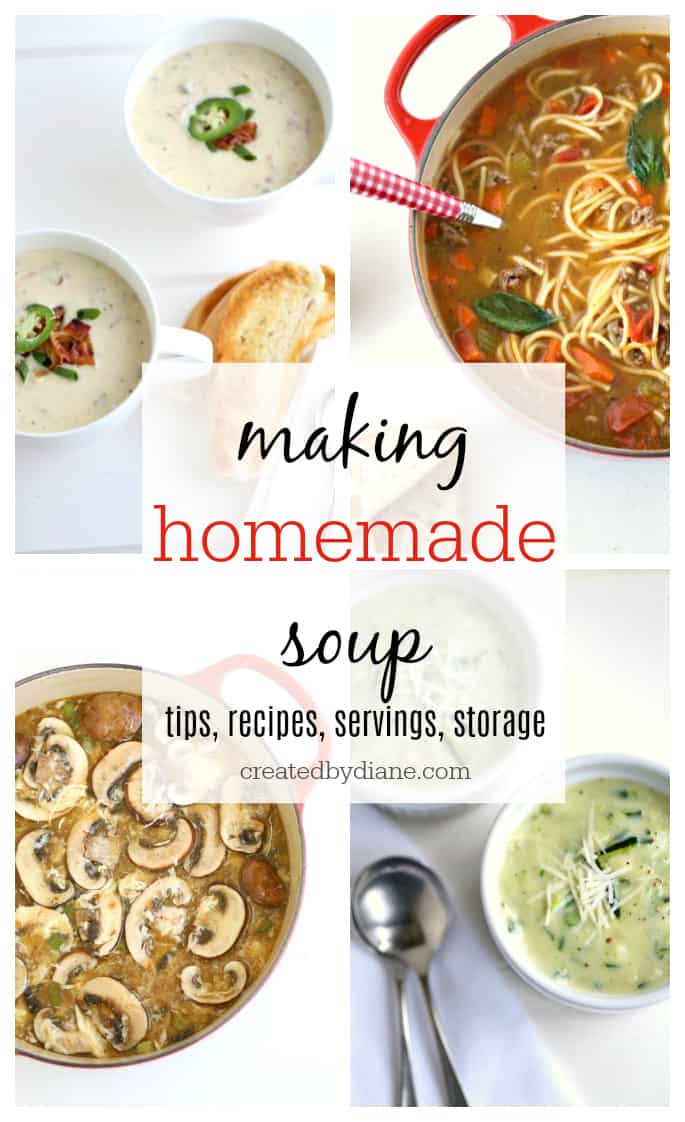 You're only a few steps away from making the best soup in the world! And if there is one thing I'm positive about is that there are only a few minutes between now and an easy to make soup! You may be surprised at how simple it is.
Really, no matter how few or how many soups you've made,
how few or how many ingredients you have on hand…
you could be one bowl away from greatness!
If you already mastered great soup, this post can still help you to come up with some new ideas and flavors maybe you haven't thought of.
If you haven't gotten soup mastered yet, there are many tips to help you.
There is nothing quite like sitting down to a delicious bowl of soup. I am a soup LOVER through and through, it's really a go-to item for me all year long.
Even if you originally thought it was more of cold-weather eats… it's not.
Yes, it's great in the winter to curl up with a mug of Pasta Fagioli or Zuppa Toscano on a rainy cold day to warm you right up.
There are so many soups that are absolutely delicious all year long.
Seasonally, summer vegetables make for flavorful soups.
Cream of Zucchini this is a really easy soup, with minimal ingredients anyone can make
Corn Soup OMG I could practically eat this one every day and is great with frozen corn too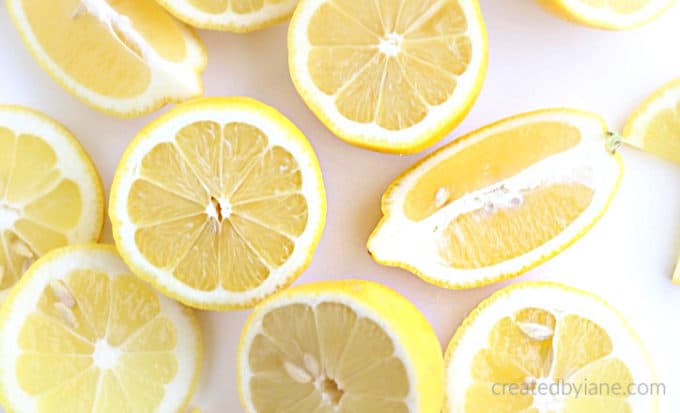 Let's talk about lemons… you don't typically see lemon in soup, but trust me, it really is delicious.
I love this Lemon Chicken Orzo Soup and one of my favorite lunchtime soup recipes is this Lemon Zucchini Soup and this Italian White Beans Soup has such amazing flavor, and it's great smooth or "chunky" style.
Try adding some fresh lemon juice into your favorite chicken or vegetable soup for a nice flavor.
Can soup make you feel better?
Yes, It's no secret they say soup can be… healing. We've all heard how soup helps you feel better if you feel run down, have a cold, or the flu. It's filling and much lower in calories than lots of other entrees, which makes an even better option for mealtime.
Soup can be great for soothing symptoms of congestion or even a sore throat and has been known to relieve aches and pains.
Tips on making great soup
Add items to the pot in the suggested order
Saute the vegetables to bring out more flavor, let them get a little brown even, then when you add the liquid, the flavor will be more complex.
Brown meats for added flavor as well.
Don't add the liquid to the pot, then add the vegetables it'll taste like boiled vegetables which are similar to the flavor of let's say canned vegetables… not a great flavor.
Proteins for popular soups include
Chicken, beef, pork including sausage, ham, and bacon, and a vegetarian option of eggs and tofu
When should the protein be added to soup?
Depending on the protein in the dish will dictate when you'll add it. Items like fish, shrimp, and tofu can easily be added towards the end of the cooking time, as they do not need much heat to cook them. Browing meat in the bottom of the pot with some oil or butter and some onions will allow for more texture like you would for a stew. Chicken on the bone will take longer to cook, but gives off a really delicious flavor and creates a richer tasting broth than boneless skinless chicken will. But some soups are meant to be lighter on flavor, adding boneless skinless chicken either raw or cooked at the end of the cooking time while the liquid is simmering will result in tender chicken, don't boil it, it will result in tough chicken. If your chicken is cooked, adding it at the end will heat it and allow it to absorb some moisture if necessary.
Estimate the time remaining on your soup cooking before adding pasta or rice, especially if it's not pre-cooked, it will absorb a lot of liquid and easily swell and get mushy if it's left sitting in a pot of soup for an extended time. Often it's best to pre-cook the pasta or rice and add it at the end of the cooking time to soup, or putting it into the bowl rather than the soup, and even storing it separately so it doesn't swell in the soup if you have leftovers.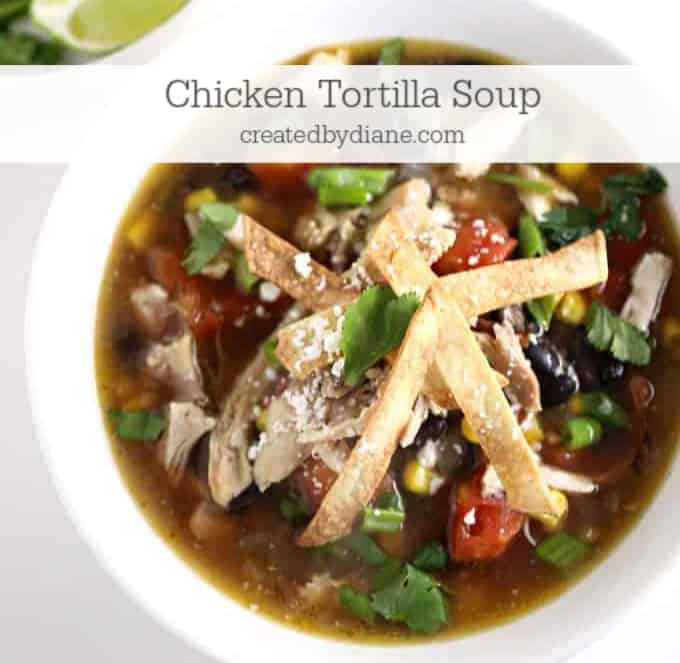 Why is simmering better than boiling
Simmering will give better flavor while keeping ingredients intact and preventing them from overcooking, you do not want mushy vegetables, tough proteins, and soup that had an unappealing texture.
Keeping vegetables cut to a similar size for even cooking is better than let's say ultra diced onions and larger cut carrot from having the onions will cook quickly and break down and give the soup a "mushy" consistency if you are still waiting for the larger carrots to become tender.
If you have an eater than requires the soup to be on the smooth side… puree it. The soup will have a silky smooth texture and taste better than food that is overcooked and grainy as it naturally breaks apart.
Boiling soup breaks vegetables down quickly, makes proteins tough, and separates cream soup and the result is not great. If you are used to boiling your soup and having pour results, slow down… turn the heat lower, allow the soup to simmer with small bubbles, it's worth the extra few minutes.
How can I make soups smooth but appetizing?
An immersion blender works great to puree soup smooth and there is no transferring of liquid. You just place the immersion blender into the pot and puree it. With an immersion blender, you are less likely to spill the soup so it's less messy and you won't have to worry about pouring hot liquid to a blender or food processor.
Great smooth soups recipes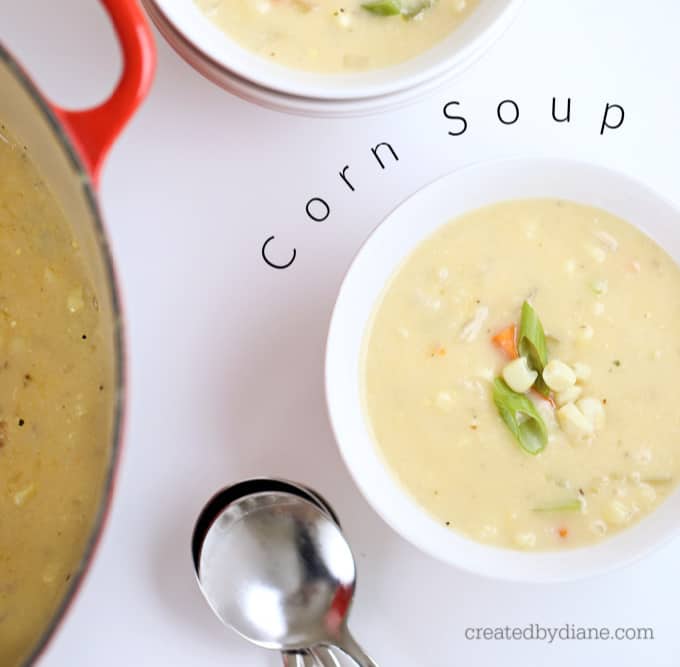 Vegetables
adding some vegetables at the end or into the serving bowl without actually cooking them but allowing the hot broth to wilt them works great with spinach, thinly sliced mushrooms, bean sprouts, julienned carrots, finely sliced cabbage, cauliflower rice.
Most vegetables that are cut small will cook in 5 minutes, medium-sized vegetables will cook in 10 minutes.
What flavor bases are there for soups
chicken broth
vegetable broth
beef broth
tomato-based broth a combination of chicken or beef broth with simple tomato sauce
fish broth
a combination of cream and broth for a white broth that is lightly creamy and delicious without being thick.
creamy soups, not only have cream or milk but ingredients to keep them thick, like flour, cornstarch, eggs, and potatoes.
cheese soups, often found in cream soups, cheese is added to thicken and richen the flavor
How to thicken a soup
Thickening soups even broth soups to create a less messy liquid is fairly easy. If it's a broth-based soup it will have a thicker liquid, for cream soups you'll have a silky creamy thick "broth" you can turn any basic broth soups into a meal easily.
Roux thickener made from oil or butter and flour like you would make a sauce or gravy, Saute your vegetables in butter, then add in the flour, and slowly pour in your broth
Slurry thickener made of cornstarch and liquid and slowly poured into a simmering liquid.
Egg yolks are another ingredient to give soups a thicker creamy texture and rich flavor, add 1/2 cup soup liquid to two eggs, and whisk smooth then pour the egg mixture into the soup and continually stir, do not add it when the soup is simmering, take it off the burner first, so the egg does not separate.
A cream thickener will give soups a velvety smoothness.
Soups with potatoes seem to thicken with the natural starch releasing into the soup, and soups with pasta added will absorb liquid, so adding cooked cold pasta or rice to the soup will prevent this from happening quickly, or add them to each bowl, so they don't swell in the soup if they are just freshly cooked and still hot.
UPDATED to add:
Some notes on thickening more than soups: sauces, gravy, and more…
For basic gravy, I use flour and butter (roux) then add the liquid slowly while whisking.
If I want a soup to thicken I use a cornstarch slurry (which I also add to large portions of gravy if the roux is not thinking it enough) You can add as much cornstarch slurry as needed to get the desired thickness if you're making 6qt pot of soup, you need more than if you're making a 4qt pot of soup. If it's a cream soup like chowder add in some heavy cream so the consistency will result in a velvety creamy soup. If you want to chicken soup to the consistency of stew start with 2 tablespoons cornstarch mixed with 1./4 cup or more water so you're able to mix it smooth and drizzle it into the simmering soup.
Flour added to a soup will taste like flour unless you cook it first, as shown in the photos I have of making the gravy from a roux, that is why cornstarch works really well in soups. Cheese sauce tastes better with a roux and the consistency is better too.
So my go-to rule of thumb is if it's a gravy or cheesy, or creamy soup, start with a roux, if it's a clear "sauce" like Chinese food sauces or soup, no need to use a roux a cornstarch slurry will work well.
Hope that helps!

Great thick creamy soups

Asian Inspired soups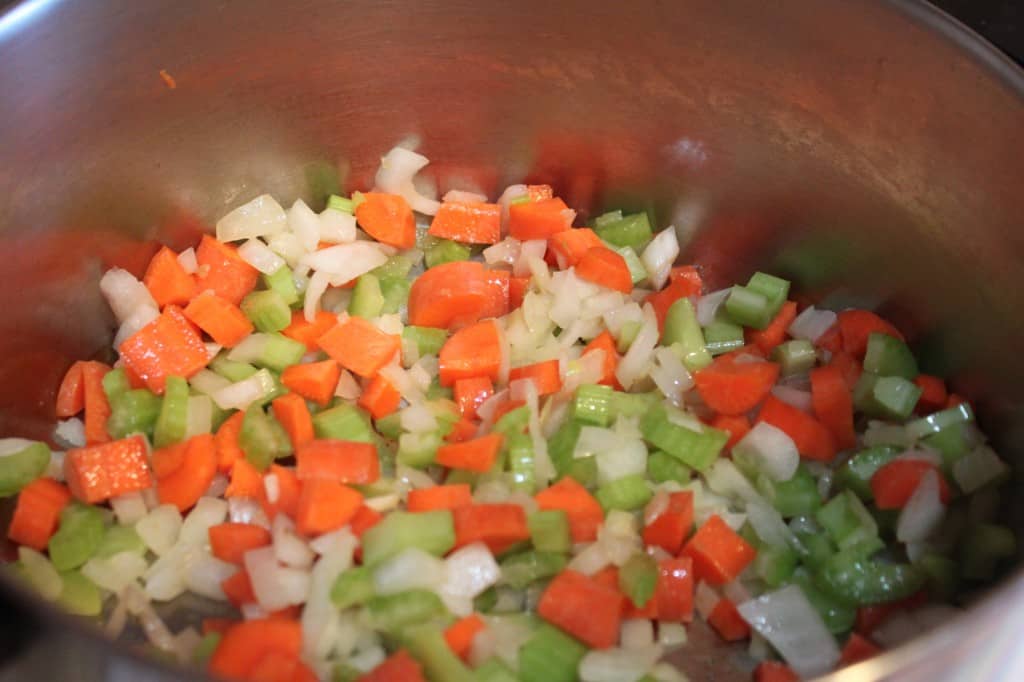 Vegetables for soups
A common start to soup is a mirepoix which is a combination of carrot, onion, and celery, so if you want to start a soup… begin there and it's bound to turn out good. If you are missing one of those three key items called for in the soup you'd like to make, be creative and select another vegetable or simply use the items you do have.
But don't skimp on veggies. Adding items like spinach, broccoli, zucchini, peppers, mushrooms, corn or peas are all great additives, but don't forget about items like kale, butternut squash, and cabbage as well.
potatoes, pasta, rice. and beans are always great additions for making soup more filling low carb options are easy to adjust by adding diced or cut up cauliflower, 2″ cabbage chunks, and snow peas are great as well.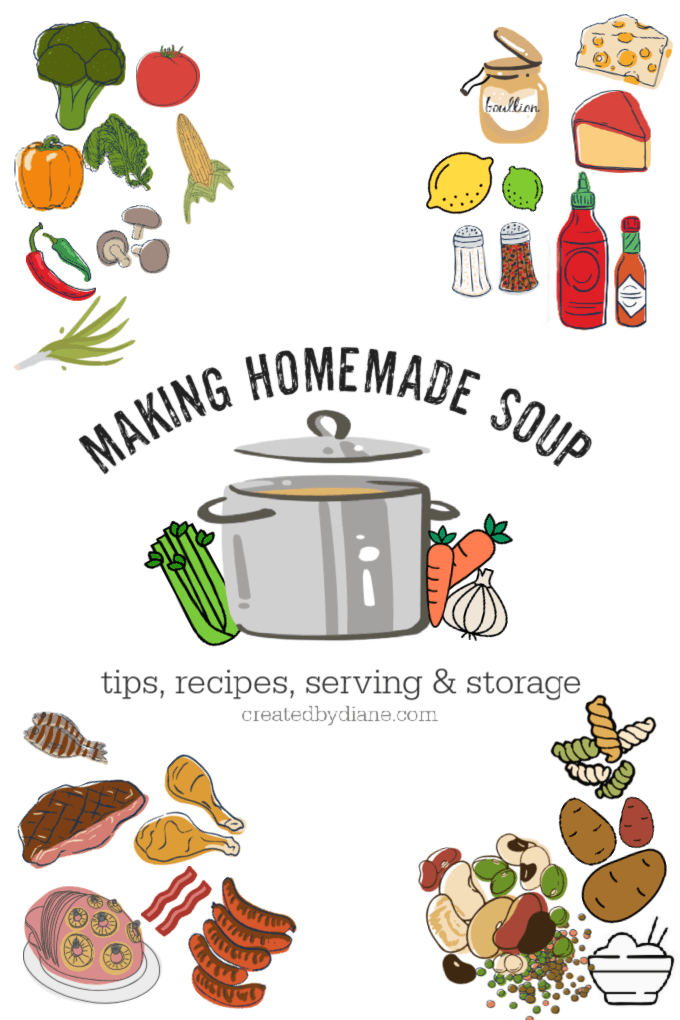 TRY A NEW SOUP:
Choose your favorite protein, vegetable, broth, and combine it all for a new soup recipe… if it includes all your favorites and they go well together, you're bound to like it!
KICK UP FLAVOR
Look no further than your spice cabinet to add some flavor into any soup, items like celery salt, onion powder, garlic powder can add flavor to soups you feel don't already have the flavor you'd like. Some nontraditional soup flavors like lemon pepper seasoning are great in a pinch too, don't forget about dry herbs, one of my favorites in Italian soups is oregano, and adding fresh herbs is always great, I often have fresh basil, rosemary, and parsley growing the in the back yard and they are all good in soups.
To spice it up a bit add in some crushed red pepper, sriracha, or cayenne pepper to give your soup some spicy flavor.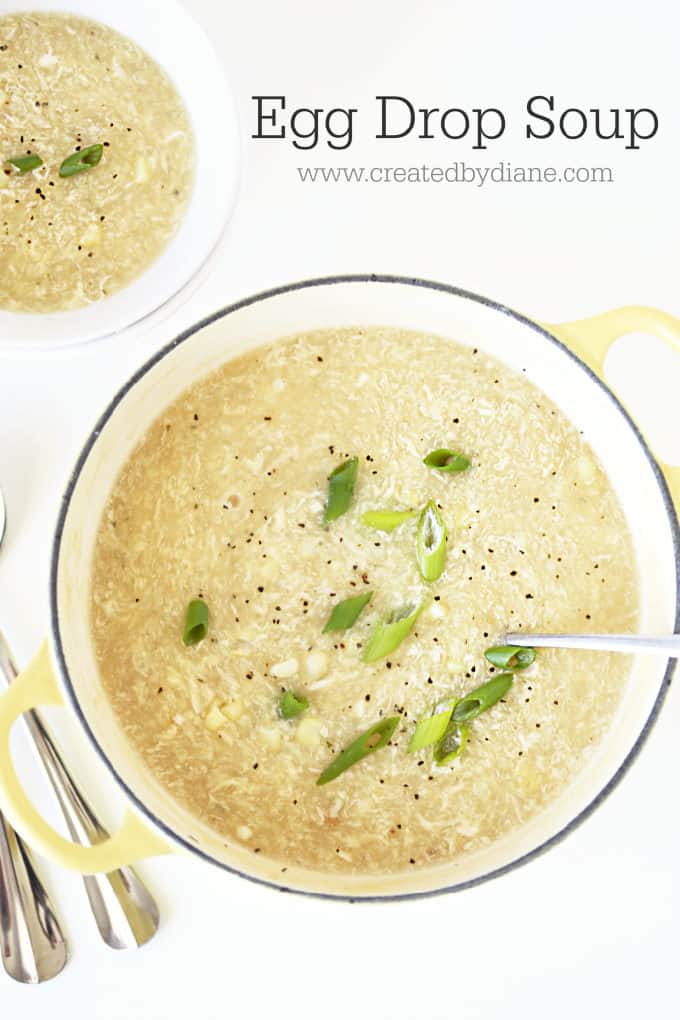 Give my Egg drop Soup a try! It's just about the most perfect soup when you think you don't have much in the house to make anything.
Never underestimate what some soy sauce can do… really it enhances the flavor of beef and is great to add to a simple soup it really can make a broth more complex. Another great pantry item is sesame oil, and not only in Asian inspired soups.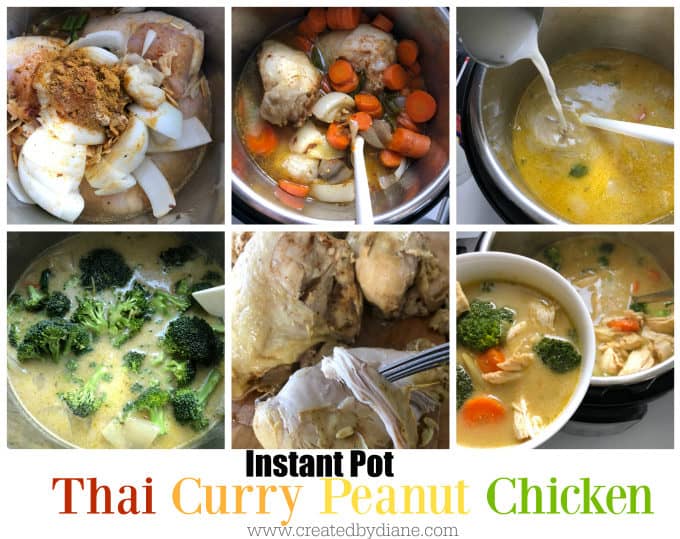 Which soups be made in the Instant Pot or Crock Pot
Most soups can be made it either an Instant Pot or pressure cooker or a slow cooker, depending if you'd like them to finish cooking quickly or slowly.
Leave proteins like chicken in larger pieces so they don't break down too easily and can be shredded when the cooking time if finished with two forks.
I have a couple of curry soups one is specifically made in an Instant Pot, Peanut Curry Chicken and stovetop Thai Curry Chicken that are delicious and made with coconut milk and the addition of fresh lime juice for some acidity is a great compliment the creamy sweetness coconut adds and making curry spicy is always a great option with some chilis, harissa, crushed red pepper or jalapenos.
I have a Green Chicken Chili Recipe that can be made in a slow cooker, great with fresh chicken, or previously cooked chicken too.
When in doubt try some CHEESE, oh… yes… cheese is always a good idea. Don't you agree?
Think beyond cheddar, try some Cotija, Parmesan or add in some Romano cheese, it's my favorite. And if you love cheese, give my Mac and Cheese SOUP a try.
Should I use broth, stock, or bouillon
Stock and broth are both similar, stock often has a richer flavor while the broth is more simple from simmering the meat and bones of beef or chicken. And then there is bouillon, a concentrated flavor enhancer great to have on hand for anyone who cooks.
Which one… well that all depends on you, time, and availability. Most often we find Chicken or Beef Broth in Cartons in US grocery stores, you can also make your own. Of course, use what you have or are used to.
Cartons of broth have a nice flavor if you're looking to punch up the flavor then add some bouillon. You can make your own broth or stock by simmering chicken on the bone in water and adding vegetables to it. Or if you don't have broth simply mix bouillon and water. Bouillon comes in many varieties most often dry or paste. They all have a different flavor, so test out a few to see what you like best. I often use a mix of cartons of broth and some bouillon. If you are adding bouillon, add a little, then allow it to flavor the soup, then give it a taste, you may want to add more. Or you may want to just add salt and pepper.
Most soups benefit from salt, otherwise they kinds taste like dishwater. Sodium often found in bouillon has a different flavor than salt. My go-to salt is coarse kosher salt. Other people prefer to add sea salt, fish sauce, or soy sauce to alter the flavor of the soup. So mix it up and see what you like best.
Chicken on the bone with skin attached will result in a richer flavor rather than just adding boneless skinless chicken breast, but if you like white meat be sure to make my Chicken Pho… simmered perfectly for tender chicken just like at a restaurant.
Serving suggestions
Any meal is great when layered vs just looking at one item on a plate or bowl, the same goes for soup. So think about what to serve your soup with. From sandwiches to garlic bread, crisp crumbled bacon, grated cheese, a swirl of cream, sour cream, sliced avocado, or even some crunchy tortilla strips on top will make a great soup even better.
Adding some of the ingredients in the soup on top works well too, like extra black beans, diced green onion, corn, fresh herbs, and croutons add interest and flavor that will top any soup nicely.
Serving soup in a mug will keep soup warmer than serving it in a low wide bowl. So serving soup to kids that would prefer the soup be less hot, a larger flatter bowl is better than a deep bowl with higher sides.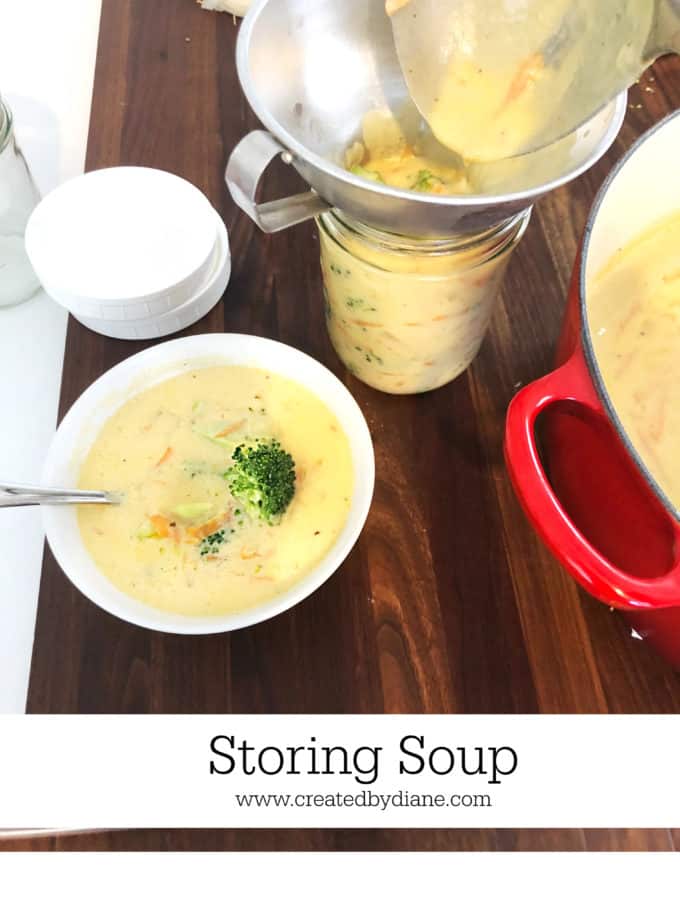 Storing soup
I used to store soup in a large container, but anyone who wanted some would end up making a mess by getting out a ladle, trying to figure out what exact portion they wanted. Now I portion leftover into 2 cups serving in wide-mouth glass canning jars. The portion is perfect really. It heats rather quickly especially in the morning for anyone taking t ht in a thermos for lunch out of the house. You can easily see how many servings you have, great for a second meal for another family dinner. I always use a thermometer when reheating soup to be sure the larger items in the soup are at 165°. Such as pieces of chicken and potatoes which tend to take a bit longer to heat to that temperature.
I ladle the soup into the canning jars with a wide mouth funnel, it really allows for easy transferring of hot soup, without spilling.
Heating soup in a flat skillet is quicker than a saucepan with higher sides where the amount of soup would be higher.
Why soup is so great
It's uncomplicated to make, it offers many servings, and if filling and satisfying.
I make at least one batch of soup a week at least 6 months out of the year. As I mentioned we are soup eaters here… it's easy and often uses minimal ingredients. As with most dinners, I find that if I were to add 2-3 lbs of protein, we'd eat it and keep going… but by keeping most soups to 1 lb of protein, and making soups with 4 cups or so of broth, I've found that with that and the vegetables most of my soup recipes result in 6 2-cup servings, sometimes 8. So you can easily stretch a soup to make 8-10 servings by adding just some more broth and a little more ingredients.
Most soups will freeze well, with the exception of cream soups which seem to separate and become grainy when reheated.
I do freeze soups in glass canning jars. I do not fill them all the way to the rim, like canning you need to leave room for expansion, so under the threaded rim is the recommended fill line.
To thaw out, just place the jar of soup in the fridge the night before and the next day, you are able to heat it. If you plan to microwave the soup, be sure to do it at 30-second intervals to avoid hot spots and to prevent the canning jar from breaking, they can break, if the food inside the jar gets a hot spot and the rest is cold it will easily crack, usually just above the bottom… sadly I have learned this from experience.


Most soups can easily be made in 30 minutes.
I typically will have a pot of soup reading in 30 minutes. If you want them done in 15 minutes, it's totally doable with a little planning ahead, rotisserie chicken cooked ham, or pre-freeze proteins that are sliced thinly so they cook quickly any time you want to make soup.

My list of must-have items to make soup
Le Creuset Red Dutch Oven I use this pot all the time to cook soup, I love how it cooks everything and it cooks soup far better than my older, thin stainless pot.
Thermometer I'm not quite sure how I cooked before having this super-fast digital thermometer, and it makes the perfect gift, I give it all the time and everyone loves it. Be sure you're always bringing food to the proper temperature.
Thermos If you leave the house and want hot soup to go with you to be able to enjoy any time you'd like this thermos keeps soup hot for many hours.
a ladle is great to put soup into serving bowls and canning jars
I'm always looking for a way to make less mess, this funnel I use every day to help me store leftovers in jars, like soup and I also use it to put the hot soup into the thermos a wide-mouth funnel
Freezer tape I use this to write on the jars, and it removes so easily when you no longer need the label

Immersion/hand Blender

this is the immersion I use… every single day, really. I love it for soups, sauces, smoothies, and whipped cream

Wide-mouth canning jars 16 oz the perfect 2 cup portion for soup and just about everything else, I not only use these for leftover soup, I use them for sauces, drinking glasses, and just about everything.
Great plastic lids for glass jars if I don't want to fuss with metal lids and bands on the canning jars I use these one-piece plastic lids!
And if you're in the mood for some hearty Chili
try my Favorite Chili Recipe
or my Green Chicken Chili Recipe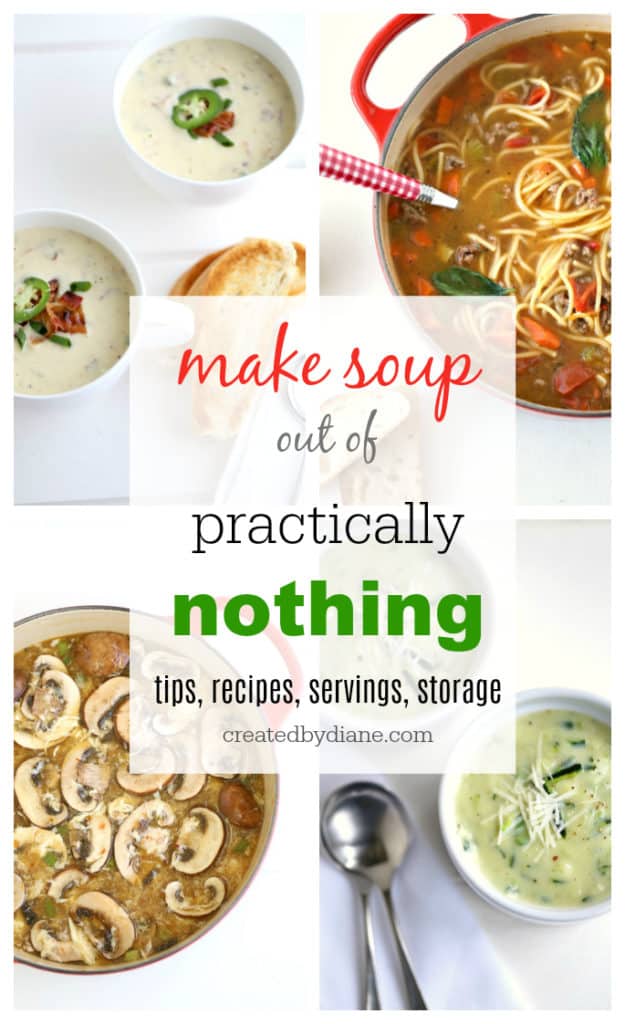 THANKS SO MUCH, for reading this post.
PLEASE SHARE this post with SOMEONE!
We all know someone who would like it!
I really appreciate you sharing my post.