I'm sharing with you one of my family's all-time FAVORITE soup recipes! If you and your family love easy, delicious, filling recipes that can be made in 30 minutes… this is it!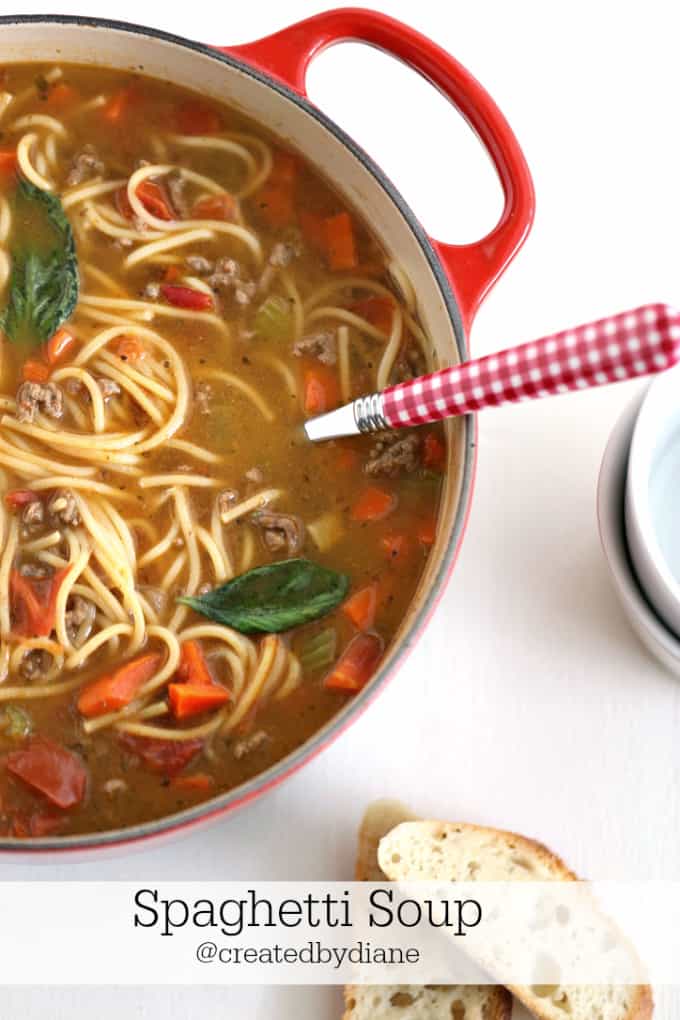 I've been making this recipe for YEARS!
I'm happy to be sharing it with you and I'm so GLAD I finally took photos of this recipe to share with you. I can't even begin to tell you how many times I've made this recipe, it's always a winner.
It's super quick, is made in under 30 minutes.
It's easy, everything cooks in one pot.
It has simple ingredients and tastes delicious.
As soon as the weather starts cooling off it's unofficially declared SOUP SEASON!
Which means just about every week we have soup.
I have always been a HUGE soup lover and my family has followed right along and loves it too. When the kids were younger, I'd just reduce the amount of broth for them so it was less messy.
Now that they are older, it's not an issue, but if you have little ones that may be helpful so you can be sure mealtime is easy for you.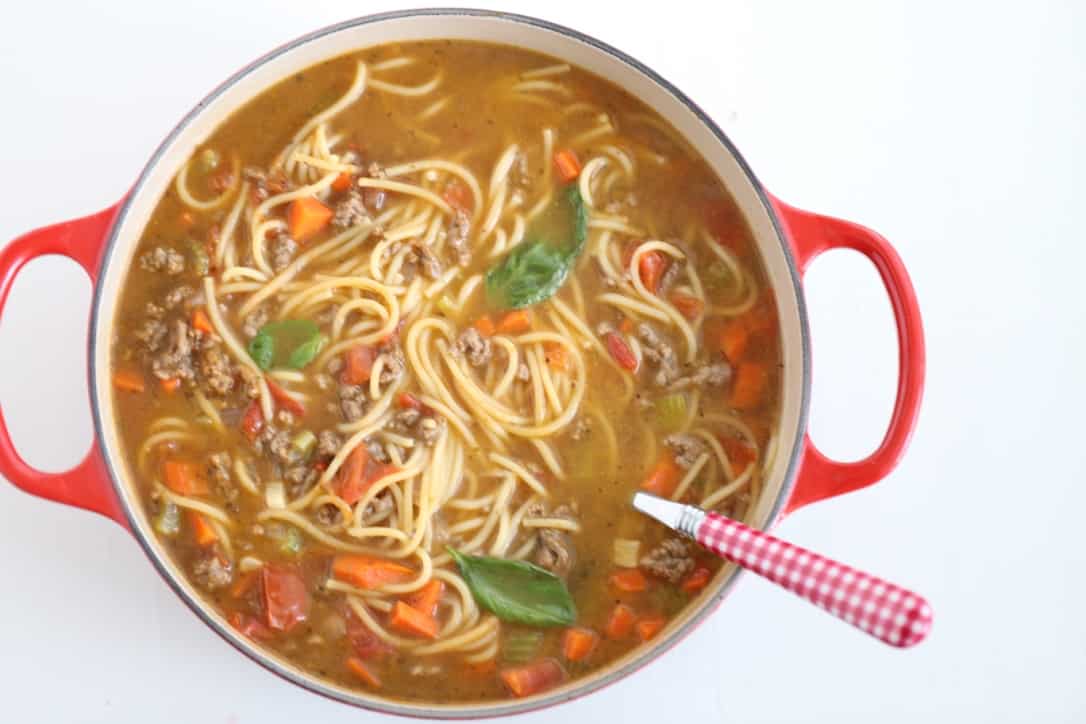 This is one of these "pound of ground" recipes,
I typically buy a pound of ground something and then come up with some meal to make with it on the day I'll be making it. Meatloaf, meatballs, meat sauce over pasta and this SOUP!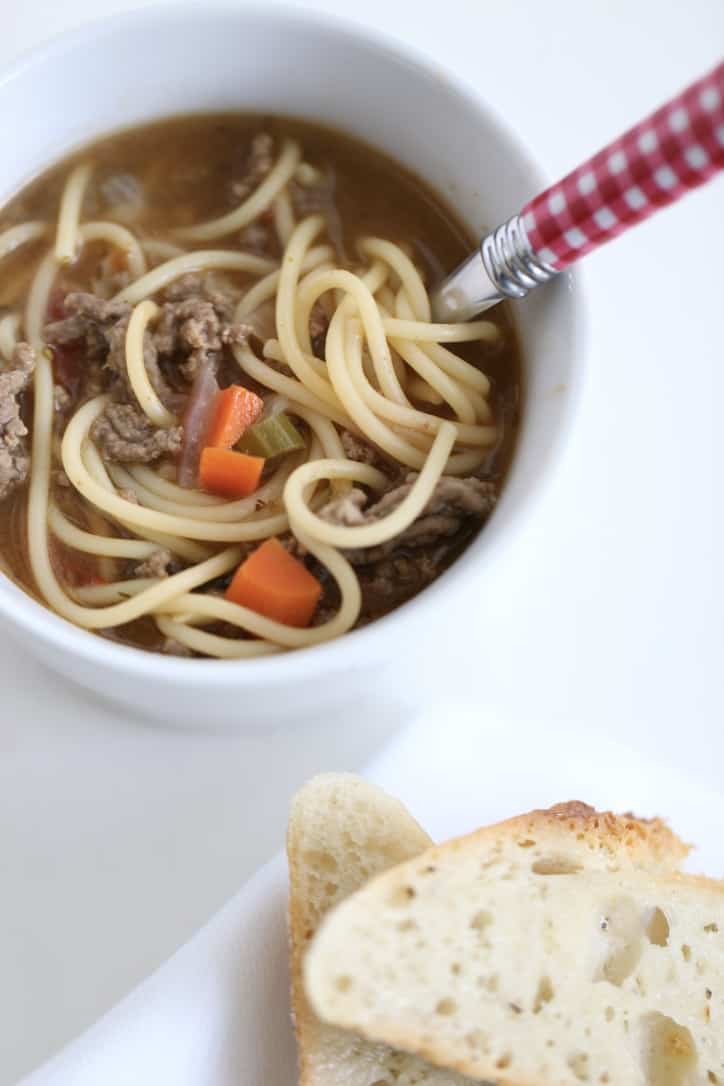 What pasta to use in this soup recipe
You can use any variety of pasta, elbows, penne, or rotini are all good in this soup as well.
What other flavors can I add to this soup
You can add more garlic for a super garlic-y recipe.
If you'd like the soup on the creamy side add in a 1/2- 1 cup of cream or milk.
If you'd like to thicken the soup ad a slurry of cornstarch and water (2 tablespoons cornstarch to 12 cup water) mixed well and poured into the soup while it's cooking. 
Vegetables, you can add in a few cups of fresh spinach or kale to amp up the greens in this soup.
I hope this recipe makes it into your family's menu rotation just like mine!
If you'd like more great soup recipes to check out my,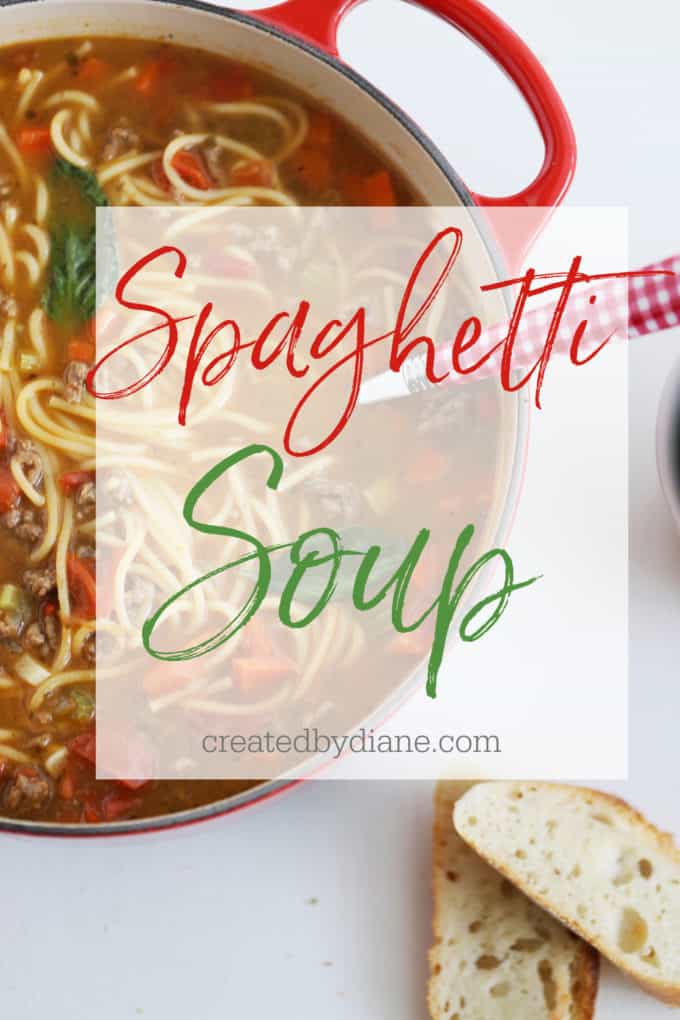 Grab some crusty bread or cracker to go along with your bowl of soup, sit back and ENJOY!
Spaghetti Soup
Ingredients
1 lb ground beef
2 carrots diced
2 celery stalks diced
1/2 cup chopped red onion
2 cups diced tomatoes
1/2 lb spaghetti
1 teaspoon dry oregano
4 cloves diced garlic
6 leaves fresh basil (or 1/2 teaspoon dry basil)
6 cups chicken stock
Instructions
This is a one-pot soup recipe, that makes it easy and efficient and the perfect 30-minute meal.
In 4 qt saucepan or larger brown ground beef.
Add to the pan carrots, celery, onion, tomatoes, spaghetti, oregano, garlic and basil and chicken stock.
Bring it to a boil over high heat, move spaghetti around with tongs so it doesn't stick together. As soon it boils, turn to medium to medium-low and continue to simmer (a low boil) for ten minutes.
If you like this soup recipe you will LOVE the rest of the recipes in my SOUP EBOOK (they can all be made within 30 minutes)