There is one Chinese dish I look for when I order take-out, it's Szechuan Chicken. I'm a huge fan of ordering Asian food out, but this recipe will have you making it at home and you are sure to make this recipe again and again, one thing I want when I make it at home is for the flavor to be just like the recipe I grew up with. Szechuan Chicken was always so delicious and I was able to enjoy it for the last time a few months ago just a few weeks before my favorite Chinese restaurant closed its doors after 30 years in business. So I'm happy to share with you my version that my family feels is as close as I'll ever get to their recipe.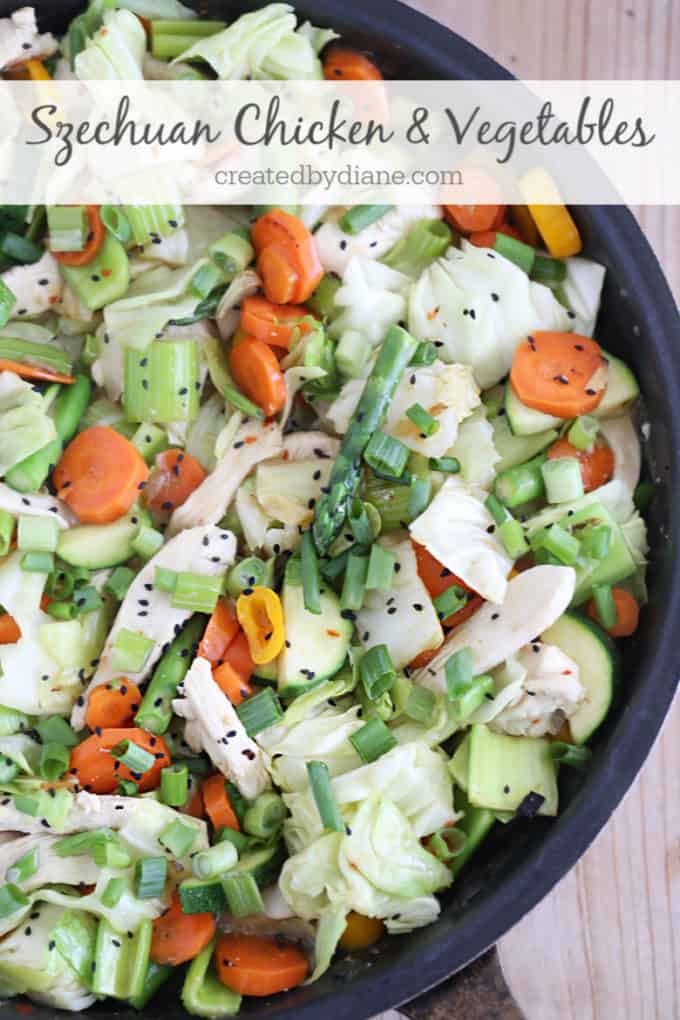 I'm big into chicken and vegetables, but like most people don't want to eat the same thing night after night. This recipe's flavor is so great…
I actually could eat this one over and over… and I did!
I recall my dad saying to me when I'd order it years ago a few times a week when I was on a "kick" as we'd call it. I had a few recipes back then, that I would n't make but order weekly. I worked long hours and cooked, but not all the time… Ahh…. the 20's. They were fun! If you want to know the other recipe I'd eat over and over… it's THIS one, and it's still a favorite.
It's funny how some recipe favorites last years… and some are only favorites for a short time.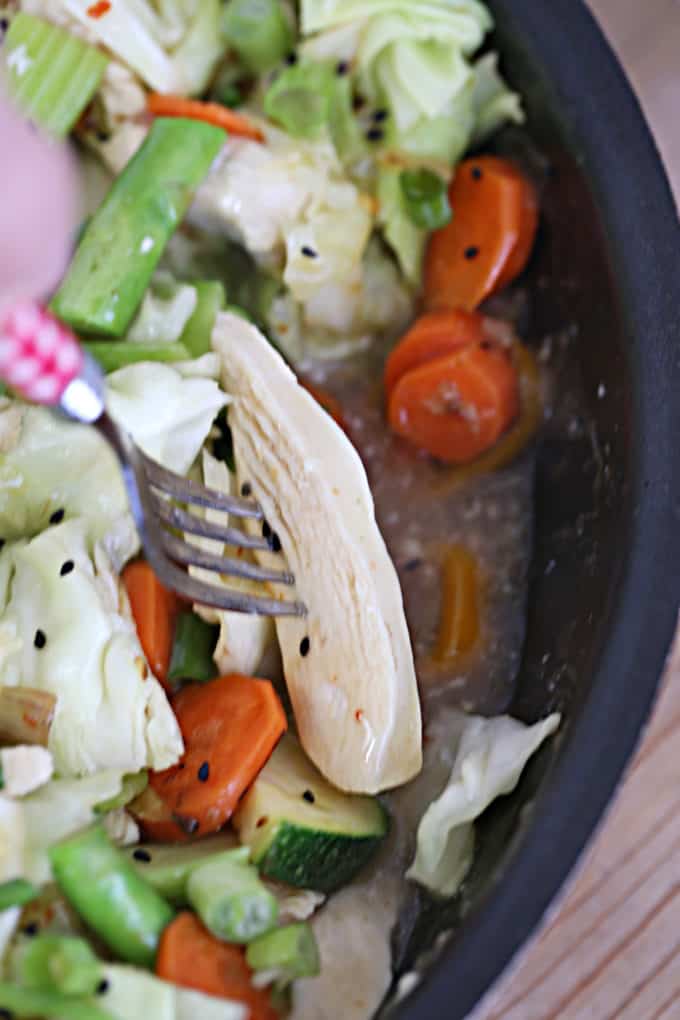 The sauce on this is fairly clear, but WOW the flavor of it is amazing.
I've attempted this recipe many times before sharing… 
and I finally have it nailed down.
In researching Szechuan Style recipes, it's more about the flavor than the actual spice I've read. If you're used to guessing Szechuan peppercorns go right ahead and use them if you're like me and don't have them a simple solution is using crushed red pepper flakes, black pepper and a few drops of lemon juice.
There are so many flavor options you could add to this recipe 
1 tablespoon

 rice vinegar

1/2 teaspoon

Chinese five-spice powder
1/2 teaspoon Sriracha sauce
Sambal Oelek chili paste
1/4 teaspoon ground ginger 
2 tablespoons brown sugar
Oh, there really are so many options, and I've tried them all in this dish and they are tasty, but I prefer the recipe as written as it really reminds me of my favorite take out dish!
Before I wrote this recipe up I did a little research into "Szechuan" and found lots about Szechuan peppercorns and don't think that item was used at all in the original dish I had, and they did call is Chicken Szechuan Style, the further I read the more I learned that Szechaun can be more of a style of cooking that an exact ingredient, which is how I feel this dish is made.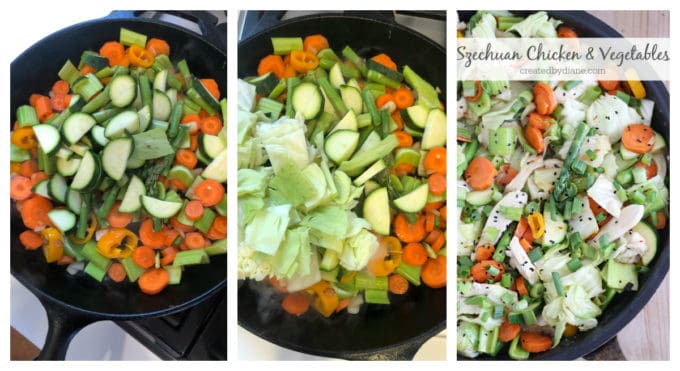 These are the vegetables I added
Cabbage, carrots, celery, asparagus, zucchini, green onion, peppers.
What other vegetables could be used in this dish?
Broccoli, mushrooms, water chestnuts, bok choy, and snow peas would all be great additions to this recipe.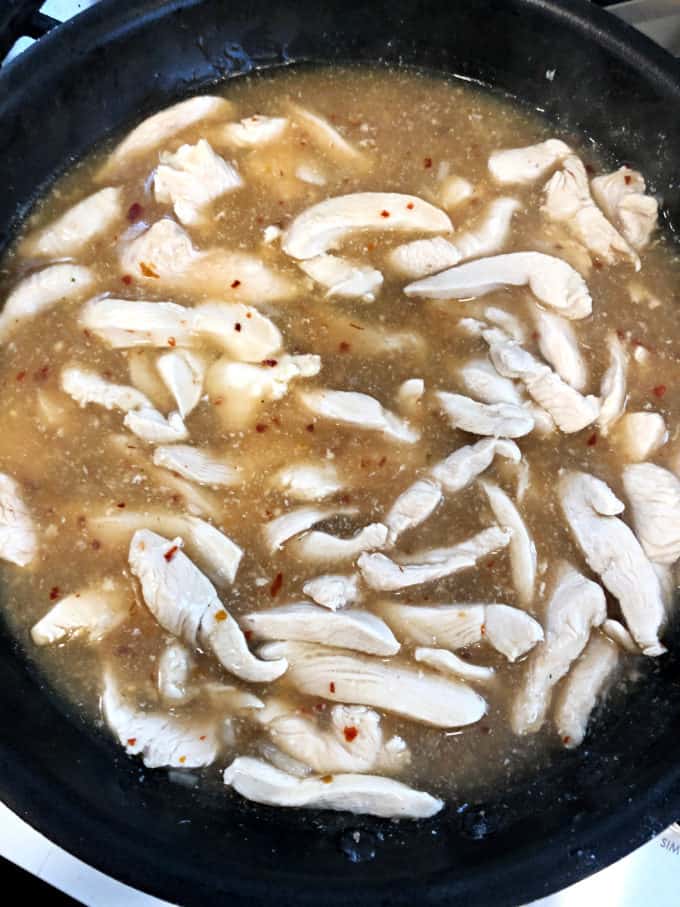 Some of my other favorite chicken and vegetable recipes  
Enjoy this dish as a low carb meal as is or serve it over cooked rice.
Szechuan Chicken and Vegetables
A Tender Szechuan Style Chicken Recipe with vegetables, better than take-out.
Author:
Diane Schmidt Created by Diane
Ingredients
2 lbs boneless skinless chicken breasts
2 cups chicken broth
2 tablespoons cornstarch
1 tablespoon soy sauce
2 teaspoons sesame oil
1/2 teaspoon garlic paste or garlic powder
1/4- 1/2 teaspoon crushed red pepper flakes (or more for a spicer dish)
1/2- 1 teaspoon salt
1/8 teaspoon black pepper
1.2 head cabbage chopped
1/2 lb asparagus cut into pieces
2 carrots cut into slices
2 celery stalks cut into 1-inch pieces
1 medium zucchini cut in half then slices
5 small baby beak peppers, sliced or 1 yellow or orange bell pepper chopped3 green onions chopped
top with seeds seeds
Instructions
Slice the chicken into thin slices.
Mix the chicken broth with cornstarch, add in the soy sauce, sesame oil, garlic, crushed red pepper, salt, and pepper.
In a skillet saute the chicken over high heat in a tablespoon of oil.
Then add half the sauce to the chicken, turn the chicken to medium heat and simmer the chicken until the internal temp on the chicken is 165°.
Remove the chicken from the pan to a bowl, or use another skillet to cook the vegetables.
In a heated skillet add a tablespoon of oil, saute all the vegetables turning them with tongs to heat them evenly after a few minutes add the remaining cup of sauce to the bottom of the pan and continue to toss the vegetables in the sauce and cook until the vegetables are al dente.
Combine the chicken to the vegetables and add sesame seeds and serve.
Serve over cooked rice if desired.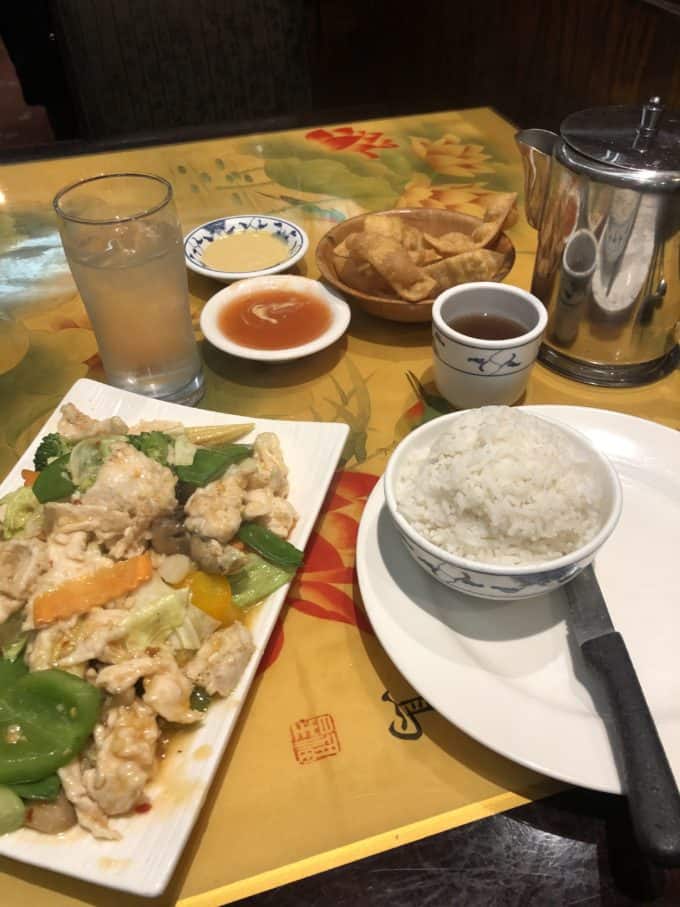 Here is a photo of the last time I was able to enjoy my favorite dish at my favorite Chinese food restaurant, sad to see it close, but happy I'm now able to make my favorite meal at home any time I'd like.