Brrr… it's been cold and rainy here all week. Soup is certainly on the menu.   
Whip up a batch of this delicious Italian Wedding Soup and enjoy!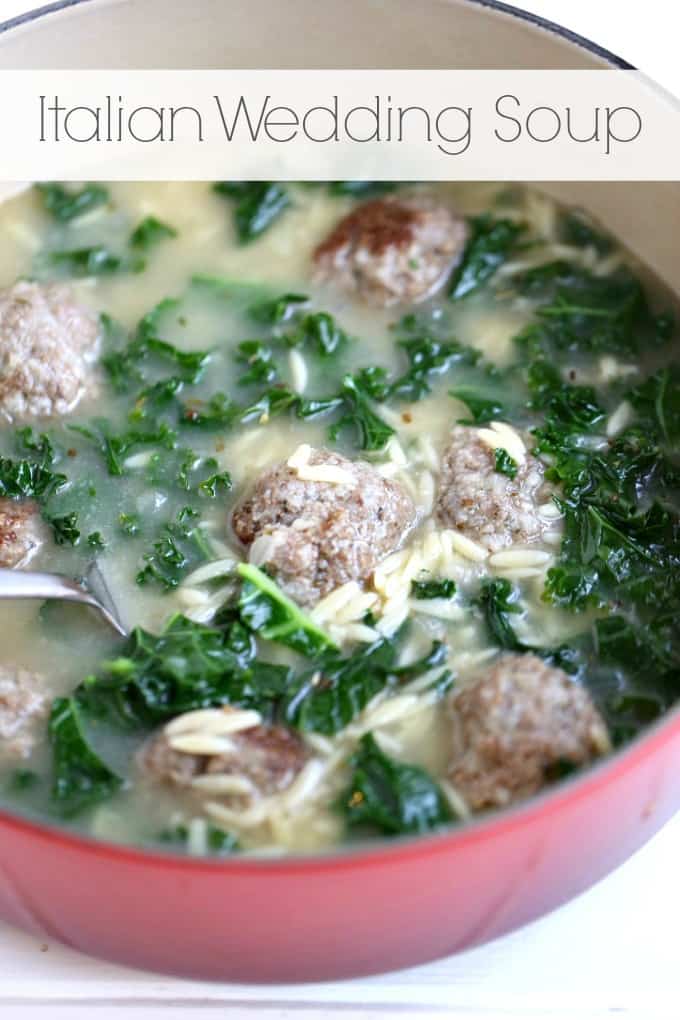 This soup has such great flavor and it's just one more way to enjoy meatballs!
This soup is ready in 30 minutes, making it a go-to easy weeknight dinner recipe you'll enjoy again and again.
I'm a huge meatball fan, one of the best parts about meatballs is that you can use any group meat you prefer, so let's say you don't want or have beef, you can substitute ground chicken or turkey in this recipe and believe me it's delicious.
A while ago I purchased a meat grinder attachment for my Kitchen Aid Mixer and use it all the time, it's easy to use and clean up. Now when I buy large packages of boneless skinless chicken breasts I often grind some of it to make chicken meatballs. Here are a few of the recipes I use them in.
I do really LOVE this soup with regular beef meatballs, but if you don't eat beef but enjoy chicken, that is a really great option for a dinner everyone will enjoy!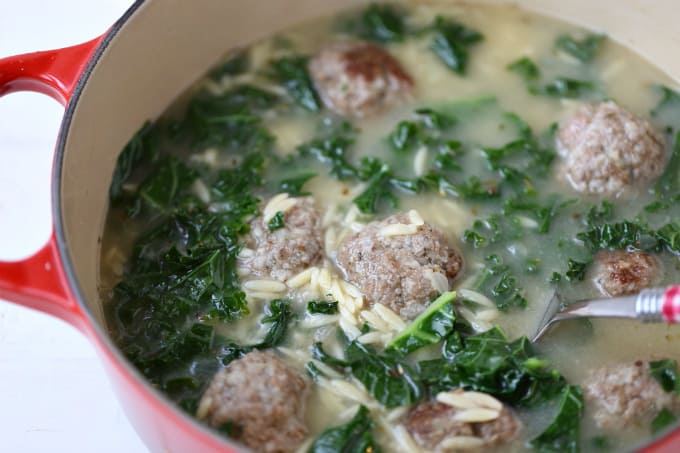 This soup comes together very quickly and easily. The ingredient list is minimal, and you'll be surprised how flavorful this soup is. This is a real go-to meal.
I'm all about quick and easy. This recipe is made within 30 minutes and it's simple so you can make it anytime. You only need 8 items to make this soup. Most of which you probably already have on hand, and only need to get a few ingredients.
A hot bowl of comfort food, yep that is what the day is called for if you ask me!
This recipe is one of my family's favorites, feel free to use acini de pepe pasta if you can find it, add diced carrot, onion, and celery for a heartier soup. 
Serve with grated parmesan/Romano cheese, garlic bread, and a side salad.
I typically make Italian Wedding Soup with orzo as it's easier to find.
If your chicken broth isn't super flavorful add some chicken bouillon.
Italian Wedding Soup
Ingredients
1 lb ground beef
1 cup panko breadcrumbs
2 teaspoons garlic or 2-3 cloves minced
1 egg
1 teaspoon oregano
4 cups chicken broth
4 oz orzo pasta
2 stalks kale or escarole (chopped)
Instructions
In a medium bowl mix ground beef with breadcrumbs, garlic, egg, and oregano.
Portion and roll into meatballs. I used a 2 tablespoon size for this, sometimes I make them 1 tablespoon size.
Brown meatballs in a 4 qt saucepan then add in chicken broth and orzo.
Bring to a boil over high heat, then turn to medium to medium-low heat and cook pasta and meatballs 10 minutes.
Add kale or escarole and serve.