It's a super day for a bowl of soup, don't you think!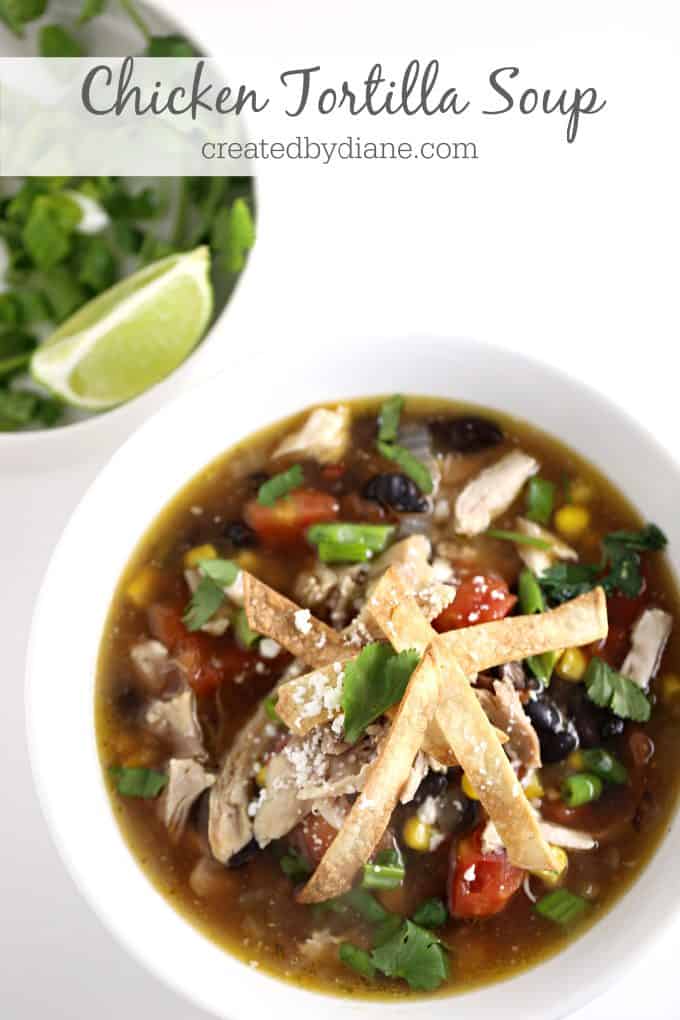 WOW, this winter has been cold. Even in Southern California,
so soup has been on the menu many times.
I love soup and winter is no better time to make some,
don't you agree?
Now tortilla soup is full of great flavor and is super popular with all the authentic Mexican food here in So Cal.
I just love each and every single item that goes into this soup, from the fresh cilantro to the black beans, the corn, and the Cotija cheese.
other great chicken soup recipes to try: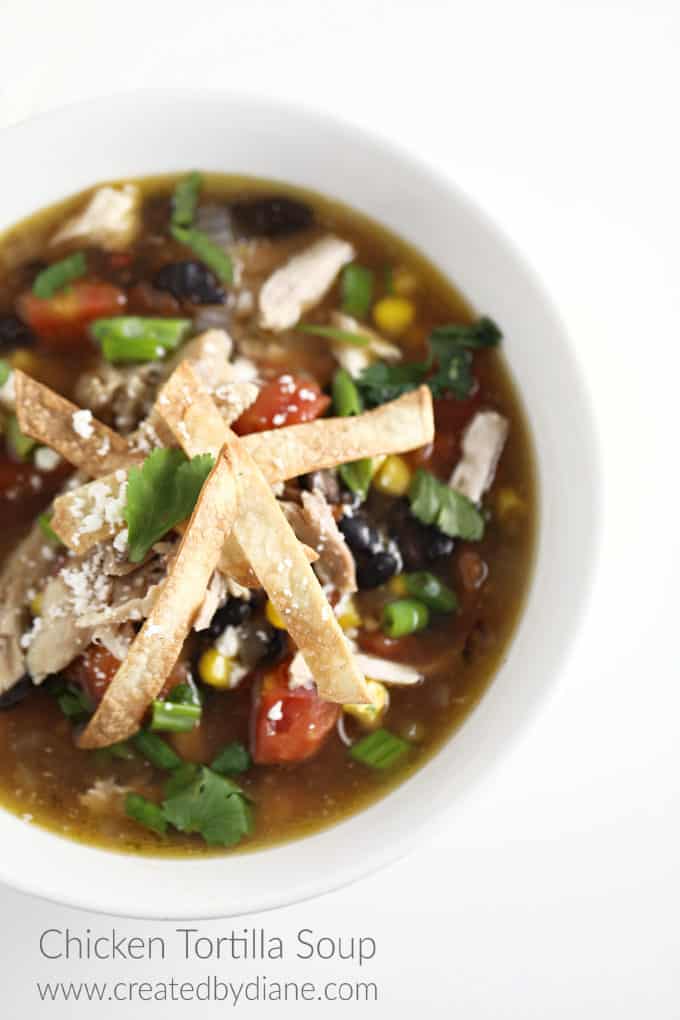 To me, the toppings are just as important as the ingredients that are cooked. I love the fresh lime flavor, the crunchy tortilla strips, and fresh cilantro really top off this soup deliciously!
What kind of tortilla chips to use
I used 4 fresh corn tortillas and cut them into strips then tossed them in a bowl with a teaspoon or two of oil then air-fried them at 370° for about 5 minutes until they were crispy but not burnt.
You can top the soup with tortilla chips broken into smaller pieces or bake or fry fresh tortilla strips.
What type of chicken to use
I typically cook chicken for the week to make mealtime easier and quicker. I put 3+ lbs with a cup of chicken stock in my pressure cooker (instant pot) and cook for 25 minutes.
If you are cooking the chicken from raw, saute the chicken with onion and add a cup of chicken stock and cook on medium-low until the chicken reaches 170° or higher and is tender and can be shredded easily.
Alternatively, you can use chicken breast, cut it into small pieces before adding it.
Chicken thighs are very popular in Mexican cooking and stay juicy so I do use thighs in the soup as well as chicken breasts.
I have a picky eater, and I'm happy to report that the picky eater LIKES THIS Chicken Tortilla Soup, it's a real accomplishment to find something they will eat. They don't typically like vegetables or soup. SO give this a try if you have a picky eater and see if you get rave reviews also.
Chicken Tortilla Soup
Ingredients
2 lbs cooked boneless skinless chicken thighs
1 cup diced onion
1 jalapeno, diced
2 teaspoons oil
6 cups chicken broth (or water and chicken bouillon)
1 15oz. can diced tomatoes ( or 8 oz plain tomato sauce or 2 tablespoons tomato paste if you want it smooth without chunks of tomato)
1 teaspoon chili powder
1/2 teaspoon oregano
1/2 teaspoon cumin
1 can black beans
1 cup frozen corn
add salt and pepper to taste
toppings
fresh cilantro
green onions
fresh lime
tortilla strips air-fried or tortilla chips
cotija cheese
Instructions
In a 6qt pot saute the onion and jalapeno with 2 teaspoons of oil.
Add in the chicken broth, diced tomatoes (along with juice in the can)
If you are using raw chicken, cut it into small pieces add the chicken now (If using cooked chicken like I did add it at the end.
Add the chili powder, oregano, and cumin.
Once the soup comes to a boil over medium heat, add the corn and black beans and cooked chicken.
Add salt and pepper to taste.
Ladle the soup into bowls and top with cilantro, diced green onions, lime juice, and tortilla chips and cheese.