This is so easy and delicious and most will have everything they need to make it on hand. LOVE THAT!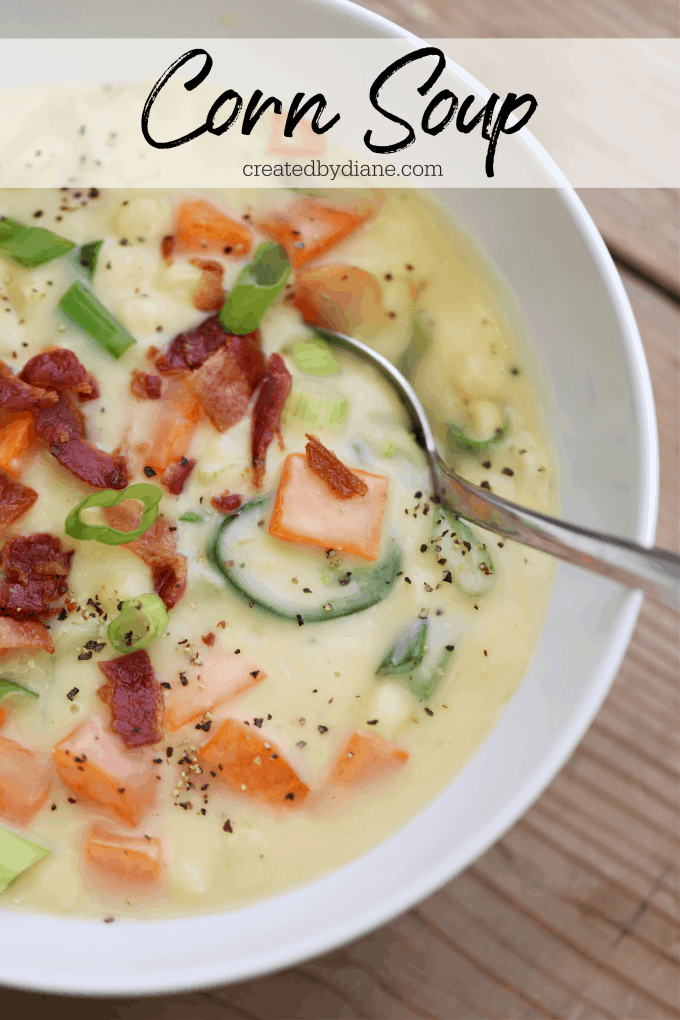 I'm a soup lover, no matter what time of year it is.
It's not as if all summer long we don't eat hot foods! Right?!?
But the flavors in this soup really remind me of summer. So if it's summer it's a great time to enjoy it, or if you need a little bit of summer on any day this will work!
If fresh sweet corn is available, cut it off the cob. If not use frozen petite white corn to make this it's really yummy and super easy as most have a bag of frozen corn in their freezer. It's really better tasting than the dark yellow corn for this recipe.
Is this corn chowder or is this corn soup… that's up to you. Sometimes I added potatoes and call it chowder, mainly in the winter to make it heartier, but in the summer I tend to make it as written in the recipe card and call is soup. Either way you decide to make it, trust me it's delicious!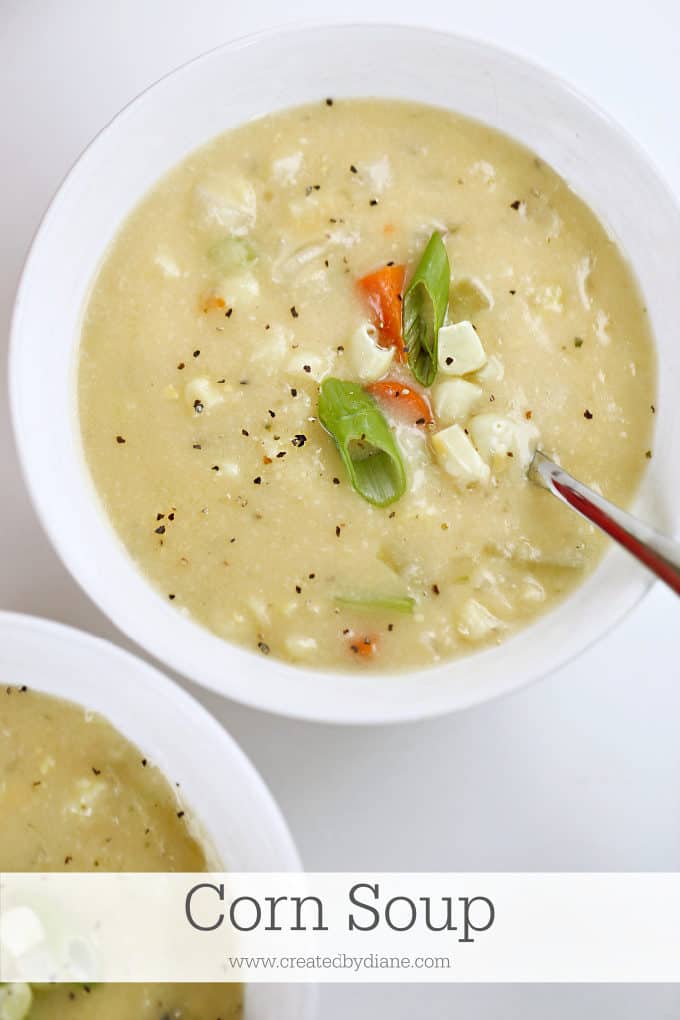 I always look forward to "corn season" I remember having corn grow in our garden when I was aa kid and running up and down the rows. It was always fun going out to pick the corn, I just always wishes it wasn't so heavy when I tried to carry them all back to the house!
Other great corn recipes to try: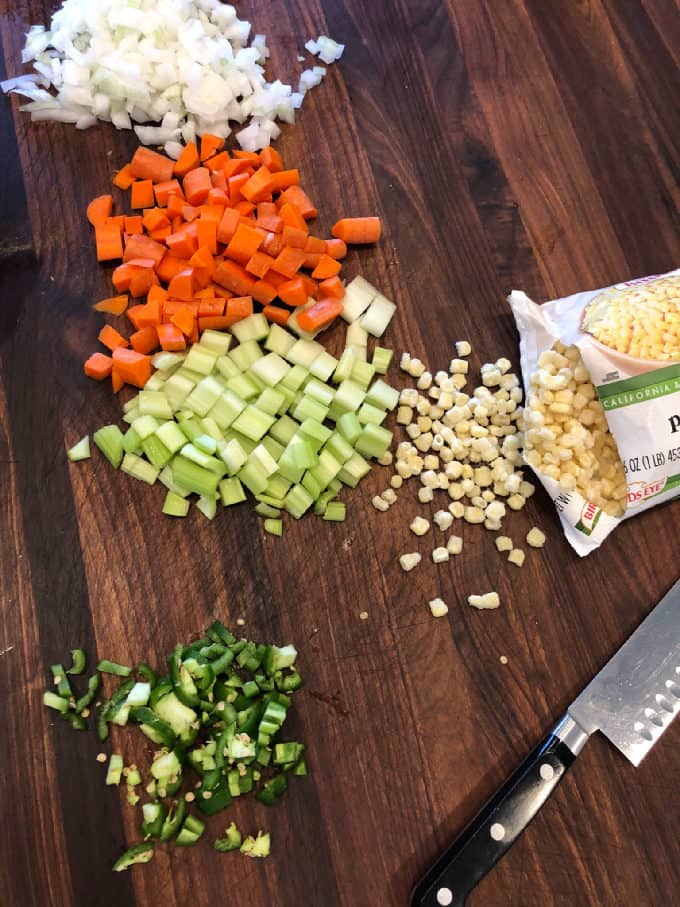 This is a simple soup, with ingredients most have on hand, or can be easily added to your grocery list. I try to keep my kitchen stocked. My pantry stocked with items like pasta, black beans, and olives.
My fridge always has carrot, celery and lots of cheese… and of course tortillas, jalapenos, and eggs. Here is another soup recipe to make with items I have on hand that I love EGG DROP SOUP, and lots of other egg recipes.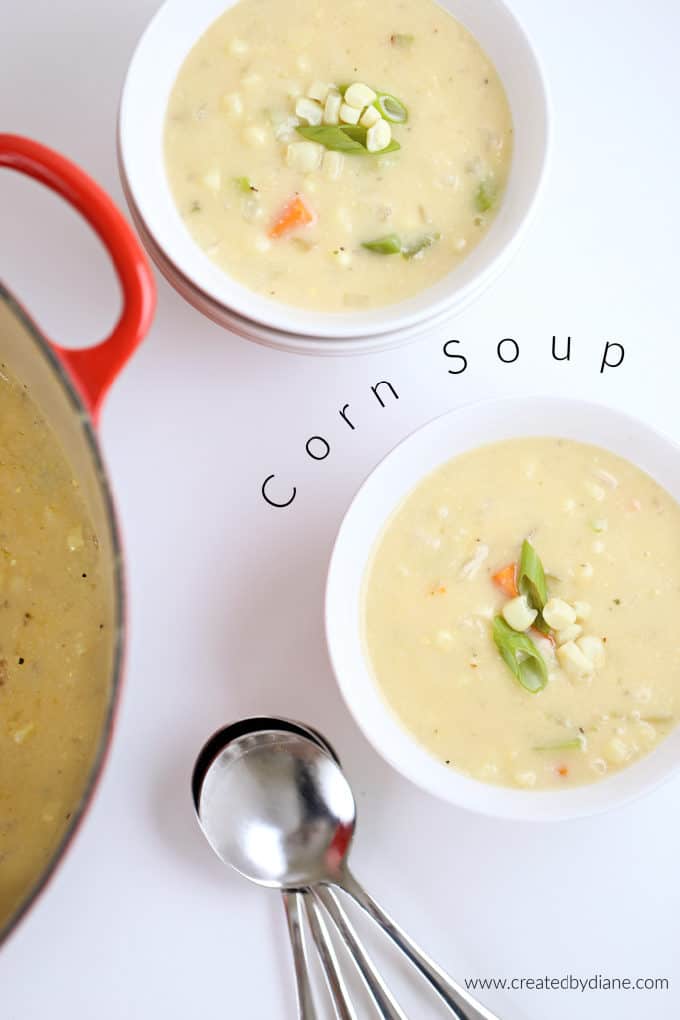 I like having this for a quick leftover, I put it in 16 oz glass mason jars and put them in the fridge, they only take2 minute to heat up in the microwave, so it's quick and easy for lunches or to have with dinner.
Now here are some yummy options for this soup:
 Blacken the corn in a skillet first for a more roasted flavor.
Add a diced jalapeno for some kick!
If you like bacon, well go ahead and add some cooked crumbled bacon for some great flavor.
Other great soup recipes to try
Make this into a thick hearty chowder and add 2-3 cooked diced potatoes. You can easily microwave the potatoes and dice them, keep the skin on, or peel them. Perfect for a winder corn chowder!

Corn Soup
just about the BEST soup any time of year, use fresh or frozen corn, add jalapeno and even bacon to mix up the flavor to your liking, add cheese for extra flavor
Author:
Diane Schmidt Created by Diane
Ingredients
1 jalapeno, use all or 1-2 slices for very little spice but still want added flavor
1/2 onion, diced
3 medium carrots, diced
3 medium celery, diced
1 lb bag petite sweet white corn (it really tastes closest to fresh-picked sweet corn) I do not use regular yellow corn, it does not taste as good and has a harder texture, or use fresh sweet corn and cut it off the cob.
2 cups of milk
4 cups of water (or chicken stock adjust chicken bouillon to taste)
1 tablespoon chicken bouillon (adjust according to taste)
3 tablespoon cornstarch
1 cup shredded cheese (cheddar and Monterey jack mix or similar) Cotija cheese is another option.
1 tablespoon butter
salt (coarse kosher salt is my preference)
pepper
Instructions
In a 4 quart saucepan over medium-high heat saute jalapeno and onion for 1 minute.
Stir in carrot and celery and cook for a minute or two.
Blend half the bag of corn with 2 cups of milk with an immersion blender, blender, or food processor ( I don't always blend the corn, sometimes I leave the corn "chunky" in the soup)
Mix water with chicken bouillon, and cornstarch until smooth and pour into a saucepan.
Bring to a low boil then add in remaining corn and cheese and stir and heat thoroughly.
Add in the butter (this makes it tastes like buttered corn on the cob to me if you don't love butter leave it out).
Add salt and pepper to taste. I love sweet corn with butter salt and pepper so add what you prefer.
Serve with green onion and additional corn.
If you want a more roasted flavor, heat the corn until some of it is slightly charred and blackish. You can char fresh or frozen corn, and easily char corn in a cast-iron skillet.
Add salt and pepper to taste.