If you like soup, that is full of flavor this Mini Meatball Tortellini Soup with Spinach will WIN you over. This will become one of  your favorite weeknight dinners! On the table in under 30 minutes, it's quick and easy and will feed your whole family at the end of a busy day.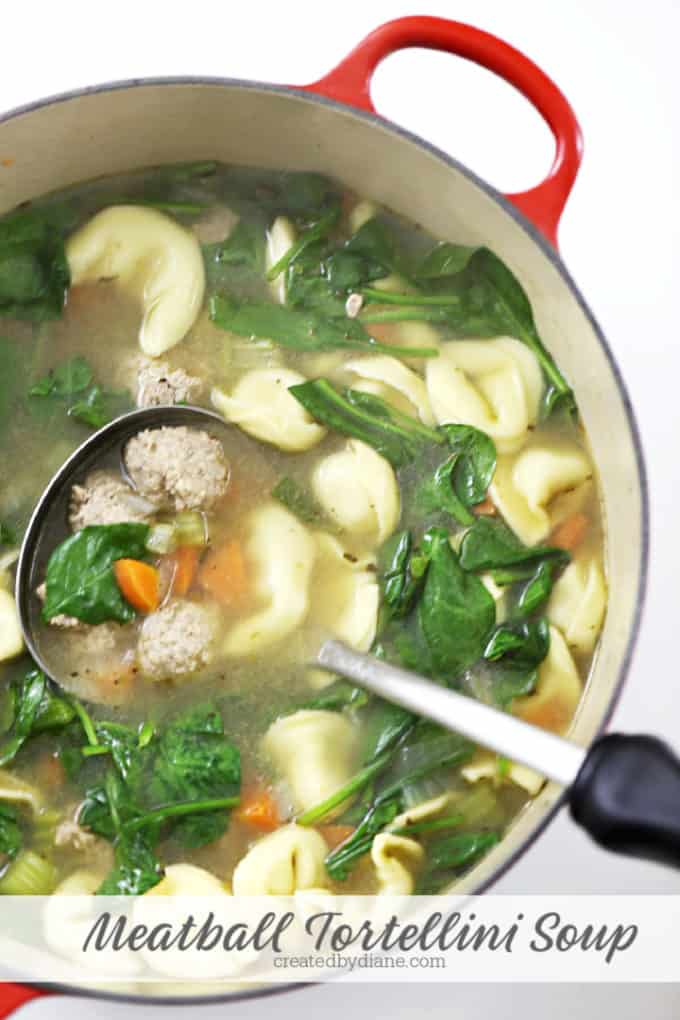 I love how simple this soup is and how this turkey meatball spinach tortellini soup.
Meatballs are one of my favorite starts to a simple and filling dinner. They are so easy to make, using inexpensive ingredients that I usually already have on hand. If you aren't into ground turkey, you can easily use ground beef, chicken, or pork. Have kiddos that need some veggies snuck in? Grate some up and add them to the mixture meatball mixture before rolling – meatballs are super versatile like that! 
What I love about the meatballs in this particular recipe is that they are cooked in a simmering broth, giving them great flavor and a melt-in-your-mouth texture. 
It's filling enough to be a meal in itself, but you can pair it with your favorite sandwich for some extra deliciousness.
I love soup, and if you do too be sure to check out my other inspired Italian Soups
I made the meatballs in this soup with ground turkey, this soup is also delicious with ground beef meatballs, or ground chicken meatballs.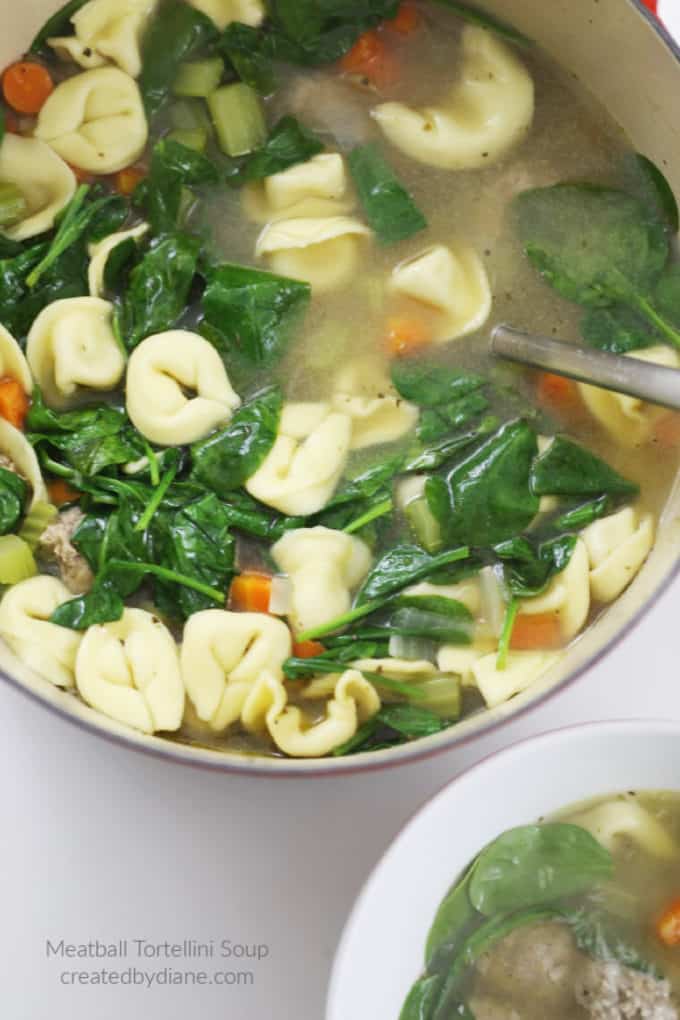 What goes well with tortellini soup?
Almost anything will go with this delicious Meatball Tortellini Soup Recipe, from a grilled cheese sandwich to a salami sandwich or even a nice green salad. Don't forget some garlic bread to make it all even more irresistible.
Do you cook tortellini before adding to soup?
No need to pre-cook the tortellini, the tortellini will cook in the simmering soup. Check the package instructions for the timing on the tortellini, do not overcook it, or it will swell up and become very soft. Adding it at the end of the cooking time of the soup is ideal.
How can I make this soup creamy?
Simply add 1/2 cup heavy cream to the soup at the end of simmering it, add it at the end when you add the spinach.
How can I thicken this soup?
It's easy to thicken broth soups by adding a cornstarch slurry. Mix a 1/4 cup cornstarch with 3/4 cup cold water, pour the slurry mixture into the simmering soup, stirring while it thickens.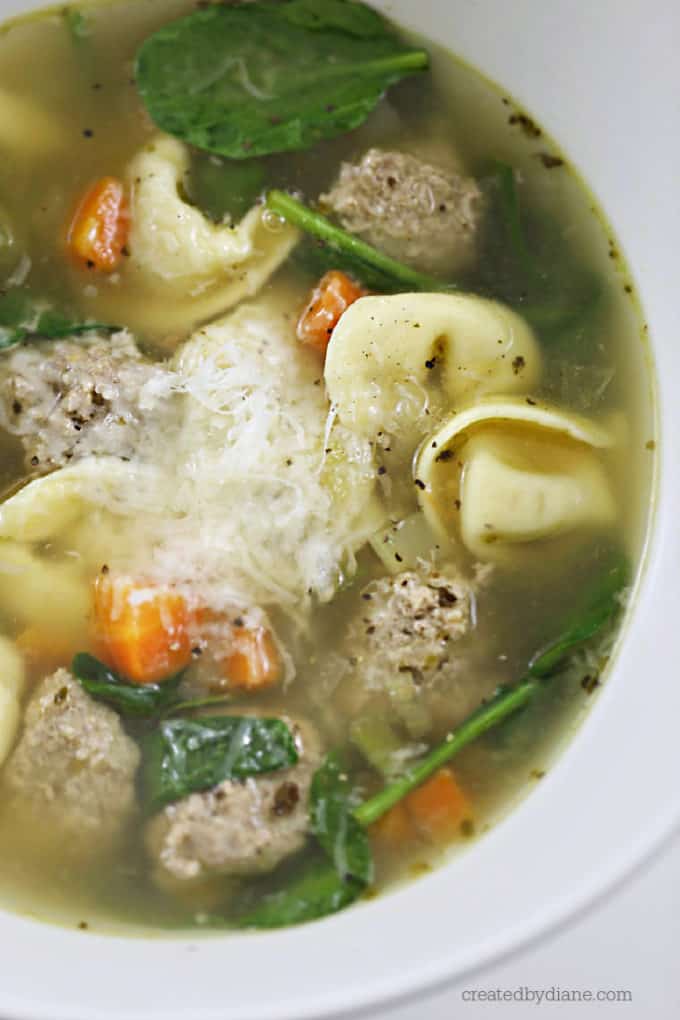 How to Store Meatball Tortellini Soup
If the tortellini is not overcooked, leftover Meatball Tortellini Soup will keep very well in the refrigerator. Simply store your Tortellini Soup in an airtight container, where it will stay fresh the refrigerator for up to 5 days.  When ready to eat, gently heat on the stove or microwave in a microwave-safe bowl.
Can I Freeze Meatball Tortellini Soup?
Due to the tortellini in this recipe, freezing this soup is not recommended. 
If you love this recipe, be sure to check out some of my other favorite recipes using meatballs. They are always great to have on hand for a quick and easy dinner.
I place any leftover into 2 cup glass wide mouth canning jars fitted with lids and keep them in the fridge for 4-5 days. We reheat them on the stove and place the soup into a wide mouth thermos for easy eating later in the day, or reheat the leftover at 30 second intervals stirring in between and heating the soup in the microwave in a microwave-safe bowl. 
Looking to cozy up to a new dinner… make this and enjoy!
No matter if the weather is cold or not soup is always a good idea.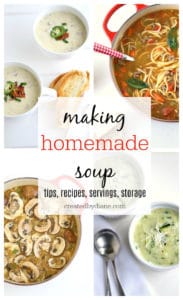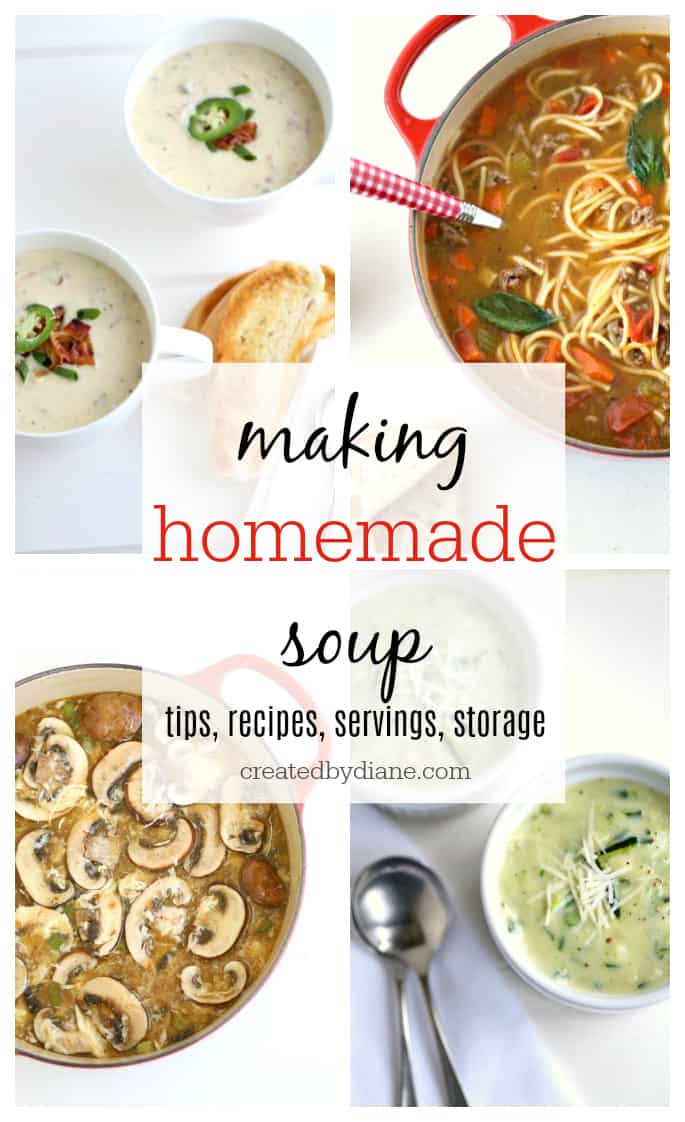 Be sure to check out my post on making homemade soup HERE.

Meatball Tortellini Soup
quick and easy mini meatball soup with spinach and tortellini is ready in under 30 minutes, making it the perfect comfort food meal.
Ingredients
1 lb ground turkey, or ground beef or chicken
1/2 teaspoon dry oregano
1/4 teaspoon granulated garlic
pinch salt
2 carrots, chopped
2 celery stalks, chipped
1/2 white onion, chopped
2 teaspoon oil (I use avocado oil (olive oil may also be used)
12 oz package fresh cheese tortellini
8 cups chicken broth
3-4 cups fresh spinach
1 oz grated Parmesan or Romano Cheese
salt and pepper to taste
Instructions
In a small bowl combine ground turkey with 1/4 teaspoon dry oregano and granulated garlic, and a pinch of salt, mix well. You'll scoop this into 1 tablespoon size balls to drop into the soup when the broth comes to a simmer.
In a 5 quart dutch oven or pot, saute the carrot, celery, and onion for 1 minute with 2 teaspoons oil.
Pour in the chicken broth and heat on high until it comes to a simmer (small bubbles)
Then turn the temperature to medium, and drop in the tablespoon size meatball mixture. I use a scoop and simply scoop the mixture and drop it in, no need to roll it if it's pressed into the scoop well, it'll stay together and it cooks quickly in the broth.
Keep the broth at a simmer and then add in the tortellini and cook for about 7 minutes or until tortellini is cooked check package directions for timing if you use a larger size tortellini or ravioli.
Then add in the spinach, it'll cook in the time you stir and it takes you to grab a bowl to serve it.
Add salt and pepper to taste.
Top bowls of this soup with grated parmesan or romano cheese.