This Jalapeno Popper Soup is full of flavor and every spoonful is absolutely delicious.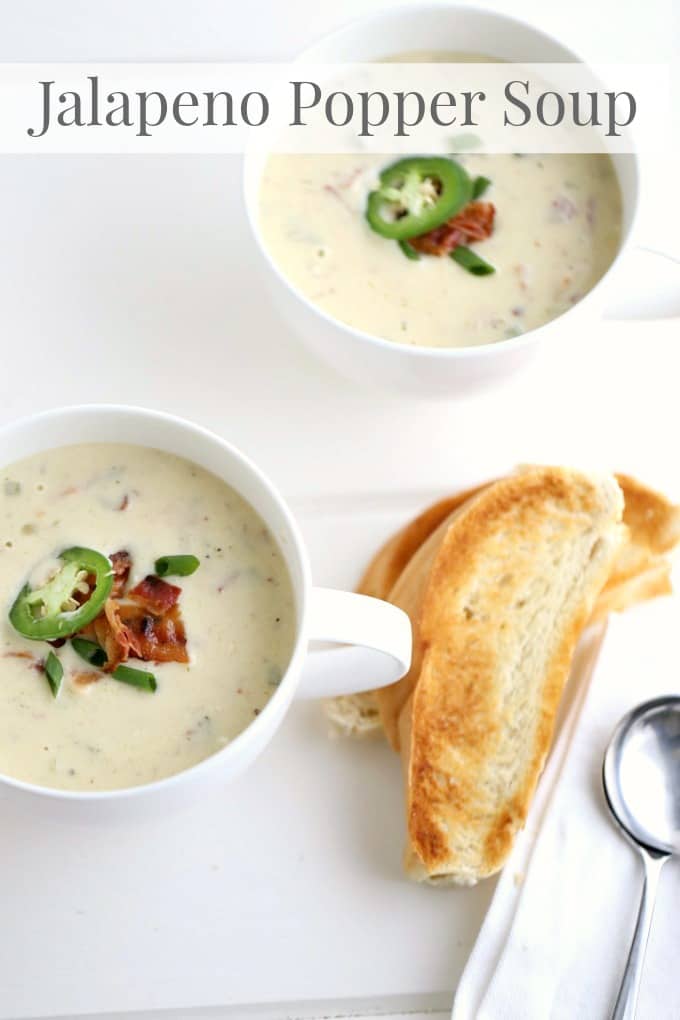 Soup is often the perfect meal, easy, quick and so YUMMY!
The flavors in this soup are OUTSTANDING!
It's full of cheese, beer, jalapenos, and bacon and OMG it's irresistible.
I can't even tell you how many bowls of this I've enjoyed…
If you're a SOUP Lover like me, take a look at these other great soup recipes.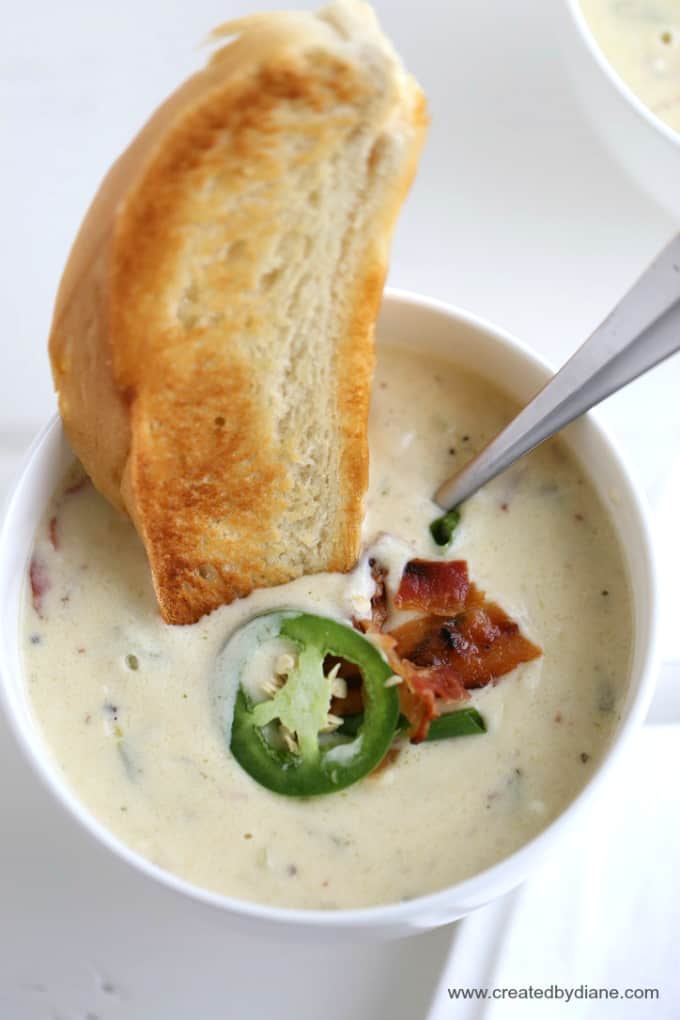 This is one FLAVORFUL outstanding soup. It's true comfort in a bowl, full of bacon and jalapeno deliciousness. Perfect to cozy up with on a cool winter day. Or for us in Southern California, we'll just imagine the cold and snow that everyone is posting on facebook.
I bring you this recipe if you're experiencing the brutal cold of winter with a wish for some sunshine.
Soup is always a good idea, no matter what the weather. It's like satisfaction in a bowl and I'm a soup girl through and through!
And this soup makes its way into the soup rotation at our house since it's always enjoyed, dunk in some crusty bread and dinner is SERVED!!!
*by the way I've been baking up some homemade bread lately and let me tell you I'm a bread addict… I love fresh baked bread and if you do too, you'll be excited when I share the new recipe soon, after some more testing. I'm trying to get the timing shorter so it doesn't take hours of prep to bake it. In the meantime, I've been enjoying all the test batches.
Here is the OVERNIGHT Artisan Bread Recipe I usually make.
I've been recently baking some other varieties of bread, like french bread, and chewier french bread and will share those soon.

Jalapeno Popper Soup
Ingredients
2 jalapenos diced (I don't remove seeds)
1/4 cup diced onion
6 slices bacon cut into small pieces
1 tablespoon butter
1 tablespoon flour
2 cups milk
1-2 tablespoon chicken flavor/Boullion
8 oz beer (I used Coors Light)
1 1/2 cups cheddar (I used Kerrygold Dubliner it has a rich creamy flavor)
2 scallions diced
4 oz cream cheese
Instructions
In 4 quart saucepan over medium heat saute onion and jalapeno, and bacon.
If you are using uncooked bacon, cook until bacon is crispy and fully cooked.
Add butter, then flour.
Slowly pour in beer and then add milk and chicken flavor and cream cheese.
Bring to a low simmer (tiny bubbles, not a rolling boil) then add in cheese and whisk or stir until smooth and creamy. Add in scallions.
Serve with crusty bread, top bowls with more bacon, scallions, and extra cheese!
Hot pretzels are great with this soup too.
If you like this or any other recipe on Created by Diane be sure to share the post with the ones you love. You can click on the "share" buttons on the top and the bottom of each post, you can share it on social media or in an email.
~Sign up for email updates and GET delicious recipes delivered right to you! Plus get my free e-cookbook too.
Thanks ~Diane