There are two things I always seem to have in the fridge, that is zucchini and lemons which makes this so PERFECT.
It's the any-time soup!  
It only takes minutes to make, and you'll be enjoying a hot bowl of deliciousness.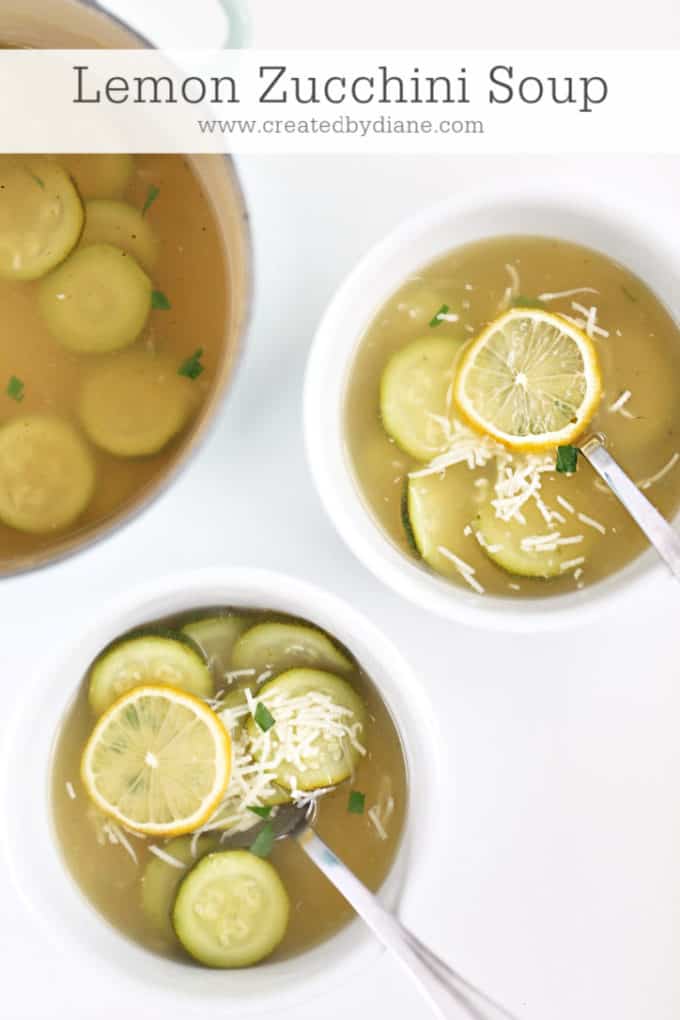 This soup calls for minimal ingredients but the LEMON is the true winner here.
I just love lemon in my soup, I even like adding lemon to chicken noodle soup
Another of my favorite soups  is lemon chicken orzo soup, if you haven't made it, you should!
If you prefer your soups creamy, by all means… add in some cream about 1/4- 1/2 cup will do.
Let's talk about chicken broth (or chicken stock) you can use any variety you like the taste of, or use water and chicken boulion they sell chicken boulion in a cream paste, dry powder or cubes. You can alternatively use stock from chicken bones you've boiled yourself as well as what ever type of chicken broth you prefer the taset of… is what will make any soup more appealing to you.
I do not prefer the taste of low sodium broth in soup, soup without sodium tastes like dishwater… to me, enough said on that matter!
Use what you like, but my preference is to add salt and pepper to taste when the soup is finished cooking, that way you can adjust it to your liking.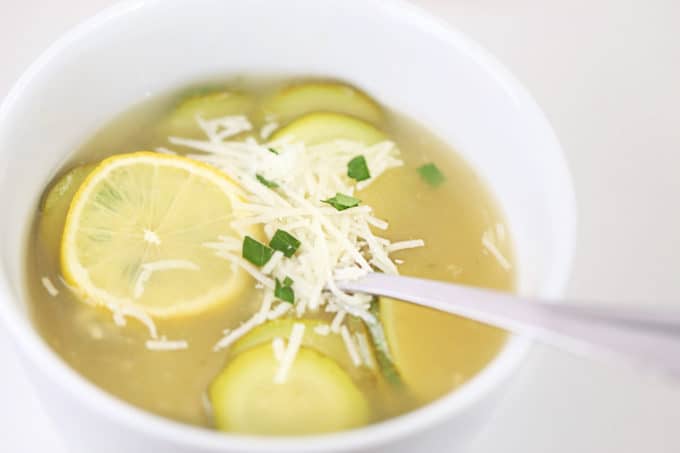 I like that this recipe is made in mintues and is perfect for a quick lunch or the beginning to a great dinner, soup helps fill you up if you're trying to watch what you eat "they" recommend that you eat a small cup of soup before eating dinner so that you don't overeat and this soup can certainly be "that" soup.
Also soup and a sandwich is another great otpion for fast meals that taste great, pair this soup with a grilled havarti cheese sandwich for the WIN, or any type of sandwich you prefer!
Other zucchini recipes you may like:
Zucchini Italiano a great dish I've enjoyed since I was a kid.
Zucchini Noodles, my go to meal each week.
Zucchini Cakes like zucchini fritters, easy and oh so delicious!
Italian Zucchini Baked Ziti a real comfort food meal.
Creamy Zucchini Soup a simple soup that has a cheesey delicious flavor.
Lemon Zucchini Soup
Ingredients
4 cups water and chicken bouillon, or chicken broth (I prefer more chicken flavor and use chicken bouillon)
2 tablespoons cornstarch
1 medium zucchini, sliced
1/2 lemon juiced
2 tablespoons Romano (or Parmesan) cheese, grated
1 teaspoon parsley, chopped (I used fresh)
salt and pepper to taste
Instructions
In a medium saucepan whisk water, chicken bouillon, and cornstarch together and bring to a simmer.
Add in zucchini and cook 2 minutes on medium heat.
Add in lemon juice.
Place soup into serving bowls, top with parsley and Romano cheese,
Add salt and pepper to taste.
Notes
If you prefer your soups creamy, by all means... add in some cream about 1/4-1/2 cup will do.