I love curry chicken and there is a lot of flexibility when making this dish. You can make it spicy or not, you can serve it as a low carb soup, you can serve it over a serving of rice, or you can add a little bit of rice if you prefer.
You can also enjoy this with shrimp!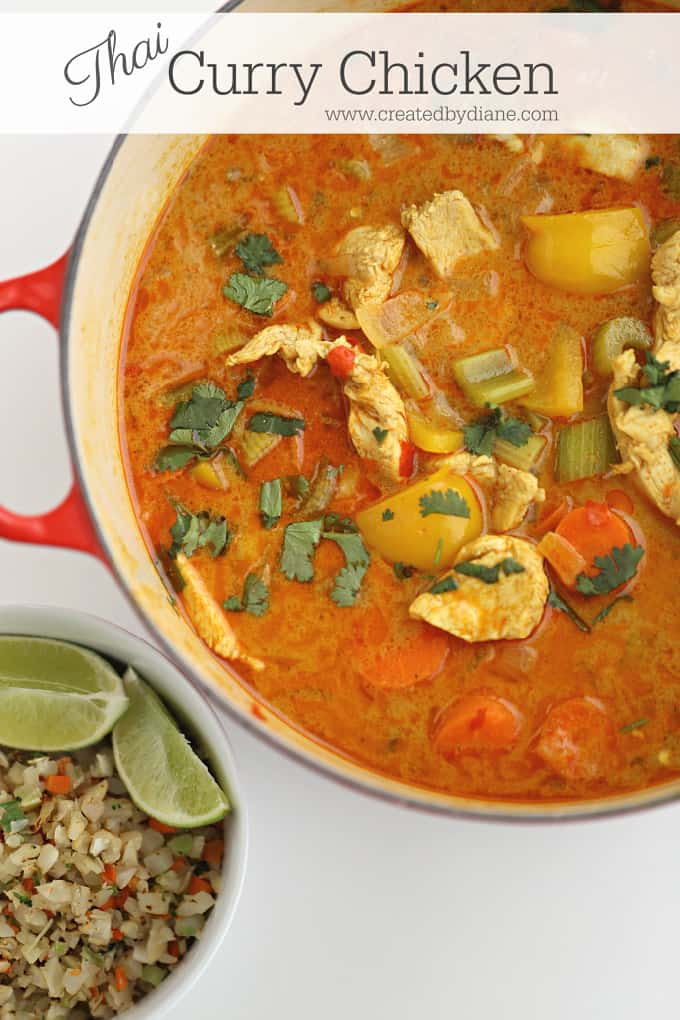 I recall the first time I had curry,
it was at a great restaurant and all the food was amazing.
Everything was so tasty and I've had many curry dishes since.
I seem to order it more and more and find there are many places near me that serve curry items. That was not the case years ago.
But you are in luck today,
there is no need to go out to get great curry when you can make it at home in 30 minutes!
It's become one of the most requested dishes here, and I'm happy about that, it's easy to make and leftovers taste great too!
I will mentions I do love to go out to eat, but between fighting the traffic just around town to get there and the wait, I often now prefer to just simply make my own!
To enjoy this low carb I don't add rice, I add sauteed diced cauliflower "rice" it really is nice with this dish, I can often find it diced already with some broccoli and carrots too, which make it super easy.
If you're like me, you're in luck…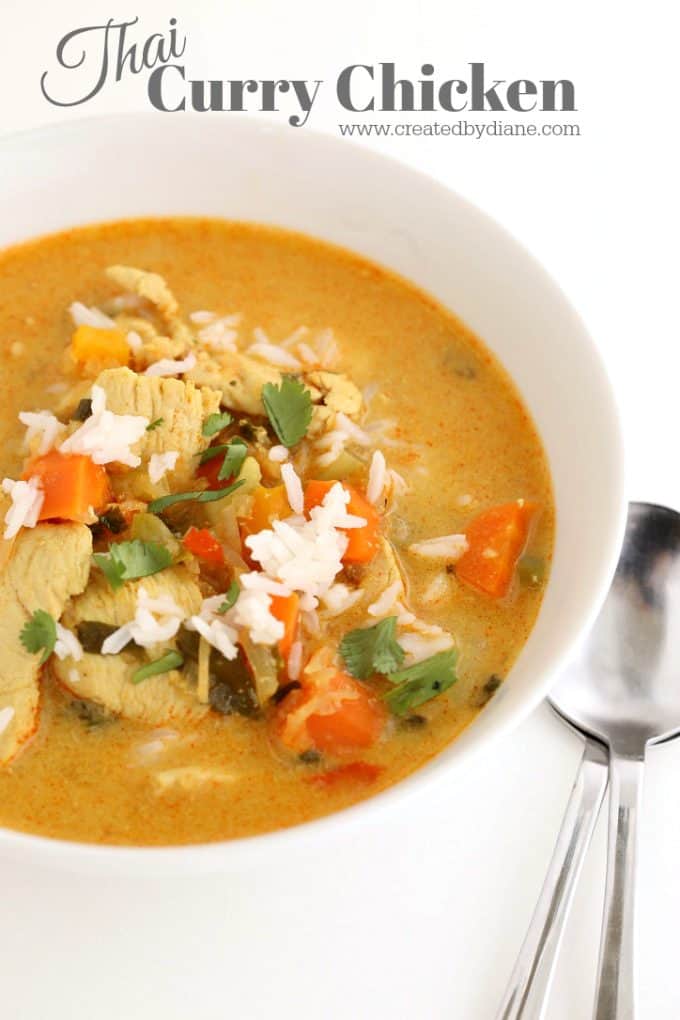 The next 6 options are going to have you put those take-out menus back in the drawer… and they don't take long to make either!
Now if you are going to serve this dish with rice, you'll find my post on How to cook rice 3 ways HERE, or you can now even buy cooked rice, which is especially convenient if you're only going to add a small portion and want to save time cooking.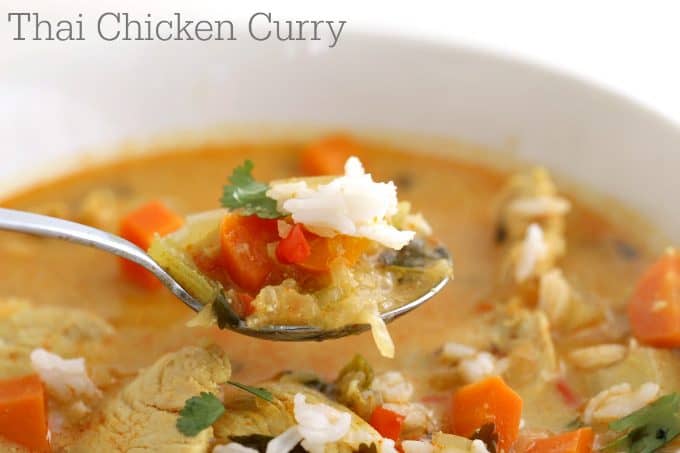 I made many batches to get this soup just right, it's great with shrimp too.
I've found that the taste of curry can be widely different.
I purchased many to see what it was I that I preferred one over the other, some just lacked flavor. I have bought curry paste, but for this recipe and all my testing, I used curry powder.
On one jar, the first ingredient was coriander, it was kind of tasteless. Another curry powder I did like did not actually have curry powder but was made with turmeric, mustard, ginger, cumin and coriander, pimento, red pepper, and fenugreek. I do have one with curry, turmeric, chili, coriander, cumin seeds, cinnamon, cloves, bay leaves, allspice, and salt and that one tastes good too. So read the labels! Find one you LOVE it makes all the difference.
I love the flavor of Harissa paste it really ads the depth of flavor and spice to this dish, so be sure to pick some of that up along with coconut milk. The rest of the items are pretty mainstream and most are already in my fridge every week.
So while this dish can be customized any way you like, my family really liked that there was celery in this dish. They each commented that the flavor was amazing, butter that they get out sometimes and they seemed so happy, "shoveling it in" spoonful after spoonful!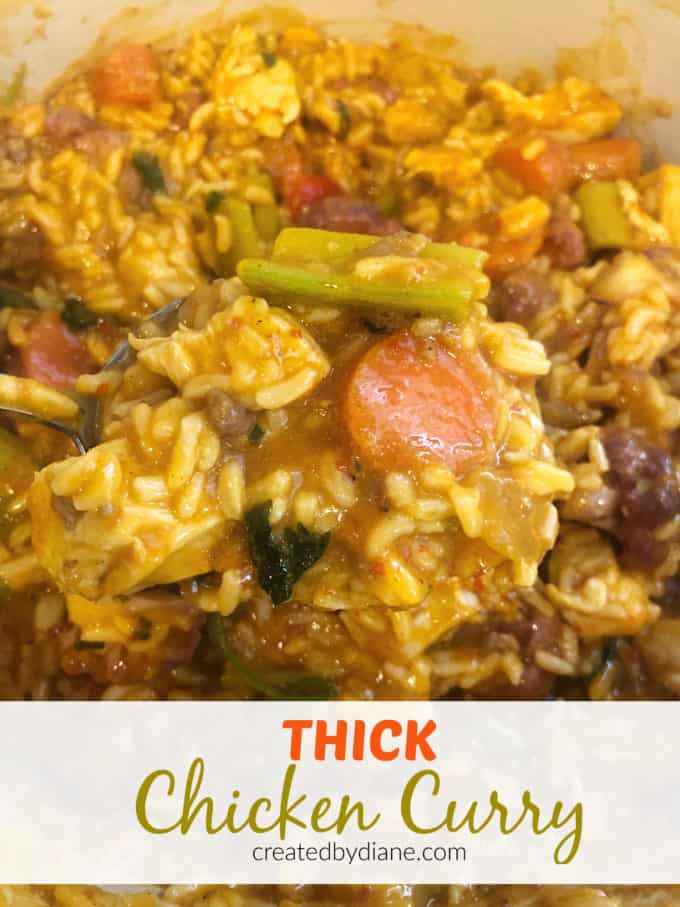 Now I know some people don't prefer curry simply because it's "soupy" they want it THICK, and if you need to thicken it up for easy travel for lunches and such… Add a couple of cups of cooked rice, it's simple the rice will absorb the extra liquid, it'll thicken the meal and still give you all the same great flavor. You can cook rice or buy cooked rice to add to this dish and easily make it into a thick and delicious meal. It's always a good idea to have options.
Thai Curry Chicken
Ingredients
2 lbs boneless skinless chicken breasts, thinly sliced
1 medium onion diced
4 carrots, diced
3 celery, diced
1 orange bell pepper, (any color is fine)
1 jalapeno, diced
1 lime, juiced
1 tablespoon fresh garlic paste (or 2 garlic cloves minced)
1 tablespoon fresh ginger paste (or a fresh minced)
1 can coconut milk (about 13 oz. can)
3 cups chicken stock
1 tablespoon harissa (sometimes 2 tablespoons, this gives the soup a great flavor, definitely worth getting if you don't have it)
2 tablespoons curry (I use a yellow curry, any curry will work)
¼ cup chopped fresh cilantro
*basmati rice (make a batch of rice is you are serving it or sometimes I purchase cooked basmati rice if I'm adding just a little bit as I did in the photos)
Instructions
In a 4 quart saucepan add butter and onion, saute for 1 minute.
Add in carrot and celery, and pepper, and stir.
Stir in chicken.
Mix in the curry to coat the vegetables and chicken.
Add garlic, ginger, and harissa.
Then add coconut milk and chicken stock.
Bring to a boil over medium-high heat, then simmer at a low boil for 10 minutes.
Add lime juice and then serve with cilantro.
If you're looking for more recipes with chicken look here: