Cheesy soup… yes please, and while we're at it adding veggies is good too!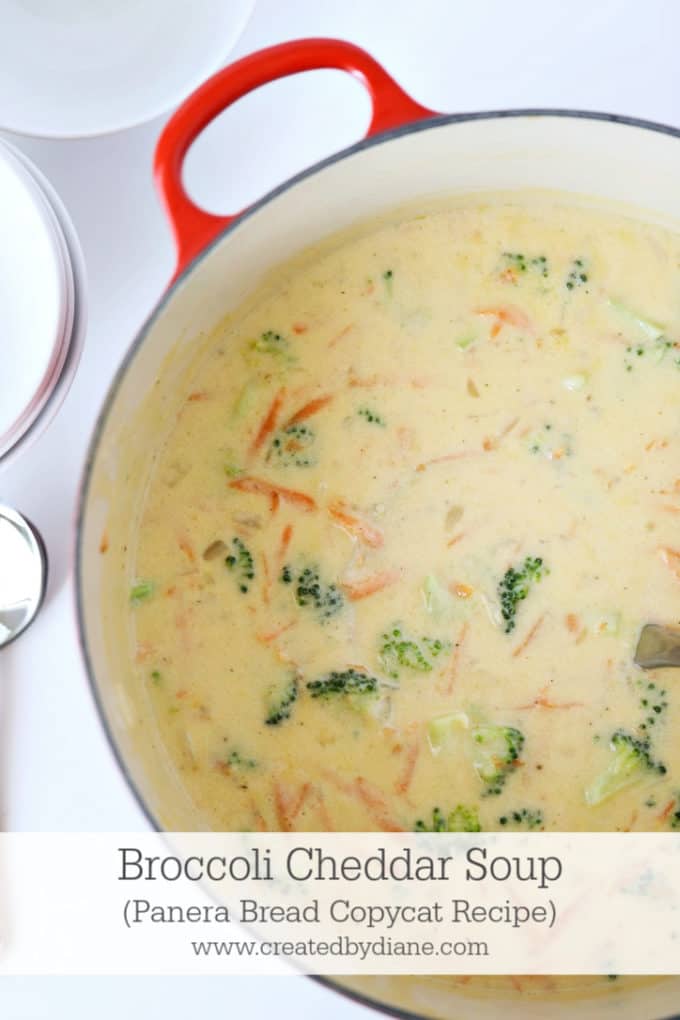 Soups are a great option to make a quick easy meal that is filling and delicious with minimal ingredients.
So many reasons why that adds up to wonderful.
It means you can have this ready in a hurry, day or night.
Super-tasty and I give you some flavor options as well.
Now me… I like my veggies, so I leave them "chunky" in the soup,
If you or someone who is eating this doesn't like vegetables I suggest pureeing the soup smooth… what they don't see won't hurt them, right?!
My son is not the biggest vegetable fan, but he likes this soup… pureed. If you have a fussy eater, give it a try, they may surprise you and like it too!
When I want my soups smooth the easiest way I do this is to use an immersion blender to puree it smooth,  it's a little messier but you can put the soup carefully into a blender and blend smooth. Be careful it's HOT.
If you want the soup cheesier, add an additional 1/2 cup cheddar cheese.
If you want to make it more of a meal, add in 1-2 cups cooked chicken.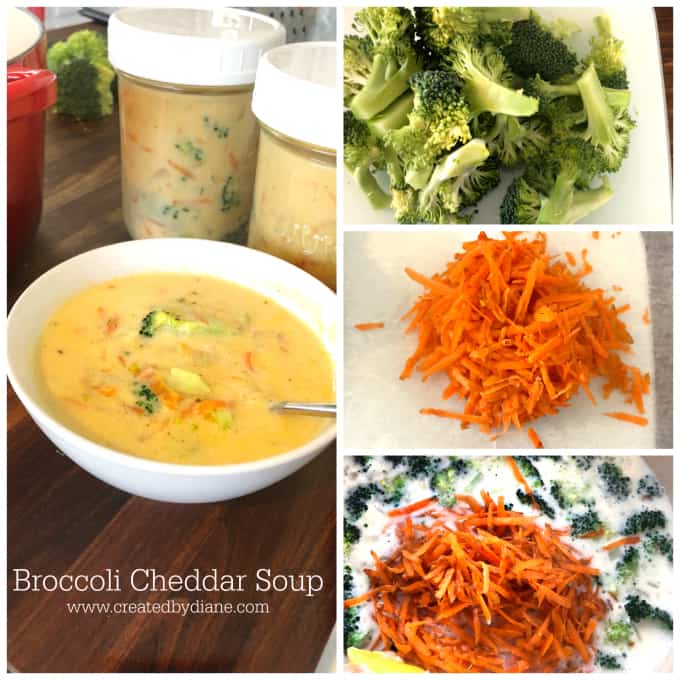 COOK CREAMY SOUPS OVER MEDIUM HEAT:
There is a very good reason to cook cream soups especially if they have cheese in them over medium heat (not high heat) The reason cream soups get grainy is they are cooked at too high a temperature, it hardens the proteins and separates from the fats, and then looks curdled and won't be smooth and creamy. 
If you want to make this soup more "ADULT " like… add in up to a cup of white wine! Wine and cheese go together really well…  I'd use a chardonnay, but your favorite white wine will do well too. Or beer is another great option, mild beer would work well, Coors, Bud. It's always nice to have choices, right!
Storing Soup
For years… I put soup leftovers in plastic containers, large or single-serving containers;
simply because it was what I had or was using at the time. I revamped my food storage to more jars… glass canning jars to be specific. And WOW what a difference, they keep the soup fresh longer, I've always known glass stores food better than plastic, but it really is a revelation if you just switch. I also can just put the glass jars in the freezer (which is great when I make a big batch and want to have soup at the ready in the cold weather months) then thaw in the fridge overnight, then heat the soup up the next day as needed.
I mostly use 2 cup glass canning jars, I use a canning funnel to easily fill them with little mess.
They store well in the fridge, can be reheated in the jar, or heated on the stove then transferred to a thermos for anyone bring them to work, etc.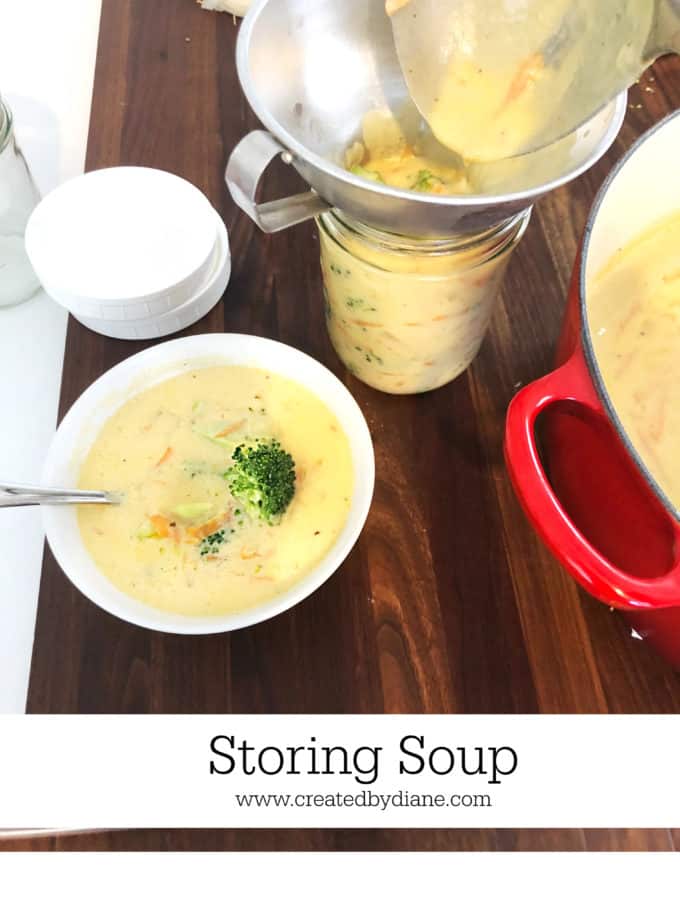 Items I use for Storing Soup
Here is the canning funnel I use which is plastic and THIS one is similar to the one I've been using more now that it's soup season!
Here is a similar ladle to the one I use.
I love cooking soup in this dutch oven (pot), years ago I had no idea how much I'd love it… so glad I splurged and got it! 
As far as the thermos I bought, I have a couple of these and LOVE them! They keep the soup hot for many hours.
Reheating Soup
When heating soup for the thermos I've found it's quickest to heat it in a small saucepan and I use a thermometer to ensure it's over 165° so that all components of any soup I make are heated thoroughly. Not that the soup just comes to a boil around the edges. This is the instant-read thermometer I use, I can't rave enough about it… I use it every single day, many times a day and it really takes the guesswork out of being sure when food is "done".
If I reheat the soup in the microwave, I do it at intervals and stir the soup completely, so the bottom of the glass jar does not overheat and crack.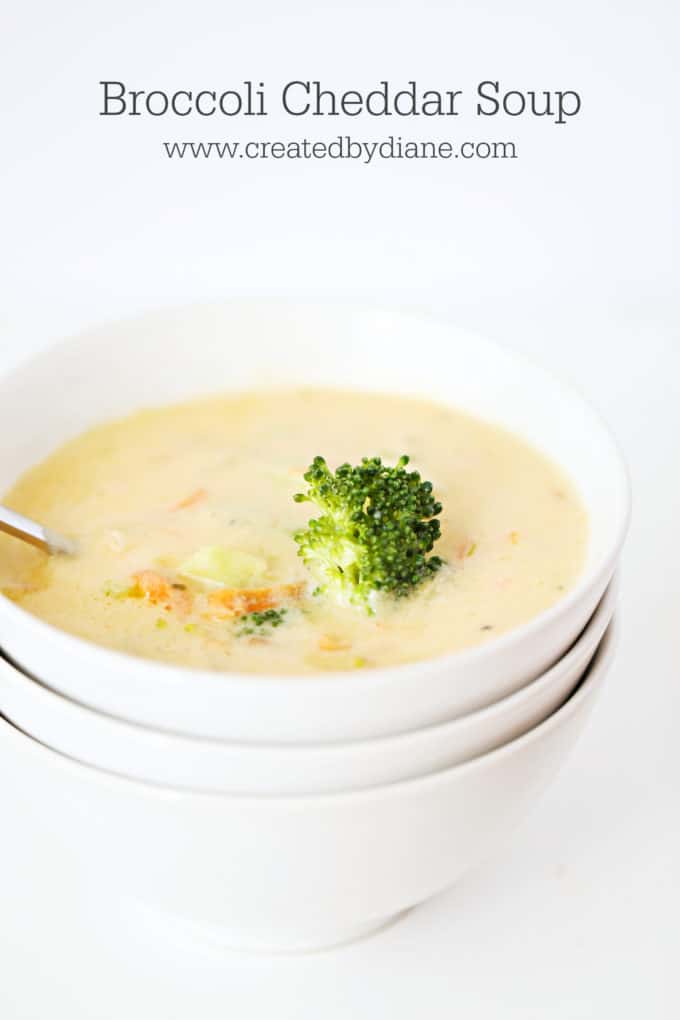 Other great soup recipes I have are Corn Soup, Sausage Peppers and Onion Soup, and this Chicken Tortilla Soup are all recent soups I've made… I have lots of Soup Recipes HERE!
Broccoli Cheddar Soup
Panera Bread Copycat soup recipe full of broccoli and cheese and cooked to a creamy texture, you can enjoy this soup with pieces of carrots and broccoli or pureed silky smooth.
Ingredients
1/2 cup onion diced
2 tablespoon butter
2 tablespoons flour
3 cups chicken broth (or water and chicken bouillon)
2 carrots grated (about 1 cup)
2 cups broccoli florets (about 8 oz)
1 cup cheddar cheese, grated
2 cups whole milk
salt and pepper to taste
Instructions
In a 4 quart pan saute onion in butter over medium-high heat, then add in flour and stir until combined.
Slowly add in chicken broth on high heat to combine to a thick sauce.
Turn the temperature to medium-low heat (do not bring to a rolling boil after milk is added or it will curdle and be grainy, cook the soup slowly over a medium-low temperature, it will ensure a thick, smooth, creamy soup.
Stir in milk.
Add in carrots and broccoli.
Next stir in the cheese.
Cook until the vegetables are softened. (If you want the soup extra smooth cook the vegetables until they are fairly soft, otherwise, you can keep the vegetables more al dente).
Add salt and pepper to taste.
Notes
If you want the soup smooth, use an immersion blender to puree it smooth, or place the soup carefully into a blender and blend smooth.
If you want the soup cheesier, add an additional 1/2 cup cheddar cheese.
If you want to make it more of a meal, add in 1-2 cups cooked chicken.